You are here
TUNE INTO THE FULL VIDEO BELOW.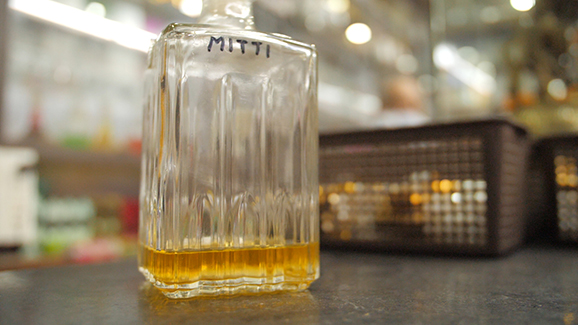 'I don't know when it actually began". It was an honest admission. To say that traditional 'Indian' perfume aka ittar has a long history would be an understatement. Abhay Tandon is a sixth-generation ittar maker. It's what his ancestors have been doing for centuries at Devi Prasad Sunder Lala Kattari from a huge showroom-plus-warehouse that could pass off as a glorious residential property from the past. He sits behind a long wooden table with every inch of the wall occupied by cabinets with glass doors so that the varieties of bottles can be seen. Not that they need to. Along with the 55-year-old Tandon ji, everyone seems to have worked here for a long time, possibly their forefathers too. They all look at us with interest because we were here to know more about their flagship mitti ittar.
As it literally translates to English, this aroma is what one can smell when the monsoon arrives and the first drops of rain lashes against the dry, parched earth. You cannot mistake it for anything else. Interestingly, this is the only place in India and possibly the world, where you can find this in its pure, original form.
This series is a journey through the length and breadth of India as we try to unearth secret ingredients from things that we have heard of but possibly very few have experienced. Helping on this particular leg is Manan Gandhi, of Bombay Perfumers, who has his own interesting story to tell. A second generation perfumer, Manan has been travelling the world to gather his own aromatic experiences, some of which he has been able to bottle already. "Among all the human senses, the olfactory kind or sense of smell is the strongest," he reminds us. "What I am trying to do is find these unique aromas that do not fall under typical aromas but are an ode to various memories... the sea, for example, or a particular tea. Walk on the beach, or say the biggest flower market of Mumbai – all have a unique smell. I have tried to capture that."
But as Manan rightly points out, this is not exactly unique as we travel to Kannauj in Uttar Pradesh, 120km-odd from Lucknow to discover what makes mitti ittar special.
Tandon ji is kind enough to actually take us to the birthplace of this legendary aroma. Now there are many stories around the origin of ittar. Most likely, they came from the Middle-East with the traders and rulers. But some say, it already existed here and it was the patronage of the Mughal rulers and Nawabs that really made this aroma industry popular and an inherent part of Indian culture. It also became a sign of luxury and royalty.
Interestingly, the actual process of making ittar is rather humble. Tandon ji took us to where it all happens, literally. You can almost not notice the small factory that is attached to his office. It is like a stable with a rather extensive but simple layout of water passages. And instead of horses, there are huge copper pots used for distillation. Ittar is made through a simple process of boiling natural ingredients in water. No alcohol is issued. The distilled concentrate takes anywhere from a few hours to a couple of days to get the right aroma and is removed using bamboo pipes. Once the process is complete, they let out the excess vapour from the pots. The water is reused. Guess even our ancestors knew a thing or two about recycling.
Tandon ji tells us this process has been the same for generations... or, at least, from the time he first stepped into his family business.
Kannauj, if not for being the ittar capital, could well have been lost in time. It almost is. Getting here from Lucknow is now a breeze thanks to a super highway that runs all the way from Lucknow to Agra. Earlier, as locals tell us, this journey would take as long as six hours as the roads were congested and generally bad. Not to forget, infested with anti-social elements. By contrast, now, it took us under three hours to get here. The expressway, fairly new, was smooth but dusty at places. Not many realise the importance of having the perfect set of tyres for a journey like this. Our steed – a Renault Duster – was shod with new Michelin tyres and it revelled in the high-speed driving conditions. Importantly, it helped the car with consistent grip despite the continuous change of surfaces and fast curves that we encountered. The final stretch to Kannauj was through typically dusty UP towns but the bad surfaces did little to jitter us. We reached Kannauj in fairly good shape where development seems to have just started.
Strangely, the ittar industry is at a bit of crossroads itself as Manan pointed out. A bulk of the business for the ittar manufacturers and retailers came from the 'guthka' or to put it crudely, the tobacco-based 'mouth freshener' industry. With the government coming down harshly on them due to health concerns, that business is fast disappearing. Kannauj has a very prime ittar market. And unlike Tandon, who mostly manufactures just the concentrate, there are quite a few who retail many varieties. Most of these shops have the older generation. As you walk past the main Kannauj market place, you can't help but notice how the younger generation is missing from here. The shops with their colourful bottles in various shapes have mostly white-haired gentlemen behind the counter, waiting for customers. A handful of new shops have salesmen, not owners, and they sell everything from traditional ittar to new-age deodorants.
Not all is lost though. As the sun set and Tandon ji offered us some tea and samosas from a close friend's shop nearby, he told us how his daughters have started taking interest in this business. Coincidentally, one of them told us how they are trying to create awareness about the business with the help of new-age social media channels.
But the biggest advertiser of ittar, especially mitti ittar, has to be the smell itself. We got a sample of it and were immediately transported to the moment the first rain arrives. It was unmistakably earthy and pure. So, what really gives it this distinct smell are the earthern pots of Kannauj. Made from local mud, pieces of these pots are used during the distillation process which manages to latch on to the aroma, allowing the makers to bottle it successfully. Yes, that's the secret ingredient that makes all the difference. Pretty much like how the rubber patch connecting your car to the road does.
It may not be the most obvious part of performance but it is inherent.
As we left Kannauj smelling like a mish-mash of mixed aromas, all of us kept thinking of the moment of first rain... moments from our childhood. Mitti ittar had stayed with us and as Manan put it earlier, this olfactory sensation was going to stay with us for quite some time.