You are here
Feature: Porsche Panamera vs Porsche 928 – with a twist
Two front-engined, V8 Porsches, two very different specialities ...
"It'll make a great track day tow car." The phrase used to praise a performance SUV or estate without losing your hardcore petrolhead credentials. It definitely sounds like faint praise, though. Complementing the car's ability to take a really fun car somewhere, rather than being any fun itself. It's a phrase uttered to me by someone at Porsche when I first drove the Panamera Turbo Sport Turismo estate last year, too, but they did so with a specific payload in mind. The Panamera is a V8, front-engined GT. So is the Porsche 928, a car that only recently celebrated its 40th birthday.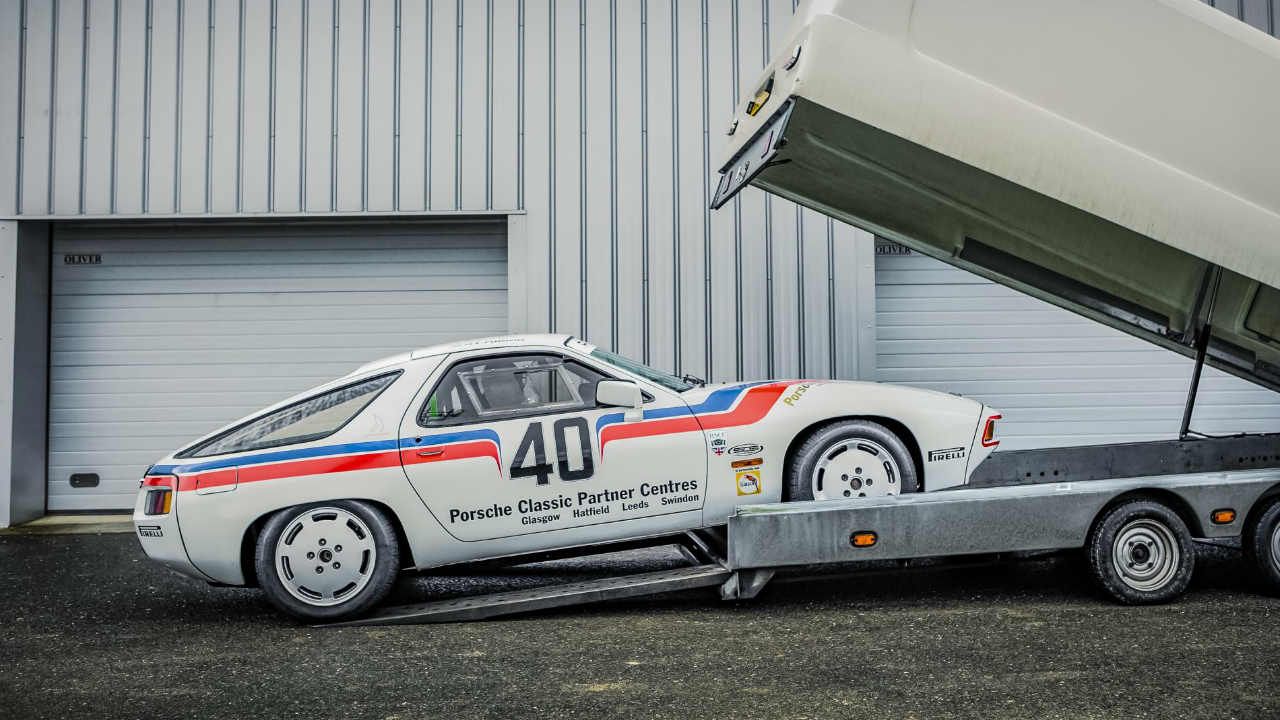 A good track day car, though? It is when its luxurious interior has mostly been stripped and thrown in the bin and the name 'Richard Attwood' has been scrawled atop its door. Attwood's no stranger to Porsche racecars – he won Le Mans in a 917 – and he took this 928 onto some podiums in 2017, when it took part in the HSCC 70s Road Sports Championship to mark the 928's big four-zero. When I first drove the Sport Turismo it felt relentlessly, unstoppably fast, its 542bhp twin-turbo V8 making a complete mockery of its 2.1-tonne kerb weight. Attaching another couple of tons of trailer and 928 and… it feels no slower. It's my very first experience of towing, and the Panamera couldn't make it any easier. Reverse towards your trailer and the rear-view camera helps you line up perfectly. Once hitched up, it might be worth sticking a post-it note to the corner of the windscreen so you don't forget it's there.
With a fairly special 928 cocooned behind me, it'd be very disrespectful to drive the Panamera quickly, no matter how sizeable the temptation. But it's hard not to wonder if we could make the 928 accelerate quicker than its base road car (0-96kph in 7.5secs) without its 240bhp engine even firing…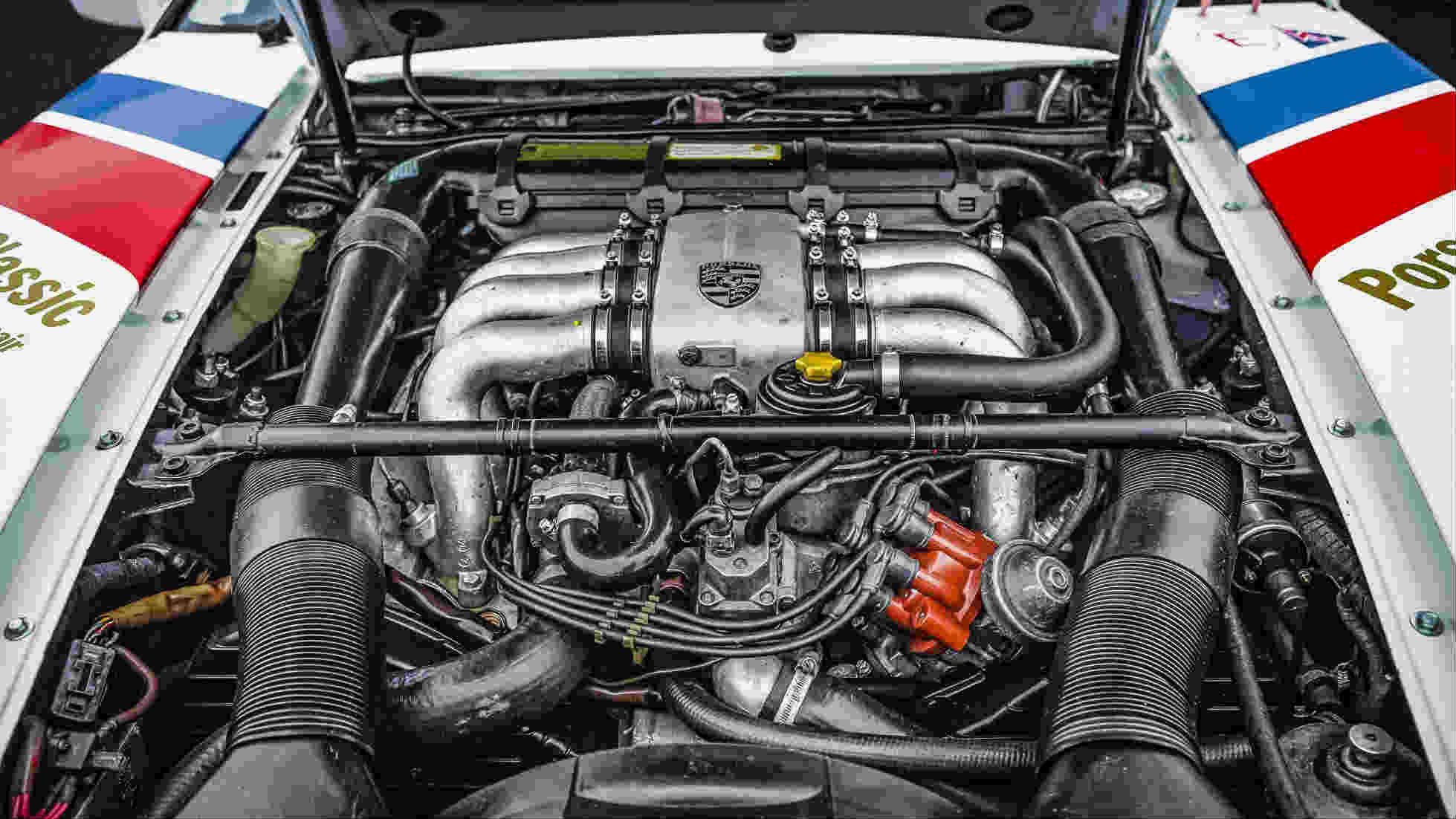 Today's plan is for that engine to fire on all cylinders, though. While its modern-day, estate-car equivalent only really makes an aural fuss if you've twiddled its driving mode dial to Sport, the 928 knows no such manners. We're gate-crashing another event at Silverstone, its paddock chock-full of much more modern performance cars, and the old Porsche's hot-roddish blare as it bursts into life turns every head. The other cars may be quicker, but they won't be louder. It takes some intense focus just to pull away, though. The 70s Road Sports regulations kept the 928's mechanicals in road spec, so it uses the same five-speed manual gearbox with a dog-leg first gear. I practice the art of first-second and second-third before pulling away, just to make sure I don't bugger up my gearchanges close to the pit-lane. The audible stammer, betrayed by the sheer volume of the engine, will be catastrophically embarrassing.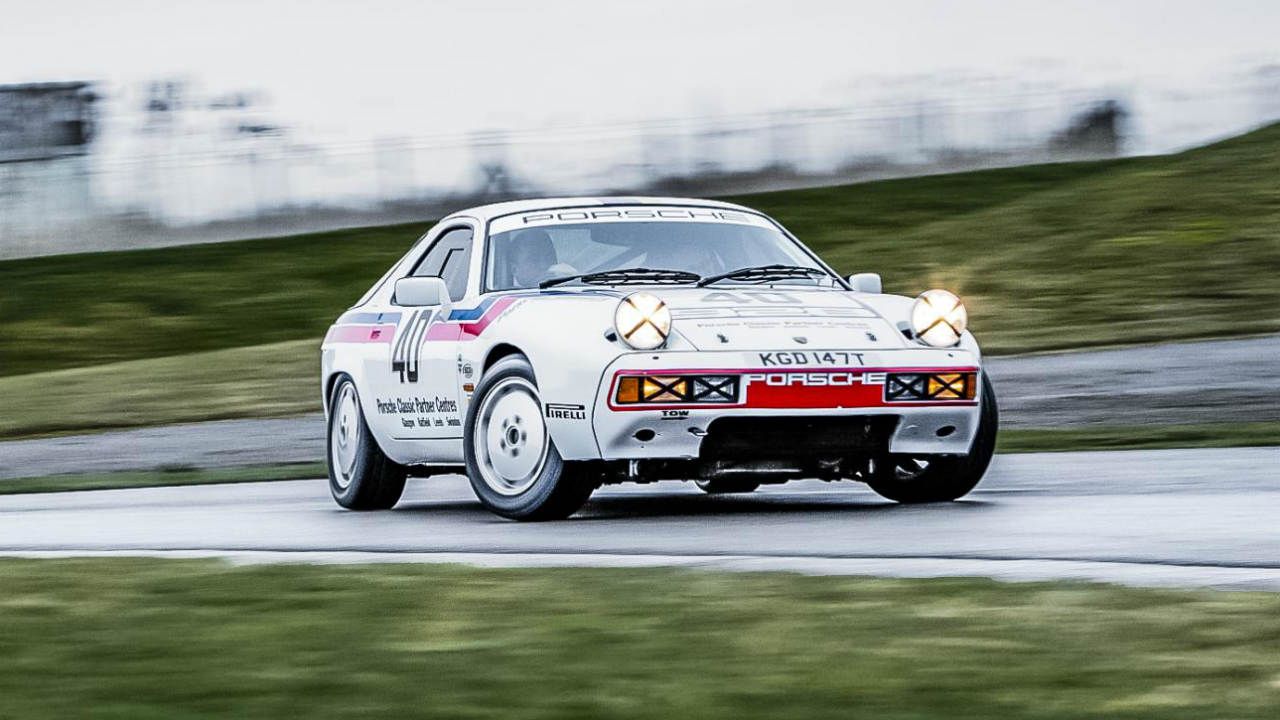 I ball up both gearchanges completely. You've heard of double-declutching, the art of prodding the clutch pedal twice to smooth out gear changes in older, less sophisticated transmissions; I've reinvented the technique as treble-declutching and I still can't seem to find any gears. Obviously, there's a distance between mine and Attwood's talent levels. Today's proving it should probably be measured in light years. Once I eventually locate third gear, I realise the engine's huge swell of torque means I can probably just stay there, to free myself from worrying about any more inconvenient changing of gears. At which point I discover a car of rare balance. Its grip levels are admirable on a dank, winter's day, and while I may not have a huge amount of confidence in myself, I've every bit of faith in the car.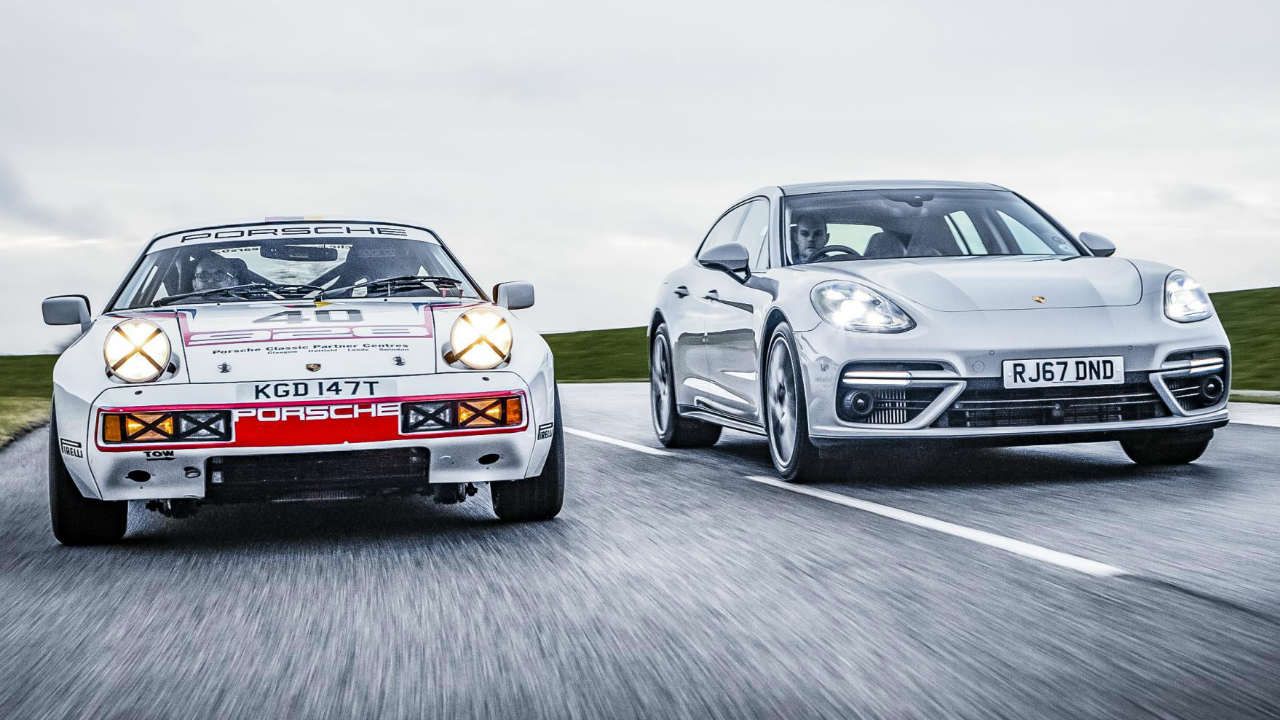 To breach those limits, then, you need more revs, which means revisiting the gearbox. Downchanges have at least been helped along with some supremely close spacing between the brake and throttle pedals, so even an oaf like me can heel-and-toe without too much fuss. Happily, this isn't a snappy car, and you've got a good idea of what it's doing when it does start moving around. Its controls have taken some grasping, though, and I still feel barely on top of it all when the light starts to fade and the track marshals look ready for home. I've left a small window before they get their chequered flags out, however, for one last thing. The Panamera's got more than twice the 928's horsepower, and its 0-100kph time is twice as quick, so while it's got five seats, a huge boot and seemingly every bit of tech Porsche's concocted since the 928 launched, I suspect it'll work quite well on track.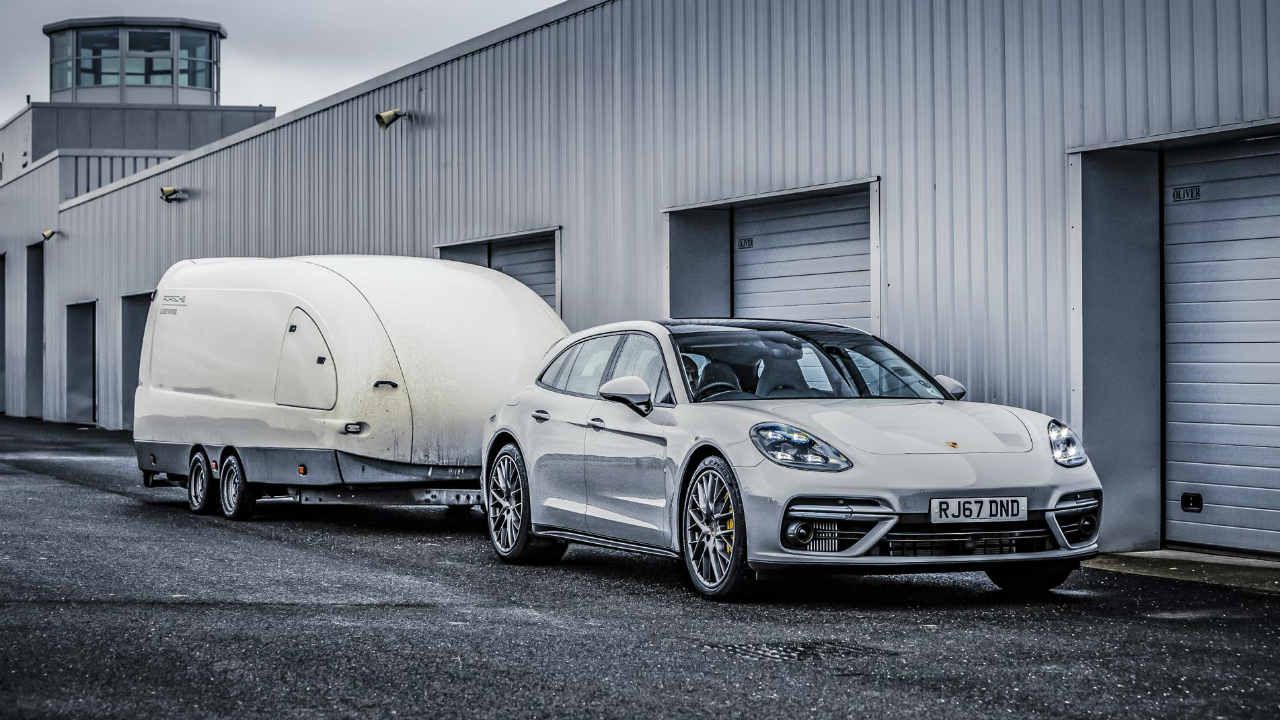 It really, really does. Standard four-wheel drive and optional rear-wheel steering make this as easy to exploit as a hot hatch, every bit of its power finely shuffled around and utilised with the smallest of efforts of its driver. There's been no stopwatch today – track day rules, after all – but I'd bet my first lap in the Sport Turismo has just taken a huge chunk out of my quickest lap in Mr Attwood's car. My confidence is soaring. Of course, the appeal of feeling so comfortable with a car so quickly has its limits. The Panamera's an easy car to climb out of and emotionlessly hand back, whereas the 928 – tough as it was to get to grips with – has me wanting to come back for more, finessing my inputs and driving out of my skin to do it some justice. While the leather-lined estate with massaging seats and can't replicate that, it's unequivocally proved that while it does indeed "make a great track day tow car", it's a surprisingly capable track day car all in itself.