You are here
MotoGP: Pedrosa cruises to victory in Jerez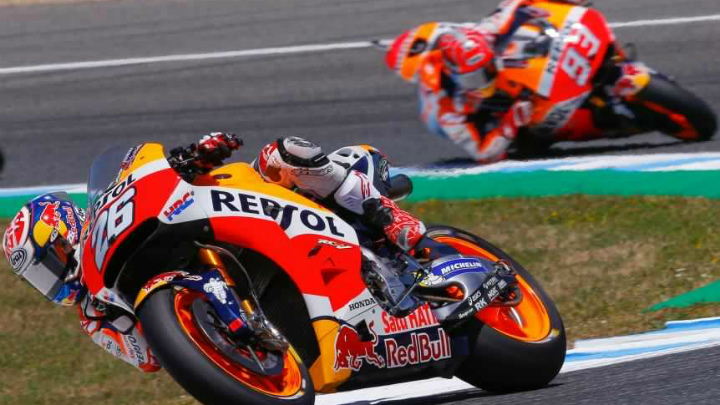 The signs were all there.
When it rained in Jerez on Friday, Dani Pedrosa dominated free practice. When the sun shone on Saturday, Dani Pedrosa went quickest, and try as hard as Marc Marquez did -- RC213V bucking and weaving -- he just could not snatch pole from his older teammate. If it wasn't a foregone conclusion, a Pedrosa victory, at the very least, was a real possibility.
Pedrosa doesn't win often -- at least not as often as someone of his calibre should. His scant victory count has more to do with the sheer quality of talent he's had to deal with over the years than anything else. And, of course, he is, quite possibly, the unluckiest modern-day grand prix racer, having gotten agonisingly close to winning the title, only to be denied by fate.
But all of that is in the past. Pedrosa rode with a real sense of purpose today. He got off the line cleanly, and led from Lap 1 to Lap 27. Not once did he put a wheel wrong. He capitalised on a chance he knew doesn't easily come by.
Marquez, running the hard front/hard rear tyre combination tried his best to mount a charge, hoping Pedrosa (who was running a hard front-medium rear tyre combination) would buckle under pressure.
Having trailed him by roughly 1.5 seconds for the first half of the race, the reigning champion cut the gap down to just under a second, but Pedrosa is far too adept at managing his tyres. He'd kept something in his pocket knowing Marquez would come after him towards the end, and you can tell as much from his lap times: Pedrosa did only 3 laps in the 1m41s bracket, the rest being 1m40s. In contrast, Maverick Vinales did just one 1m40s lap in the entire race. Pedrosa's consistency today was, to put it simply, devastating.
Jorge Lorenzo made the biggest step with Ducati yet -- starting eighth, Lorenzo picked off riders one by one, and finished third, which, as he later said, was no less than a victory. He had to fight it out with Johann Zarco for the final podium spot, but it wasn't much of a fight, as Zarco had used up his tyres in his initial charge towards the front. More than the points, this performance is a morale booster like no other for the three-time premier class champion. He looked happier today than he did perhaps even when he won the title in 2015.
Worryingly, Yamaha struggled at a circuit where it last finished off of the podium more than a decade ago -- way back in 2006. Vinales struggled with front-end issues and could only finish sixth, 24.5 seconds behind Pedrosa. Valentino Rossi endured the worst of Sundays, being passed like he was standing still, pushed all the way back to 10th. He would've finished further back had there been any other riders in his vicinity.
It has been a long, arduous journey for Pedrosa. This was his first win since San Marino last year, and his first win on home soil in four years - a period during which he has had to battle career-threatening arm pump issues, surgeries, incompatible crew chiefs, Marquez, doubt about his ability, among other things. His weeping on the top step of the podium today can only give you a glimpse into the world of struggles he's had to deal with, and how truly sweet victory must now taste.
With four rounds completed, the championship race is wide open -- the gap separating the top four riders is just 10 points. Rossi, Vinales, Marquez and Pedrosa -- they're all in it. And the way things are going, this could turn out to be the most unpredictable season we've witnessed in a long time...