You are here
Report: JK-Tyre FMSCI National Racing Championship, Round 3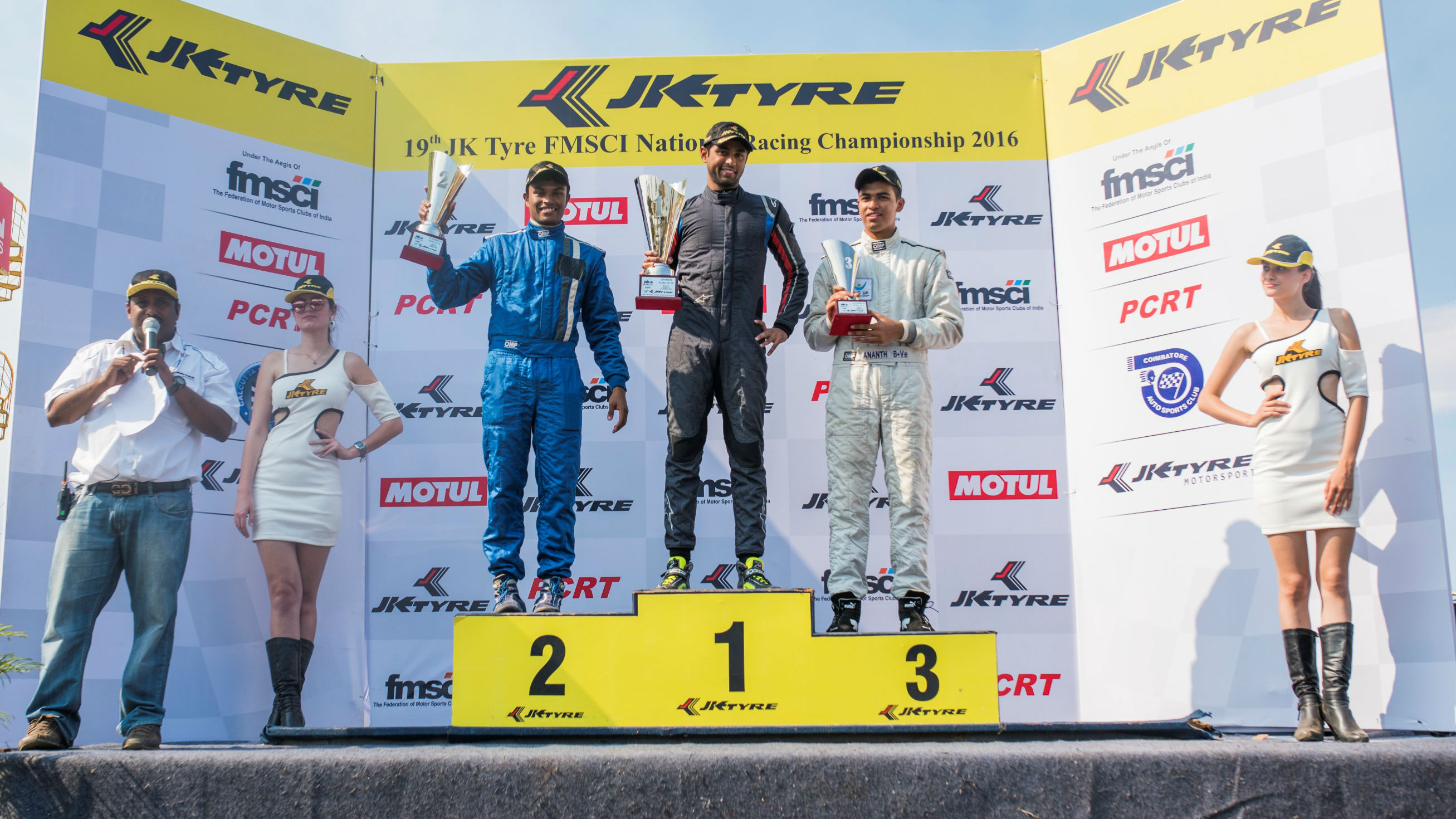 Anindith Reddy of Hyderabad had a fantastic outing at the Kari Motor Speedway over the race weekend, springing to the top of the ladder in the Euro JK 16 series at the 19th JK Tyre-FMSCI National Racing Championship. He now shares the lead with Ananth Shanmugam in the tussle for the title with 76 points.
Anindith won three races and stood on the second step of the podium in the fourth, picking up a total of 38 points. After being unbeatable on Saturday he showed just a hint of nerves on Sunday morning, before recovering his poise to win the last race. Ananth, had a couple of great drives as well, defended brilliantly in the final race of round 3 for 12 laps to join Anandith in sending the leader after Round 2, Nayan Chatterjee, down the order to third. Nayan had a weekend to forget, managing only three fourth-place finishes to garner just 15 points in Round 3 – his car seemingly deteriorating as the events unfolded over the weekend, with the Mumbai racer eventually failing to even finish the last race.
LGB Formula 4 racer Vishnu Prasad and JK Touring Cars star Asish Ramaswamy too made it a special weekend for themselves by winning all their races over the two days and consolidating their championship positions.
Vishnu comfortably won the day's opening race but had to be at his defensive best to pull it off in the second one. His Meco Racing teammate, Raghul Rangasamy, pushed him all the way till the end, with just .023 of a second separating the pair in the final race. Raghul took the third place in the morning race for a cumulative tally of 51 points. He added a healthy 22 points over the weekend. Vishnu of Meco Racing, now sits out in front comfortably with 66 points in the championship now, and is just one win away finishing the championship in the top spot – after finishing runner-up for the last three seasons. Saran Vikram of Privateer and Rohit Khanna of Dark Don Racing are on third and fourth places with 37 and 35 points respectively.
Asish Ramaswamy of Red Rooster Performance, who had already pocketed the JK Touring Cars title on Saturday, maintained his winning streak to underline his supremacy. The Bangalore racer has amazingly won all six races in his category to be sitting on an unsurpassable tally of 120 points.