You are here
TopGear.com at Monza as Vettel snatches pole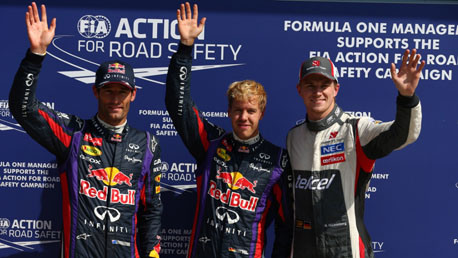 There was high Italian drama weaved into the opening salvo of the Monza GP during qualifying, as the expected – and the unexpected – both bore out under the searing 30 degree heat at the Autodrome.

The expected? Well, despite Red Bull's continued line that the Italian GP was never their strong suit, Vettel went out and dominated like he does. He was topping the timesheets at the end of the third practice, and pulled out a corker of a lap to take pole.

Webber meanwhile, followed him home in second to make it a Red Bull front-row lockout, though how's this for a stellar performance: Sauber's Nico Hulkenberg claimed the final spot on the podium, later saying "I don't know either [where the lap came from], a really nice surprise." That's putting it mildly. His boss, Monisha Kaltenborn, was equally gobsmacked with the result, saying "we couldn't believe it ourselves, this is fantastic. It's very important because it gives us the boost we need." It certainly will have given Nico's Ferrari hopes a boost for next year; Luca di Montezemelo was in attendance, at one point hopping across to the pit wall and saluting the loyal tifosi who were nestled in the grandstands. Wonder if he kept an eye on the young German…

Sadly, he couldn't see either of his two boys make it into the top three, there being a noticeable absence of Rosso Corsa, something that won't sit well with the tifosi. They like their winners red in this part of the world.

We did see some of that red, though it came from Alonso's team radio instead, as – attempting to set up a tow from fellow Ferrari driver Felipe Massa, the pair running a one-two for the latter part of the afternoon – the Italian papers claimed he was later heard complaining over his radio that "you're really idiots guys."

Alonso later noted on Twitter that he had a "good qualy after last Saturday's race," and that "tomorrow we must try to be close to Red Bull in the first part of the race". He ended up qualifying in fifth, though it was Massa who snuck ahead in fourth. While rumours of Massa's 2014 seat have been flying around, he's happy to be a team player, noting how he "tried to get everything out of the car – I'll do whatever is important for the team".

Rosberg will slot into sixth, while new Red Bull signing Ricciardo – who at one point was lighting up the timesheets during practice – starts behind him in seventh. Perez and Button managed to squeeze into Q3, but finished up yet another disappointing McLaren finish of eighth (Perez) and ninth (Button). Jenson later said "it's a pity really, if we hadn't run in Q3, it would have made our options a bit more open tomorrow."

Ricciardo's team-mate Vergne rounds out the top ten, and at this point, you're probably all wondering what happened to Hamilton. Well, same here. Only recently touted as the Last Man Standing to take on Vettel for the 2013 title, Hamilton saw his championship hopes ebb away slightly on a searing afternoon, finishing outside of the top ten for the first time since Malaysia in 2010. That's sixty seven races back.

"I drove like an idiot", he later said, "I'm just sorry for the team". He had been pumping in fast laps all afternoon, survived a hairy moment at Parabolica, when suddenly, he wheezed his Mercedes home in tenth in Q2, only to see it pushed out when others out-qualified him. Mercedes, meanwhile, remained optimistic, later tweeting: "Remember, the man who started P12 last year ended the race on the podium. And there's rain in them there mountains, too".

Rain is indeed forecast for tomorrow, something perhaps the Lotuses of Raikkonen and Grosjean might be glad for: Kimi qualified 11th, just ahead of Hamilton, while RoGros finished up 13th. What do they say about unlucky numbers? Hamilton had better get a good start tomorrow…

Elsewhere, Sutil – who Hamilton claimed shouldn't have really impacted his final run (there's probably little love lost there) – starts 14th, Maldonado 15th, Di Resta 16th, and Gutierrez 17th. Further down, it runs Bottas, van der Garde, Pic, Bianchi, and poor old Max Chilton who starts dead last. That's gotta sting.

"We didn't expect to be so strong here with both cars on the front row," Vettel later noted. That's scary, because if this is Red Bull's weaker circuit, what on earth have they got in store for the rest of the season? We'll find out soon enough.

Oh, and a couple of final points. While TG was floating around Monza, we saw none other than David Hasselhoff – that's right, Michael Knight himself – roaming around the Red Bull pits. We also managed to bag a few minutes with Red Bull chief Christian Horner too, so stay tuned for more updates.

What's your verdict for tomorrow, dot.commers? Will ALO pull out something special for the tifosi and make it a magical Monza? Can Hamilton will the rain to fall and give us all a wet-weather masterclass (which we know he's capable of?) Or will Vettel just run off into the distance?