You are here
Trading blows: Ferrari wins at Bahrain F1 Grand Prix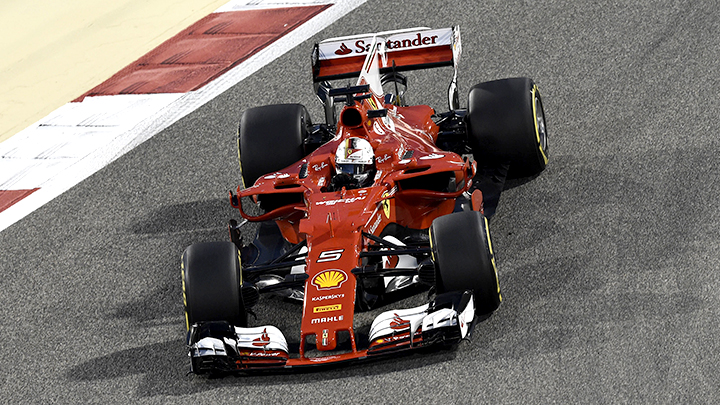 It has been a while since Formula One has managed to get us excited, race after race. With the revised formula this season, the prancing horse banner has once again risen to the top, offering a serious challenge to the dominant force of the Silver arrows.
Under the flood lights at Bahrain's Sakhir race track, Sebastian Vettel took his 44th F1 victory last evening, leaving behind the Mercedes duo of Lewis Hamilton and Valtteri Bottas. While the Ferraris weren't able to match the pace of the Mercs in qualifying, Vettel had a good start from P3, getting past Lewis at Turn 1 and started pushing Bottas right from the start. While Seb drove brilliantly and had good race pace, it was Ferrari's aggressive strategy with the pit stops and the tyres that cemented their victory, finishing six seconds clear of Hamilton in second. There was a tense moment for Ferrari though when Carlos Sainz crashed into Lance Stroll at Turn 1 that forced the Safety car to come out on Lap 13, which could have possibly spoiled the party for Ferrari as was the case in the previous race in China.
Meanwhile, Mercedes had a difficult race night despite a brilliant qualifying session, starting one-two on the grid. But things didn't go as planned for the defending champion team. Apart from losing to Ferrari in terms of race strategy, another factor that changed the outcome of the race was the incident that happened on Lap 14. Hamilton slowed down in front of Daniel Ricciardo's Red Bull as they entered the pits, earning him a 5 second time penalty. From there on, it was an uphill battle for the Brit.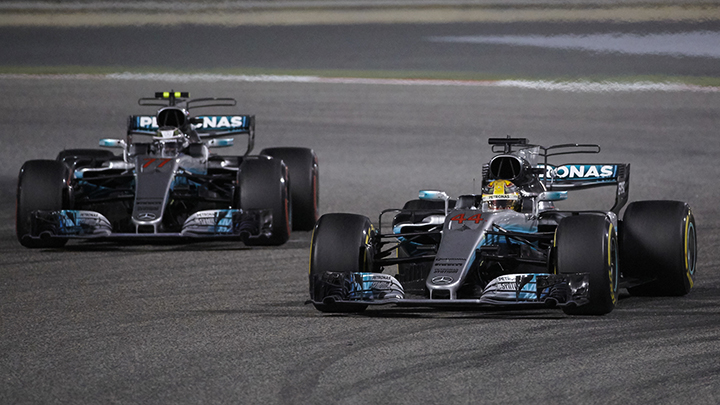 It was on Lap 14 that Hamilton was put on a set of soft compound tyres, which theoretically could have taken him all the way to the end, with Vettel on super-softs having to pit again. But it was not to be as Lewis pitted on Lap 40 for another set of softs and also served his time penalty. No matter his pace, even when he was gaining on the Ferrari by over a second per lap, he just couldn't cover up the ground and had to settle for second.
After bagging his maiden Pole, Bottas got off to a great start, but it wasn't long before things started going wrong for the Finn. His rear tyres were overheating and the pressure was too high, causing oversteer throughout and slowing his pace. This, in turn, created a situation that's unwelcomed by any racing driver – team orders. He was asked to let Lewis through to go after Vettel ahead. Twice. Still, Bottas did well to finish third, getting both Mercedes cars on the podium, which is definitely helpful in the constructor's championship.
Kimi Raikkonen finished fourth, just two seconds behind Bottas. His qualifying didn't go well and he started fifth on the grid, having been outpaced by Daniel Ricciardo in the Red Bull. He had a rather subdued race with a slow start, getting overtaken by Max Verstappen and Felipe Massa on the opening lap. Kimi does seem to have taken on the number two role in the team and continues to face issues with his Ferrari, making it difficult for him to find the pace needed to catch up to the leaders. Daniel finished fifth, his Red Bull struggling to find pace after having switched to the Soft compound tyres, and was even getting passed by Massa in the Williams. But the weekend was significantly more unlucky for his teammate who didn't even get to finish the race.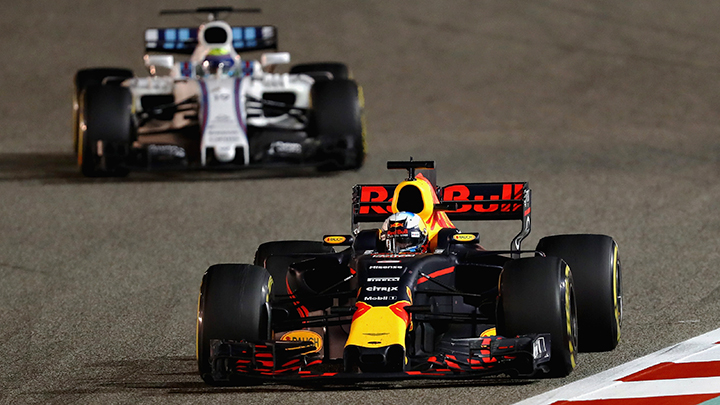 Verstappen had qualified in P7 but had a great start, getting past Kimi and Daniel on the opening lap and pressuring Lewis who was chasing Vettel and Bottas ahead of him. The Dutchman seemed to be keeping up with the pace of the Mercedes and on Lap 10, he was within a second of Hamilton. Just like the Ferrari, he too pitted early and seemed to be well placed to fight for a podium finish, but soon after coming out of the pits, his Red Bull suffered from brake failure going into Turn 4, ending his race.
Massa had a much better weekend than China, qualifying eighth and finishing sixth, scoring much-needed points for the Williams, while teammate Lance Stroll is yet to finish a single F1 race. Stroll had done alright in qualifying, starting from P12, but was taken out by the Toro Rosso of Carlos Sainz on Lap 13 at the first corner. Sainz was exiting the pits and came hurtling down the inside line, diving into the Williams and ending his race as well. Sainz wasn't having a good weekend anyway, qualifying P16, getting worse with the crash. His woes didn't end there though, as he has been given a three-place grid penalty for the next race for causing an accident.
Meanwhile, his teammate Daniil Kvyat didn't have a good weekend either, starting P11 and finishing 12th, a no points finish for the Toro Rosso team, then. Another contender in the middle order who had a less than ideal race was the Renault team. While both drivers started on the grid in the top 10 with Nico Hulkenberg in P7 and Jolyon Palmer in P10, Hulkenberg was the only one who scored points with a 9th place finish. Palmer meanwhile finished last in 13th place. The Renaults have shown pace in qualifying but it seems the car needs work to be competitive throughout the race distance.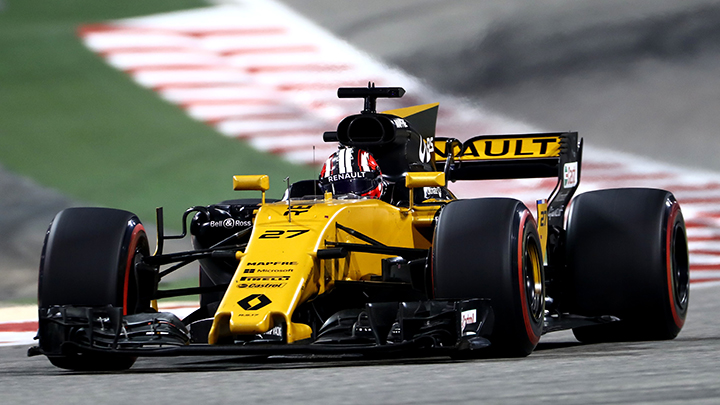 Team Force India had a pretty decent race night after a poor result in qualifying. It could be said that Sergio Perez had the best race of anyone in Bahrain, as he managed to finish 7th after having started 18th on the grid. Esteban Ocon meanwhile maintained his consistency by finishing in the points with a 10th place finish despite having started 14th on the grid. Haas F1 also managed to score some constructors points with Romain Grosjean, who started 9th and finished 8th, while Kevin Magnussen had an early retirement due to a technical problem. Pascal Wehrlein managed to finish his first race of the season in 11th place, taking his seat in the Sauber back from Antonio Giovinazzi. Marcus Ericsson meanwhile had to retire on Lap 50 due to gearbox failure.
It doesn't come as a surprise that the team that had the worst weekend of them all, with none of the cars finishing the race, was McLaren Honda. In fact, they weren't even able to start with both cars as Stoffel Vandoorne's McLaren suffered a mechanical fault on the out lap while taking grid positions. Meanwhile, Fernando Alonso was entertaining throughout, fighting for position in the turns and losing out on the straights with the occasional animated radio messages with the team. His McLaren conked out on Lap 54.
The action will resume in Russia, two weeks from now, with Vettel and Ferrari leading the 2017 championships. Stay tuned.
Full classification:
1 Sebastian Vettel Ferrari 1h33m53.374s
2 Lewis Hamilton Mercedes +6.660s
3 Valtteri Bottas Mercedes +20.397s
4 Kimi Raikkonen Ferrari +22.475s
5 Daniel Ricciardo Red Bull +39.346s
6 Felipe Massa Williams +54.326s
7 Sergio Perez Force India +1m02.606s
8 Romain Grosjean Haas +1m14.865s
9 Nico Hulkenberg Renault +1m20.188s
10 Esteban Ocon Force India +1m35.711s
11 Pascal Wehrlein Sauber +1 Lap
12 Daniil Kvyat Toro Rosso +1 Lap
13 Jolyon Palmer Renault +1 Lap
14 Fernando Alonso McLaren/Honda Not running
- Marcus Ericsson Sauber Gearbox
- Carlos Sainz Toro Rosso Collision
- Lance Stroll Williams Collision
- Max Verstappen Red Bull Brakes
- Kevin Magnussen Haas Electrical
- Stoffel Vandoorne McLaren/Honda Not started