You are here
Review: MV Agusta Brutale 800 RR
It isn't much of a secret, we love MVs at TopGear. There was a certain supersport – the F3 that swept us off our feet last year and it was followed by the Brutale being awarded for its brilliant design this year. MV Agusta doesn't just claim to make 'motorcycle art', they actually carve out some stunning machinery. This one, the RR, is its cousin on steroids. It may not look very different, apart from the the two-tone paint job, but then there is also the massive 'RR' badging that you cannot miss. The Brutale also gets a new paint scheme for 2018. What do I think about it? Well, let's just say the red and silver on the 2017 bike that we had ridden worked just right.

Once you are on the saddle, the Brutale feels just as familiar as earlier. The controls fall easily to hand, the starter button at your thumb works the same way and, unfortunately, the buttons to navigate the multi-function menu on the left grip have remained untouched as well. This set of buttons felt fiddly the first time I rode the Brutale, and now that I've had a taste of the new system on the Turismo Veloce, it simply feels ancient and impossible to operate.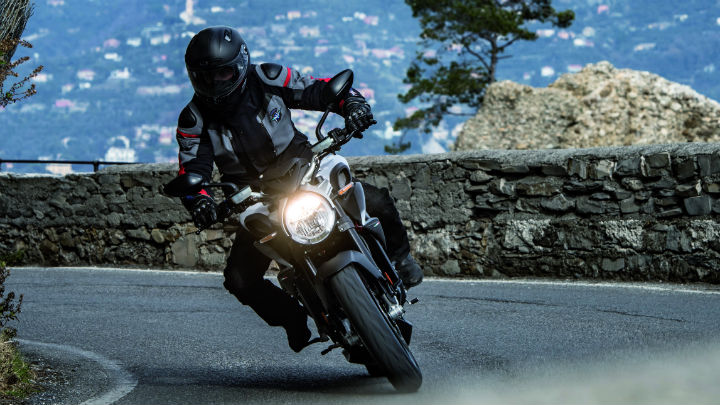 Having had plenty of rain through the day, I begin cautiously with the engine map set to 'normal' and traction control turned a couple of notches higher than I would've preferred. Navigating through a bit of traffic and getting used to the Brutale with its nimble manner was easy. It becomes apparent pretty quickly that the mechanical changes in the 2018 version has made the Brutale a quieter motorcycle. Soon, however, it was time to leave the crowded street, leading out of Varese, behind and turn off towards a stretch of empty tarmac. Desperately fiddling with the buttons, I managed to get to 'sport' mode, but did not have much luck with the traction control adjustment.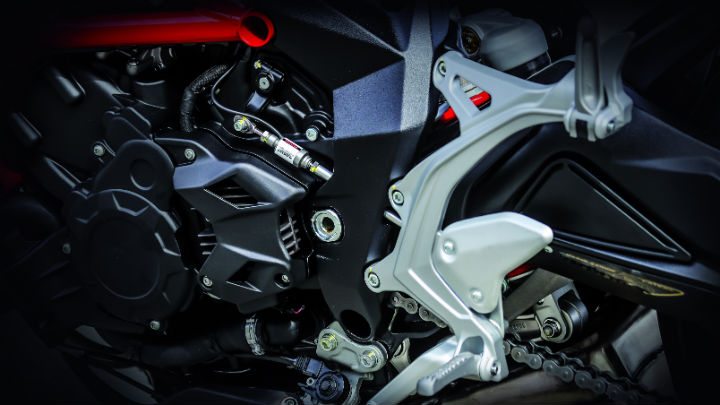 While the 800 RR is quieter, throttle responses have also been made smoother making it easier to wring the throttle when you hit an open stretch. There is, of course, a lot more power available with the RR, but it is also easier to use it as the engine responds linearly to your inputs. While fudging about with the controls, my escort had taken off, and by the time I looked up, he was only a little dot in the distance. Good chance to let the 138 horses rip. Shift down and wring the right wrist and the front comes up in a smooth power wheelie. I am slightly surprised, but all of my teeth are showing and I keep the throttle pinned while putting the quickshifter to use for a series of seamless shifts. Up through the gears and with the triple singing a throaty ballad, it took me little time to close the gap back down.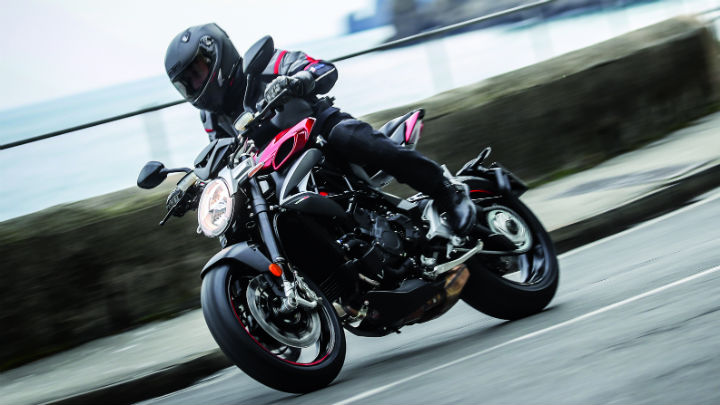 To put things in perspective, most motorcycles we aspire to in India make roughly 30-40 horsepower. The Brutale RR makes an equally stunning 30 horsepower over the standard one – that makes it 138bhp, from a 798cc motor. This works superbly with the sharp handling motorcycle that the Brutale already is and explores the capabilities of its chassis even further. It is quieter and power delivery is smoother now and the quickshifter works flawlessly. You get a suite of electronics and riding modes, but you need to park by the side of the road to set them up, which is far from ideal. There is also the premium of a couple of lakhs that the RR commands. But then, you do get an absolute hooligan of a motorcycle too.

Specs:
Engine: 798cc, 3 cyl, petrol
Power: 138bhp@12,300rpm
Torque: 87Nm@10,100rpm
Transmission: 6M
Kerb Weight: 175kg
Top Speed: 244kph