You are here
Review: TVS Apache RR 310
You could dial back the clock a couple of years to 2015 when TVS and BMW announced their intentions to work together to create motorcycles. This was TVS's ticket to get past the engine capacity ceiling they had been working with. We knew there would be a 310 that would bear the TVS logo, but weren't sure what it would look like. Then came the Akula in 2016, at the Auto Expo, to give us a clearer understanding of the design direction that TVS would take with the 310. For many months after, TVS kept interest alive with limited amounts of information being dissipated about the motorcycle, but never quite enough to get the complete picture. However, after more than two years of development work, today we have been allowed a detailed look at the Akula, er, Apache RR 310. That's not all though, they have even handed me the keys to a brand new motorcycle at the MMRT, outside Chennai.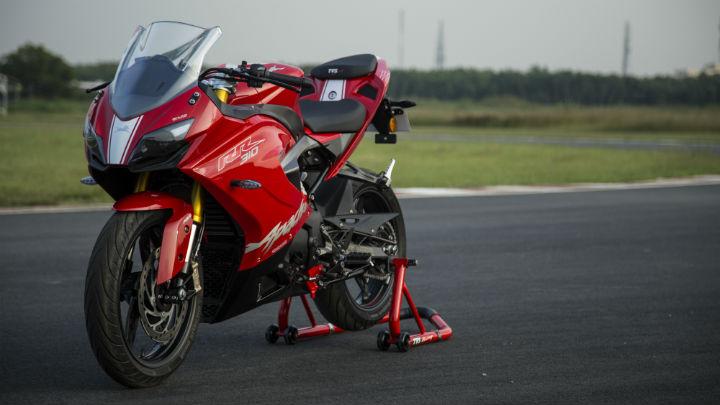 Is that design all form or function?
This is fresh territory for TVS, a fully faired motorcycle, and it is has been executed in house – all of it. Having begun with the Akula as a concept, from a shortlist of nearly twenty concepts, the designers tried to carry over all the cool bits from it. Various shark-inspired elements (Akula means shark in Russian) from the nose, to fins and even the gills have been worked in. This red one, in particular, with a white racing stripe looks absolutely exquisite and very Ducati-like. Not a bad place to be at all. The RR 310 gets slits under the headlamps to help with airflow toward the intake, a trellis frame for greater rigidity, massively sculpted tank, upside-down front forks and a monoshock at the rear. The double tail section is possibly the only design element that I'm not entirely convinced about. However, apart from looking cool, TVS claims the RR 310 also has the lowest drag co-efficient in its class, thanks to hundreds of hours of aerodynamic testing in a wind tunnel facility in Bangalore. In fact, here was a situation where the designers had to constantly rework shapes and surfaces to suit aero needs, rather than simply handover a stunning sketch.
That's an unusual motor, isn't it?
For those of you wondering, yes, the basic frame and engine is the same as the BMW. However, there is an incredible amount of tuning and modification that has gone in as well. Apart from completely developing the design for the RR 310, TVS also called upon its motorsport arm – TVS Racing – to help develop this motorcycle. Not to forget the fact that it was the engineers at TVS that came up with the reverse inclined, 312cc, single cylinder, oil cooled engine. What this means is, the motor can now sit much closer to the front wheel, which brings the entire mass forward to help centre weight as well as allow for compact packaging. Also, as opposed to a conventional layout where you see the exhaust coming out of the front, here it exits from the rear of the block and straight past into the chamber helping with heat management too. Even the air intake sits on top of the motor and faces forward as opposed to a conventional design to allow for maximum air flow. There is also the 41mm, KYB tuned front forks that helps the RR 310 deliver its sport focussed handling. If that wasn't enough, TVS has worked closely with Michelin to develop a compound that best suited the RR 310, which turned out well enough to be made a standard offering by Michelin.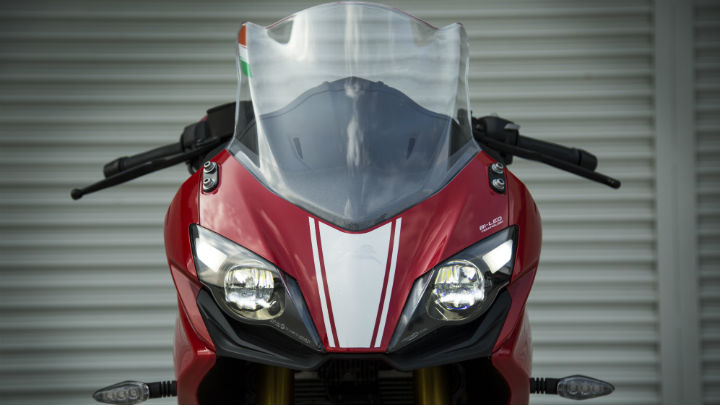 What is it like on the go then?
Right. That's enough about the way it looks and the innovative engineering that TVS has packed into the RR 310. Remember I'd told you about a racetrack and the keys to the bike? Well, this part is going to be about that. Switchgear remains the standard affair with the RR 310, but there is a vertical display now that sits in front of the handlebar. This is to help provide essential information at a glance, even when you are crouched, by placing it in the line of vision. Thumb the starter and the RR 310 settles into a rough idle, something we aren't used to. The RTRs have always had an especially pleasing note at idle, however, we are not going to hold that against the RR. On the move though, it smoothens out a fair bit and sounds better as you build the revs. There is a linear build up of the 34 horses, that are on offer, through the revs with no real let up as you approach peak power at 9700rpm. Even the six-speed gearbox transitions smoothly to ensure seamless flow of power. Turn in is surprisingly easy as is quick change of direction. It is easy to point the front in the intended direction and there is enough agility to correct lines even halfway through the corner. Sweeping corners are dealt with effortlessly as is hard braking and sharp turn ins. It is only the rear that feels a bit soft, set halfway through its six-step pre-load adjustment – standard setting. But that too can be stiffened further. While the motor remains smooth, there is a bit of vibration that creeps in as you close in on the redline, but it is never really bothersome. Gear ratios feel spot on as well, especially at the MMRT, where a lot of development work was undertaken. You never really feel like you are over-revving the engine or losing much power with an upshift. This seamless delivery makes the RR 310 especially good to ride. Flat out performance is impressive with 100kph coming up in 7.17 seconds with enough grunt to comfortably pass 130kph on the track. TVS claims a top speed of 160kph, which is an impressive number too. While it was great fun to throw around the track, it is easy to see that the RR 310 strikes a good balance with the possibility of everyday use as well. There is enough scope to sit comfortably during regular usage and the motor has enough grunt to allow you to hold a higher gear and potter around if need be. At 27Nm, the RR 310 delivers enough torque to allow you to cruise at 40kph even in fifth gear before pulling away cleanly. The 150/60 rear and 110/70 front from Michelin also work well with ample grip through corners and under hard braking.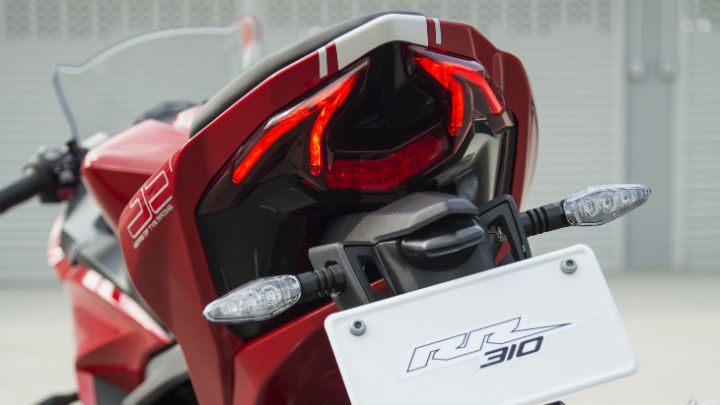 Is there enough kit?
TVS has left no stone unturned with the RR 310. They have packed in every bit of kit that you can think of. You get LED headlamps, an oil-cooled 312cc motor, a trellis frame chassis, two-channel ABS with front and rear discs, upside down front shocks and a monoshock at the rear, grippy tyres from Michelin, good levels of fit and finish and an innovative vertical display unit which reads out a host of information. Even the seat offers good support, although I did not spend a whole lot of time on it. You even get specially developed lightweight alloy wheels to ensure maximum agility and effective braking performance.
Is it good enough to be my next motorcycle?
New products generally come with a fair amount of excitement, however, with the RR 310 TVS is really excited. It is evident in their presentations, conversations and general eagerness about this motorcycle. They have developed it entirely in India and have called upon experts from various disciplines, including their own motorsport division, to get to a motorcycle that is special and will have a fair range of appeal. There is enough go fast bits to appeal to an enthusiast while not being overly demanding of the rider. It is easy to get used to quickly and allows you enough confidence to explore its performance. Simply put, the RR 310 fills the huge void that has existed between something like the CBR 250R, which never had the outright performance, and the RC 390, which is overly committed and especially demanding. At Rs 2.05 lakh (ex-showroom), TVS has managed to place the RR 310 bang in the middle of the two KTM RCs, which makes it a great option to reckon with.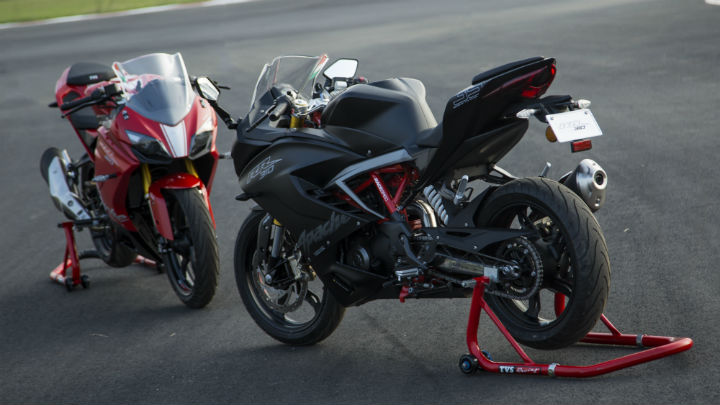 Engine: 312cc, single cylinder, liquid cooled Power: 33.5bhp@9700 Torque: 27.3Nm@7700 Transmission: 6M
LxWxH: 2001x786x1135 Saddle height: 810 Tyres: front 110/70 - 17 Rear 150/60 - 17 Brakes: Front 300mm ABS Rear 240mm ABS Weight: 169.5kg Max speed: 160kph O-100: 7.17s
Price: Rs 2.05 lakh