You are here
Ride: Avantura Rudra and Pravega
Now we all know what a 'Cruiser' is, but when it comes to 'Chopper' motorcycle it's a breed of motorcycle that's relatively unheard of in India. And for good reason. You see, a Chopper is by definition and design very old-school and very radical. The traditional chopper has a large air-cooled engine, looks overtly flashy, loud and is typically a terribly stiff ride. The raked-out forks make the bike tough to turn at low speeds and cranky on curvy roads. The rear tyre basically tries to mimic that of a steamroller and sticks snug to the seat with little or no suspension movement. The level of chrome on these bikes is designed to blind the daylights out of you. The stretched handlebar position seems specifically designed to tire your shoulders quickly. Just as in the world of high fashion, comfort and functionality take a back seat to style on motorcycles of this caliber. But there's a reason people ride motorcycles like this. It's all about the style, the showmanship.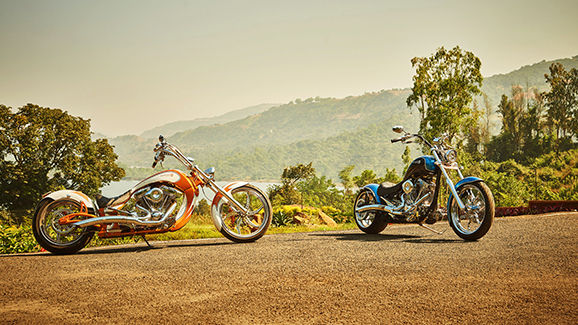 Avantura Choppers is the first company in India that has taken the initiative to introduce this breed of motorcycles in the country. Not everyone will think a chopper is the ideal kind of motorcycle for a company like India, but then again, this kind of motorcycle isn't actually for everyone. Avantura isn't looking at mass production, but catering to the tastes of a select bunch of individuals. Avantura has invested heavily in this very niche project and even set-up strategic partnerships with global manufacturers like US-based performance engine supplier S&S Engines, 6-piston forged brake calipers from France's Beringer braking systems, Primo suspensions, Mustang seats, Germany's Kellermann lights and Avon tires to be the OEMs that pitch in to their product line.

We recently got a chance to ride the Rudra and Pravega Choppers on the outskirts of Pune to get a feel of what riding thoroughbred choppers was like in Indian conditions. First up, just walking up to chrome-laden motorcycles like the Rudra and Pravega which stretch more than 9-feet in length is overwhelming. Everything about these bikes is big. The Rudra rolls on a 23-20-inch wheels setup while the Pravega makes do with a 21-18-inch combo. Photographs simply don't do justice as to how long these motorcycles actually are. The bikes are low-slung and the long low rider look is further accentuated by the ape hanger bars, and the huge wheels on either end. The wheelbase is of the Rudra is a 2180mm while the Pravega is 2006mm. The wide section Avon Cobra rear tires contribute to the beefiness of it all. Both motorcycles are powered by the same 2032cc air-cooled V-twin from S&S cycle USA - the same company Harley Davidson rings up for performance enhancing parts for some of its competition machines. The ARAI is yet to conclude over the final power and torque output figures of the massive 2-litre motor, we can confirm that there's more than enough grunt on tap from the short-stroke fuel-injected motor to get off to a flyer, even with those chunky wheels. And while it did take some time getting used riding this pair at low speed, once accustomed to riding they were not as painful as I had originally perceived. Both bikes get a progressive suspension setup on both ends - which can be a bit unsettling over choppy surfaces, but it can be forgiving if you slow down in time. The more vertically challenged the rider, the more a task taking turns will be seeing as both of these long machines come with 38 and 34 degree rake angles and wide handlebars.


As we would find out, both these motorcycles are best suited to open highway scenarios where you can really let the engine lose and not have to employ the heavy clutch much. Unfortunately we didn't come across a single speed breaker on our test ride of the two bikes to check if the underside would hit, but on paper the bikes do sport a higher ground clearance than the Enfield Classic, which is a bit comforting.

As soon as you let the engine lose and hit triple digit speeds down the highway, everything seems to fall into place. As I short-shifted my way up the six-speeder I found high speed stability is good - aided much by the stubby 280 and 250 section Avon Cobra out back. As expected, suspension is on the stiffer side, and you'll feel each and every bump you tread over. But these bikes are supposed to be stiff and uncomfortable. It adds to the bikes character. It's the experience of riding a low-slung motorcycle with arms and legs stretched out in front around that long slender tank, with the ludicrous roar of the aftermarket exhaust (made in-house once again) felt uniquely exhilarating. Sure it was a bit more physically demanding as compared to most factory-produced machines, but seeing the jaws of everyone around hit the floor as they frantically try to get their camera phones out in time as you roll on by, feels worth the effort.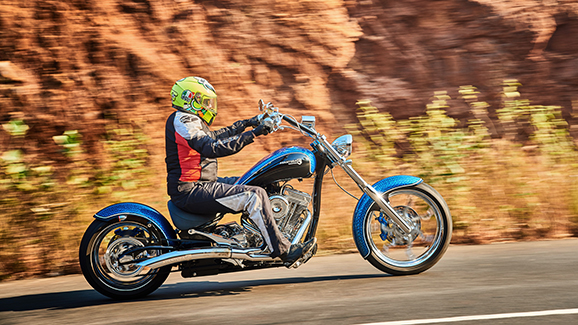 A chopper is a style statement after all and this is exactly the attention bikes of this nature command.

The tiny single pod display reads out the revs in analogue format while speed, fuel level, clock, trip, range is digital. If there was one qualm with the bikes it would have to be the front brakes which lacked a good feel at the lever and bite. We'd expect a six-piston caliper to be more effective in reality. Getting a motorcycle that weighs close to 350kg is no laughing matter and the front brakes which felt rather wooden felt rather lethargic while attempting to shed speed in a jiffy. There's no ABS on offer at the moment too, so locking-up the better feeling rear wouldn't be the best thing to do either. Yes, well that and the fact that I kept toasting the edge of my riding pants on the exhaust every time I had to take a U-turn astride both motorcycles. Though the Rudra is the longer of the two, (It's also got a smaller 17l tank to the Pravaga's 21l) it felt like the more manageable bike to ride between the pair.

For now the company is set up in Mumbai with plans to expand in two other tier three cities by this year end with a more expansive dealership network to follow suit. Getting people to appreciate not only the motorcycles of this class, but shell out Rs. 23.90lakh (Rudra) and Rs 21.40lakh (Pravega) for the workmanship that's gone into their making is a different ballgame altogether. We won't even bother getting into the infrastructure being compatible across the country, because frankly at this point in time, it isn't. There are some places where you won't be able to ride bikes like this. But in true Indian mentality, there's always another way to get around to it. As far as choppers go, these bikes aren't in any true way of being, a form of compromise. They are exactly as they are meant to be - big, loud and mouth-wateringly gorgeous to look at. Yes, if you've been waiting for it to happen, it finally has. The American dream is now very real.


Specs:

Rudra - Rs. 23.90lakh (ex-showroom, Mumbai)

Engine: S&S V124, 2032cc, liquid-cooled, V-twin

Transmission: 6M

Kerb weight: 344kg

Wheelbase: 2180mm



Pravega - Rs. 21.40lakh (ex-showroom, Mumbai)


Engine: S&S V124, 2032cc, liquid-cooled, V-twin

Transmission: 6M

Kerb weight: 347kg

Wheelbase: 2006mm