You are here
Allow me to teleport you to the beautiful city of Valencia, in Spain, where I am meandering along the gorgeous Las Arenas beach, breathing in some fresh air and taking in the beauty of the surroundings. Just as the sky turns a spectacular shade of orange, I realise the sun isn't setting into the sea. Instead, it's disappearing behind the city skyline. While it may be an everyday sight for the locals, for someone like yours truly – who is used to the shores of Mumbai and Goa – this is a first. What? You don't want to know more about this fabulous beach? Okay, I'll cut to the chase. I'm not in Spain to be a beach bum, I'm here to drive and be driven around in the all-new Audi A8 that will hit our shores in the second half of 2018.

Usually, when we land in Europe for one of these drives, we sit through an corporate spokesperson-led presentation, grill the engineers FBI-style to better understand the vehicle in question and hit the road thereafter. But that wasn't the case this time around. Why? Because the A8 demands so. You see, with this flagship, Audi is on a mission. A mission to get back to the top of the flagship game, a position it squandered a few years ago. And to get to its destination, it has stuffed the A8 with technologies that not only make its flagship ready for the future, but also one of the most advanced vehicles the world over. Heard about cars capable of driving themselves, right? Well, you're looking at one.

The fourth-generation Audi A8 you see here is the only production ready vehicle globally that gets Level 3 of autonomous driving. No, it won't drive you to work and back while you enjoy a massage in the rear seat, but it has sharpened its 'controlled self-drive' skills that require the driver to take charge beyond a point. With its evolved 'Traffic Jam Pilot', the A8 can now assume complete responsibility of steering, throttle and brakes, and keep moving in bumper-to-bumper traffic at up to speeds of 60kph on clearly-marked single carriageways. Let's strike out Indian roads, then. But if you want to change lanes, or go faster, you will have to override the computer. Why is it not fully autonomous, you ask? Because the world isn't ready for cars that don't need human intervention after a point – and certainly not India. Our very own visionary Road Transport minister eliminated the idea of autonomous cars fearing 'unemployment', remember?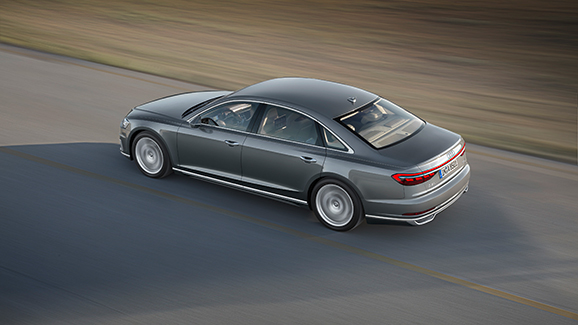 When engineers urge you to drive into a wall at parking speeds and not hit the brakes, it shows the kind of faith they have in the technology they've developed. Yes, I drove into a wall and reversed into barricades at 10kph, and if you're wondering how the demolition derby went; the A8 steered away from the side walls and braked hard on its own just in time to keep its all LED jewellery intact. Impressive. Even more notable were the A8's self parking skills. Parallel and perpendicular parking are party tricks even the Benzes, BMWs and Volvos possess. But we remotely parked the A8 into a slot using a smartphone, switched off the engine, rolled its windows up and locked the doors – all without even getting close to the car. If walls and barricades weren't enough, Audi made one of its interns ride a bicycle dangerously close to our A8 as we tried getting out of it in a parking lot. Twice. The cyclist survived, on both occasions. First, the Audi deliberately delayed opening the doors letting the cyclist pass safely and then, it braked on its own as we tried sneaking out of a tight lane, sensing oncoming traffic.

Impressed with its appetite to save the world and its self-driving skills, it was finally time to hit the road. Currently, the A8 is available in the Europe with a couple of V6 engine options – a 3.0-litre TFSI and TDI. There's also a W12 petrol unit that the Arabs can enjoy from mid-2018, if they wish to wait for six months, that is. But since we are a nation that cares more about efficiency than bhp figures, let's forget about the 575bhp W12, our top-of-the-line variant would be the 453bhp V8 petrol mated to an 8-speed auto, and that's what we've driven today.

Speaking of forgetting, are you the kind who often fails to remember your wife's birthday or your wedding anniversary? If you are, then do yourself a favour and buy this car when it comes to India. No, it won't set reminders for you, but the next time you forget a special occasion, you can simply drive her down in the A8 to one of the swankiest restaurants, for it surely knows how to pamper its occupants. Our part of the world gets the longer versions of flagship sedans, so this 5.3 metres long A8 L gets tons of legroom, superbly comfortable and class-standard reclining rear seats with ventilation and massage function. It is opulence guaranteed. Now considering you're open to the idea of buying an A8 just so it'll bail you out of tricky situations, spend a little extra on the optional rear seat with foot massage function – that's one of A8's party tricks and you have my word, with this, the missus can't stay mad at you for long. Sure, the S-Class too will massage its occupants, but the intensity and efficacy on the Audi feels better than in the Merc.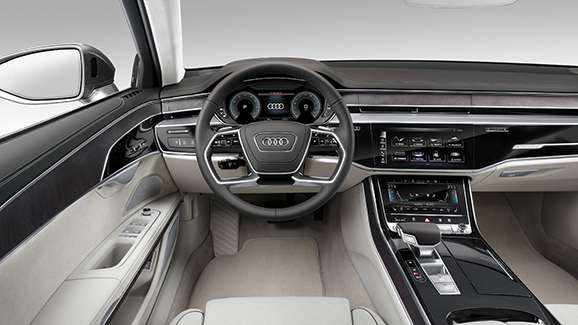 These luxury flagships are all about a stately back-seat ride and seldom do they market themselves as dynamic-to-drive barges. But with the progress Audi has made over the last few years, the A8 is a bit different here. No, I'm not suggesting it can transform itself into a driver's car but with its adaptive air suspension teamed with ultrasonic sensors and optional-for-V8 Audi AI active suspension, you won't probably get what the hullabaloo over the pathetic roads in our country is all about. It has got the means to flatten out the meanest of bumps so your power nap won't be ruined.

Over the past few years, I've fallen in love with Spain. Not for its beaches, not for its oranges, but for the impeccable roads it offers. More so the winding roads that can even ruffle a few sportscar feathers as far as dynamics go. I won't say the A8 stayed dignified all throughout – it won't let you forget its overall volume – but with the new electronic chassis platform, improved steering and first-in-class rear-axle steer, the 5.3m-long A8 dwarfs itself well around the twisty bits and offers an experience true to an Audi flagship.

What's a flagship sedan if it doesn't spoil you silly with luxury? The new A8, with its very business-like yet futuristic cabin, button-less centre console that goes well with the virtual cockpit, and tons of creature comforts and acres of carpet area, gets its basics spot on. You can argue, so do its rivals. But Audi seems to have gathered momentum with the new A8 and how. Gone are the days when the term 'technology of the future' would have the A8 lower its gaze and avoid dialogue. This A8 now has a card to match each of its rivals' moves, and in some cases, even outdo them; Level 3 autonomous driving capabilities being one of them. Okay, it still is in a developmental stage and things can only get better from here on. And yes, it remains to be seen how much of its self-drive tech and radar-based safety equipment eventually makes it to India. But even without a few of its headline features, the A8 has all reason to feel confident about its chances in the battle of the flagships for years to come.



Specs
Audi A8L 60TFSI
Engine: 3996cc, V8, turbo-petrol
Power: 453bhp
Torque: 600Nm
Transmission: 8-speed, AWD


Verdict: May not look as flashy as an S-Class, but can take on the best as far as ride comfort and luxury go. Plus, it's brimming with technology.