You are here
Jaguar has built an all-electric E-Type
"We future history." That's the tagline used by JLR's classic division, and an idea perfectly expressed by the Jaguar E-Type Zero. To put it another way, you're looking at an E-Type EV.

We know. Is nothing sacred? Widely regarded as the most beautiful car there's ever been, surely internal combustion is as core to the E-Type's entire reason for being as its famously seductive shape?

On the other hand, there's method in this particular madness. Firstly, Jaguar's fast-growing classic division has managed to retrofit a 220kW electric powertrain into the E-Type's chassis without getting busy with an angle-grinder – the chassis is completely untouched, suspension, brakes and all. Secondly, because the 4.2-litre straight-six did service in virtually every Jaguar made from 1949 to 1992, this electric powertrain could theoretically be fitted to every one of those cars. Not only that, it can be unplugged again, and the original ICE hardware reinstalled. Just ponder the possibilities for a moment…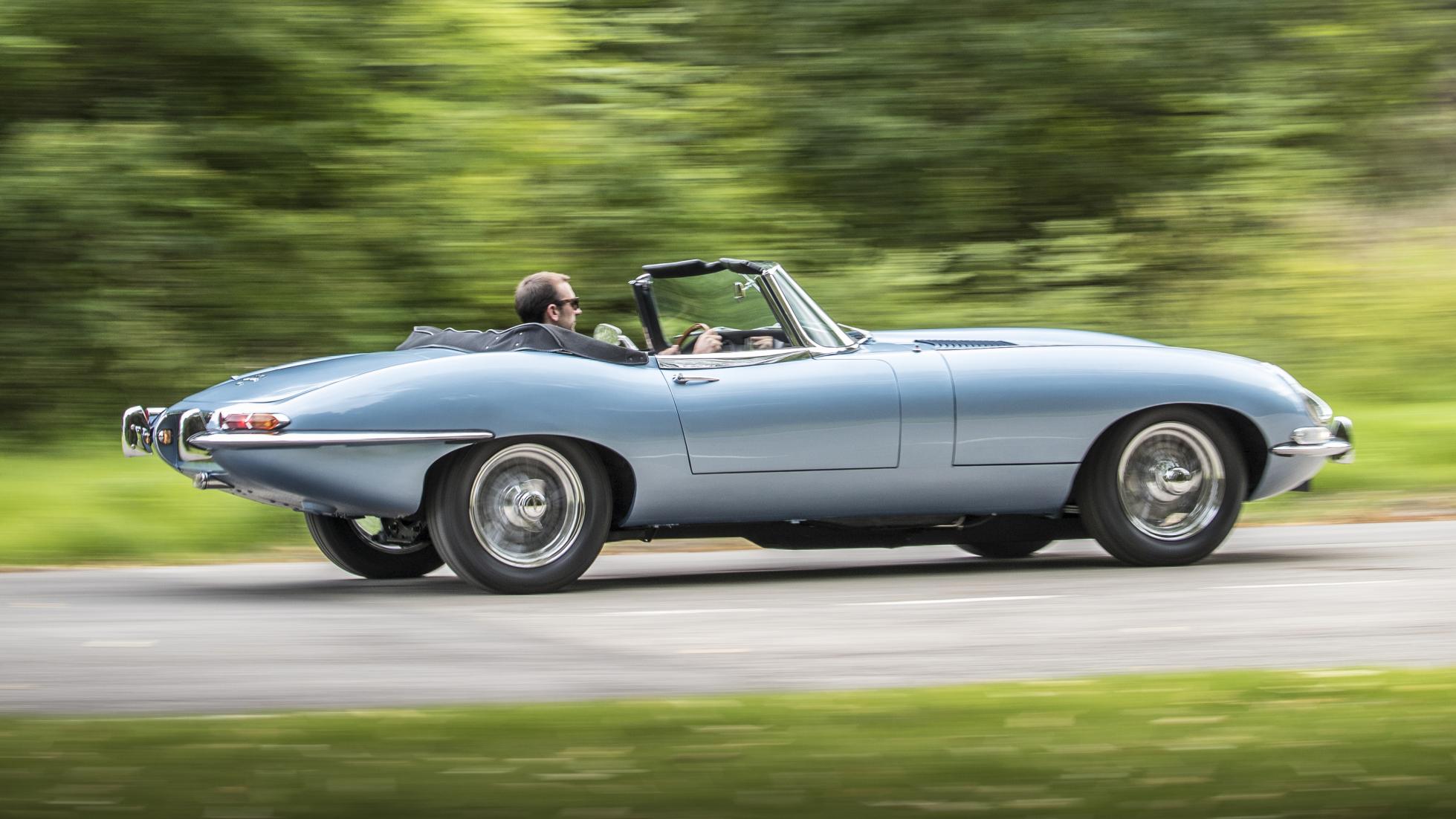 "It's not unthinkable that a city like London could ban internal combustion vehicles at some point in the future," JLR Classic director Tim Hannig says. "The E-Type's the most tightly packaged Jaguar, so we can convert any classic Jaguar into an EV. Not only that, but we know there's an audience out there that is attracted to the style of a classic car, but doesn't want the inconvenience that can sometimes come with it. We also understand it's not for everyone, and the guys who crave originality might have issues with it. But we think this is a way of future-proofing classic car ownership. We're showing it to some of our clients, and we'll see what the market makes of the concept."

TopGear.com had a preview, and sitting in an E-Type as it whirrs off in near-silence is a genuinely spooky experience. The liquid cooled battery pack fits as if to the manor born right where the engine usually sits, with the electric motor and reduction gear just behind it (where the gearbox is sited in the original). A new propshaft sends power to the same differential and final drive. The inverters and control units sit snugly in the boot.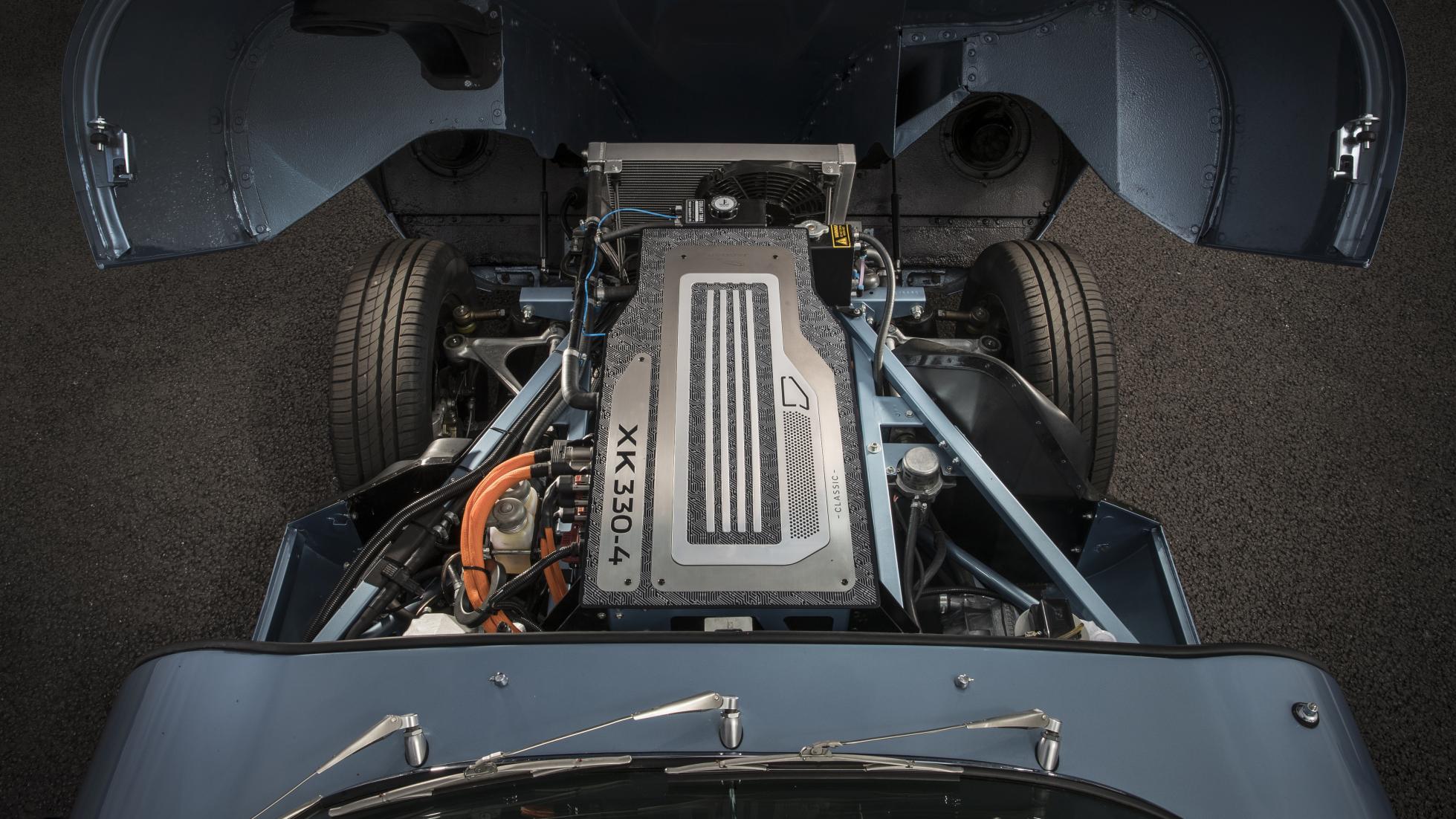 ÂÂ Jaguar claims a range of 270km on a full charge, and a zero to 100kph time of 5.5 seconds. Replenishing the battery takes six to seven hours, depending on the power source, but there's no fast-charging option. Given the utility profile of most classic cars, that's probably not an issue.
E-Type Zero was developed with an undisclosed technical partner, and uses a different battery pack to that in the upcoming i-Pace (demand outstripped supply as the new EV ramps up, for now at least). Nor is the E-Type Zero prohibitively heavy: in fact, it's approximately 80kg lighter than the original. "Weight wasn't the issue," Hannig says, "because the 4.2-litre is a heavy engine. Securing a decent range was the challenge."

There's a new instrument panel and centre console inside, using a TFT screen and a central display that shows power output and usage, range, and music options (hard drive, not vinyl turntable, but you can't everything). The future has never looked so reassuringly familiar.