You are here
Lamborghini to launch Huracan Spyder on May 5
We will be seeing one more exotic on the roads soon. Automobili Lamborghini India has confirmed the launch of the Huracan Spyder for May 5, alongside the supercar, the Italian automaker will also inaugurate its new showroom in Mumbai.
The topless Huracan gets an electrohydraulic fabric roof that can do the open/close routine in 17 seconds at speeds of up to 50kph. Internationally, the lightweight roof can be had in three colours: black, brown and red. The convertible's appearance is not marred by ungainly roll hoops as they automatically pop-up when needed. That is, when you roll over your Rs 4 crore (estimated) supercar.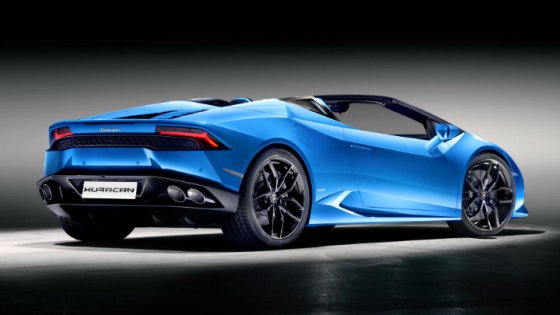 The interior mimics the exterior styling with hexagonal trim elements and exudes luxury due to the presence of Alcantara and leather in generous quantities. The centre console runs all the way from the dashboard to the central tunnel, housing the avaiation-inspired start/stop button and snazzy toggle switches. Behind the multi-function steering wheel sits the 12.3-inch TFT instrument cluster powered by an Nvidia graphics processor capable of 60fps, which ensures crisp graphics. The list of standard equipment includes the infotainment system with radio, CD/DVD drive, audio interface and six speakers. The options list is even more varied and comprises of optical park assist with reversing camera, navigation system, Bluetooth interface and digital radio tuner among others.
The aluminium and carbon-bodied Spyder derives power from a sweet-sounding 5.2-litre naturally-aspirated V10 engine. This unit delivers 602bhp and 560Nm to all four wheels through a seven-speed dual-clutch transmission. That much power when put in a car weighing just 1,542kg translates into blistering performance. Here are the stats: 0-100kph in 3.4sec, 0-200kph in 10.2sec and a top speed of 324kph.
Can't wait to see one in the flesh? We can't too. In the meantime, like us, you can ogle at the photos.