You are here
Review: 2017 Jaguar XE 20d

The diesel powered XE has been here a while, but somehow the car has managed to evade us for a few months. But now that we have managed to get our hands on it, we've put it through its paces. Verdict? We're impressed.

Now, we've already tested the two petrol motored XEs, and since there are no chassis and steering changes between the diesels and the petrols, we're not going to delve on the handling, ride, looks and features. We will summarize though. The XE remains a great car to drive and be in. The steering is well weighted, it is quick to turn and while the ride is stiff, it isn't unpleasant by any measure. The cabin is as classy as they come and is typical JLR. The seats offer great support, the sunroof adds to the roominess and the second row isn't cramped either. The only complaint we have had is that the rear looks a little lazily designed. But when the rest of the car looks as good as this, who'll complain?

The big change here, though, is the engine. And that is what we are going to talk about in depth. The 20d uses Jaguar's new Ingenium engine with a displacement of 1999cc. The motor makes 177bhp and delivers 430Nm of torque and is mated to an 8-speed gearbox from ZF that delivers drive to the rear wheels. Like the petrol engine car, this one too gets JaguarDrive Control that will let you select Normal, Eco, Dynamic or Rain Ice Snow modes.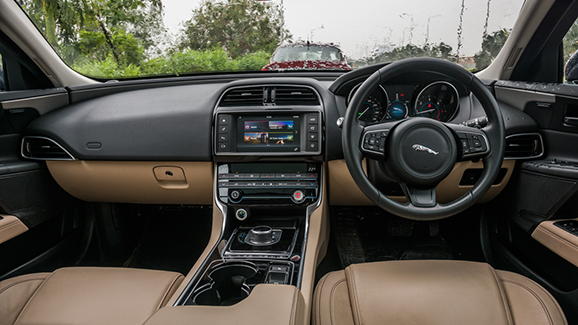 Read more...
The engine and gearbox combo is super smooth one and makes for a very refined drive. And considering peak torque arrives at 1750rpm and stays on for another 750rpm, you're never really in need of a lot of gear changes any way. Flat out acceleration will see your traction control light going off through the first two gears, and if turned off, the car will lay darkies on the tarmac all day long.

We managed to test the car in some of the wettest conditions Mumbai has seen this year and it still managed to clock 8.2s to 100kph. It also manages roll-on acceleration seamlessly with 30-50kph coming up in 1.5s and 50-70kph in 2.1s. And despite being an eager performer, the XE still managed to return 9.4kpl in the city.

Overall, the XE 20d retains all the things we loved so much about the petrol XEs. But at Rs 44.72 (ex-Mumbai) it's priced a fair bit pricier than its competition. But then that's just the price you have to pay for exclusivity we guess.



Specs:

1999cc, 4-cyl, turbo-diesel, 8A, 177bhp, 430Nm, Kerb weight: 1520kg



Verdict: A quick and refined motor in an already great handling, great looking car!