You are here
Review: BMW G 310 R and G 310 GS
F.I.N.A.L.L.Y!
Yeah, days after France lifted the World Cup trophy, BMW Motorrad launched its most awaited motorcycles in India, the G 310 R and the G 310 GS. To put it into context, Germany had not even lifted the 2014 FIFA trophy when BMW Motorrad and TVS Motors first intended to work together, so it's been a really long wait.

Was the wait worth it?
That depends how you look at it. From our initial riding impressions, the G 310 twins come across as strong 300cc motorcycles, be it the naked 'R' or the baby 'GS' variants. They both excite you from the moment you swing a leg over either of the saddles. Be it styling, fit and finish, road-dynamics, off-road capabilities, and overall riding satisfaction, both the G 310s have a lot of positives to talk about, and a few niggles to take care of.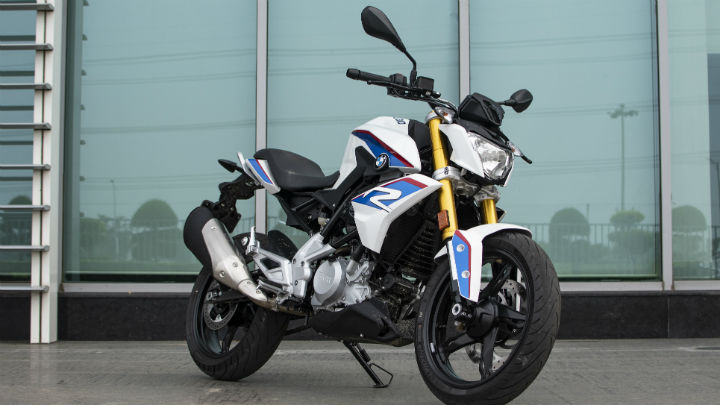 Okay, one at a time. Can we start with the styling, please?
Looks are subjective they said, but I would really judge someone for not appreciating the way the G 310 twins look, especially the GS. With all the raised suspension, bulkier tank extensions, the larger front wheel and the signature beak, it does complete justice to Motorrad's off-road brand in terms of looks. It's a baby-GS alright, but the 310 GS does have quite some road presence. And then the R, it doesn't look bad either – inspired from the S1000R, the 310 R with its sharp but minimalistic styling comes across as an attractive motorcycle, if not outright sexy. It's amazing how two motorcycles that are fairly identical under the skin can pleasingly pull off completely diverse styling. However, you aren't alone if the golden forks, alloy wheels, and the exhaust seem familiar to you – the TVS Apache RR 310 uses the exact same components.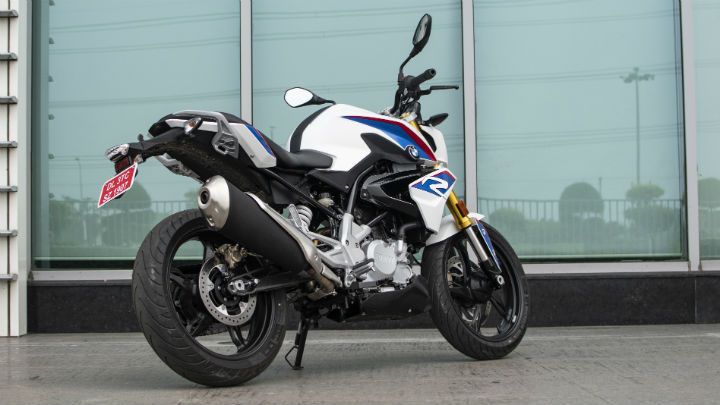 Similar bits to a motorcycle that's a lot cheaper. Should I be worried?
I know that doesn't sound great, but remember, the RR 310 is a fantastic motorcycle to begin with. And even though the G 310s share bits with a motorcycle that's around 25ÂÂ per cent cheaper to buy, there's been no compromise on quality here. In fact, I'll go ahead and state that the fit and finish and quality of materials used on the G 310 motorcycles seem to be the best amongst entry-level premium motorcycles you could buy today. And to achieve that despite being locally manufactured by TVS at its Hosur plant speaks volumes of this Indo-German partnership.

What's the basic difference between the two motorcycles apart from styling?
So, mechanically they are quite similar in the sense they use the same frame, their 313cc motors are in the exact same state of tune, similar gearbox with identical ratios, 300mm (f)/240mm (r) disc brakes, and 11-litre fuel tank to name a few. However, there are a few fundamental differences that set them apart. Starting from the front wheel, which is a 19 incher on the GS compared to 17 on the R, and while the naked 310 runs on Michelin Pilot Street, the adventure variant gets a more suitable Metzeler Tourance dual-purpose rubber.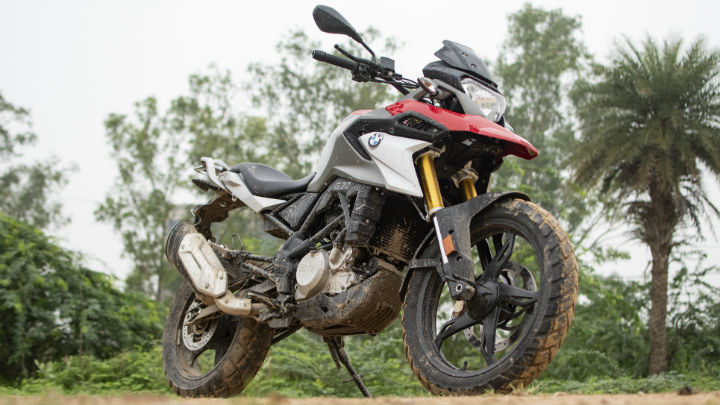 Then there's the suspension; while both use USD forks upfront and monoshock units at the rear, in the interest of exploring the wilderness, the GS gets 180mm of travel at both ends compared to 140mm (f) and 131mm (r) of the R. And because of the front suspension, the rake has changed, giving the GS a wheelbase of 1420mm, which is 46mm longer than the R. Raised suspension also means the seat height on the GS is at 835mm – that's 50mm more than the R. Both motorcycles get dual-channel ABS, but only the GS has a switch to kill it when you go off-roading. And finally, the difference in weight – at 169.5kg (wet), the GS is a whole 11 kilos heavier than the R, which does affect the performance in the real world.

Talking of performance, what's the GS like on and off the road?
Although our time with the GS was a short one, we managed to ride it on a newly built highway off Manesar and explore a few novice-level trails closer to Gurugram. And on both counts, I was pretty impressed – starting with the ease of riding and the overall comfort. The GS, with all its imposing stance, does come across as an intimidating motorcycle, however, don't let that 835mm seat height fool shorter riders into thinking it's going to be embarrassing every time you swing a leg over it. It is tall alright, but it's also slightly narrower, which means reaching for the ground won't be a problem for many. Plus, at 169kg, it's fairly light to have some good time mucking around.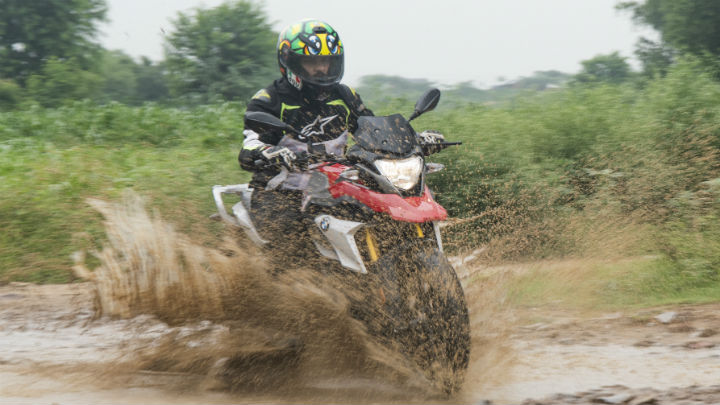 The steering is light and you're always sat in a very relaxed manner, which is a good indicator of being a perfect long-hauler. It may not have a huge windscreen, but the smaller one it comes with does a decent job of deflecting air and helping the rider cool off at the same time – be ready to have some splattered bugs on your visor. Then there's the long travel suspension that does a great job of providing excellent cushioning over rough patches and I've had a rather comfortable hour-long ride on the highway. The GS may not be a sharp, precise handler owing to its softly sprung suspension and higher center of gravity, but it's reasonably quick to change directions. Remember, because you sit in an upright, relaxed position, snaking around traffic or fitting into those narrow gaps doesn't come naturally to the GS.

What does is going off-the-road. The dual-purpose Metzelers are good enough to tackle loose soil, slushy fields, and mucky puddles, and the 310 GS does seem like it can take a fair bit of beating out in the wild. However, we wouldn't go ahead and call the G 310 GS a hardcore off-road tool. We have our reasons; it doesn't come with wired wheels and proper off-road tyres, and BMW Motorrad is yet to figure out an adventure pack for its baby GS in India. However, if riding up to Khardungla is your definition of adventure biking then the G 310 GS would make for a great companion.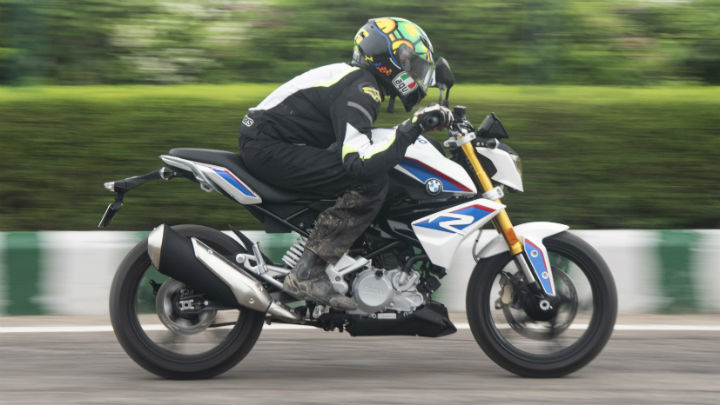 How about the R, is it a Duke-killer?
Let me begin by clearing off one thing – the BMW G 310 R and the KTM 390 Duke may be operating in a fairly similar space, but they couldn't have been more opposite. And I'm glad Motorrad didn't aim at making the 310 R an angry baby monster like the 390 Duke. Instead, the G 310 R is a very calm and composed street naked that feels sharp and agile at the same time. It's quite light on its feet and it's amazing how different this one feels from the GS. The R feels much, much smaller and even easier to get used to with a positive feedback from the handlebar.

The lower seat height makes for a great riding position and unlike the TVS Apache RR 310, you aren't tipped forward all the time, which means the 310 R offers a relatively relaxed body posture that suits long-distance highway riding and daily urban commute equally well. Plus, that single-piece seat and the relatively firmer suspension equate to a surprisingly comfortable ride time. In fact, a two hour saddle time out on the highway didn't leave me with even the slightest of discomfort and I'm assuming it would stay the same even on a 6-hour long journey. And lastly, that 11kg advantage on the R is easily felt in the performance department, which we shall get to next.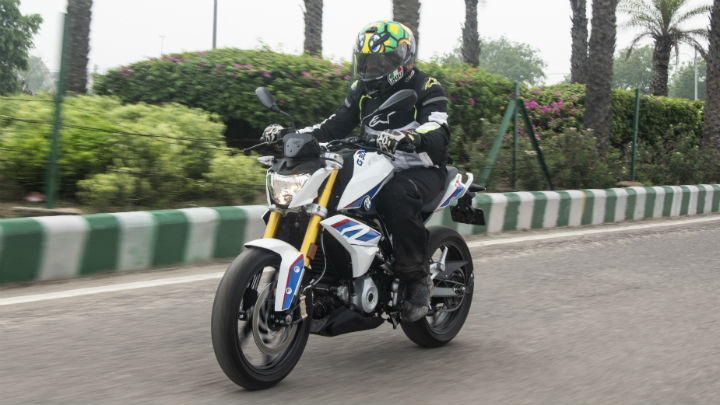 Thank you
Although the 313cc motor makes exactly the same amount of power with identical delivery curves and gear ratios, the R feels so much more energetic and athletic when you twist the throttle – the lighter kerb weight playing its part well here. It's not Duke-rapid, but good enough to keep you interested at all times. It's a nice tractable motor with a good surge in power past 6000rpm, all the way till 9000rpm. The exhaust note may not sound as premium as the badge on the tank and the handlebar suggest, but I believe there's only so much you could get out of a 300cc motor.

Having ridden the Apache RR 310 extensively before, we do know this motor won't win any laurels when it comes to refinement and being vibe-free. Thankfully, BMW has done a decent job of improving upon those areas and things do feel a lot better than on the TVS. Vibrations from the seat and the handlebar have been taken care of, however, between 6000-7500rpm you can't help but notice the vibes from the footpegs and then eventually from the fuel tank spoiling the party somewhat. Thankfully, things aren't that bad and after an hour into riding, you can easily wire your brains to ignore that.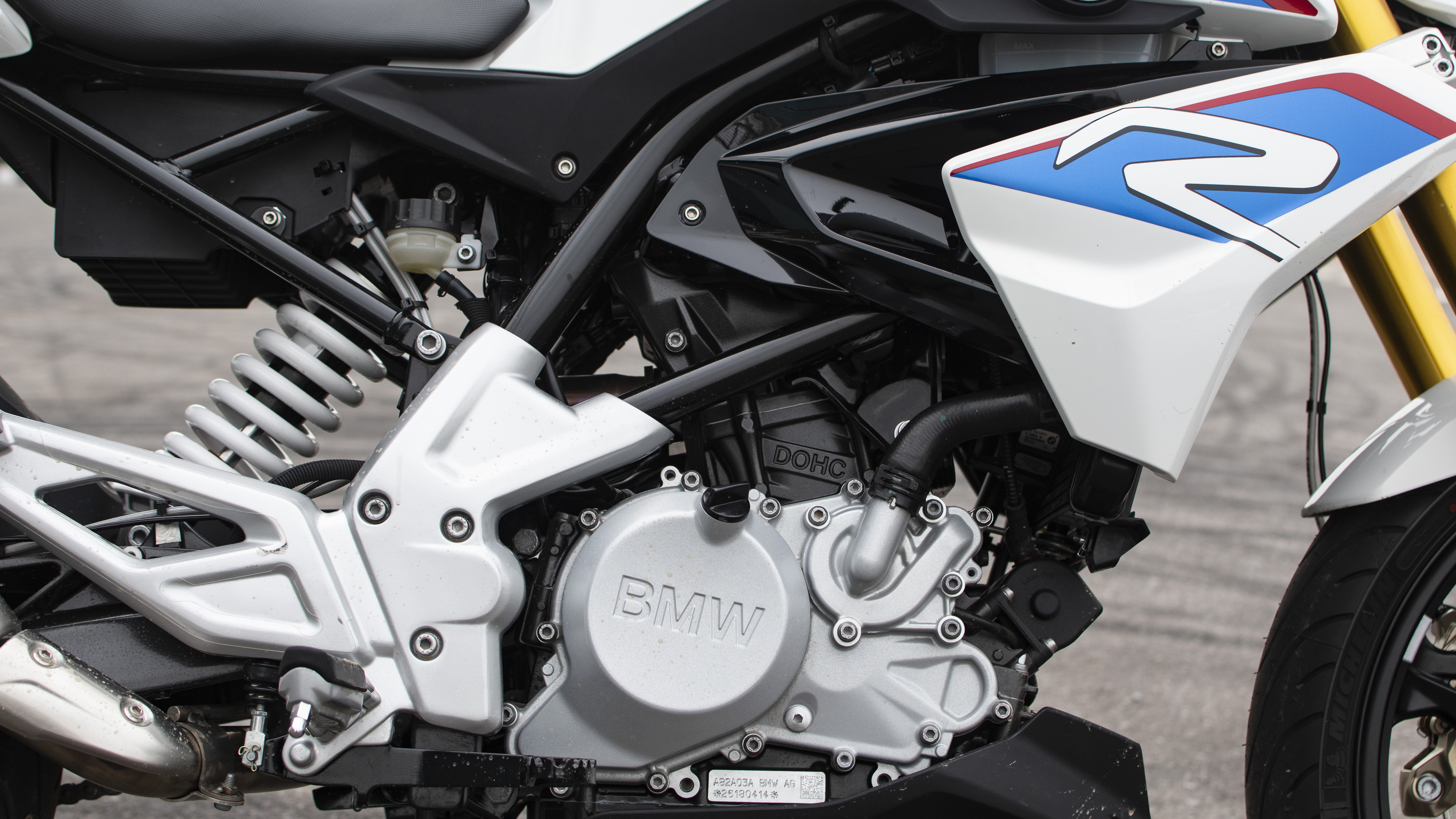 It's a similar story with the GS as far as the tremors go, and understandably it doesn't feel as spirited and punchy as the R – it's amazing how much of a difference in performance that additional 11 kilos factor in. But then, the GS isn't a motorcycle that you would want to ride like a lunatic or indulge in a drag race at a stop light. It's a motorcycle for those long, relaxed weekend rides and that 34bhp/28Nm and 6-speed 'box is a nice combination for that.

So far so good. Anything you would want to improve on the G 310s?
Oh yes, there are a few notes I've taken down during this ride experience. Vibrations being one, which we've discussed already. Then there's the clutch which is quite easy to stall when riding in stop-go traffic or even while off-roading. And a fuel tank that can carry only 11 litres on an adventure tourer seems a little less to me. You wouldn't appreciate stopping for fuel on a 300cc motorcycle every 250 kilometres, would you? And good luck finding fuel pumps while venturing out in the wild – I'm afraid 11 litres won't take you deep into the jungle. I also feel that the brakes lack initial bite, especially on the GS. Then, compared to its rivals, the G 310s misses out on features like LED headlamps, a slipper-assist clutch and a TFT dashboard, and when you are charging a healthy premium over your established rivals it becomes really difficult to justify the sticker price.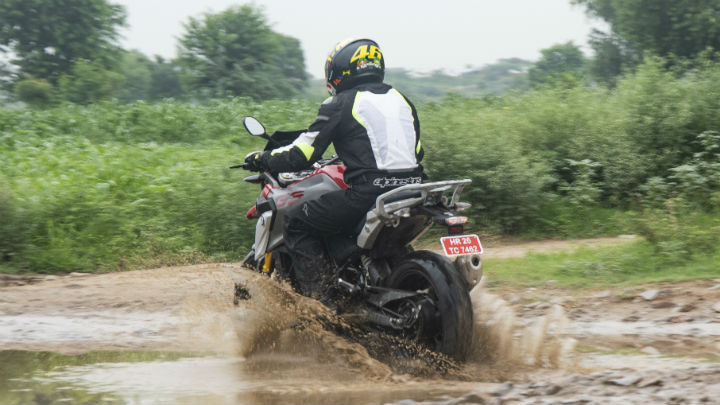 How much do they cost?
For the naked sport R variant, BMW is asking you to shell out Rs 2.99lakh, ex-showroom, which is a good Rs 60,000 more than the KTM 390 Duke and Rs 86,000 dearer than the RR 310, a motorcycle that it shares its bloodline with. Similarly, at Rs 3.49 lakh, the GS may not exactly have a direct rival at the moment, but even then, that's a huge premium BMW is asking for.

So what's your final word on the G 310 twins? Worth the hype? Or the money?
It's a difficult question, really. It isn't black or white. If the G 310 GS manages to impress with its overall comfort, big-bike feel and off-road worthiness, the 'R' proves you don't have to be a hooligan to be an enjoyable motorcycle. And depending on your needs, you wouldn't be wrong buying either of these. So that takes care of the worthiness. About value-for-money, it's a little complicated. If you're fine paying a huge premium to get yourself a ticket into the BMW Motorrad community, please go ahead and sign that dotted line.


However, on the basis of VFM or pure merits, the Duke and the Apache would score higher points than the R. It's a different ballgame if your heart is fixed on the GS, for now, the only real threat is the Kawasaki Versys X 300, which is a whopping Rs 1.2 lakh more expensive. Now that's a good way to make the GS look like a better deal. A word of caution though, Bajaj has already announced that the KTM 390 Adventure is slated for a 2019 launch, so if you like the sound of that, you should rather wait for some more time, since you've already waited for so long.

Specs
G 310 R (Score 7/10)
313cc, water-cooled, single-cyl, 34bhp at 9500rpm, 28Nm at 7500rpm, 6A, max speed: 142kph (claimed), seat height: 785mm, fuel tank: 11 litres, weight: 158.5kg (wet), wheels: 110/70 R17 (f), 150/60 R17 (r), price: Rs 2.99 lakh (ex-showroom)

G 310 GS (Score 7/10)
313cc, water-cooled, single-cyl, 34bhp at 9500rpm, 28Nm at 7500rpm, 6A, max speed: 142kph (claimed), seat height: 835mm, fuel tank: 11 litres, weight: 169.5kg (wet), wheels: 110/80 R19 (f), 150/70 R17 (r), price: Rs 3.49 lakh (ex-showroom)

Verdict
Better late than never. Impressive little motorcycles, refinement could have been better. Priced at a premium and still misses out on few features compared to rivals.