You are here
First things first – this is the Jeep Compass and this is here in India, in Goa. to be specific. We've been seeing pictures, show cars at motor shows for nearly a year now and the wait is finally over. This car is a production ready version that has rolled out of FCA's Ranjangaon plant, near Pune. What you will have to wait for are the prices of the Compass, that will be announced only sometime in August, but for now we can answer all your other questions and talk about some of the special bits on this car. We can tell you that Jeep targets to make the Compass available to you in the range of Rs 20-25 lakh, which would make it very competitive.
What we've got here in pictures for you is the Compass in its Limited trim – this is the highest variant that we will get in India and it packs 4x4 capability as well. The production car is almost identical to the car that was showcased sometime last year. Jeep has retained the contrast roof option for our cars and they have carried forward the chrome piping that goes all the way around the car from wing mirror to wing mirror. The fact that the designers have borrowed cues from the Grand Cherokee is evident given the overall profile of the car, but there are bits like the square plastic cladding on the wheel arches that sets the Compass apart. Day-time running lamps define the headlamps on this car and look rather cool. You cannot miss the seven-slot grille that sits under the clamshell bonnet or the large air dam that has been scooped out of the front bumper. It has a strong shoulder line that is nicely rounded off towards the tailgate with variations in the surface to make the design quite sleek.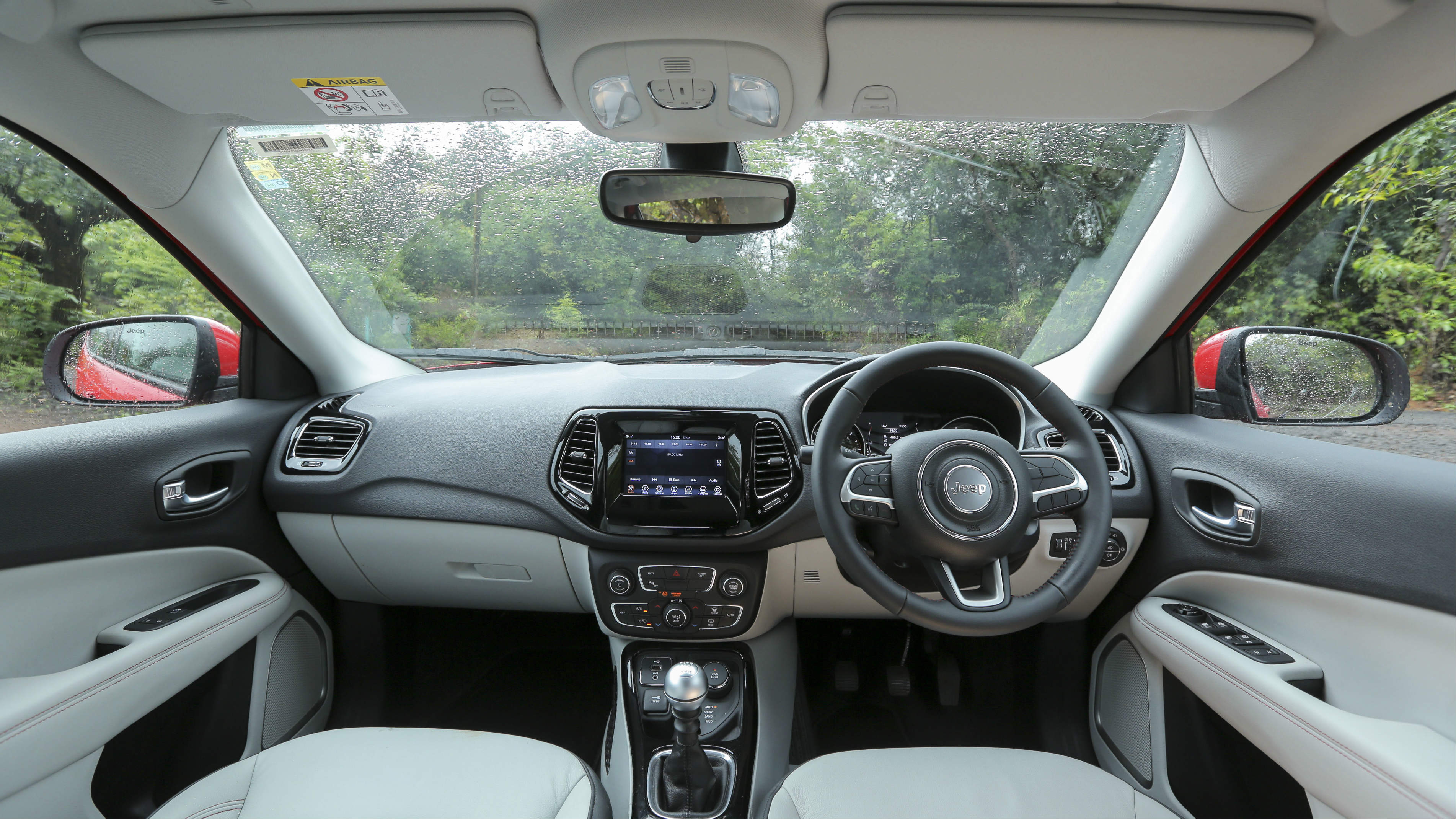 Inside the cabin, materials that fall to hand are of pretty good quality. Plastics are soft to touch and fit and finish is good, too. Even the controls in the lower half of the centre console have been finished well and there is a fair amount of storage area. Large door pockets and an under-elbow storage bin along with a reasonably-sized glovebox ensures there's ample space for oddities. In the Limited trim, you get a Bluetooth- and Apple CarPlay-enabled 7-inch touchscreen unit, which allows you to control everything from your phone to entertainment to even the dual-zone aircon. You get steering mounted controls for your phone and the entertainment system as well.
However, take a look at the lower half and you'll find the four-wheel-drive controls with auto/sand/snow/mud to choose from with a central 4WD lock function on the dial. But more on that later. Jeep has chosen to equip the test cars with a white leather upholstery option, and that coupled with the Goan monsoon and red mud may not play out very well. You do get an option of a black leather interior, too, and that may be the smarter choice in our conditions. The seats themselves, however, are very comfortable and that can be said about the second row as well – which, as a matter of fact, has seats that are unique to India and China and offer better support and bolstering.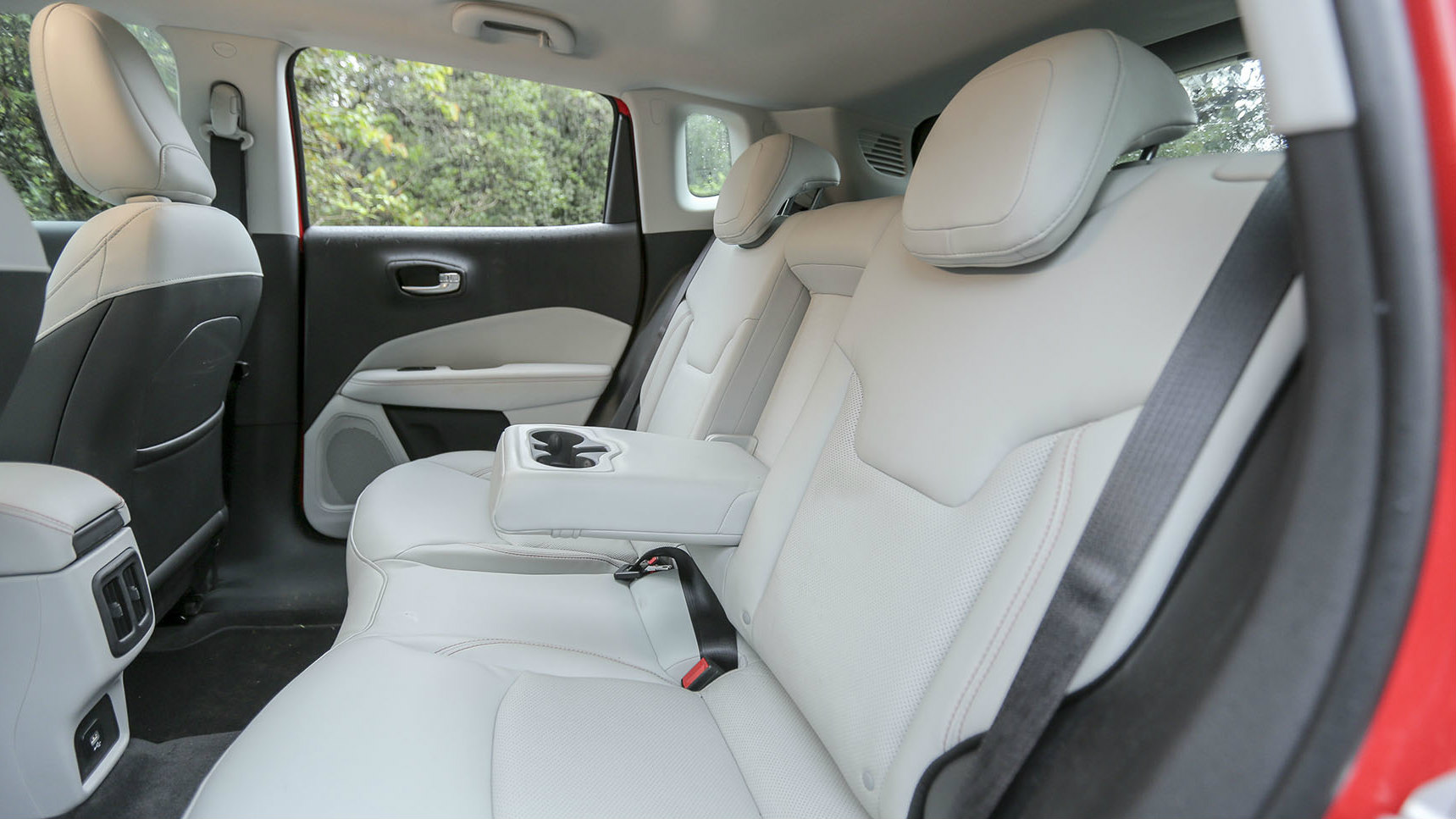 India will be FCA's export hub for all right-hand-drive markets, and the Compass that is likely to be the most popular here is the 2.0-litre, MultiJet turbo-diesel which is capable of 170bhp and 350Nm of torque. To handle all this twist, Jeep has employed a six-speed manual and this is the combination you see here. There is no automatic transmission being offered with this engine just yet. This motor is from the new generation of MultiJet engines and manages to dispense maximum torque between 1,750-2,500rpm. Hit the engine start button on the steering column to get this 2.0-litre motor to fire up and settle into idle. It is immediately apparent that Jeep has worked hard to keep noise levels low in the cabin.
Slotting the six-speed manual gearbox into first is easy and there is a positive feel to the shift action. Low-end responses are good and the Compass gets on with a certain degree of urgency past 1,800rpm. Engine response remains strong past 3,000rpm and it is only another 500 revs later that the drone of the diesel motor makes itself known inside the cabin. Moving through the gears is fairly easy and the motor will let you potter around at ridiculously low revs with good driveability. Consequently, you do not need to shift too often through urban areas, which makes life easier.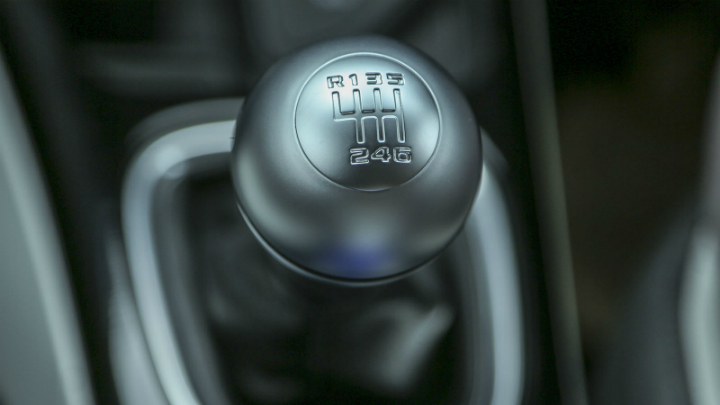 Get up to highway speeds, and the 170 horses come into their own clocking triple-digit speeds effortlessly. In fact, you can cruise at just under 2,000rpm in sixth gear and just above 2,000rpm in fifth gear doing 100kph all day and extract great efficiency out of the car as well. However, should you find yourself in a bit of a spot, shift a couple of cogs lower and there is enough boost to surge past slow moving traffic. The six-speed manual transmission sounds a nice solid click each time you execute a throw to shift gears which is almost reassuring. What is even more impressive, though, is the ride quality that the Compass manages.
While the low-speed ride is absorptive of the large speed breakers and potholes, things only get better as you gather some speed. It isn't really soft, but the damping does an excellent job of soaking up irregularities. The rain did come down pretty hard for most of the drive, but the few corners that I did have a chance to push through saw good body control from the Compass. There is a bit of body roll, but it is well controlled and predictable. There is enough here to safely allow you to explore the limits of grip with this Jeep.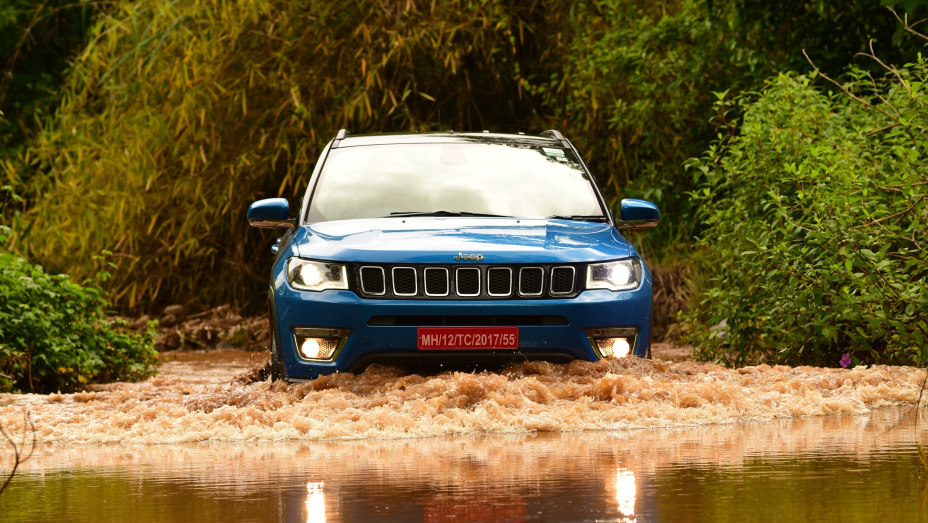 We did visit an off-road course designed specifically for the Compass with a fair amount of slush and some shallow streams. I tried toggling between auto and mud modes and also leaving four-wheel-drive locked. Despite a couple of reasonable inclines on slippery surfaces, the Jeep managed traction rather well and kept moving along with little drama. Even the bits where we ventured across streams the Compass seemed perfectly at ease as a Jeep is expected to be. The low lip under the bonnet did graze a few sections of the track, but it's flexibility allowed it to survive the course without any damage. The Compass will surely entertain most light off-road dreams that you have and may even surprise in slightly tougher situations.

For now, the Compass is the Jeep that we have been waiting for. It has its targets set on the likes of the Hyundai Tucson and that is a big task to begin with. The Compass in this Limited trim, equipped with four-wheel-drive, packs in a fair amount of features and a strong motor to take the fight to its competition. It manages great space and ride comfort as well, something that will surely go down well with prospective buyers. It does miss out on some bits compared to a feature-packed Hyundai, but the final price remains to be seen and given the smirk on faces of everyone at Jeep, they surely know something we don't and it is likely to be for the benefit of the Compass. For another month or so, we will need to hold our breaths before we know for sure where the Compass stands, but first impressions are pretty positive.
The numbers
Diesel: 2.0-litre, 4cyl, 170bhp, 350Nm, 6-spd manual
Petrol: 1.4-litre, 4cyl, 160bhp, 250Nm, 6-spd manual/7-spd auto

The verdict
After what feels like ages, the Compass is finally here and promises to be every bit a Jeep as we expected. It's got good space and excellent ride quality with a decent list of features, too.
Click here to know about the astounding pricing of the Jeep Compass.

Photography: Kunal Khadse