You are here
Review: Range Rover Sport SVR
"The mighty V8 under the hood develops 543 horses and a max of 680 Newtons. With such power on tap, once you bury the right pedal into the floor, there's complete mayhem out on the road. It roars like an angry lion every time it lunges ahead ferociously. And as the RPM needle races towards the 7000-mark, be ready to get blown away by the symphony of crackles and gunfire emanating from the quad tailpipes."
Now, this can easily be an extract from a piece describing any modern day sportscar. But this one isn't. The specimen described here is an SUV. A rudy quick one at that. It's the kind of an SUV that with the performance and aural pleasure it provides, can put a lot of sportscars to shame. It's the fastest SUV Britain has ever created. And it's called the Range Rover Sport SVR – the last three letters imply this SUV belongs to Land Rover's latest performance division, the Special Vehicle Operations.
So, how exactly did the Sport become the fastest British SUV? Well, the engineers at the SV department took the most powerful donor Sport available – the 503bhp, 5.0-litre supercharged V8 – and changed everything possible to make it better. They started off with new software programs that gave them additional 40bhp and 55 Newtons, taking power figures to 543 horses and 680Nm of pulling power. And they also blessed the Sport's 8-speed gearbox with new brain cells that make it 50 per cent faster than before.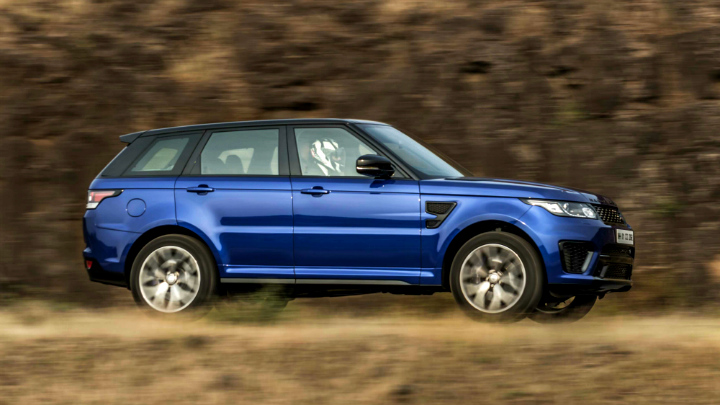 As a result, the 0-100kph sprint is achievable in 4.7 seconds, LR claims. However, once we wired it up, 5.7 seconds was the best we managed, but that's down to the poor fuel quality available here. But keep aside the 0-100kph time for a moment. For an aerodynamically-challenged design, the sheer speeds it can attain is incredible. It does that without any hint of hesitation. And it's not just about the performance, the SVR's combination of speed and noise is among the best you can find in SUVs. In fact, for us, this tops the list of SUVs with the loudest and craziest exhaust note. And when you aren't pushing the SVR, the exhaust doesn't go off to sleep. Instead, its pops and burbles all the time.
In-gear times, too, are impressive and never does it leave you wanting for more; not while overtaking fast-paced cars out on the highway and definitely not while pulling away from traffic. You can do all of that at will, and this is down to the brilliant gearbox, which now comes with better low-end torque. In fact, the 8-speeder is modified with features such as Corner Recognition that holds a gear slightly longer through a turn, or during an overtaking manoeuver on the highway. Smart.
Just better power figures don't transform a fast SUV into a potent one. The overall package needs to match up to the bump in power. So, the engineers have optimised and exclusively tuned the chassis for this application, making it 20 per cent stiffer than the Sport. As a result, it's tighter around corners and loves to be pushed harder, and with that super quick steering, able chassis and those grippy tyres, you can do that to the SVR all day long.
So yes, out on the road, there's a clear distinction between a regular Sport and an SVR. It's more composed, agile, sharper, and tighter around the twisties. There's noticeable body roll when pushed hard – it's a tall SUV, after all. However, it's not to suggest the SVR isn't capable.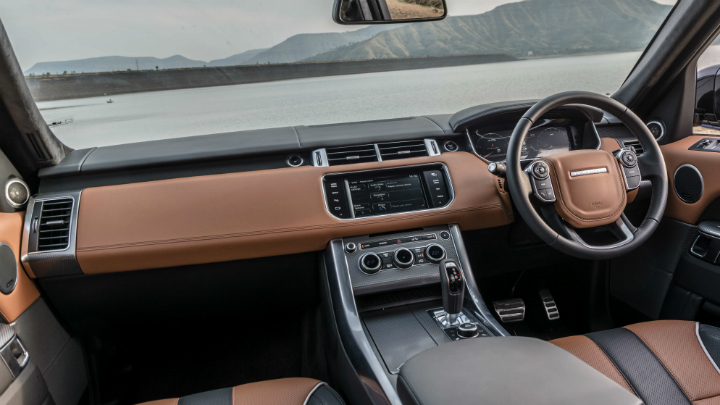 It just creates enough drama to keep you on your toes at all time. Also, don't be fooled into thinking the stiffly sprung suspension will shatter your spine on Indian roads. Despite its sporty credentials, it continues to be plush and offers insane levels of comfort, just the way you would like a Range Rover to be.
It's true, the Sport SVR is developed for the racetrack. But where things get even more interesting is that it's also a great everyday- and weekend car. First up, it's a Landie, so with all the off-road hardware it's packed with, the ability to venture into the wild comes quite naturally to it. Then, it's a Rangie, which means it's exemplary when it comes to cabin quality, and even with its pronounced bumpers and the blacked out paint scheme, it doesn't look out of place at a business park. And with the SVR treatment, you don't have to swap cars between your business meetings and those track days.
The asking price for this all rounder is Rs 2.12 crore, ex-showroom, Mumbai, and that makes it around Rs 30 lakh dearer than the Sport Supercharged. However, it isn't such a bad deal, after all. The Sport SVR will turn a lot of heads and takes great care of its passengers with its plush cabin and comfortable ride. You can indulge in some mudplugging and race up to the mountains, if that's your idea of a weekend. Plus, it now gets you more power, sharper throttle responses, quicker gearshifts, extremely supportive sports seats, upgraded brakes and our personal favourite, the trick exhaust switch.

Specs
V8, 4,999cc, supercharged petrol, 543bhp, 680Nm, 8A, 4WD, 2335kg, 0-100kph: 5.7s, 30-50kph: 0.9s, 50-70kph: 1.1s, 80-0kph: 29m/2.8s, fuel efficiency: 6.5kpl (city), 3.4kpl (highway), top speed: 260kph, GC: 278mm (off-road), 213mm (standard), fuel tank: 105 litres, water wading depth: 850mm.
Verdict
A classic example of why more power is always better. It's a great start for JLR's performance division and an indication of better, greater things to come. AMG, be warned.