You are here
After years of trying to play catch up with its Japanese and Korean counterparts, Tata Motors seems to have hit the purple patch with this nice little number, the Tiago. It is an all-new car, the size of the Hyundai i10, which will bridge the wide gap in its line-up, sitting nicely between the cheaper Nano and bigger Bolt.
Traditionally, this is the Indica territory, but over the years it has become too utilitarian, thanks to its austere but spacious interiors, which has made it a hit with the fleet operators than private owners. The Tiago is focused on the latter and seems to be made with the sole intention of making sure that Tata is in contention along with the usual suspects every time someone thinks small car.
The vehicle is based on an all-new platform on which the designers have put together a smart-looking car. There are hints of design cues from rival car companies too, but surely, they don't look intentional. In a first, Tata designers have tried to keep away from the Indica silhouette and that does the trick for us.
The Tiago is a fresh design with an unmistakable face. The large swept back headlamps and oversize mesh-type grille gives it a distinct front face. A strong waistline coupled with prominent creases that run the length of the car makes it look modern and contemporary. Same goes for the rear hatch with large tail lamps that complete the fresh new design. This top of the line variant gets 14-inch alloy wheels with a unique design too. Tiny aero spoilers at the rear add to the sporty touch.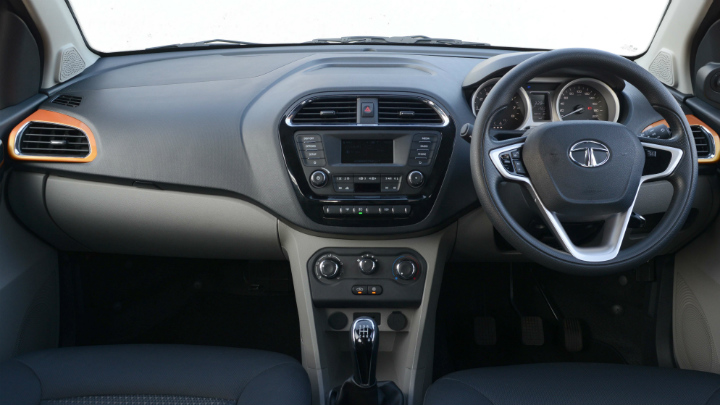 On the inside, things remain interesting. It's a cheerful cabin with nice colours and fabric trim. The plastics are a mix of everything from really upmarket to downright cheap. Thankfully, more of the former. The dashboard is elaborately laid out with good quality buttons and switches. The steering wheel is small for that sporty feel and comes with buttons for music and telephone. Of course, all these features only available in the higher variants. There is a tiny multimedia display that also works for the turn-by-turn navigation app that you need to purchase and download on your smartphone to be used. Not much compared to a proper sat nav but better than having nothing.
Apart from the all-new chassis, the Tiago gets two new engines, too. On the petrol front is a 1.2-litre unit that churns out 84bhp and 114Nm. This second-generation Revotron unit is all-aluminium. This keeps weight down but also makes it a bit noisy at high revs. It is mated to a five-speed manual. No AMT for now. The gear ratios are well-laid and work well in tandem with the engine. Shifts aren't very precise but throws are short. While the powerband is wide, you need to keep the engine on boil to get moving in a hurry.
The diesel is a 1050cc unit, aptly called Revotorq. With more torque on tap, this feels easier off the block and felt more at home on the twisty, narrow Goa roads that we test drove both cars on. While Tata did not reveal the certified fuel figures, our test cars' on-board computers were showing fuel averages in the range of 11-12kpl for the petrol and 14-15kpl for the diesel. May not match the Marutis here but the Tiago is a heavier car. Of course, these are just indicative figures and we will be testing them on the TopGear fuel cycle soon.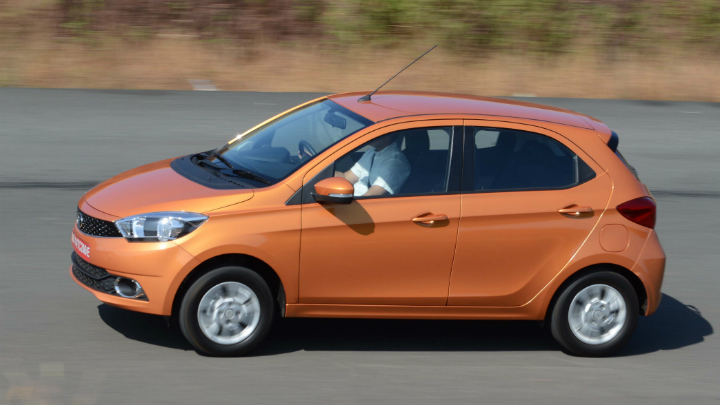 The Tiago is a good drive. Actually, it is quite good. The steering is light at parking speeds and does weigh up relatively well compared to its competition. Our test car came with 175/65 R14 Goodyear tyres. They felt reasonably grippy on the car going into turns and even under braking. The Tiago comes with ABS, which helped, although Tata did not mention whether it is standard on all variants. Ditto with the dual front airbags.
Ride is well sorted, which is typical of most Tata cars. It also means the Tiago is a comfortable place to be in. Seats are large and well bolstered, plus the air con was powerful enough to chill in a jiffy, even in a hot and humid Goa.
Tata is weeks away from launching the Tiago, the first of its new line of cars. While there was no mention of price, we guesstimate it to be starting from Rs 3.9 lakh (ex-showroom) for the petrol with the diesel going for another Rs 50,000 more. Of course these won't have a lot of features such as airbags, ConnectNext entertainment system from Harmann and Bluetooth telephone.
Those will be available at the top end, which we think would be between Rs 4.75 lakh to 5.25 lakh. Which should keep the buyer interested, especially for someone looking at a fun car on a budget. The Tiago finally brings Tata upto speed with its worthy rivals. If it can keep a check on maintaining consistency in quality, its rivals would have something to worry about.
Specs
Petrol: 1199cc, 84bhp, 114Nm, 1012kg; diesel: 1047cc, 69bhp, 140Nm; wheelbase: 2400mm, ground Clearance: 170mm, fuel tank: 35 litres, boot capacity: 242 litres
Verdict
A fun and practical car that looks the part too.