You are here
Review: The Aprilia RSV4 1100 Factory
What is it?
The Aprilia has always been a distinctive motorcycle, the RSV4. Much before everyone else, Aprilia decided to head in a different direction. For years they have stuck to the V4 format and even cracked the 200 horsepower mark back in 2015. While most of the Japanese bunch look like sharpened knives of various sizes and shapes, the RSV4 has been more of a shuriken, decidedly more lithe than anything else. What makes the RSV4 special is its compactness. It looks like a beginner's quarter-litre motorcycle but runs on Hulk levels of steroid. This year, rather coincidentally on its tenth year of production, the engineers at Aprilia have decided to pay a fitting tribute. They treated the Tuono to a bit of a party a couple of years back and have now handed out the same treatment to the RSV4 1100 Factory. Except, with a slight dash of madness.
Is there more than an increase in capacity?
Engineers at Aprilia have increased the bore from 78mm to 81mm to gain the capacity in the cylinders. This has resulted in power shooting up to 217 horsepower, with peak torque at 122Nm. To put that in perspective, they have managed to find 16 horsepower with an additional 79cc, spread across four cylinders. I will let you research the numbers to figure what that means. Further, the RSV4 now gets a pair of winglets, inspired by their MotoGP program, that can generate 8 kilograms of downforce at 300kph and also function as stabilisers under hard braking. Speaking of which, the brakes have also been swapped for lighter, more powerful Brembo Stylema callipers. And, just to ensure they remain fade-free, Aprilia has designed cooling ducts, available as accessories, for that absolute racer feel. Of course, to cope with the increase in power, the electronics have been updated too. As has the aerodynamics, the intake and the exhaust. I'm pretty sure I have missed some stuff. So, no, it isn't just an increase in capacity.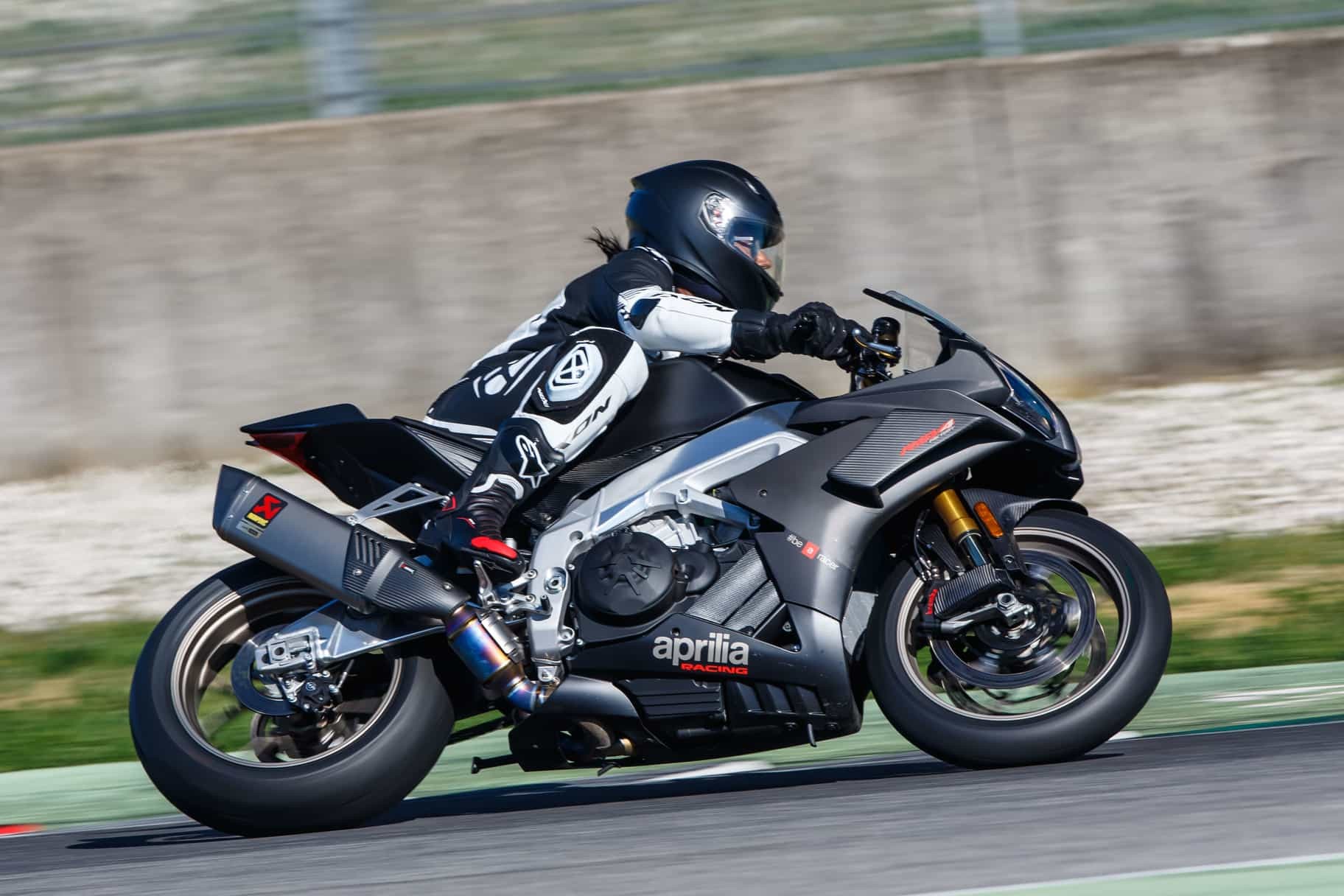 What is it like to ride?
I have no qualms in accepting the fact that litre-class supersport motorcycles generally outdo my ability by some distance. As much as I have enjoyed the eye-watering performance of litre-class bikes even before they began hitting the 200 horsepower mark, they require a special set of skills to exploit fully. Some are more difficult than others and some are more scary than others. The Aprilia RSV4 is an absolute exception to though. Thanks to its size, it isn't particularly intimidating to swing a leg over. Then there is the fact that it still somehow weighs less than 200 kilograms (199 to be exact) and that makes it easier to ride. Yes, i was distinctly aware of the fact that it still made 217 horsepower, but I was amazed at how easily i was able to use a whole lot of it without soiling myself. With every electronic aid possible switched on, the Aprilia allowed me to enjoy my time on a motorcycle that makes this much power, on a track I had no clue about and live to tell the tale. power flows incredibly linearly and is always a crack of the throttle away. Every time I thought I was doing well in a corner, I realised I could easily have braked later, leaned more and gone through quicker. When I did overshoot a corner, I simply had to swing my head further in for the motorcycle to lean over and make the intended corner. It can lean over till sixty one degrees safely. Right. That number itself is beyond my comprehension and for a guy who is scared that his knee may slide along the surface of the track, I am happy to take Aprilia's word for it.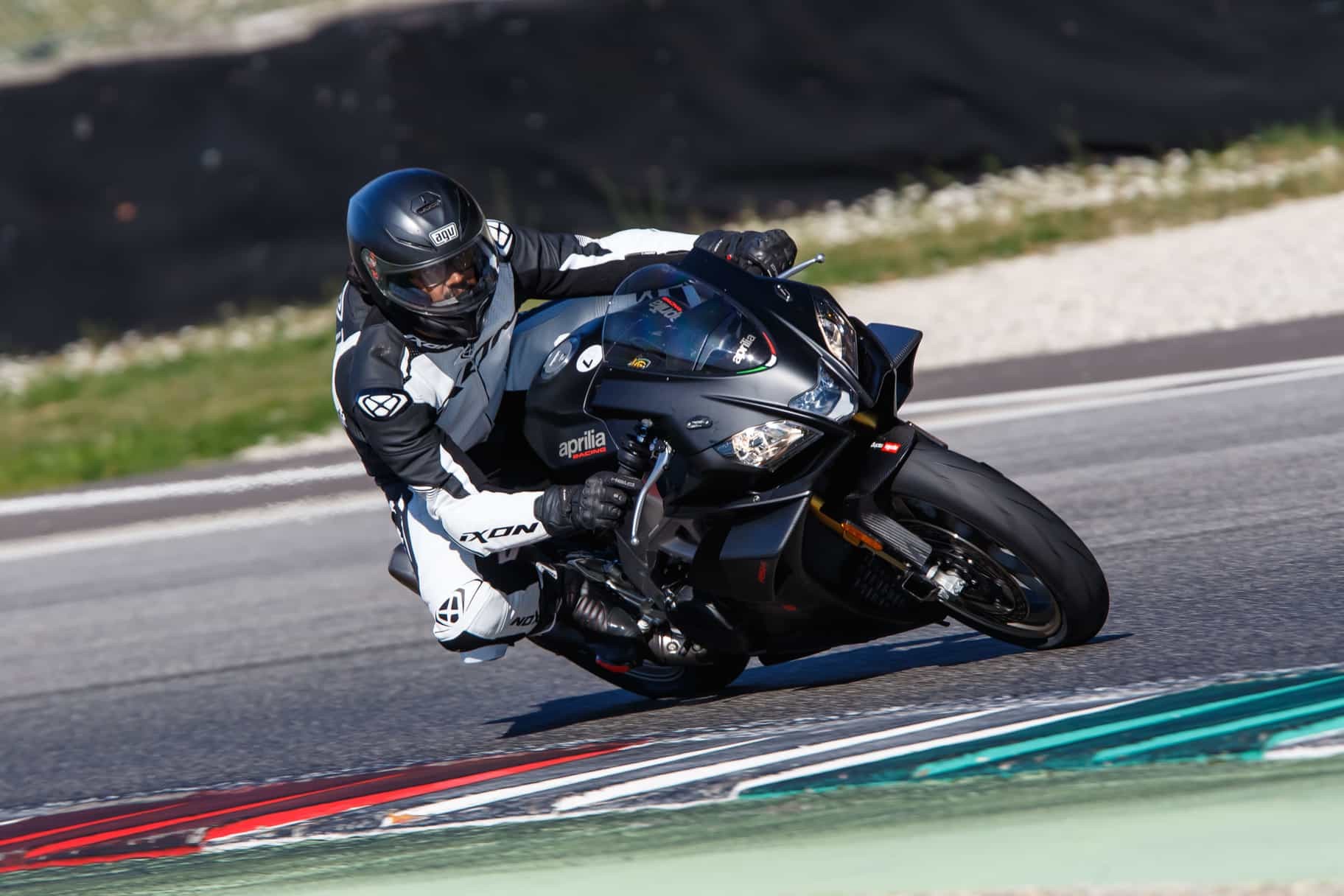 Should you buy one?
Well, of course you should.
If you ever wanted a super sport, but weren't too sure which one is the right fit, the Aprilia RSV4 1100 Factory is here to save your soul. It is incredulously quick, it can stop like you hit a concrete wall, it can corner to make you feel like a MotoGP star and it comes factory fitted with aero wings and an Akrapovic exhaust system. Sure the purists will argue that this isn't 'racy' enough to be a thorough track machine, but what do they know. This is the motorcycle you should aim for if you want to have fun without feeling the threat of having your head bitten off every time you turned the ignition key and/ or your BMI isn't below 20 and you aren't at athlete levels of fitness. The only problem is, if you are taller than six feet, you are likely to feel incredibly cramped for space. That, and the fact that it will possibly cost close to Rs 30 lakh at the showroom, when it does land on our shores. Oh, and there's the bit about trying to find that showroom too.
Rating: 9/10

Price: 30 lakh (estimated)
Spec:
Engine: 1078cc, V4, liquid-cooled
Power: 217hp@13200rpm
Torque: 122Nm@11000rpm
Transmission: 6M
Brakes: (front) dual disc, 330mm; (rear) single disc, 220mm
Tyres: (front) 120/70 R17; (rear) 200/55 R17
Seat height: 851mm
Weight: 199kg (fuelled)/ 177kg (dry)
Fuel tank: 18.5 litres