You are here
Review: Royal Enfield Interceptor 650
Not everyone is about a hunkered down stance and chasing tail lights between cafes. There is a healthy bunch, especially the sort who like Royal Enfield, that want to take it easy, cruise along highways and generally have a motorcycle to use everyday. The Interceptor is exactly that motorcycle and although it had never made it to India earlier, it is possibly the best suited to our conditions. There exists the Bonneville and the Street 750, which have done well enough for themselves. However, owning a retro-styled, parallel twin is still not as accessible as it should be. That, however, is about to change. Step in, the Interceptor.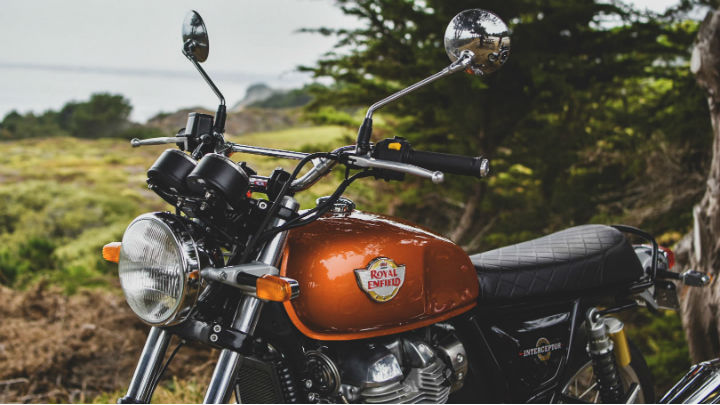 Parked alongside the Continental GT 650, the Interceptor is quite clearly distinguished. It gets a different tank, seat, handlebars and footpegs. The running gear remains the same though, tyres, brakes and suspension. In fact, talk to engineers and they will tell you that if they are stripped down, these two motorcycles are identical. It may not have quite the same sort of presence parked by a cafe as the GT, but it is an elegant form that you will not tire of.
Despite the difference in character, both bikes are set up exactly the same as far as the state of tune and gear ratios are concerned. Just like the GT 650, the motor is a 648cc, parallel twin that makes 47bhp and 53Nm of torque. If you haven't
read the other review
yet, well, let me just repeat the fact that this is the most responsive, free-revving and refined motor that we have seen from Royal Enfield. There is a huge amount of torque available through the midrange, in fact, 80 per cent is available at a low 2500rpm. Combine that with a superbly smooth six-speed transmission and this works incredibly well.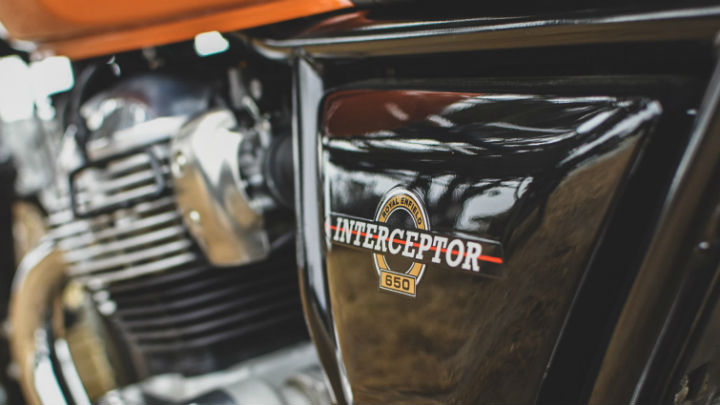 The biggest difference with the Interceptor is the way you sit. The pegs are further forward for an upright stance and the straight handlebar makes for a relaxed riding position. This means there is less weight towards the front of the motorcycle, which makes it slightly more lazy through quick direction changes. However, take it easy or show it a series of sweeping bends and the Interceptor will tackle it with poise. It isn't a motorcycle that likes being hurried, but it certainly is happy to work its way through the twisty bits. Show it an open stretch of road though and you could munch down miles without ever feeling fatigued. Push it to the ragged edge and the straight up riding stance means you need to work harder to get up to v-max on the Interceptor. But then, you can dial it back a notch and cruise at speeds past the ton all day. In case you do decide to try and max out straight-line performance, you will notice a bit of a wobble at speeds that I cannot write about here. This does feel unnerving, but the bike manages to keep things at acceptable levels.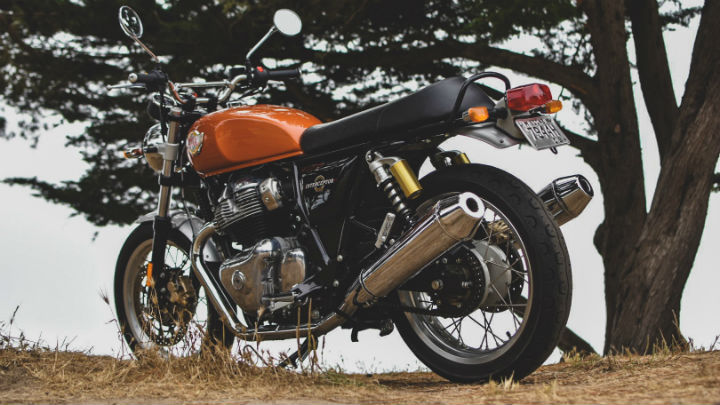 With the Interceptor, Royal Enfield has created an ideal upgrade for existing Classic/ Thunderbird 500 owners and an automatic option for anyone who has ever thought of the Street 750/ T 100. Here is an exquisite modern classic that has the refinement, build and handling to match anything else in the class and is incredibly easy to use and live with. The fact that it feels nothing like a traditional Royal Enfield should help bring a lot of new people into the fold too. Moreover, with a starting price of Rs 2.5 lakh, makes this a proposition that you cannot turn away from. Not to forget that the sales and service network available makes for fair consideration as well. This, the Interceptor 650, has the ability to be your one motorcycle that can be used to commute on and tour on, as well as have a bit of fun blasting around on.
Specs
:
Spec: 648cc, parallel twin, air/ oil cooled
Power: 47bhp@7250
Torque: 53Nm@5250
Transmission: 6M
Kerb weight: 202kg
Fuel tank: 13.7 litres
Price
:
Standard: Rs 2.5 lakh
Custom: Rs 2.57 lakh
Chrome: Rs 2.7 lakh