You are here
First Drive: Lexus ES 300h
Mercedes-Benz E-class, BMW 5 Series, Audi A6 – these are the three big bullies of the luxury sedan classroom and it's not very often that you come across a new guy make a remarkable first impression, let alone throw punches at the established nameplates. Still, following the Volvo S90 a couple of years ago, we find ourselves in yet another fine example of a luxury sedan that is the new Lexus ES 300h.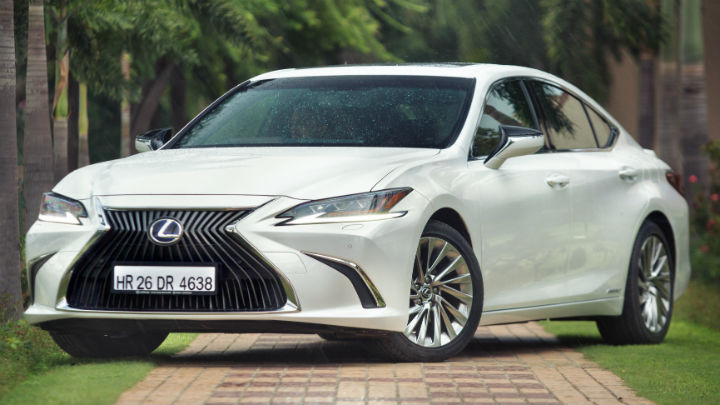 Yes, you may have heard of this name before as Lexus has had the previous generation car on sale for a year but it failed to make a name for itself. Why? Because that car was almost on the verge of extinction globally and didn't put up a great fight against its more evolved rivals. However, this seventh-generation car you see here is different. Toyota's brand new global platform brings in considerable sea changes in terms of tech and features, and when teamed with its arresting new design, the new ES 300h strikes a fine balance between design, technology, driveability and comfort.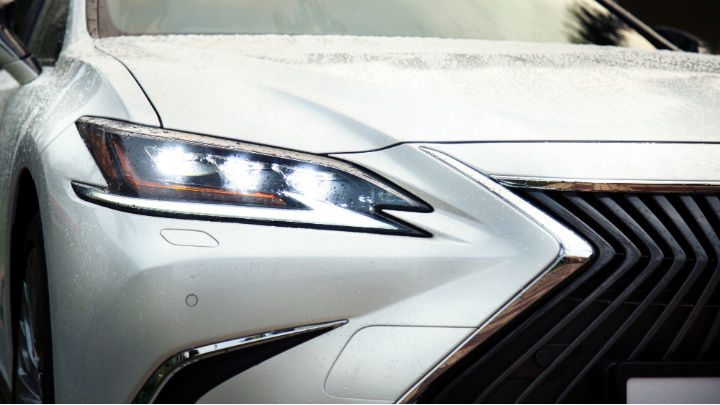 With a face that resembles the more luxurious LS, the new ES gets sharper styling cues with a steeply raked C-pillar and a striking alloy design, making it a true head-turner. And then there's the all-new interiors that rightfully express this Lexus' youthful character. Infused with the right grade of leather, wood and plastics, the ES' cabin is a good place to be in. And features such as 12.3-inch infotainment system, a fine 17-speaker 1800W Mark Levinson audio system, ventilated front seats, heated rear seats (for a chauffeur-driven car it's quite odd there's no seat ventilation at the back), and three-zone climate control make your time spent in the cabin a pleasant one. Plus, there are those supremely comfortable seats that add to the luxurious experience.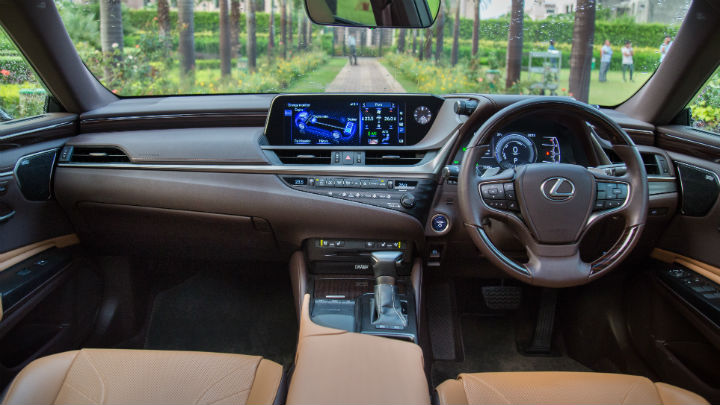 If you walk up to any of the eight Lexus touch-points in India, they would claim the new ES is not just a fine rear-seat car, instead, you can enjoy it from the driver's seat as well. This is Toyota's finest hybrid tech that's tuned to offer a mix of both worlds; efficiency and performance, unlike say in a Toyota Camry where it would be tuned for a sedate driving experience. The ES, in Lexus speak, is a different take on hybrids, and from our initial impressions, it does come across as a great all-round package. Unlike a typical petrol-hybrid sedan, the ES 300h doesn't feel dead while you're at the wheel. In fact, when switched to 'Sport' mode, it drives like a regular petrol sedan rather than a hybrid.

Depending on the level of charge available in the battery, the ES 300h can start from standstill or potter around town at low speeds on pure electric. And things would be eerily silent when it does that. The naturally-aspirated motor wakes up once the battery uses up most of its juice or you go hard at the throttle to take things in the fast lane. And even then, the transition from electric to petrol motor or both combined is seamless. Acceleration is brisk in Sport, while being understandably subdued in Eco and Normal modes. That said, for your regular urban grind, these two modes will more than meet your needs as dialing in the Sport mode also tightens the suspension rating to an extent. Even then, things never go harsh, staying superbly absorbent at all times.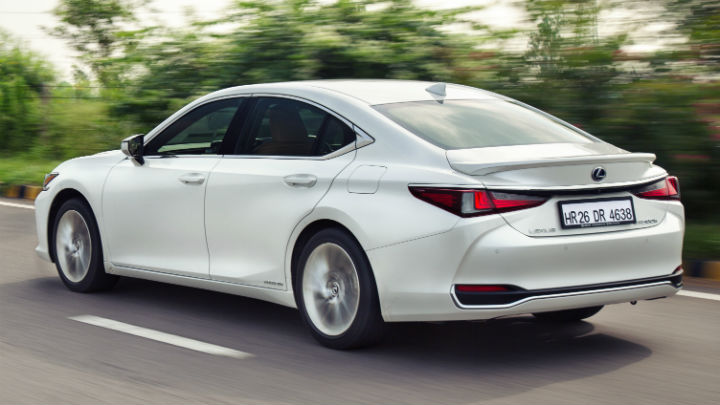 We tested the new ES around the arrow straight Yamuna Expressway in Greater Noida, so while we shall reserve our judgement on its ability to tackle corners, life in the fast lane couldn't have been any better. Even at triple-digit speeds, the ES feels stable and quick lane changes at 120kph are met with a positive feedback. The steering, while not being overtly communicative, stays neutral for most part. On the solitary long corner at the start of the Expressway, we did try out its limits and there was some noticeable body roll at 80kph. But considering it's long wheelbase and the nature of its setup, it's quite acceptable. By the way, Toyota engineers have restricted the ES' top speed to 190kph, for safety reasons. No, nothing wrong with the car, it's equipped with every safety feature you can ask for in this segment, but the company feels that's a good number to stop at. We did test it's claimed top speed under restricted conditions and the ES felt rock solid at all times.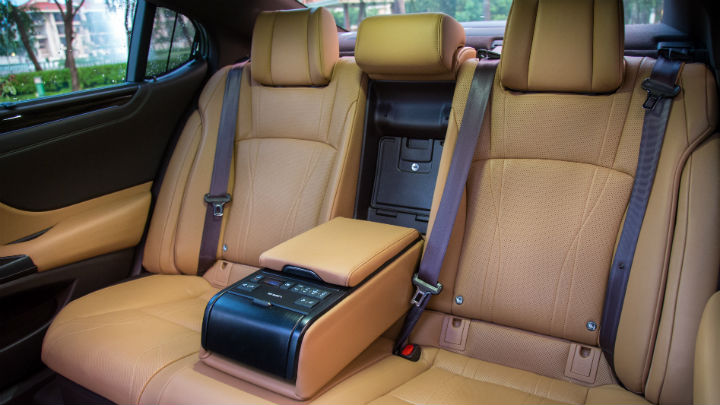 We also hopped into the rear seats for a good part of the test drive and we are happy to report, it's our favourite place to be in the ES. Don't go by the sloping roofline, there's enough headroom even for someone more than six foot tall. Then there's the backrest that reclines by eight degrees – it may not sound a lot on paper, but it does the job real fine. The seat itself is well cushioned and there's enough leg and shoulder room for two heavily-built individuals. And while vertical movements are kept in check, the long wheelbase does result in a bit of sideways movements when pushed hard. Rest, it feels particularly composed under normal conditions.

Priced at Rs 59.13 lakh, the ES 300h is the cheapest in its segment and comes with an exclusivity tag. There's no doubt it's stunning to look at, has lots of tech and features to boast about and it makes for a great chauffeur driven car. So if are looking for a comfortable, stylish, and a responsible luxury sedan that stands out in the crowd, the Lexus ES 300h is worthy of your time and money.

Specs
Petrol-hybrid, 4cyl, 2487cc NA petrol, 178bhp, 221Nm, 244.8V Ni-Hydrate battery, 120bhp, 202Nm, combined output: 218bhp, E-CVT, fuel efficiency: 22.37kpl (claimed), boot space: 454 litres; Price: Rs 59.13 lakh, ex-showroom, India

Verdict
Stunning looks, richer cabin, advanced tech and sound performance make it a healthy alternative to the established luxe sedans