You are here
Holy heck, what's this?
It's the Jeep Grand Cherokee Trackhawk, the most powerful production SUV in the world. And very nearly the quickest, too, the Lamborghini Urus beating its vital statistics by the narrowest of margins. The most irrelevant of margins too, you could argue.
But an Urus rival? Really?
A quick rundown of the Trackhawk's performance figures ought to iterate why the Lambo's a car worth drawing comparison with. Jeep has nabbed the Hellcrate V8 that powers Dodge's Hellcat muscle cars, providing 707bhp and 880Nm. That's enough to shift the Grand Cherokee's not inconsiderable 2.4 tons to a 288kph top speed, via a 3.5sec 0-100kph time. That's a pretty pessimistic claim, too. Hook the launch control up on a drag strip and it'll manage low threes, on its way to being an 11-second quarter-mile car. But what's astounding isn't that it achieves these numbers, but how it feels achieving them.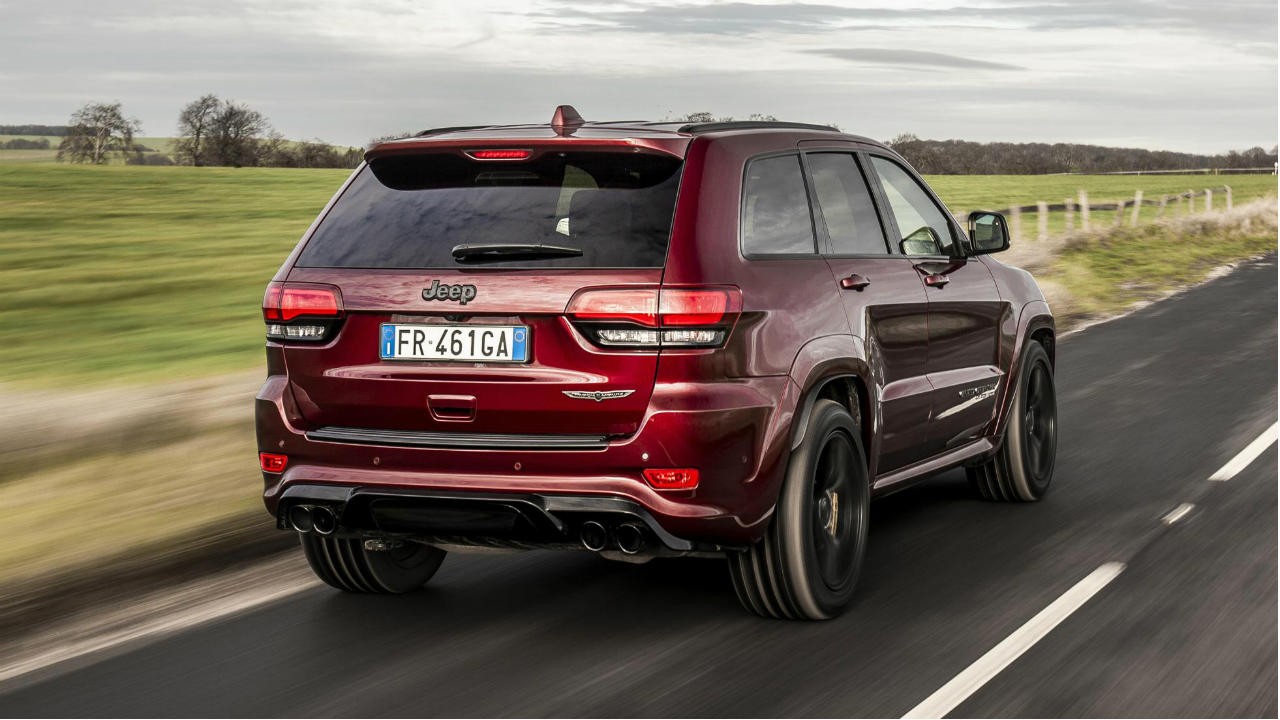 Which is?
Unhinged. While the plethora of other performance SUVs out there feel like a plot point on a profitability graph, the Trackhawk is more like the end result of a wild game of 'what if'. The Grand Cherokee palpably wasn't designed to ever host this much power – even the eight-speed automatic's paddleshifters are an oddly shaped, hard-to-reach afterthought – and yet that's where quite a lot of this car's appeal comes from. The implausibility of its existence. Another chunk of its appeal undoubtedly comes from its sheer speed. This supercharged V8 is animalistic in lower, lighter muscle cars, and simply doesn't feel blunted here, despite the weight and aerodynamic penalties the Jeep adds.
It really is quick, then?
Acceleration is simply astonishing, with a preposterous lunge at the horizon no matter how lightly you poke the throttle. Indeed, simply manoeuvring around a car park can feel like trying to herd a lion around your living room. This engine doesn't do half measures of power, its supercharger eradicating the turbo lag of rivals and providing relentless urge until just shy of 6,000rpm.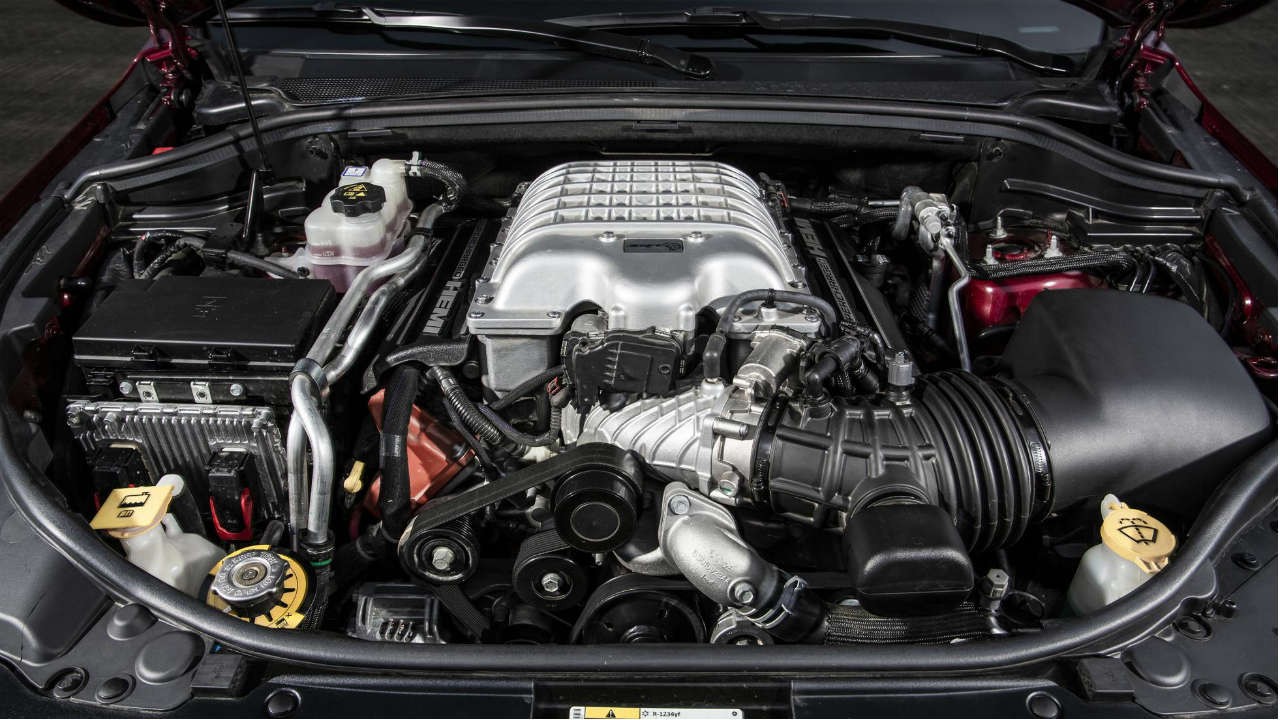 At which point you'll violently head butt the rev limiter if you're changing gear yourself, the car's brain clumsily calling time long before you're expecting it. Partly because those gears are quite short, but mostly because you take so little time accelerating between them. It's just one of a number of areas where the Trackhawk needs more care than a Cayenne, Range Rover or X5M. It's not a car you sit and in and blat effortlessly point-to-point, it's one that needs every bit of your attention. It handles well enough, but no better than you'd hope and while the brakes say Brembo on them, you can never forget how much mass they've got to stop.
How does it cope with the tarmac?
The suspension comes with numerous modes, all of them feeling quite abrupt on the road. In Track mode, this car belies its fat tyres and tall stance by negotiating potholes like a Radical, and it's barely softer in its Sport or Street modes. This is unlikely to be an everyday car.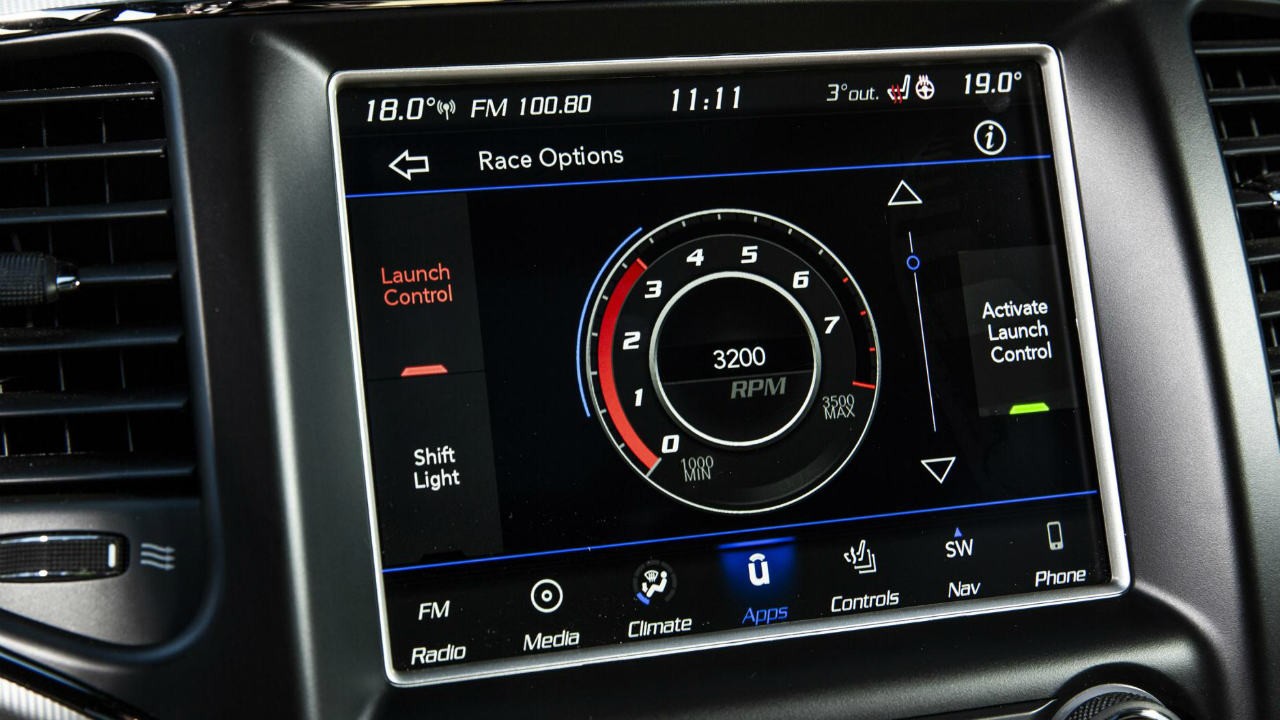 So it's practical?
If ride quality isn't important, then yes. There's a big boot, five roomy seats and Jeep describes it as a luxury car, thus it's thrown everything inside. Leather everywhere, a huge screen offering much customisation (albeit old hat graphics), a 19-speaker Harman Kardon stereo, active noise cancellation…
Surely that's defeating the point of fitting a V8…
Don't worry, an earful of sound is never far away. It's the whine of supercharger that initially dominates; you'll hear it even when you're trundling through town at the bottom of fourth gear. Open the Trackhawk up and V8 thunder soon overlaps, only to be drowned out by the driver as he or she laughs like a drain at a muscle car soundtrack emanating from something so tall. Objectively, this is not the best performance SUV on sale. But you could argue it's the one that gets closest to the cars it borrows DNA from. No matter what they tell you, none of the Trackhawk's rivals makes a big 4x4 that handles like a sports car. Jeep, though, has made one that feels every inch a muscle car.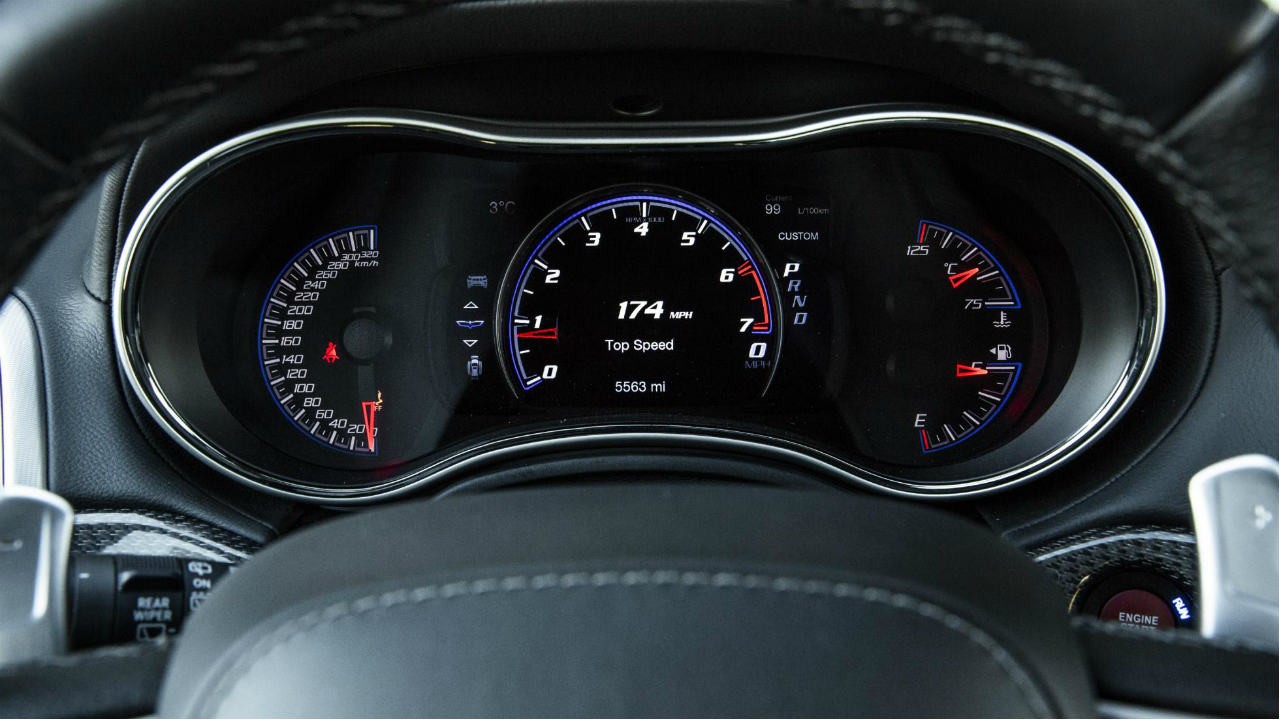 So you like it?
More than I reckon I should. You could make anything feel special by putting a Hellcat engine in it, but the incongruity of this particular engine and chassis mash up – and the dynamically ragged reality of it – provide an invigorating skunkworks feel that's absent from any car you'd dare consider a competitor.
Even an AMG G-Wagen is made to look sober and cynical by the Trackhawk. It's heartening that cars this enthralling continue to exist – it feels like they'll be spoken about in mythical terms in a decade or two's time. We should welcome them with open arms while they're still around.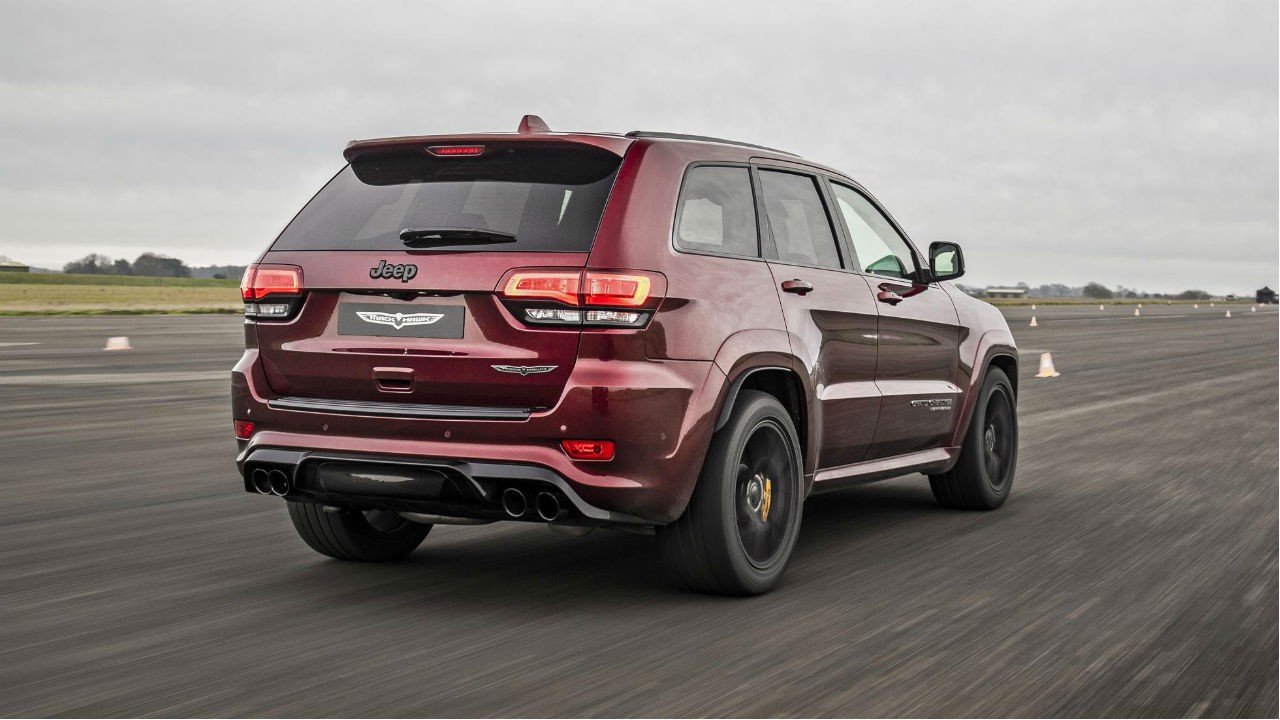 Rating
: 7/10
Specs
:
Engine: 6166cc supercharged V8, 707bhp, 880Nm
Transmission: all-wheel drive, eight-speed automatic
Performance: 0-100kph in 3.5secs, 288kph
Weight: 2429kg