You are here
Review: Mercedes-Benz AMG GT 4-door
What is it?
We may have AMG boss Tobias Moers to thank for the GT 4-door. Despite the day job, and the riches it entitles him to, Moers is also a family man, and sometimes an AMG GT R isn't quite the ticket. Mercedes' model range is still expanding with a near-viral rapidity, so while you might reasonably wonder what's wrong with an E63 or indeed CLS 53, someone has spied another distant but vacant niche – presumably using something akin to the Hubble telescope – and the result is the AMG GT 4-door coupe.

Rear seats and decent-ish boot space are departures from the usual USPs, especially on what's only the third model line developed entirely by AMG (following the SLS AMG and AMG GT coupe and convertible). But as they're smuggled in via a swooping, almost endlessly elongated coupe silhouette, there's little to worry about here and rather a lot to like.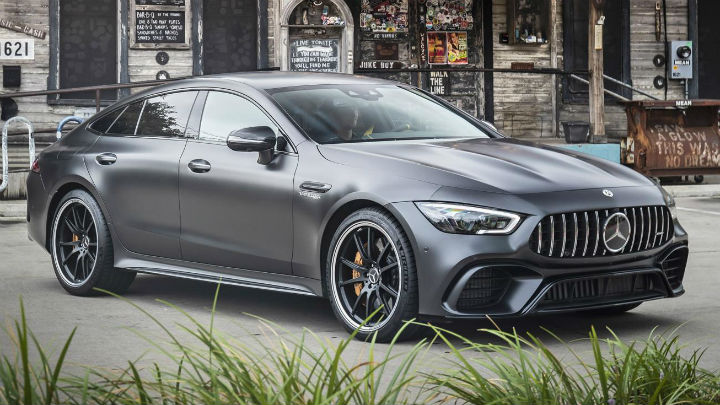 Mercedes' current form language espouses reductionism, ie: deleting the lines, slashes and slats designers use to distract the eye, in favour of artful simplicity. The trick is to manage this distillation without ending up with an amorphous blob, a feat the GT 4-door manages. The sharky nose, bonnet 'powerdomes', shallow DLO and, in the vivid parlance of Mercedes exterior designer Vitalis Enns, 'fantastic ass', imbue the GT 4-door with a street presence in excess of its key rival, the Porsche Panamera. Especially if you go for matt magno paint, which is as sensational to look at as it is impossible to keep clean. The 20-fin Air Panel active aero enlivens the front end, and there's a multi-stage rear spoiler. Amorphous blobularity is a risk if your GT rides on the standard 19in wheels.

It's also worth pointing out that the name is at once uninspired and disingenuous, given that this new car uses the MRA platform that underpins the C-Class, E-Class, CLS and various other Mercedes, and therefore isn't a GT 4-door at all. But at least that means it can run the 4Matic all-wheel-drive hardware, promoting daily usability in shabby weather over hardcore hedonism. Question is, is that a good thing?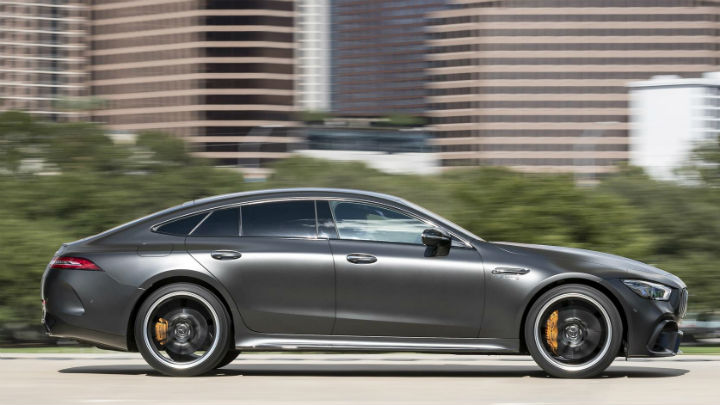 What is it like on the road?
You'd need a super computer to calculate the matrix of possibilities the GT 4-door conjures. We'll focus here on the 63 S 4Matic+, powered by AMG's magnificent 4.0-litre 'hot inside V' V8 biturbo, which delivers 630bhp and 850Nm from 2500 to 4500rpm. There are others: the same engine in non-S form makes 577bhp, and there are also GT 53 and 43 versions, which use the new 3.0-litre inline six-cylinder in 423 or 357bhp forms. Key to those is an integrated hybrid EQ Boost electric motor that handles starter-alternator duties for improved efficiency and smoothness, and also generates the power for the 48-volt on-board electrical system. Mercedes has yet to confirm whether these will be available in the UK, so it's back to the fire-breathing 63 S. Shame…

This engine has so many tricks it's like being invited to the VIP room within the VIP room of the world's hottest club. If Ferrari's 3.9-litre twin-turbo leads the way, this AMG unit is damn close in terms of zero-lag flexibility and charisma, its twin-scroll turbos and twin-duct exhaust manifold enhancing efficiency, low-rev torque and perhaps most noticeably engine response. Performance is blistering, 100kph blazing past in 3.2 seconds with a top speed of 312kph, all over-laid by thunderous old-school sonics.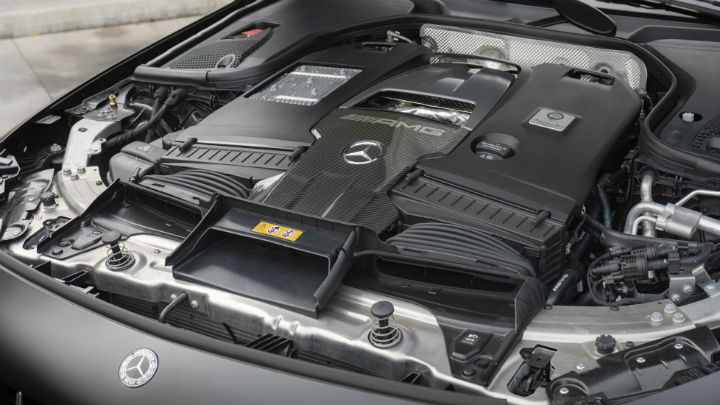 Given that this is AMG's family supercar, duality and approachability are key, though. The 63 S is certainly easier to deal with than the GT coupe, swatting away surface noise and riding compliantly despite its hefty rubber (295/35s at the rear). It's an able, amiable cruiser. But AMG was also confident enough in its seamier side to let us loose on the Circuit of the Americas, the F1 track near Austin, Texas: 20 corners, 5.12km, and enough violent high-speed direction changes to challenge Lewis Hamilton's WO9 never mind its distantly related 2045kg cousin. That's some serious mass right there.

The tech arsenal is deeply impressive: air suspension, adaptive damping, active rear axle, electronically controlled rear-axle diff lock, with dynamic engine mounts, and fully variable all-wheel-drive. The nine-speed dual shift gearbox uses a wet clutch to cut weight and improve response, and the shift times are finger-snap fast and crackle emotively. Steering, suspension, engine and transmission parameters are all governed by the Dynamic Select drive system, which spans six set-ups from Slippery through to Race.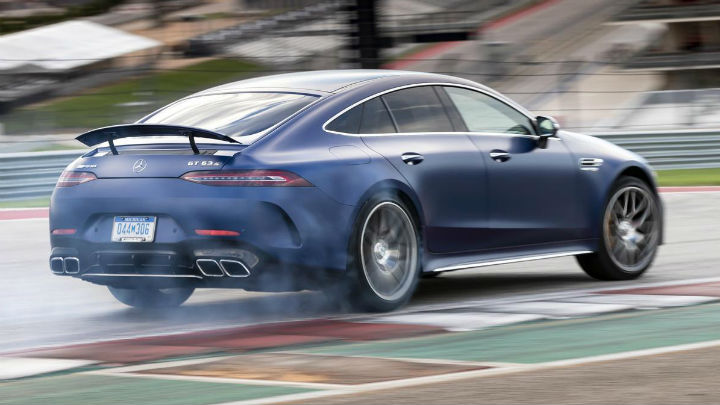 Within that, there's a further Dynamics Plus palette, encompassing Basic, Advanced, Pro, and Master. There's also a Drift mode, if you have money and rubber to burn. Although this preponderance of software could risk overkill or mask some basic problems, the fact is the GT 4-door is an astonishingly agile machine around CoTA, stable on the brakes and into corners (390mm discs at the front, ceramics are an option), able to find incredible traction on the exits, happy to play fast and loose if you want it, but progressive on the limit. And, to paraphrase Frank Sinatra, if it can make it here, it'll make it anywhere.

On the inside
Whatever your take on Mercedes' exterior design ethos, you can't argue with what's happening inside: these are the best executed interiors in the business. Aside from the sheer quality of the materials, the GT 4-door's cabin is dominated by the widescreen cockpit, the IMAX of cars, which combines two hi-res 12.3in screens whose bonded glass has a smartphone lustre. Choose between Classic, Sport and Supersport configurations, with all the principal multimedia functionality displayed on the central screen.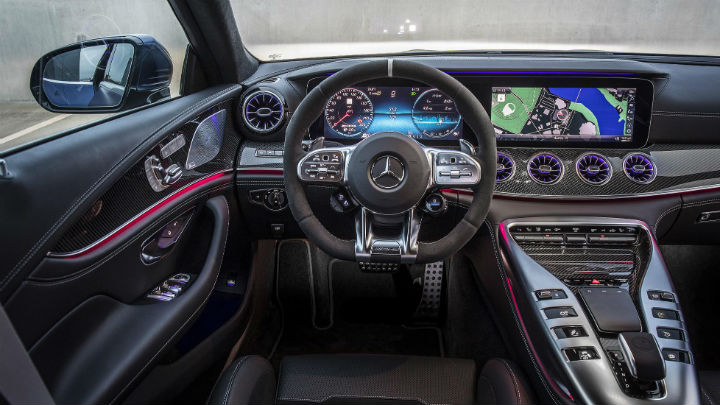 There's also a new AMG Performance steering wheel, with extra buttons located in the right and left lower spokes controlling the drive mode and sports exhaust. There are tiny touch pads on the wheel itself, as debuted on the current E-Class, the aim being to give you complete control without ever taking your hands off the wheel. Good in theory, but we'd suggest setting aside an entire weekend to figure it all out. Then there's the revised central 'bridge', which now uses recessed TFT displays rather than actual, passé buttons. There's no rotary controller, either; instead, there's a touch-sensitive track pad. (It took two of us five hours to figure out that you 'pinch' to zoom on the nav display.)

The GT 4-door can be specced as a four- or five-seater, and there are two USB connections, temperature controlled cup-holders, and if you've gone for the two individual rear seats there's a touchscreen in the middle. The boot holds 461 litres, 1324 with the seats folded. Finally, the car's air con, seats, and lighting can all be networked for 'improved driver fitness' (no word on on-board snack delivery). And AMG has also developed its own fragrance, an 'appealing, sporty scent', as opposed to 'eau de Stuttgart sausage shop'.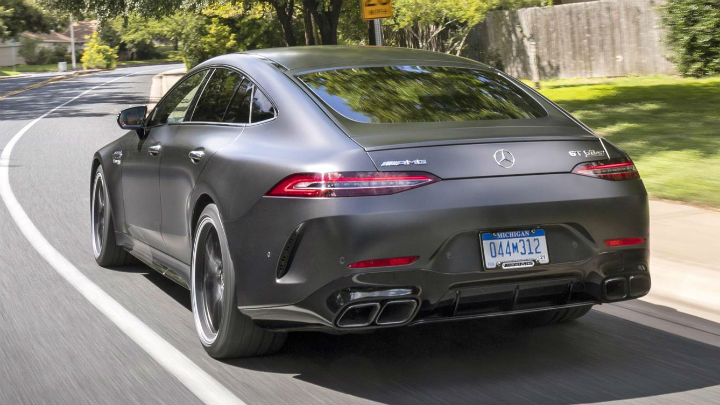 Verdict
We'd speculate that the fashion for model proliferation has polluted the thinking of some of the big players (we're looking at you Audi and BMW). Mercedes isn't immune, but the AMG GT 4-door coupe is as impressive dynamically as it is desirable an answer to a question not many have actually asked. It looks great and goes like hell, not just in a straight line but round corners, too. OK, so it's not really a four-door GT. But in smoothing off some of that car's dynamic edges, this might even be the ultimate iteration of the idea.