You are here
Review: Mercedes-Benz V-class
Whoa, this is huge, what is it?
This, dear readers, is the new Mercedes-Benz V-class, launched in 'Long' and Extra-Long' wheelbase versions for Indians with deep pockets and those who wouldn't mind spending a fortune on an MPV. The V-class you see here isn't 'new' new, but since it's come to our shores for the very first time, it's safe to call it new. Formerly known as the Viano, the V-class was rechristened in 2014, and while it recently went under the knife and received a minor facelift for the international markets, we still get this pre-facelift version. Brought to India via the CBU route, the V-class is pegged as a boardroom on wheels, which isn't very difficult to digest after spending two days in it.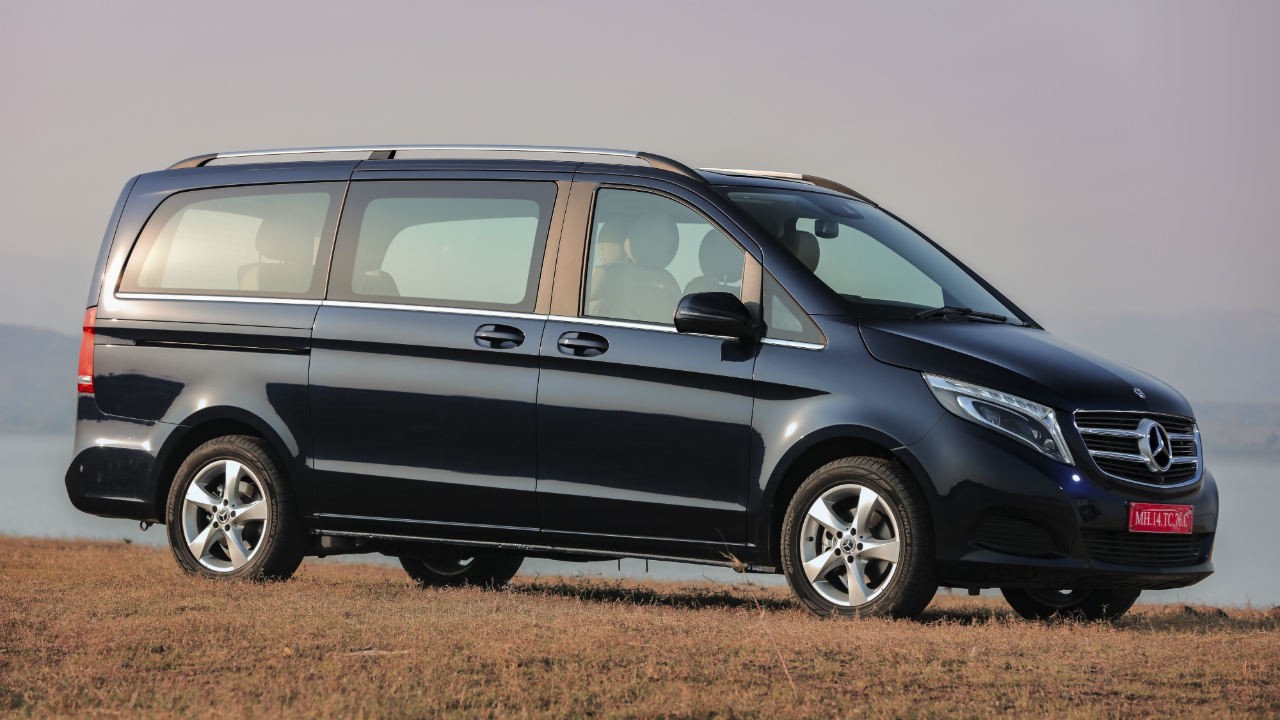 By any chance, is this the longest vehicle on sale in India?

Oh yeah, the extra-long wheelbase variant with an overall length of 5370mm is indeed the longest (stock) vehicle in India, beating its stablemate, the GLS, by 240mm and the mammoth of a truck, the Isuzu V-Cross by 75mm. So that should give you a good sense of how much carpet area is on offer. In fact, just have a look at one of the interior shots to understand how much legroom is there for the taking once all four chairs are pushed back to the maximum. And this isn't even the longest V-class you could buy. At 5140mm, the Exclusive trim photographed is 230mm shorter than the Expression trim, which is strangely the cheaper of the two, but seats more people in it. Confusing? Never mind.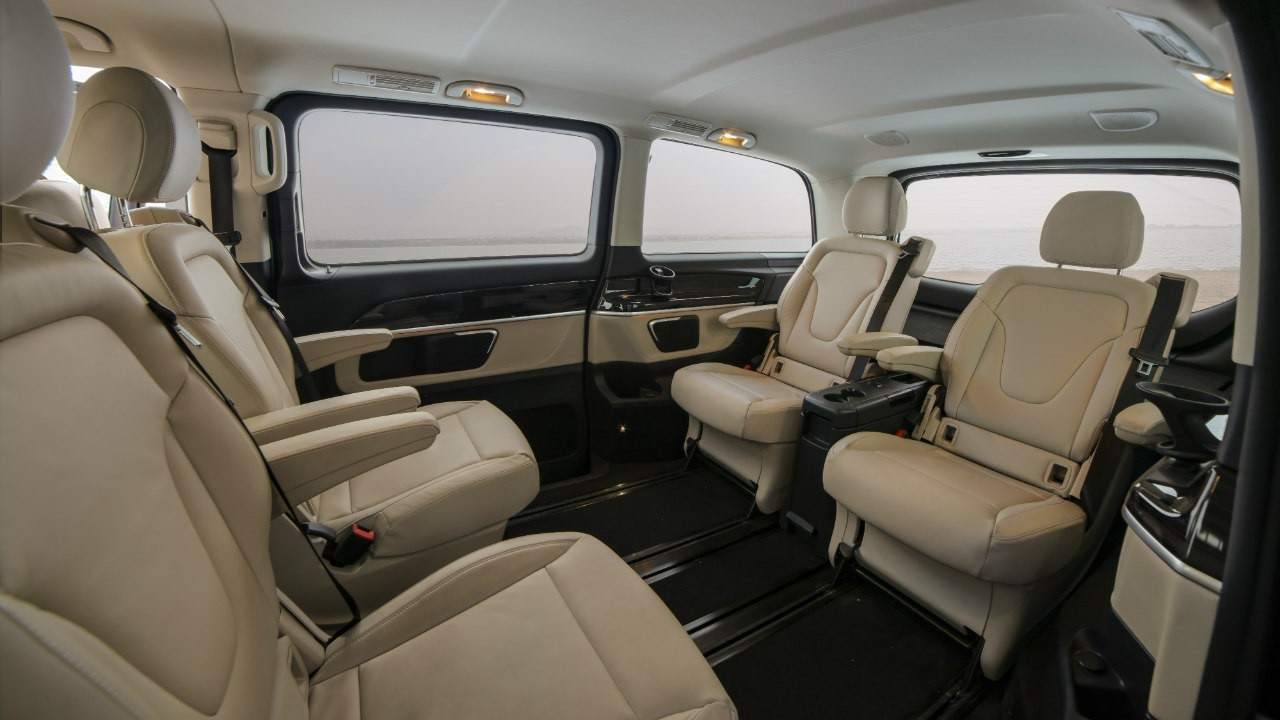 The V-class on the inside looks bigger and more comfortable than my swanky apartment in Bandra.
We won't deny that. The Exclusive trim you see here is configured to be a six-seater living room / boardroom on wheels. The captain seats at the back aren't exactly thrones from an S-class, but they are pretty much the most comfortable MPV seats you can find in the country. Attached to four rails, you can individually slide them to suit your needs, so much so that you can even lift the middle row seats and place them either facing the third row, or make them face forward. However, as we found out, when the last two rows are facing each other and you wish to push all four seats to the fullest, the front row (driver and co-passenger) need to be as close to the dashboard as humanly possible. So our advise to all V-class Exclusive back-benchers, look for a vertically challenged chauffeur if you don't wish to tick him off every time you invite business partners or friends to ride along.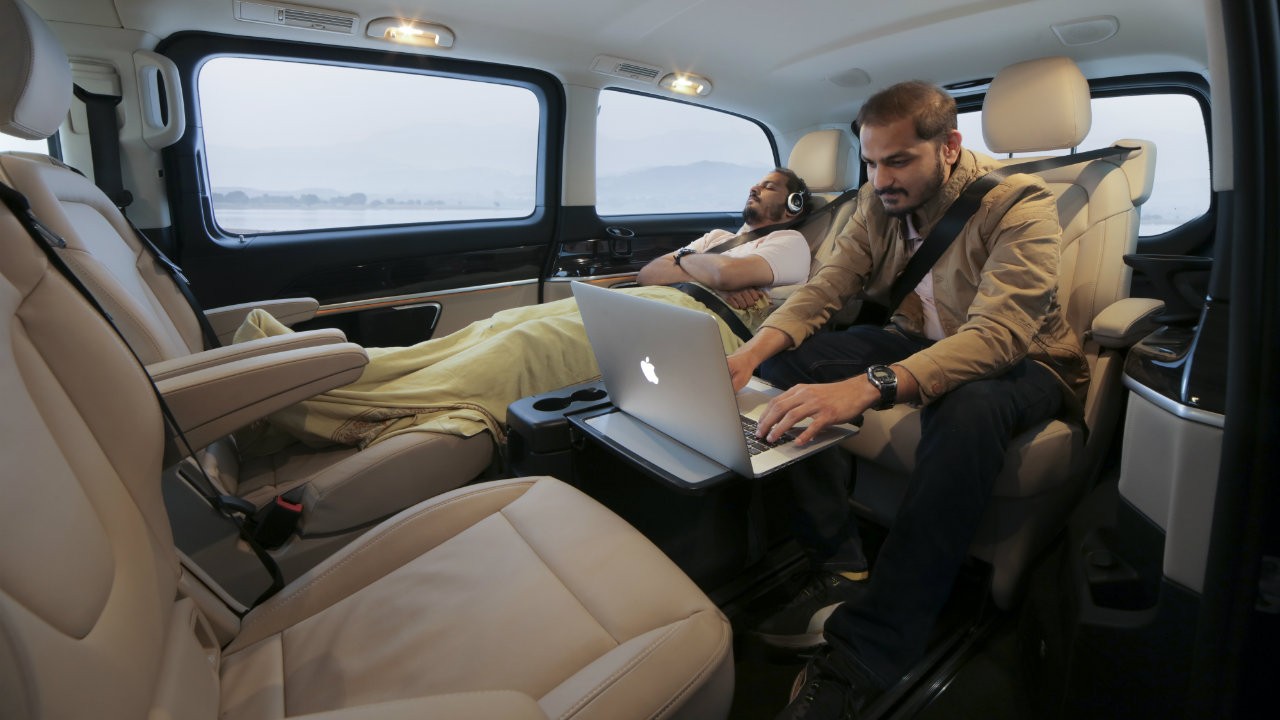 What's the degree of comfort we're talking here?
Let's begin with electric sliding doors that can be operated at the touch of a button. Once you get in, the seats slide and recline with the help of levers. Yeah, how we wish the rear seats could also be electronically adjusted like the ones upfront. Then, apart from your individual AC vents and a separate rear AC control, there's also a 'Table Package' available on the Exclusive trim; it's a narrow trolley that sits on another set of rails and can be manually moved over the transmission tunnel. It offers two foldable tables, cup holders, and even bottle holders. For entertainment, there are those optional Burmesters giving you company, but sadly there are no individual screens for the ones seated at the back. In fact, because this V-class is a good five years old, the infotainment system doesn't even support Apple CarPlay and Android Auto, just your old-school Bluethooth telephony. So then, apart from relishing on the acres of carpet area available, you can enjoy the comfort of your individual seats and either catch up on some lost sleep or get some work done peacefully.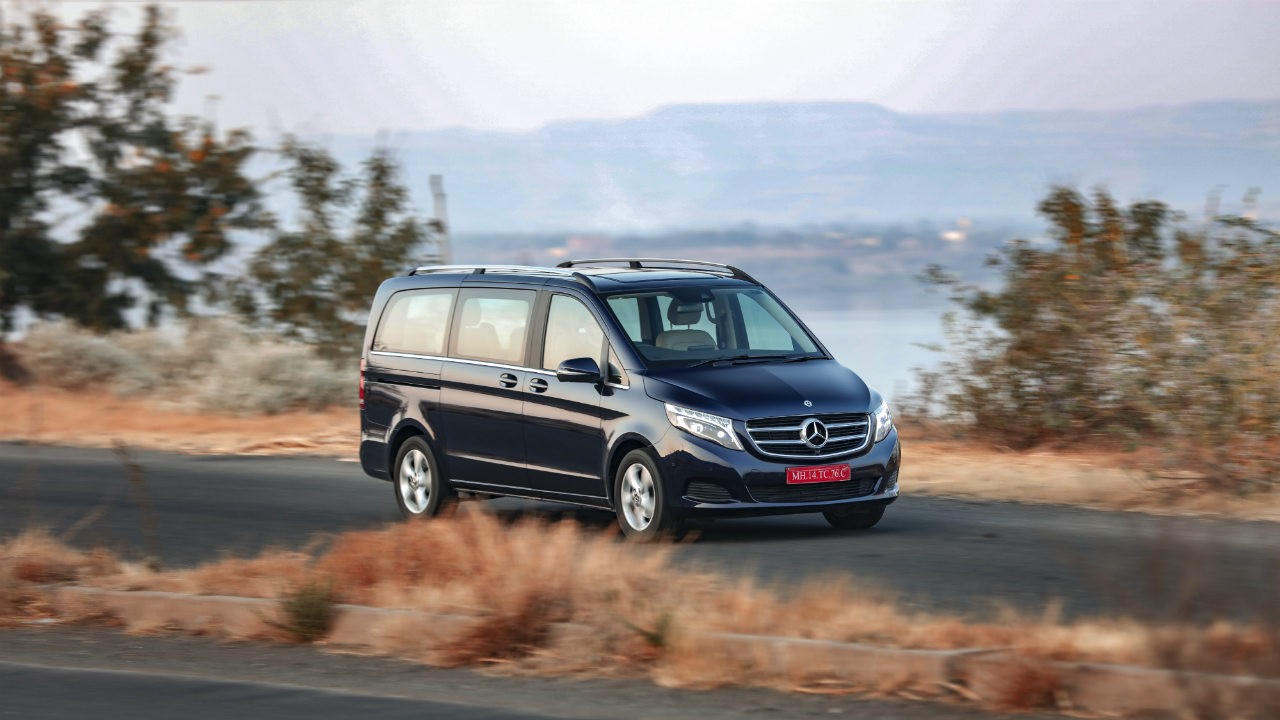 How does this mammoth behave on the road?
One word; fantastic! Let's being with the ride; the V-class does everything it can to make sure you have one of the most comfortable rides sitting this high. Apart from the odd road noise on a particular concrete surface, the V-class' cabin is an excellent place to be in. In the two days that we spent driving this big Merc, most bad roads of Maharashtra were dealt with aplomb with only the real nasty ones making themselves felt on the inside. Nonetheless, things stay pretty flat on most occasions and you'll love the V for that. As for the handling, we have no qualms in stating that this is one of the easiest MPVs we've driven in a very long time. It's more than 5.1 metres long, but once on the move, it's ability to shrink itself into something a lot smaller and lighter let's you pilot this mammoth of an MPV with utmost ease. That's Merc's agility control suspension with selective damping system doing their bits to boost the V's road dynamics. And since it has a stubby nose, steering the V-class through traffic or narrow bylanes isn't as cumbersome as it seems. It's just that you need to get used to where your rear axle is (images thrown by the rear view mirrors are quite deceptive), and once that's sorted, being at the wheel of this Merc is no different than driving a big SUV. If anything, this one would be easier.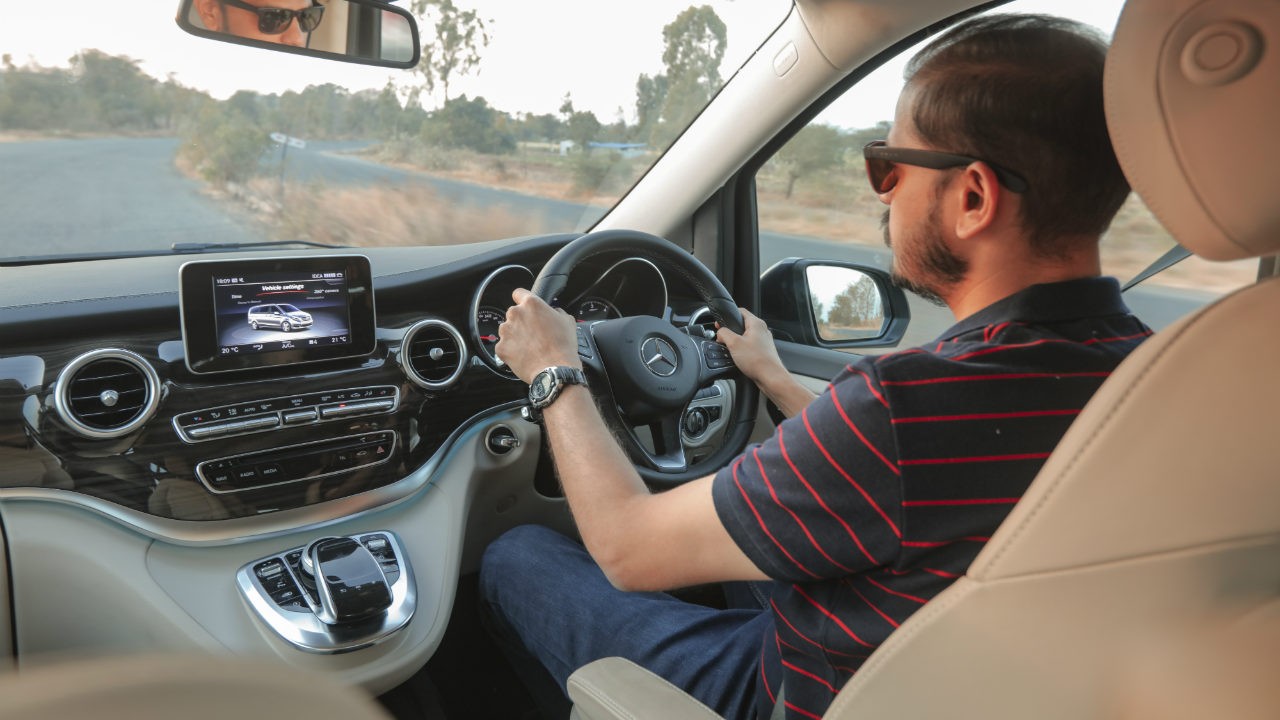 Would you willingly drive a V-class?
If we'd bought one with our own hard-earned money, then definitely we wouldn't. Not that the front row isn't a typical Mercedes-Benz affair – it's comfortable and the dashboard looks neat, too, however, you would rather be seen driven around than actually drive it. It's a different ballgame if you're out with your family and you've got a full-house; taking charge of a luxurious MPV with a Mercedes-Benz badge on its nose and spending quality time with your loved ones will surely do a lot of good to your reputation.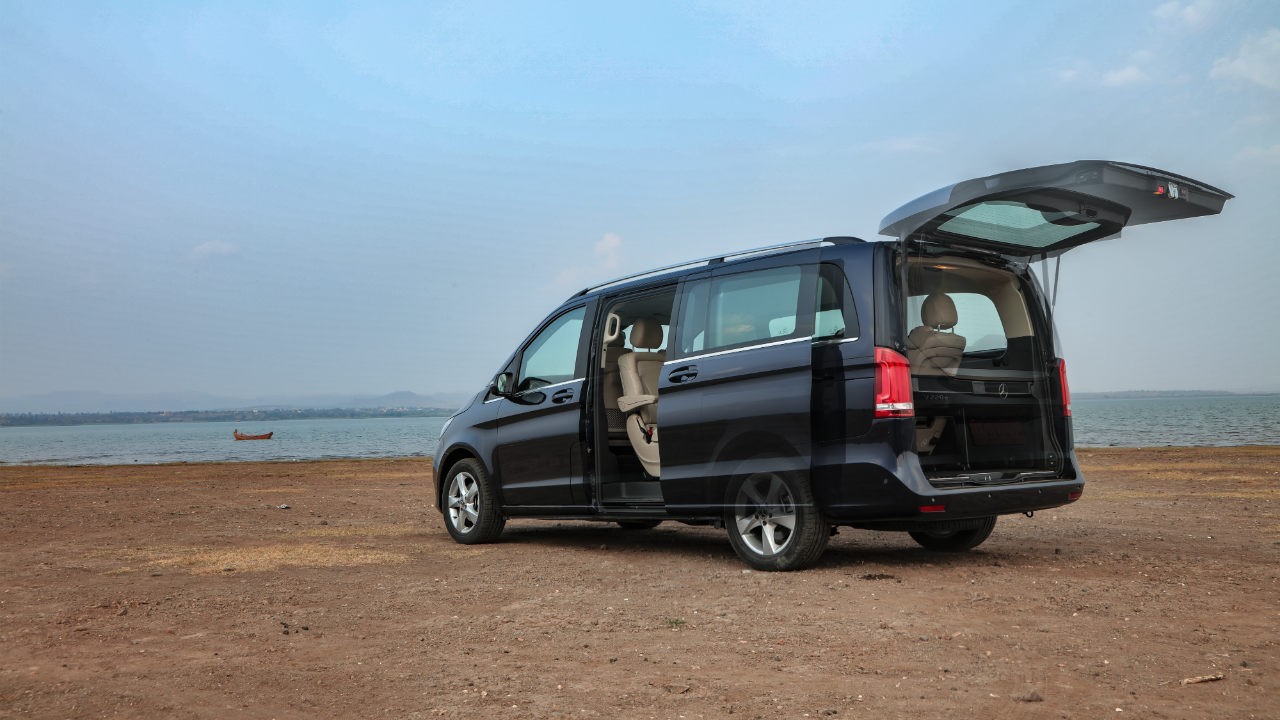 I completely forgot to ask, what drives the V-class?
There's the old 2.1-litre diesel unit under the hood, teamed with a 7-speed gearbox, and together they do a decent job of moving this 3100 kilo MPV. Yes, 160 horses and 380 Newtons don't really make for great numbers considering the kerb weight it's got to deal with, but then the chauffeur-driven MPV that the V-class is, it offers a calm and composed drive, which is exactly what you'd want. Even with the engine mapped to Sports it won't make the passenger uncomfortable as acceleration would be linear at all times. Despite being an old engine, it does feel smooth and refined, and to be honest, it doesn't feel like it needs more power.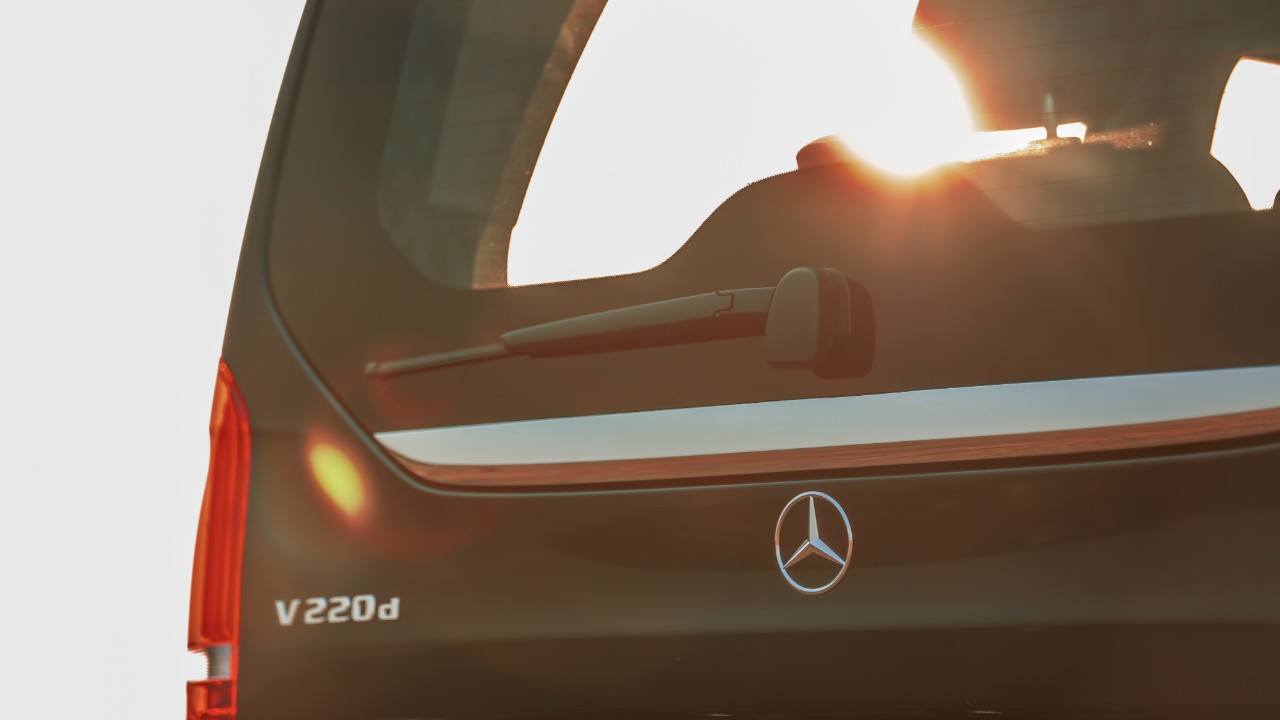 So, how much would a V-class Exclusive make me poorer by?
This can be yours for Rs 81.9 lakh, only. And if that's too much for an MPV, which it is irrespective of the three-pointed star placed on the grille, you can try out the Rs 68.4 lakh, which gets a longer wheelbase and more seating capacity. By Indian standards, even that won't be a practical choice by any stretch of imagination, but then, for that sort of money you get the most spacious, luxurious and comfortable MPV in the country. Also, there isn't any MPV that offers such levels of flexibility seating, nor the amount of cargo space available in here. So while it's not easy to justify its high sticker price, when has exclusivity ever come for cheap?
Specs
Four-cyl, 2143cc, 163bhp, 380Nm, 7A, 0-100kph: 10.9s (claimed), top speed: 195kph, 3100kg
Verdict
It's the most expensive MPV on sale today, but it's also the most luxurious, spacious, comfortable and easy-to-drive MPV in India.
Score7/10


(Photography: Kunal Khadse)