You are here
Review: New Maruti Suzuki Ertiga
The Japanese family car is completely redone. It now offers more than you'd ask for
The Ertiga has challenged the industry norms at all stages of its life. When it was incepted, the concept of a compact MPV was almost unheard of and it was impossible for many to comprehend that a seven-seater could also be city friendly. In its mid-life, it faced fierce competition from other Japanese carmakers, but the Ertiga stood strong and offered the Indian buyer exactly what he needed, it was almost like a curated package for a modern Indian family. But on the down side, the Ertiga was never a good-looking vehicle. It had the soul-less design character usually associated with vans and MPVs. Buying the Ertiga was never a decision taken by your heart, always the rational and practical brain that asked for it. But all of that is about to change.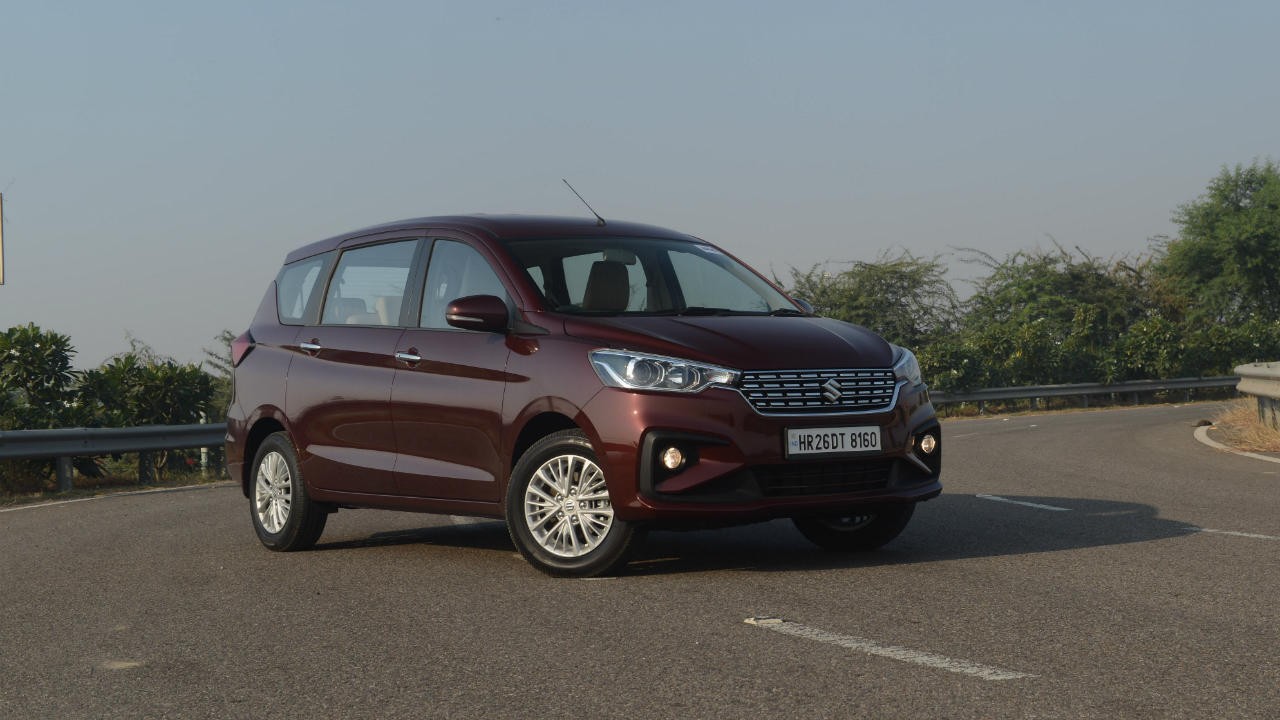 For starters, it's the design, from being kinda unattractive, that has transformed itself into something that's desirable just with its styling. Well, to put it straight, Maruti has made a nice-looking van. The headlamps aren't bulbous anymore, and have now been replaced with sleek, sharp-looking ones with halogens to light up the road. The grille, now, has horizontal slats with chrome spattered on it. The front bumper looks like passionate designers have sketched it out. As a package, it all looks neat and well done. At the back, though, it's a mixed bag. Yes, things have been dealt with much better sense of styling than the out-going Ertiga, but there's a bit of similarity in the way the tail-lamps have been designed to that of some Hondas. Now, I'm not entirely sure if that's a good thing or bad, but there's no distinct identity to the rear.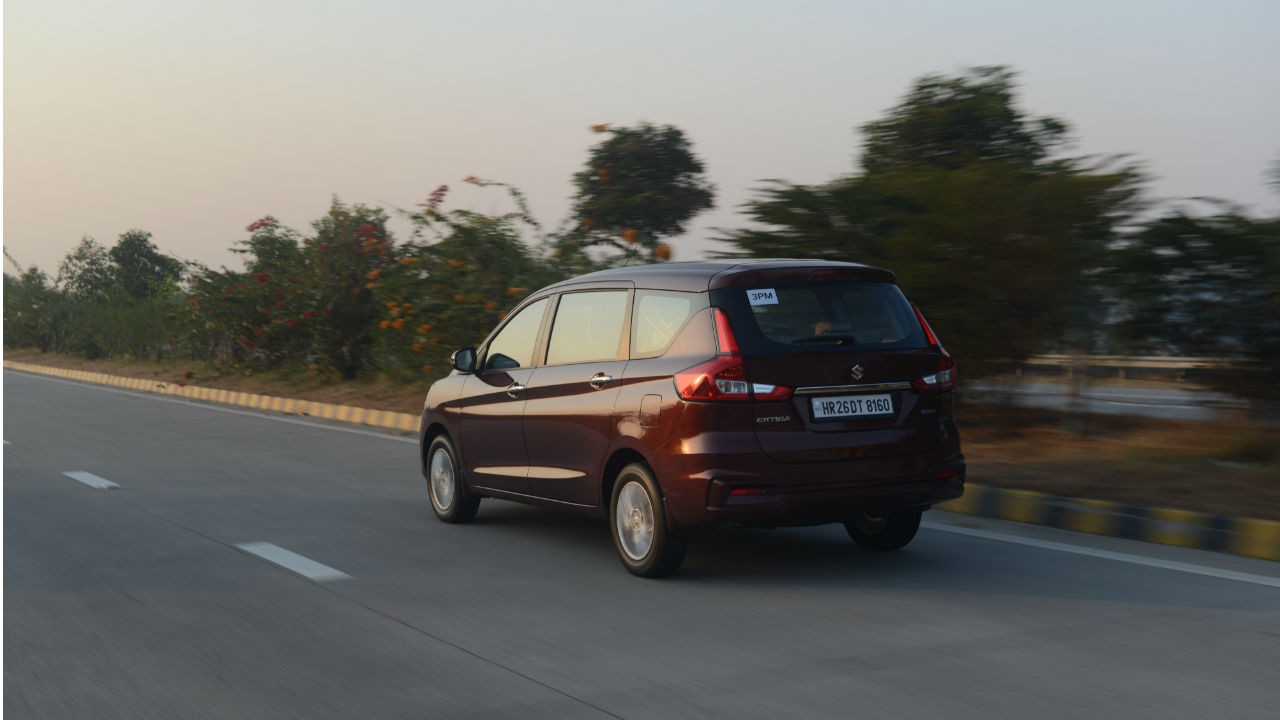 The designers have been hard at work even with the way things look in the cabin. The dashboard can now be called designed and not just assembled. There's faux wood – that doesn't look tacky – all along the dash, and there are flowing lines and a decent-sized screen as a centre jewel. All's placed well, where it needs to be placed, and there won't be a time where you have to stretch your hand at awkward angles to get to something. Even the instrument cluster – on the top spec – is something that you'd expect in a premium hatch or an executive sedan. Loads of info is flashed on the TFT screen and there are analogue dials for speed and revs on either end to make it all look symmetrical. The seats are well bolstered and offer great support and ensure you aren't jaded out at the end of a long journey.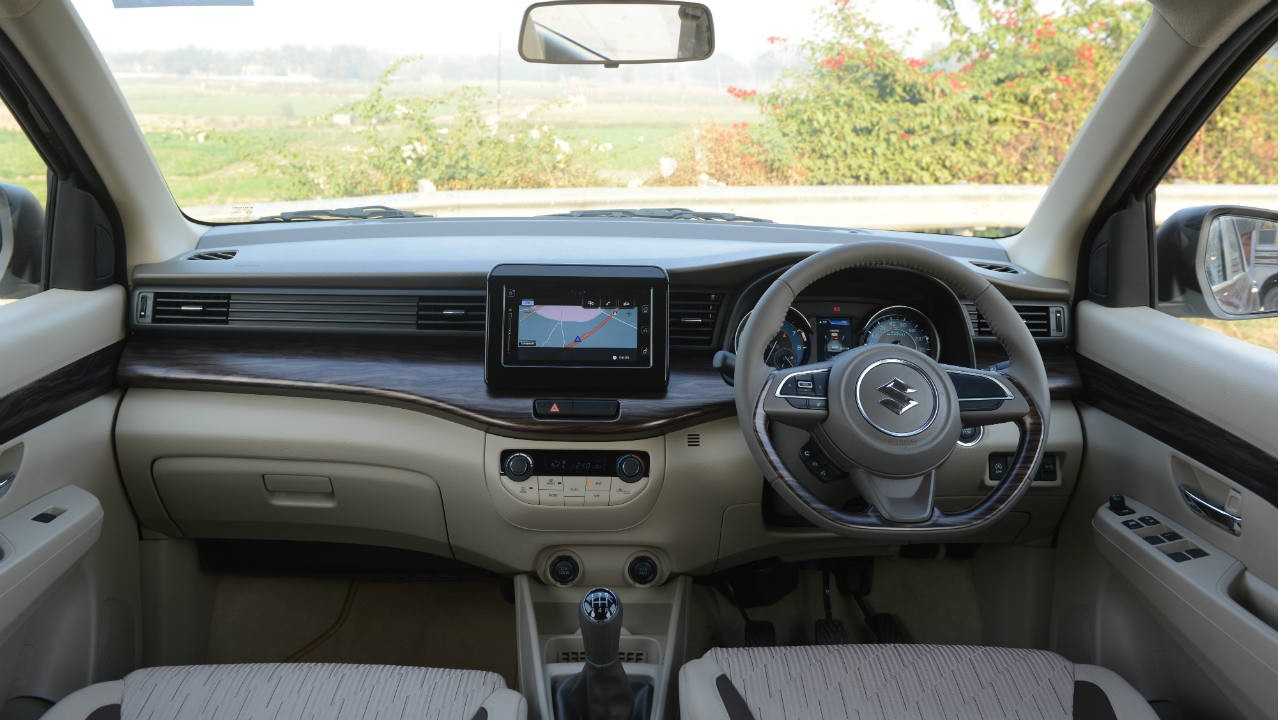 In the second generation, it's not only the styling that has been transformed, the lads at Maruti have also given cabin comfort a rethink. The result? Well, you can now recline all the seats, yeah, even the third row. That not only makes the third row a better place to be in, it also adds usable area to that row. Overall, the cabin size has increased and that means there's now more shoulder- and leg-room for all the passengers. As against 135 litres of boot space with all seats up in the first gen, you can put in 209 litres of cargo with room for seven passengers on board. Oh yeah, if you want more space, you can fold the second and the third row flat. And once you do that, there's enough space to move houses.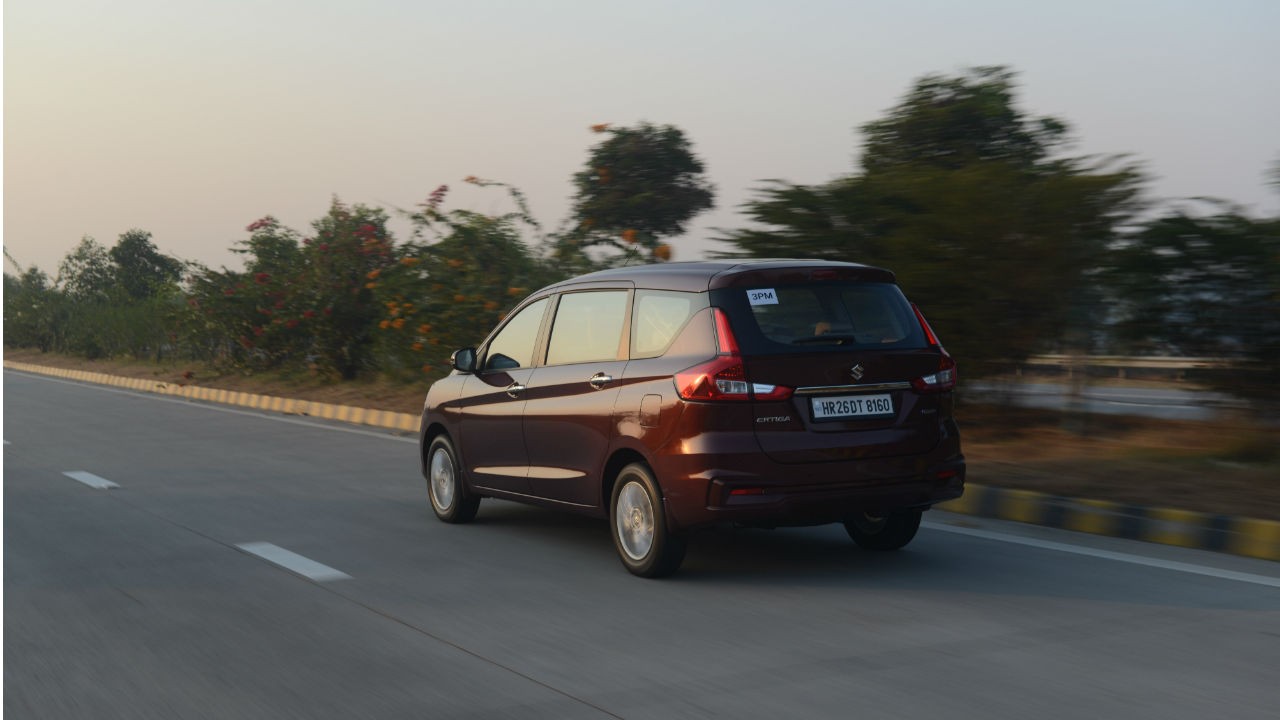 This Ertiga is based on the new Heartech platform – the same that makes the underpinnings for the Baleno and the Swift. It is much lighter than the previous architecture and has also increased the rigidity of this MPV. It gets a fair bit of high-tensile steel to make the chassis better equipped to handle crashes, all of it ensuring it doesn't lug along more weight. The highlight of the Ertiga, when it comes to its driving dynamics, has to be its ability to absorb bumps. Supple would be an understatement to describe the ride quality. The suspension cushions out almost all the irregularities of road. The tune of the suspension is such that it carries out the task of soaking up bumps while it's lightly loaded or fully. It's really applaud-worthy.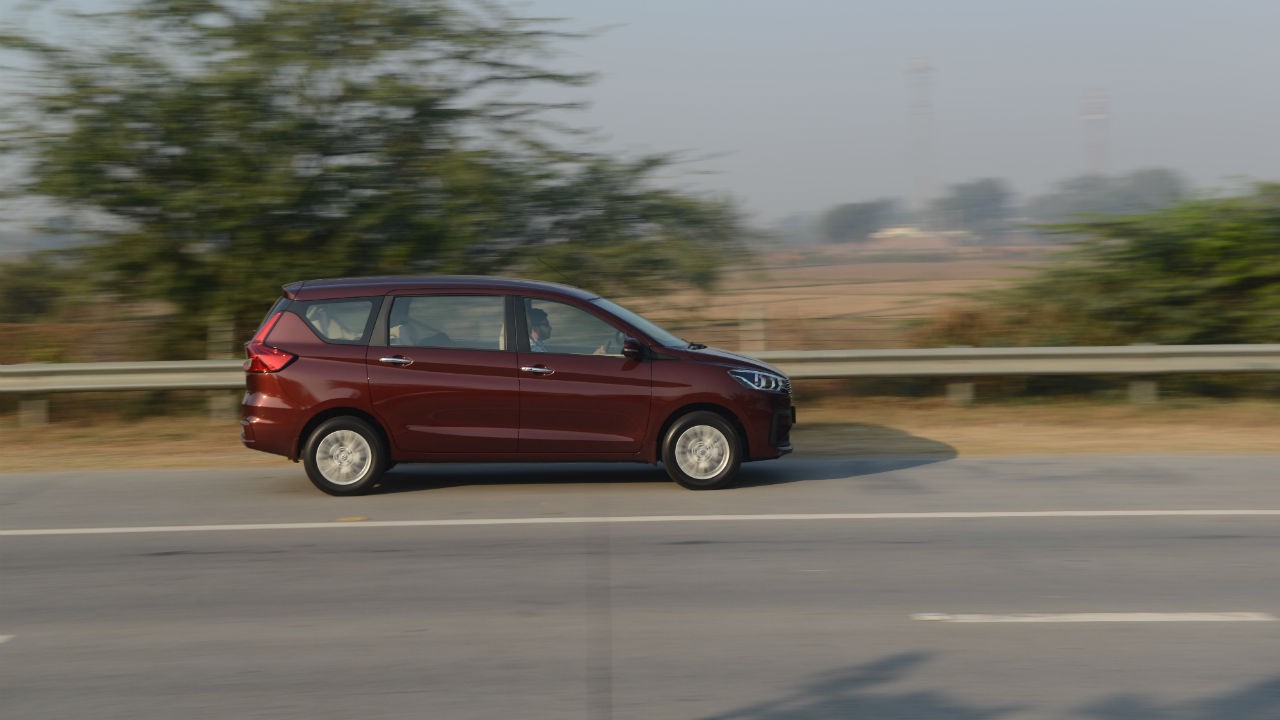 The down side to the softly-sprung suspension is the body roll. Around bends on the expressway where speeds are relatively higher, the roll may be bothersome to a few, but this Ertiga gets around bends at slower speeds without throwing the passengers around. If you equate the roll against the ride quality, you're definitely better off, given the state of our roads. As a package, as you'd expect, the Ertiga doesn't really deserve any fancy adjectives to describe the handling. It's neutral and predictive. It doesn't have a weighty feel like Mahindra MPVs, but you understand it isn't very comfortable if you plan to chuck it around a bit. The steering, too, is vague at the centre and feedback isn't too great either.
Along with all these changes in the architecture, design and cabin comfort, the Ertiga also gets a new heart. It's now powered by the same 1.5-litre petrol mill that powers the Ciaz. The power rating stands at 103bhp and 138Nm. All that power isn't going to get your pulse racing, but it's sufficient to get it going at decent speeds. For guys who prefer diesel, there's nothing new on offer – the same 1.3-litre oil-burner that churns out 87bhp and 200Nm of spin. In terms of refinement and NVH levels, the petrol engine scores high. You can barely hear it at low revs inside the cabin. It is mated to a butter-smooth five-speed transmission or a century-old four-speed torque converter. The manual, the one we tested, has well-thought-of ratios and does a good job at slow city speeds or at highway speeds. An extra cog would have been nice to have considering the Ertiga will see a lot of highway.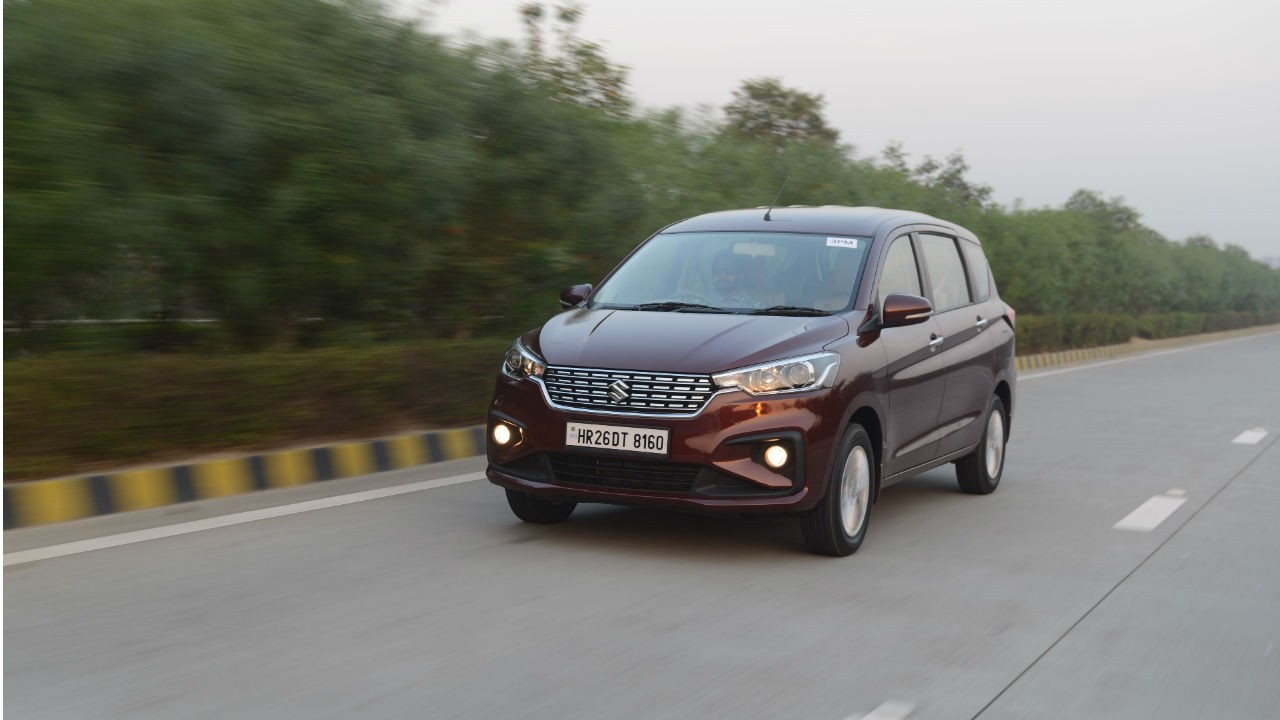 The second-gen Ertiga now costs a bit more than its predecessor. Prices start at Rs 7.44 lakh and go all the way to Rs 10.90 lakh for the top-spec diesel one (ex-showroom). For that additional money, you get a bigger cabin and more creature comforts like an auto aircon, entertainment system with Andriod Auto and Apple CarPlay features, a reverse cam along with the rest. But what it misses out on are rain-sensing wipers, auto headlamps and DRLs, which have become industry defaults.
If you were to overlook these couple of features, you have a rather solid package in its second gen. You've got the looks, you've got the space and you've got suitable driving dynamics to go with. If you ask us, it's good enough for more than 5000 people to take notice every month, and once again, the Ertiga will challenge the general trends of the segment and stand out.
Specs
:
Engine
: 1462cc, 4cyl, petrol
Power
: 103bhp at 6000rpm
Torque
: 138Nm at 4500rpm
Transmission
: 5M/4A, FWD
LxWxH
: 4395x1735x1690mm
Wheelbase
: 2740mm
Boot space
: 209 litres (expandable to 803 litres)
Fuel tank
: 45L
Price
: Rs 7.44 – 10.90 lakh (ex-showroom)
Verdict
: The Ertiga has been better in each and every way and now offers a big cabin, efficient engines and is now a well-rounded package.
Rating
: 8/10