You are here
vRS? Sounds tempting…
Don't get your hopes up. The new Kodiaq vRS might be the fastest seven-seater around the Nürburgring, but it isn't actually all that different from the standard car.
Let's start with the engine. Is that different?
Yep. It's a 2.0-litre, four-cylinder diesel with twin-turbochargers working sequentially. New to the Kodiaq, but we've seen and tried it before in the Volkswagen Passat and Tiguan. When this car was announced all those months ago, a lot of people (including us) questioned Skoda's decision to use a diesel of any size or type in the 'performance' Kodiaq, given the apparent move towards petrols, and the fact it has access to some quite good ones.
But the majority of Kodiaqs sold still have diesel engines. And as it happens, the engine Skoda's gone with suits the Kodiaq rather well. It's almost as smooth as a six-cylinder diesel, and once you're up and running quieter than a few we've tried recently.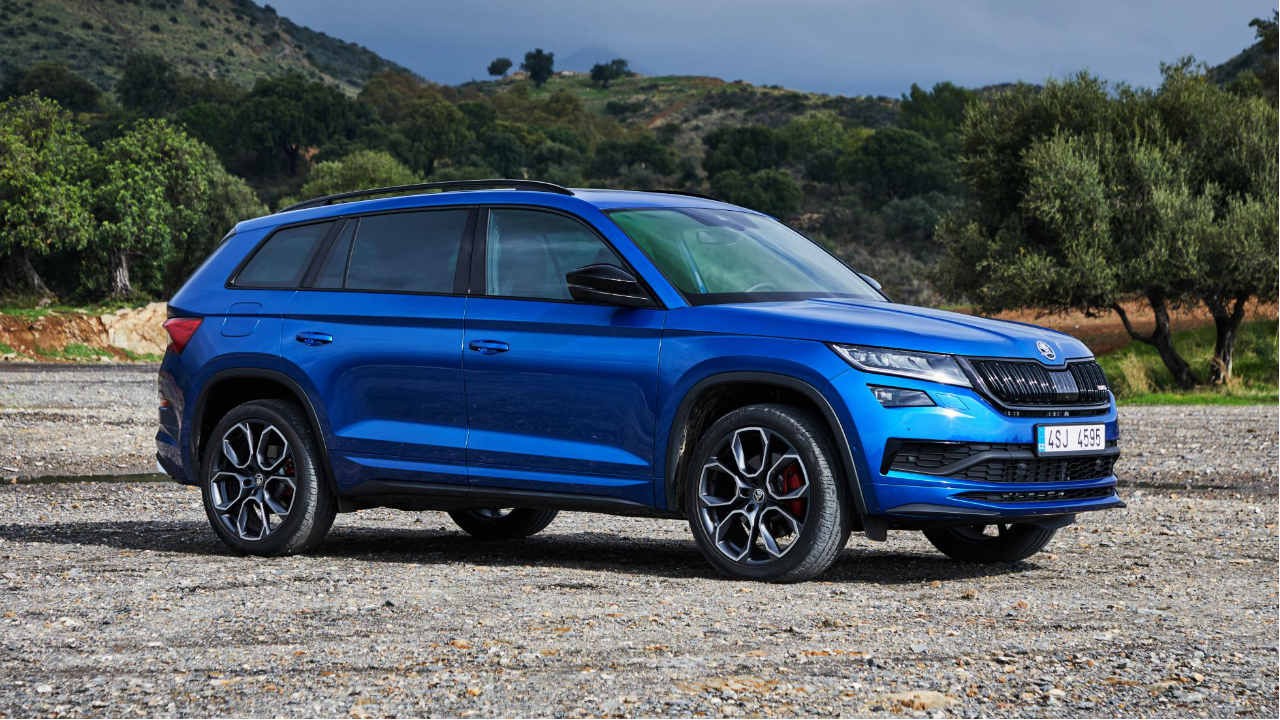 Smooth and quiet? Isn't this supposed to be a performance car?
Kinda. As for speed, 236bhp and 500Nm is supplied to all four wheels through a seven-speed DSG automatic gearbox, with little plastic paddles on the steering wheel for manual shifting. 0-100kph takes a shade under seven seconds, making the Kodiaq vRS brisk, if not massively fast.
It accelerates purposefully, with the same kind of satisfying surge you get from brawny diesel engines. The gearbox is smooth too, whether you leave it to its own devices or take control with the disappointingly plastic paddles. But if you do the latter, it has that annoying habit of changing up for you at the redline. Not that anyone who buys one of these will ever notice. Or care.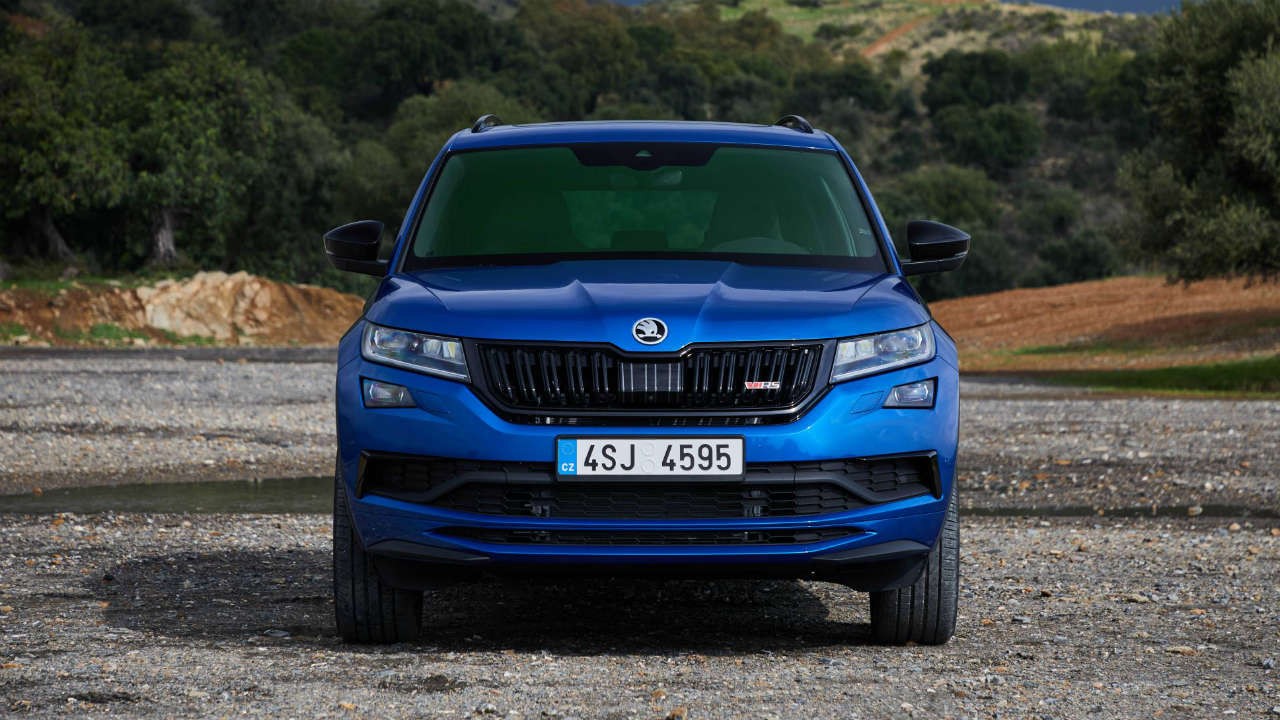 Ok. What else is new?
Besides the more powerful drivetrain, the vRS is pretty much as per lesser Kodiaq 'Sportline' models. Progressive Steering and Dynamic Chassis Control are standard and get vRS-specific software, but both these systems can be specified on regular Kodiaqs. Meanwhile, the 'Dynamic Sound Boost' system that adds synthetic noise – both in and outside the car, it varies in tone and volume depending on what drive mode you're in – is new for the vRS and far from the worst we've heard. And, erm, that's about it.
Ah.
Yep. This is not a radically transformed Kodiaq, although that's not to say there's no fun to be had here. Body control is good, and though feel-less the steering is accurate and easy to get to grips with. Not like some variable systems, where the amount of lock you get seems to arbitrarily change everytime you turn the wheel. The ride's good too, in even the sportiest of the Kodiaq's six selectable drive modes. There's no firm edge, no harsh thumping beyond what you'd bargain for from a car with 20-inch wheels. The trade-off is bigger brakes, which haul the (optionally) seven-seater to a halt admirably swiftly.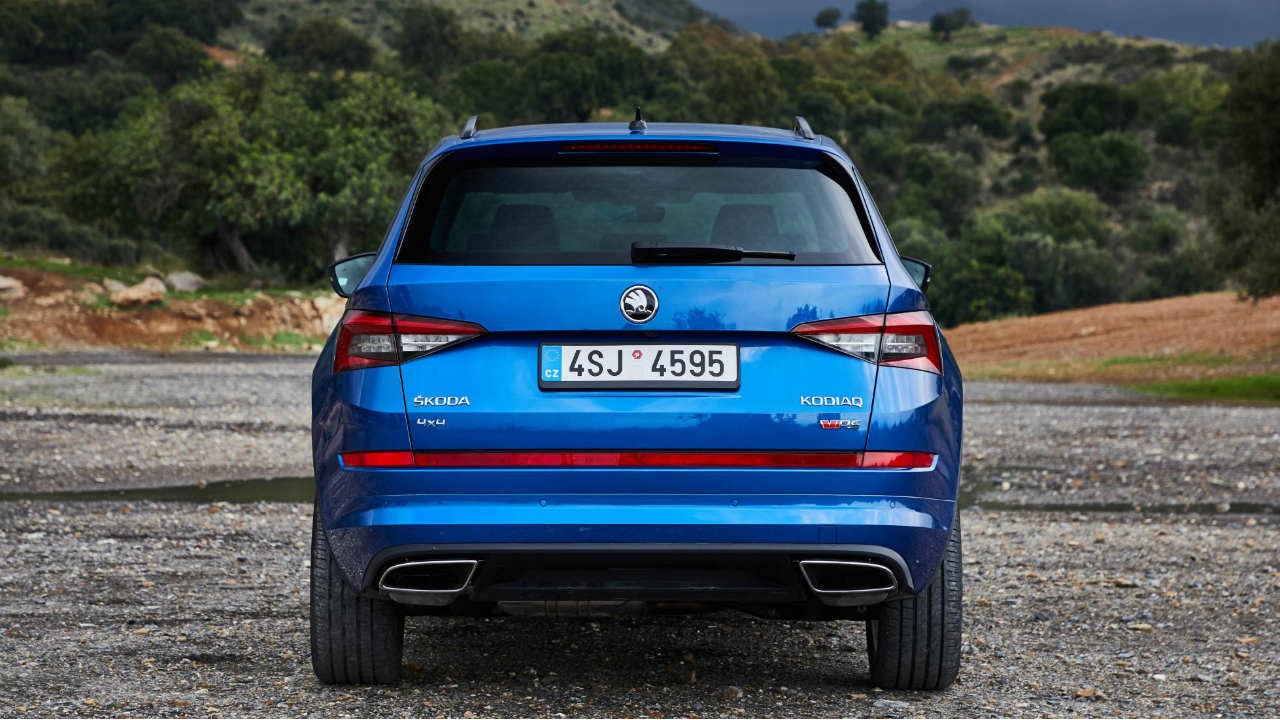 You can keep the vRS moving at a reasonable rate of speed using only fourth, fifth and sixth gears and a couple of thousand rpm, and it never really feels out of its depth unless you really start to push it. Till then the Kodiaq vRS does a decent job of hiding its 1,800-off kilogram mass, shuffling power between all four wheels as necessary (up to 85 per cent can be sent to any one corner if needs be – though it always feels distinctly all- or front-wheel driven). This means there's more grip than you'll ever need or indeed be able to exceed. But also, no real interactivity or engagement.
Least it looks sporty.
This is the first vRS to get the new logo, which eschews the traditional green in favour of red, which Skoda says symbolises "sportiness and power". The wheels are 20s, both head and tail-lights are of the LED variety and there's a full complement of gloss black trim around the window frames and radiator grilles. Inside there's a matt-finish (faux) carbon dashboard, digital dials, vRS logos everywhere and a chunky set of sports seats we're pleased to report are a) very comfortable, and b) don't eat in to rear-legroom too much.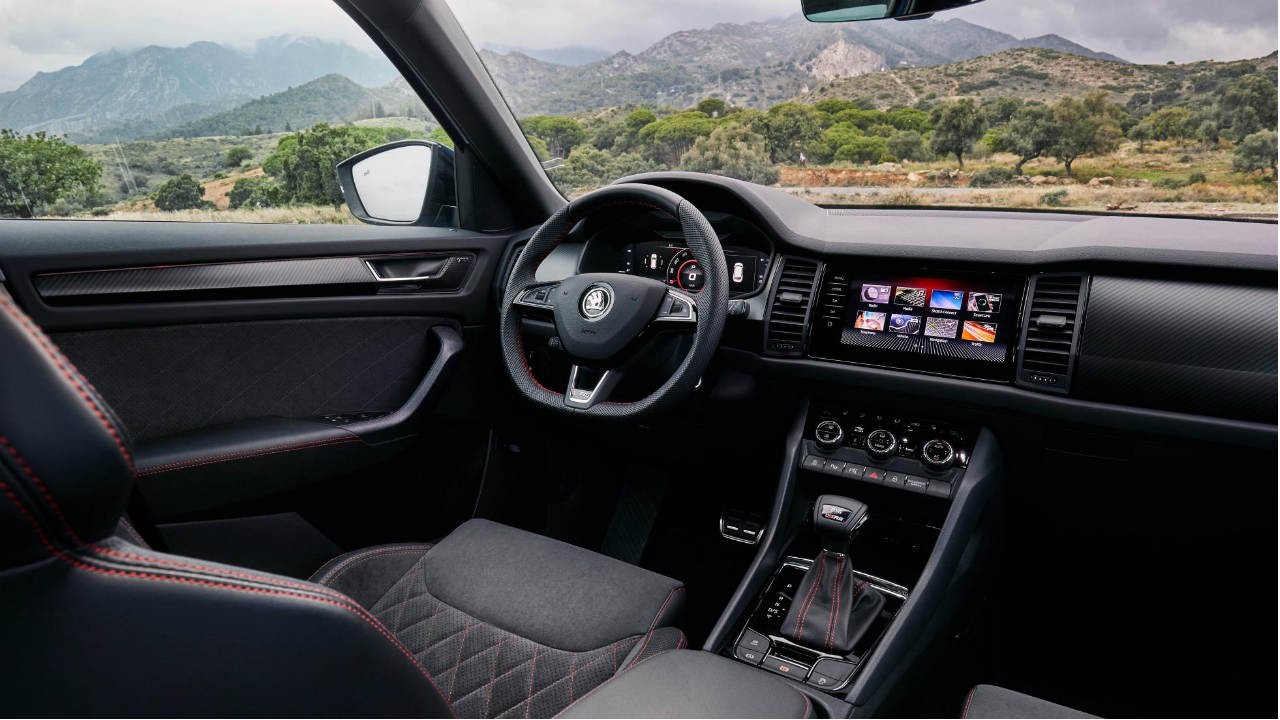 So what's the verdict?
The Kodiaq vRS is a fine thing alright. But is it really worth that much more money than a normal Sportline, which save for the engine is mechanically and visually almost identical? The engine in the vRS is a welcome addition to the Kodiaq range – it's really very good, far as four-cylinder diesels go – but it ought to have been added to the Kodiaq range generally, rather than reserved specially for the vRS.
You see that name, and your expectations change. It writes cheques the rest of the car has no hope of cashing, because it's basically just a regular Kodiaq with a few minor changes. This is a good car – it's issue is one of marketing. There isn't enough here to justify the substantial premium. It probably shouldn't have a vRS badge. And for that reason, while this is probably the best Kodiaq in a money-no-object kind of way, it's not the one we would buy.