You are here
Gear review: Rynox Tornado Pro jacket and Advento riding pant
Rynox Tornado Pro jacket
It's been a year since the Rynox Tornado Pro jacket arrived in office. I've managed to use it though rain, shine and even some frigid weather. At Rs 7450, it presents a value proposition that remains pretty much unmatched. Packed with a set of liners; one waterproof and one thermal - the Rynox Tornado Pro can really be used all year round. It hasn't lost any of its structural integrity and the Knox armour feels solid with no signs of wear. This however, also means that the odd fit that I complained about the day it arrived has persisted. The neck roll has a soft fleece lining, which is great, but the overall length is a bit much and tends to push the helmet up from the back when you are on a sport motorcycle and in a crouch. At other times, it feels a bit uncomfortable when zipped up all the way and the Velcro in place. The velcro is also pretty abrasive and can ruin cheek pads on your helmet if you aren't careful.
The shoulder armour also did not quite fit into the pockets and I eventually replaced them with smaller, lighter armour to make it more manageable. The other area I'd like to see improved is the wrist cuffs. The materials at the cuffs needs to be softer to allow flexibility to make for a snug fit, which is not the case right now. Attaching the liner is pretty easy and you can choose to use either one, or both together in case of extreme weather. They have held up well through most situations, barring the occasional torrential downpour in which water does seep in though the zipper. This is when you thank the waterproof chest pocket, which has managed to keep my phone dry through the worst bits of weather. The quilted thermal liner also works well and keeps you warm. I've tried it on a ride where temperatures had fallen to three degrees, and I found no reason to complain despite having only a full sleeve tee on the inside.

Rynox Advento riding pant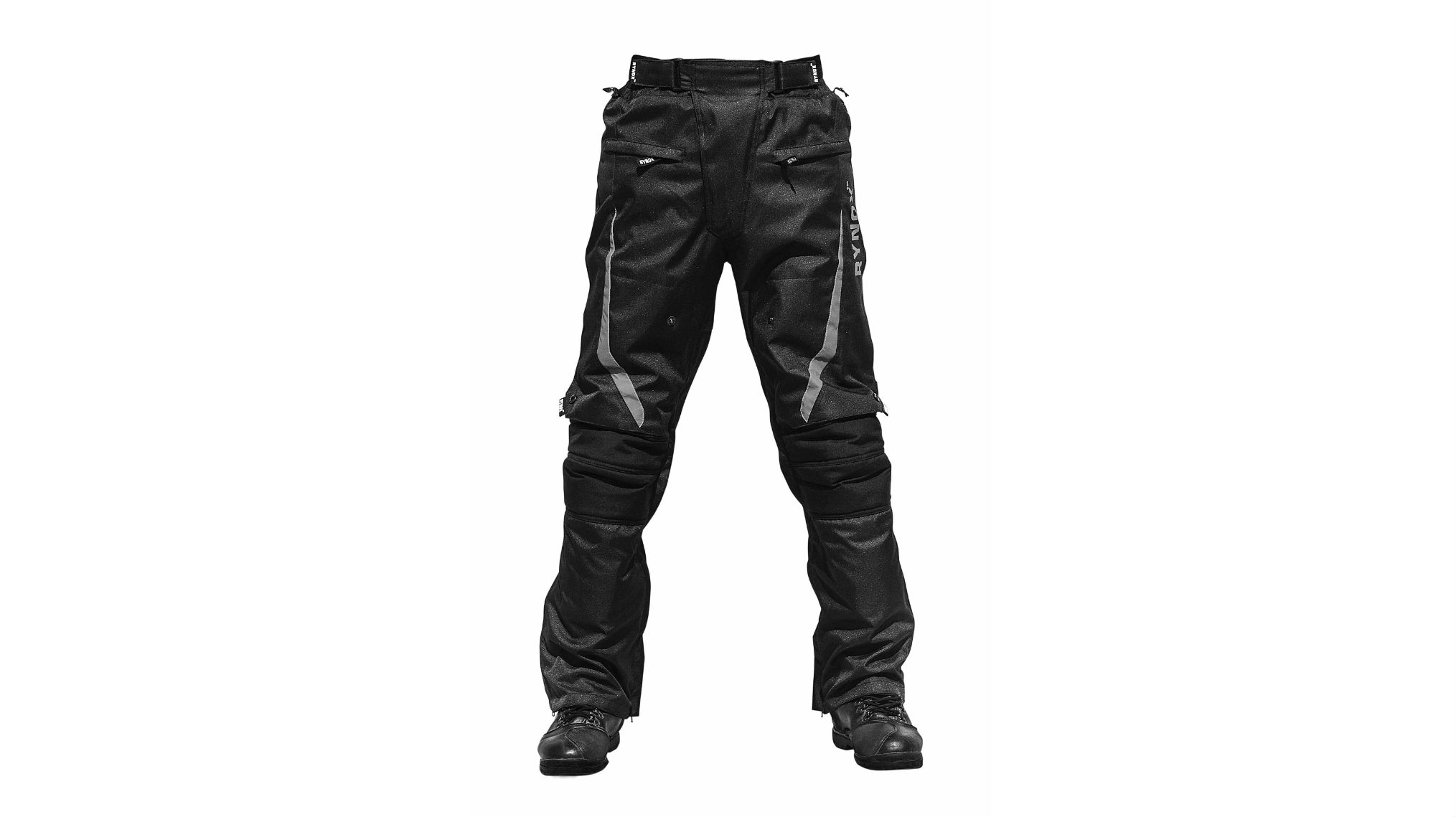 I have been also been using a size large of the Rynox Advento riding pant and to begin with I'd like to point out that they fit really well. Unlike the jacket, you get only a thermal liner that can be zippered into the pant. They do provide a waterproof layer, but it is an overpant, designed to be slipped on when the weather turns really bad. The textile on the pants itself can last a light shower without any trouble, provided the large mesh panels remain velcroed shut. The thermal liner works well to keep the cold out and I've never landed up using the waterproof overpant, although I suspect that will do well too. There are signs of wear and tear in the Velcro at the mouth of the armour pockets, while the rest of it remains in good shape.
There has been a lot of talk about the adjustable knee guards that are held in place by a few strips of Velcro. While it sounds like a good idea, being able to adjust the knee guards to your preference, I am not entirely sure how it would hold up in the event of a crash. Moreover, this current situation means I need to find a sweet spot each time I put the pants on as it can get tricky with so many variables. The tear away textile panels reveal a fair patch of mesh, which proves marginally effective given its placement on the top of the thigh as there isn't much airflow in that direction. It is a good idea though and shows their attention to detail. I wish the pockets were slightly bigger though to allow for a regular sized smart phone to fit in without the top half jutting out. For a gear manufacturer that has recently made it to the market place and for the value proposition they offer, the Rynox Advento riding pant is certainly high up on the list. Hopefully version 2 will incorporate some of these finer details to become a proper first choice for everyone.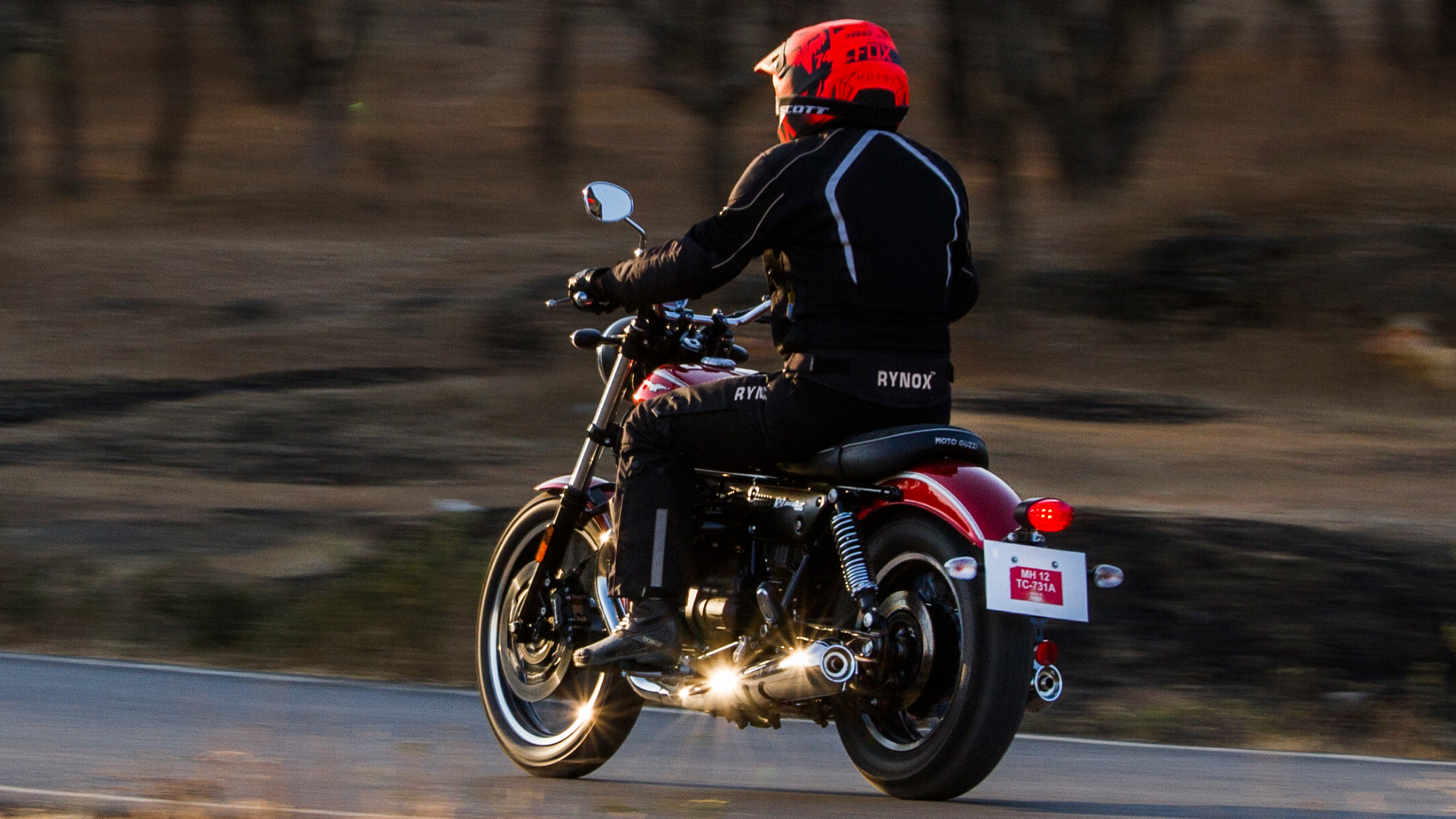 Riding while using the Rynox Tornado Pro jacket and Advento pant