You are here
Okay, maybe we should have sent this review out a long time ago. But then, we wanted to thoroughly test the BluSnap. What exactly is it? BluSnap is a wearable helmet cooling system that works exactly like a regular air-cooler does, but for your helmet. It comes from a Bangalore-based startup that is creating a whole line of motorcycle accessories called BluArmor.
How does it work? It uses an anti-microbial filter that is connected to a water reservoir and an electric fan. The fan pushes ambient air into the filter and out the vents, directly into the helmet. BluArmor claims that the cooler can effect a drop of anywhere between six to 15 degrees Celsius inside the helmet.
All that is what is claimed. How does it work? Let's get to that
now…
The cooler snaps on to most full-face helmets and we tried it on a whole bunch of them. It did have a small problem fitting on to AGVs though. The odd shape of the chin bar prevented it from sitting snug on it. It fit well on Shoeis, Arais and Airohs. The unit snaps on much like a motocross goggle and lets you use several designs of straps for this purpose. It is also designed such that it snaps away in the event of a crash.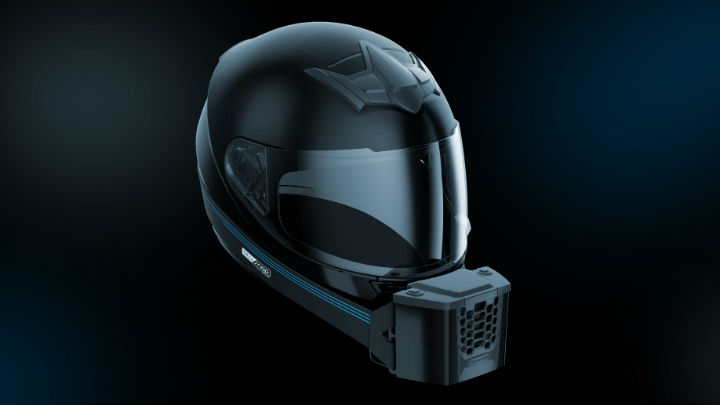 Does it cool? Well, yes and no. In humid cities such as Mumbai, the temperature difference is not as much as it would have been in, say, Delhi. But it does provide a continuous supply of flowing air inside the helmet that keeps you quite cool. It allows you to keep your visor shut through your entire commute. The filter also keeps quite a bit of particulate matter out of the helmet. We found that it helps get you to your destination a bit fresher. We used the unit a fair bit riding around town and on a single charge, it lasted almost a week on the daily commute of two hours. The reservoir did have to be refilled every day, though.

Mind you, this is not an air-conditioner. So don't go expecting that kind of coolness. That said, it does help. Incidentally, we also used it a couple of times in the rain and found that the unit works really well as a defogger inside the helmet when the rains come knocking. It helps that the whole thing is waterproof too.

The question is, is it essential? Maybe not but it sure as hell gets you where you're going, a lot fresher than without it. Just wish it were a bit smaller and sleeker, though.
BluSnap: Rs 2,299
Available at all major e-commerce websites