Big Reads
Speed Week 2022: nine performance cars battle it out on track
Roadtrip successfully navigated, time to find out what our contenders are really capable of...
We didn't start with the Praga. We started in a pair of Skoda Enyaqs and a VW Multivan, crawling silently around Autodrom Most in the semi-darkness of the previous evening. A track day had just finished, the pulsating echoes of motorbikes had stopped reverberating off the grandstands, silence had returned. And in our cars there's no radio chatter or banter, we're all quiet and circumspect. Because even at 20mph it's clear this is a Very Serious track.
The corners are numbered, not named. Less evocative. It's harder to express fear and trepidation when reverentially whispering about turns 4 and 19, rather than some mythically titled bend such as Pouhon or Paddock Hill. But ultra fast, 'are they really flat?' 4 and 19 are a genuine test of mettle and metal.
Advertisement - Page continues below
Photography: Mark Riccioni & John Wycherley
A full lap seems to take ages, we regroup at the end of the main straight and discover we've all come to same conclusion: Most is about 30 per cent bigger than we expected. We're cowed by its scale, the elevation and direction changes, the cresting blind entries. The next morning precisely no one makes a beeline for the 800ers. Even two days later the 804bhp McLaren Elva and 819bhp Ferrari 296 GTB will remain demonstrably faster than anything else, hitting 165mph on the main straight, pushing so fast out of corners that they put you on different parts of the circuit to anything else, require different lines and approaches.
But we start with all the cars trawling round together for the cameras at 30mph. It's a good excuse to look at them alongside each other, the impact they have, the scale and size of them. I'm in the M4 CSL and feeling small. It's a big cabin, a big car. Like Autodrom Most itself, it feels scaled up. I usually slam seats down as low as possible, but in this fixed bucket I can barely see the GT4 RS over the dashboard. I resolve to solve it with spanners when we stop (in the end I just stuff a hoodie under my backside). I'm sloshing around in the moulded carbon shell too – it's built for bigger people.
Advertisement - Page continues below
The rest are a mixed bag for driver support too. Maserati forgot to add any bolstering, making it tricky to steer through corners, the Ferrari seats are hard and, this being an Assetto Fiorano, you have to faff around with harnesses. The McLaren has very brief seat bases oddly reminiscent of a park swing, and the polar opposite of the DBX 707's seat, which occasionally brushes the back of my calves. It's oddly ticklish.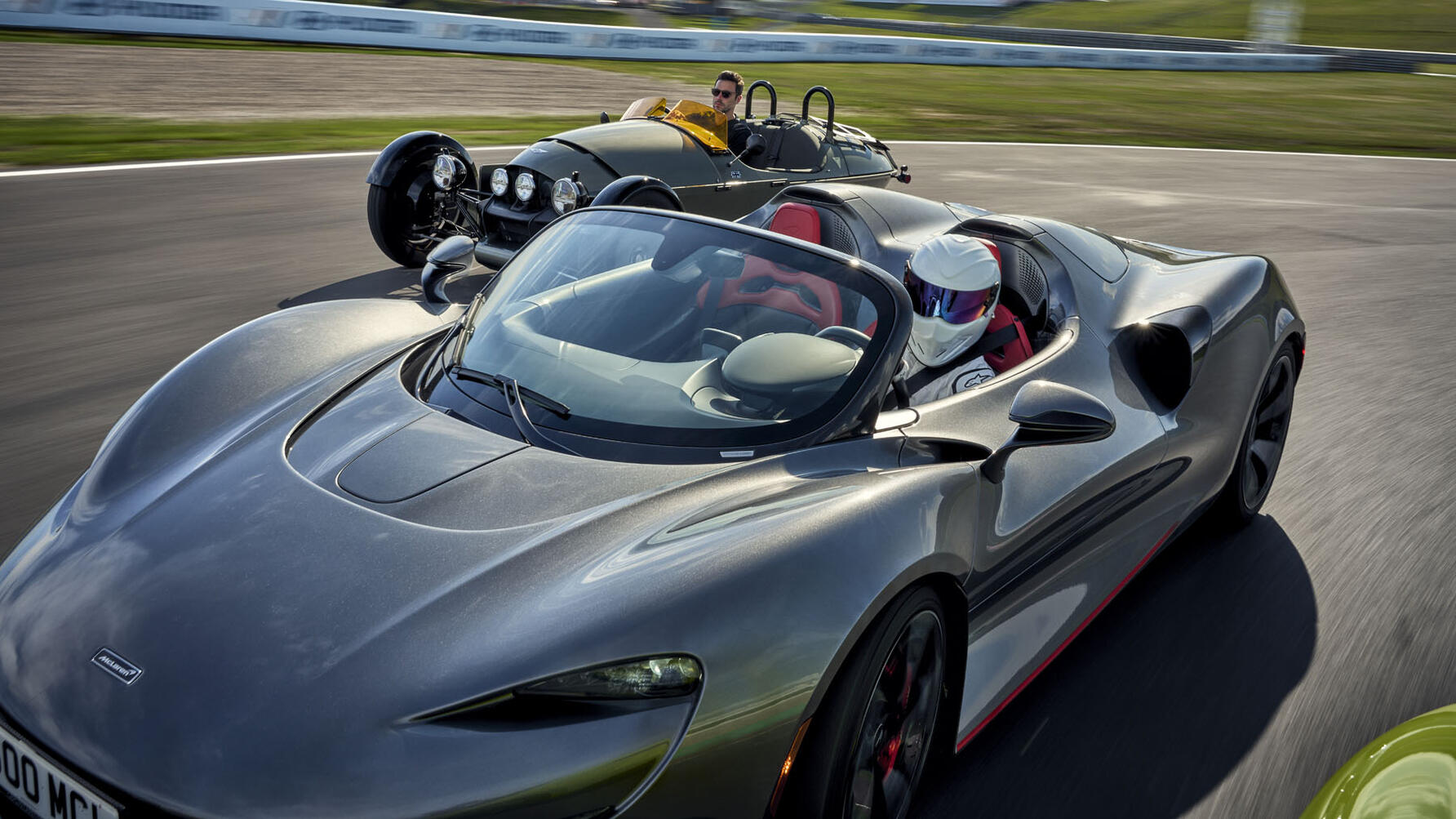 I've digressed. We still haven't got over the Ferrari's paintjob, and even if it was more tasteful the way the stripe fattens over the whole nose is just clumsy. I'd been driving out of London a few days earlier and spotted a stripe-less 296 GTB in oak green. It looked sensational. The MC20 is neat, but Maserati has no historic supercar design language, so this can't be faithful to anything. It leaves me a little underwhelmed, but I think that's due to its slightly confused mission statement, both hardcore and soft-centred. I get mixed signals from the CSL too. What exactly is the aim of this 1,625kg coupe? The CSL dictates road appeal, but everything about it shouts track performance. Should've CSL'd an M2 instead. The Huracán is more altered than I expected, but still angry, angular and... familiar. We're blasé about it, but later, when we show them to the public, we're reminded a supercar among ordinary traffic is optical flypaper.
The Morgan stands out the most because no one else uses Biggles as inspiration, the DBX looks like it will struggle to adapt to Autodrom Most just as much as the Mog, but is at least the right scale for the place, and the Cayman... well it just looks perfect here. I wouldn't have the black bonnet, but the wing, the stance, the wheels... yeah, perfect is the word. Oh, and no one's talking about the Audi RS3.
So that's where I'll start. Ollie Kew reckons it's "bizarre that the 'underdog' hot hatch at Speed Week has 400 horsepower", but to be fair the RS3 has barely any more power now than a decade ago. The problem was never what the turbocharged five cylinder was capable of in a straight line, it was everything else. Blunt brakes, blunt steering, handling that led from the front like a headbutt, everything thrown into that initial lunge, with nothing to follow on behind. It's taken a while, but the new one is a step change. 'Playful.' That was the word that kept cropping up. I know, in relation to an Audi RS product. The only other car it was linked to was the Ferrari 296 GTB. It's a synonym for cars that slide at the back more easily than you expect and don't scare you half to death while doing so.
The Audi has a bag of tricks. It's 4WD, but each rear wheel has a computer controlled clutch pack that tries to send as much torque as possible to the outside, loaded wheel. Encouraging oversteer. It works, and it feels pretty natural. It's best through slow and medium corners, where you nail the throttle and the RS3 exits with gusto, all four wheels slipping evenly. Even through higher speed stuff it remains neutral and composed. The brakes held together better than expected, and even though it does ultimately feel relatively soft and lacks the accuracy and sheer grip of the snortier stuff, it's a game and approachable machine.
"Supposed to be boring, genuinely wasn't," said a mellow Tom Ford, reaching for his vape holster after stepping out of the Audi. The best car to learn the circuit in, we all reckon, even if those who hadn't driven it before needed help getting it into the right modes. Urgh, screen menus.
See also BMW M4 CSL. Yeah, there are programmable buttons on the steering wheel but if you want to further finesse settings or try other things, well, you'll need to head back to the pitlane. There are buttons all over the console, none being hugely useful, there's the 10 stage traction system and drift analyser, a track mode that turns off screens but does nothing else.
Top Gear
Newsletter
Thank you for subscribing to our newsletter. Look out for your regular round-up of news, reviews and offers in your inbox.
Get all the latest news, reviews and exclusives, direct to your inbox.
We're now scratching the surface of a wider issue with this car. BMW's inability to say 'enough'. Except when it comes to weight loss. Because 100kg wasn't nearly enough. It's all too overwrought: the styling, the cabin, the endless CSL badges... and the driving. It's not the car we were hoping it would be.
It was more sensitive to tyre temperature than any other car here. On cold Cup 2Rs it felt spiteful and itchy. It was only when they were hot that I gelled with it, trusted the immense front end grip and used the torque to unstick the rear. Then it was hilarious, painting black lines in places around the circuit that other cars couldn't reach. I got confident with it, but even so I didn't love it. The eight-speed auto gearbox. No, just no. Upshifts are fine, downchanges are slow and soft – it has no place in this car. The CSL never feels less than big – and more to the point – heavy. All the lower slung sports cars, up to the MC20, had better body control, felt more nimble and agile.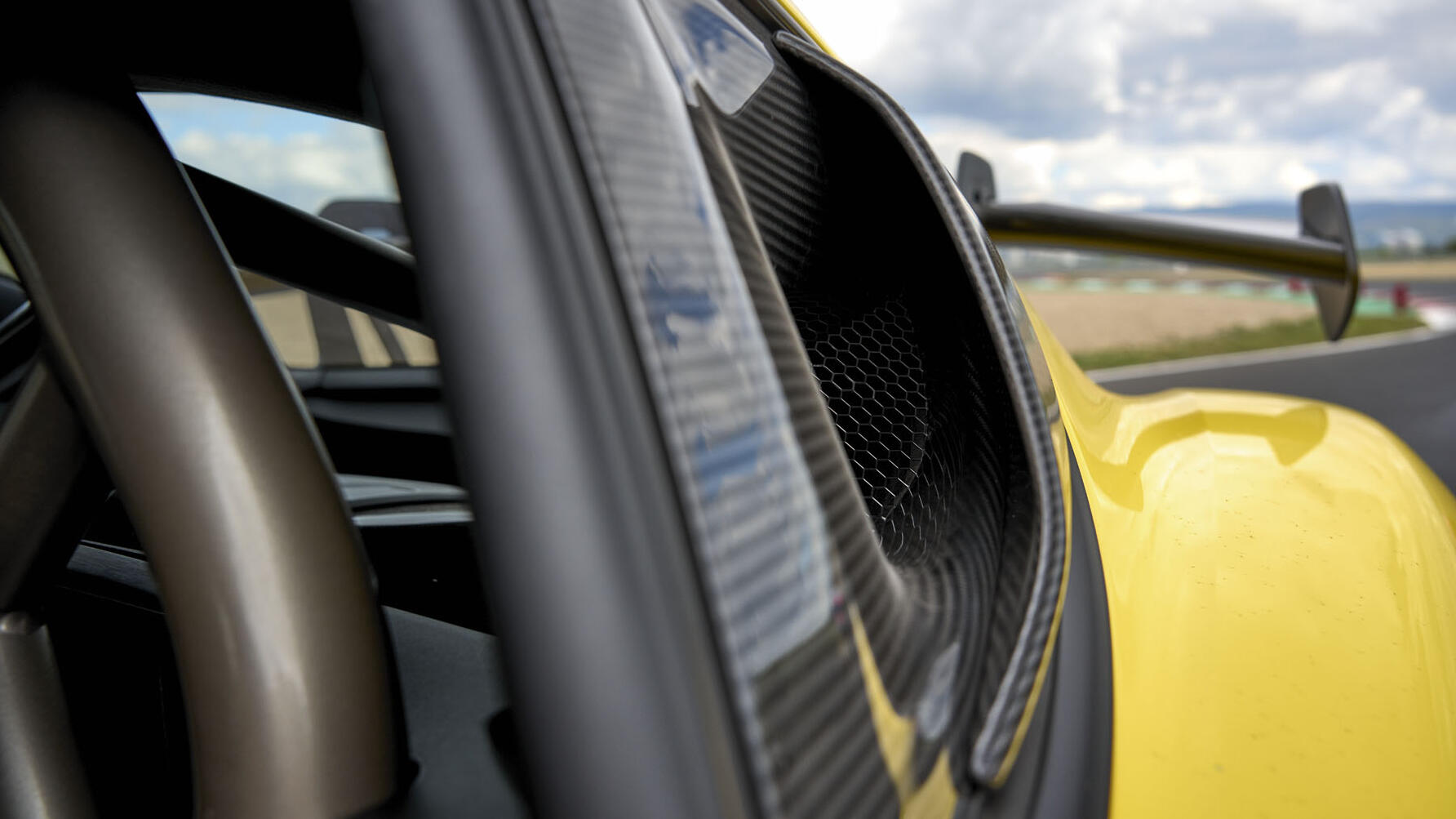 And there was an elephant in the room. Porsche's Cayman GT4 RS. Similar power and track focus, but 200kg lighter. They were night and day different. The purity of the Porsche contrasted with the heavy handed BMW. Look, the CSL is better than standard – the rear axle is even more precise, it grips hard and laps fast – but it's not £50k better, and more to the point it doesn't have a clear idea of what it wants to be. CSL is the lightweight, road-focused model we were told. So where's the dexterity, the tactility? This isn't nearly engaging enough, it's still too distant, the steering is too thick – both the wheel itself and the feedback through it.
I can't get my colleagues to say kind things about it. Here's Jack Rix: "When you deploy a badge as special as CSL you need to do it right, and this one is lost in translation." "Vulgar overcomplicated gargoyle," reckoned Ollie Kew, while Tom Ford reflected it "felt like the marketing dept got high and no one had the guts to tell them 'no'". None of us is convinced this car would have happened had it not been M's 50th birthday this year.
We're united on the GT4 RS as well. In a very different way: "It will simply never get better than this. World's best sports car chassis gets world's best sports car engine" says Ollie, with Jack adding "supercar drama with the usability of something from lower down the food chain". Rowan Horncastle isn't alone in being blown away by it, "everyone needs to experience it", while even Tom, our usual contrarian, says "wanted to slag it off because it's so obvious, but wow. Confidence, confidence, confidence. Drama without actual consequences".
I don't disagree with a word of this. Yes, it's a shame Porsche doesn't do it with a manual and, er, that's it for drawbacks. The noise. There's a lot of it, but it's all induction and inward focused, contrasting totally with the nationwide speed broadcaster that is the Huracán Tecnica. The last thousand revs are an ear-piercing scream, but it gets the juices flowing like nothing else here. You'd pay £108k for the sound, the engine alone. Nothing here has a more special powerplant, nothing bar the McLaren has more reassuring, communicative brakes. Same goes for the steering. Worth remembering the Elva is well over 10 times the price.
It's just stellar. You don't need to look at the rev counter because you hear exactly what's going on everywhere in the range, the chassis balance is immaculate, the gearbox whipcrack fast. It flows and dances as instinctively as the Ferrari, and it's so nice to drive a car that's not too big. It's easy to be cynical, to go "yeah, yeah, yeah, the Porsche... boring", but if you think like that I feel sorry for you. I'm cynical, been doing this job a long time, but the GT4 RS is epic. I'd have it over the GT3. It's up there with my all-time Porsche benchmark, the 997.2 GT3 RS.
If we'd had one here, a Porsche Cayenne Turbo GT would have been more composed and settled on track than Aston's DBX 707. But would it have been as amusing? Not a chance. There's a rabid edge to this monstrous SUV, a side to its character that we'd got peeks into during autobahn lunges, but really comes to the fore on track. "Big set of lungs, even bigger sense of humour" reckoned Jack, while others were "surprised how strong the front end was", or "found it intuitive for such a heavy blunderbuss". It's a strong performer yet slightly disjointed – there's more performance in the chassis than the styling would suggest or the cabin can cope with. There's creaks and you fall out of the seats.
Much the same as the Morgan then. But this feels such a step on from the old one. Yes, Stig did manage to get a front wheel waggling high in the air, and no, the Super 3 isn't really a track car. But it is a pace breaker. A reminder that to have fun on track you don't need the steely eyed focus and machismo of the serious supercars. And compared with the old 3 Wheeler this is night and day different, more sophisticated and capable, better finished, more reassuring.
All things are relative. It's all a bit elastic and unsophisticated, you steer by throwing lock on and seeing what sticks, the brakes are remote and the wheels clatter and pop over kerbs. If it was grippier it would be deeply unnerving, but that's not the Morgan way. Raw data crunching, the binary code of acceleration and grip, is anathema. This is the anti-M4 CSL. Not least because it was light enough that your body position affected your trajectory. But it was the pitlane chuckles and guffaws that made it so popular, the car that had people hunkered down behind the orange screens making ratta-tatta-tat noises. It's not serious, it's daft, but no one had a bad time driving it, it delivers fun and happiness more regularly and consistently than any other car here. It has a sense of humour, and that's a rare thing.
Also found in the McLaren Elva. Only here because it's of the "wow, they actually built this thing?!" variety. We drive them round together, arms waving out of open cockpits, before letting the Elva off the leash. It's a wild ride, a roller-coaster, only tameable and controllable because the engineering and dynamics behind it have been done so brilliantly. It's... intense. With the Ferrari, provided you've still got some sort of safety net in place, you feel supported and looked after. Here, not so much. It's a wheeled adrenaline shot, and you need to take care of the dosage.
Way more power than weight, so acceleration is wild, a free fall sensation enhanced by the storm force air buffeting the cabin. You're very much the master of your own destiny here, in this bare carbon bathtub. It's old school driving, a raw, stripped back purity mingling with tingling feedback. It's sparky and alive and asks questions about your commitment to its cause. It's McLaren at its best, enthralling, vivid and wild.
But not forward looking, practical or remotely good value for money – even alongside our three Italian supercars. Let's talk basics. The Huracán Technica is a route one supercar: looks ridiculous, makes lots of noise, goes fast. The Maserati MC20 is more circumspect and sophisticated (apart from the cheap, basic cabin), has a lighter touch. The Ferrari is technologically advanced, but tries to pretend it isn't.
The issue for both rivals is that the Ferrari is just far too sickeningly talented. In isolation both are good cars. Lamborghini proved with the STO it could do an interactive chassis, and has now melded that into a more capable, habitable car. This is a surprisingly nuanced, friendly and, in Tom Ford's words, "properly dialled-in, a pussycat to go fast in". But it's old now, and although it moves well, nothing's really changed. It's a stadium act belting out a greatest hits package.
The MC20 should have been on the drive down, but Maserati refused. Shame, that's where it would have shone. I enjoy it on track, the carbon chassis is super stiff, it turns in better and grips harder and more communicatively than I expected, but the spongy brakes are vague and inconsistent, the engine is laggy then boosty, doesn't quite precisely reflect your throttle inputs and the steering is too inert. This meant that it was less predictable than the Ferrari, and therefore more intimidating.
The MC20 rides lightly and diligently, wants to be used every day. The Huracán Tecnica has stellar brakes, real spirit and the ability to suck you into the experience as strongly as the Cayman GT4 RS or Elva. But the Ferrari... wow. What a device. What an achievement. How has Ferrari managed to corral the enormous complexity beneath the skin, with turbos and batteries and electric motors, and end up with a car that feels as trustworthy and communicative as the McLaren or Porsche?
OK, there's a hint of fakery, of the car flattering you so much that you sense it's not genuine. Something in the over-bright responses to the steering and throttle, the sheer energy of it. We drive it on Michelin 4S tyres and Cup 2Rs. Unlike the BMW, it's brilliant on both, light, edgy yet poised on the former, keyed in and shockingly grippy on the latter, which helped keep a lid on the rear wheels' oversteer instincts. It picked apart every element of every corner with a fluency only matched by the GT4 RS.
Those two are the standouts from two days on track at Autodrom Most. They tick every box, are once in a generation talents. But what else goes through to the final reckoning with them? I'm keen on the RS3. Ish. It's surprised me as an all-round package, but if we take it through it's going to get its arse kicked all over the mountains. It's too ordinary alongside the extraordinary. Not a single vote heads for the MC20 or M4 CSL. That's telling in itself. McLaren Elva? Sorry, although richly rewarding there are 1.4 million reasons why not. In the end, there's only one car that'll ask interesting questions of those two and provide a telling counterpoint. I'm off to get some goggles.
It's 4pm and we have to be off the track. Artics have been rumbling into the paddock all day, we've seen TV cameras and screens being set up, banners and hoardings tacked into place, while deep diesely noises have been coming from behind giant awnings. Autodrom Most is about to host (very literally) its biggest event of the year: truck racing. It's coming this weekend and we're going to be part of it (although quite how much of a part still came as a surprise), but right now we need to find out more about it.