Le Mans 2016
Here are the greatest ever battles at Le Mans
Ferrari vs Ford, Porsche vs EVERYONE: relive the biggest duels from the most famous 24h race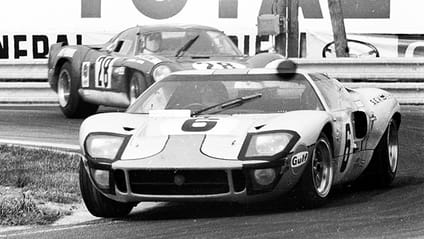 This year marks the 84th running of the most famous endurance race on Planet Earth: The 24 Hours of Le Mans.

For those of you unfamiliar with the concept, Le Mans sees 60 cars competing on the eight-and-a-half mile Circuit de la Sarthe from Saturday afternoon, racing through the night until Sunday afternoon.

It's a gruelling test of mechanical and mental strength that every manufacturer wants to win: Audi, last victorious in 2014, covered more than 3200 miles in the 24 hours of racing.

The hyper-competitive nature of Le Mans has, on more than one occasion, led to things getting a bit fighty between marques.

In celebration of this competitive spirit (and occasional personal vendetta), we've trawled through the archives all the way back to the early 1930s to bring you the biggest and best battles from the race's 90-odd year history - from Bentley vs Alfa, to Ferrari vs Ford, to Porsche vs everyone.

And with Porsche dominating this year's qualifying with a blistering 3m 19.733s lap time, could there be another battle brewing between Stuttgart and Audi? We'll just have to wait and see. Click through for a very fighty history lesson...

Advertisement - Page continues below

1930s: Bentley vs Alfa Romeo

It's often seen as one of the great rivalries in motor sport: nimble, red Alfa Romeos taking on enormous green Bentleys. But, in reality, the two teams never really went toe to toe. Bentley had dominated Le Mans in the Twenties - despite boss W.O. Bentley not really caring about the race - winning four on the trot between 1927 and 1930. With Bentley sold to Rolls-Royce in 1931 and the race team axed, Alfa Romeo, managed by one Enzo Ferrari, became top dog by default. Alfas went on to take every Le Mans from 1931 to 1934, mostly fighting among themselves.

In the 1933 race, the Alfa 8Cs of Tazio Nuvolari and Luigi Chinetti battled for the lead, Nuvolari taking the win by just 10 seconds. And what of Bentley vs Bugatti? Despite Ettore Bugatti famously referring to Bentleys as "the world's fastest lorries" the two never raced each other.

A Bentley Speed Six in the pits in 1930. That's a real milk jug holding the fuel.

Advertisement - Page continues below

The 1931 winning Alfa 8C, plus a sleeveless Tim Birkin.

Glen Kidston and Woolf Barnato enjoy some flowers and a ciggie after Bentley's win in 1930.

Tim Birkin wrestling a Bentley Speed Six through the Pontlieue hairpin in 1929.

Teams preparing for pit-stops in 1935. Scary when there's no pit wall.

Advertisement - Page continues below

1950s: Jaguar vs Mercedes

It didn't take long for motorsport to recover from WW2 and, in the early Fifties, competition was intense as British Jaguars battled German Mercedes and Italian Ferraris. Initially, they each had the decency not to go head to head. Jaguar won in 1951 with no real competition, the following year Mercedes turned up and Jaguar didn't, the result being a 1-2 finish for the 300SLs. Jaguar returned to winning ways in '53, the C-type gaining disc brakes and the first two places, then, in 1954, Ferrari won. With all three makers present, 1955 should have been a titanic bout, but, in the event, Pierre Levegh's Merc crashed into the crowd, killing more than 80 people. As the race continued, Mercedes withdrew, leaving Mike Hawthorn's new Jag D-type to take victory.

A 300SL in 1952. Rules about cars needing doors led to the 'gullwings'.

Advertisement - Page continues below

Ivor Bueb in his D-type passes a very upside-down Aston Martin DBR1 in 1957.

The famous Le Mans running start. They scrapped it in 1971.

A Jaguar XK120C, better known as the C-type, leads the pack in 1951.

The Flockhart/Sanderson Ecurie Ecosse D-type wins at la Sarthe in '56.

1960s: Ford vs Ferrari

Mess with Henry Ford II at your peril. Enzo Ferrari found out the hard way after abruptly ending talks about a merger between Ferrari and Ford in the early Sixties. "We'll beat his ass," Ford Junior yelled at his advisors when he found out. "We're going to race him." And with that, one of the fiercest motor-racing rivalries in history began to smoulder. Ford wanted to humble Ferrari so badly that he poured vast sums of money into the Le Mans programme. The end result was the GT40. At the car's debut in 1964, Ferrari won. In 1965, Ferrari won again. Then in 1966, the GT40 Mk2s were so dominant that the leading cars even staged a formation finish. "We don't want to buy Ferrari anymore," said a smug Henry II after the race. His GT40s went on to win the next three Le Mans; Ferrari hasn't won there since.

Lorenzo Bandini and Ludovico Scarfiotti's victorious 1963 Ferrari 250P.

Phil Hill and Olivier Gendebien in their 1961 half-cabriolet, half-breadvan Testa Rossa.

Ken Miles in the GT40 Mk2 in 1966 - he finished second, but only because Ford wanted a formation finish...

...and here it is. Bruce McLaren's GT40 leads home its sister car. Ferrari only managed eighth.

Hill and Gendebien about to win again in 1962, this time in a Ferrari 330LM.

1970s-1980s: Porsche vs Everyone

Porsche first emerged as a Le Mans powerhouse after winning with the 917 in 1970 and then scoring four more victories at La Sarthe that decade. But it was in 1981 that Derek Bell and Jacky Ickx's win in a Porsche 936 began a streak that lasted a remarkable seven years. Porsche was so dominant that in 1983, Al Holbert's 956 led home a Porsche 1-2-3-4-5-6-7-8, even though he lost a door down the Mulsanne and grenaded its engine just after crossing the finish line. Despite challenges from Lancia, Peugeot and Jaguar, no one could match the German's combination of reliability and huge top speeds. In the end, it took the 1988 TWR Jaguar team - armed with five XJR-9s, one spare car, 14 drivers, 2,500 tyres and a plane on standby in case more parts were needed - to end the most successful run in Le Mans history.

Ickx and Bell's Porsche 956 goes though the Dunlop Bridge in 1982.

Two wedges in tandem. A BMW M1 Procar holds off a Lancia Beta Montecarlo.

The 1978-winning Renault-Alpine A442B. As fast as it was ugly.

The 917 driving to Porsche's first ever Le Mans win in 1970.

Life also looks better in Martini colours, this time on a Porsche 936/77.