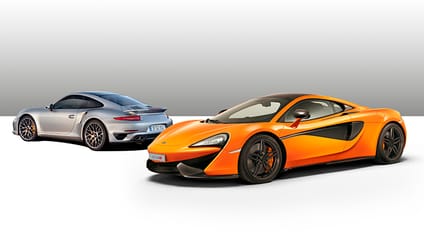 The new 'entry-level' McLaren - the £145,000, 562bhp 570S - isn't destined for an easy life. When it launches later this year, it'll enter into battle with a bevy of fine fast cars, amongst them Audi's new R8, the Merc-AMG GT S, Aston's timeless V12 Vantage and, perhaps most crucially, the Porsche 911 Turbo S.

The eyeball-crushing, 4WD Porsche and new McLaren are almost spookily matched on price and power, but how do they stack up in other departments? Here's your stats run-down...

Tom Ford: why I'm excited by the 570S

Advertisement - Page continues below

Power

Slung over the 911's rear axle is Porsche's ubiquitous 3.8-litre flat-six, here with a brace turbochargers and making 552bhp. The McLaren, meanwhile, employs a 3.8-litre V8 with as many turbochargers and 562bhp, but mounted between the axles. But what little power advantage the 570S has is nullified by the Porsche's mammoth torque advantage - 443lb ft plays a Teutonic 553lb ft.

Performance

 

The McLaren's headline figures are thus: 3.2 seconds to 62mph, 9.5 seconds to 124mph, and 204mph top end. The Porsche is marginally quicker to 62mph - 3.1 seconds, thanks AWD - but a millennial 0.8 seconds slower to 124mph and 6mph slower all out. Yep, the 911 Turbo S won't even hit the double-ton, the slowcoach. But Porsche openly admits to lowballing its performance figures. Then again, McLaren's known to err on the side of conservatism, too...

Advertisement - Page continues below

Chassis

The 570S is based on the same 'MonoCell' carbon tub that underpins the 650S. The tub itself weighs only 80kg, but loaded up with all the bits that make it, you know, a car, the 570S comes in at 1,313kg dry. With fluids, that's maybe a little over 1,400kg.

The part-aluminum 911 Turbo S? A quoted 1680kg all in. Which is more.

Size

For the so-called 'baby' McLaren, the 570S is, erm, rather large. It's longer and wider than not just the 911, but also than its own big brother, the 650S.

The 570 is 4,530mm long, 2,095 wide and 1,202 tall. The Porsche, meanwhile, is 4,506mm long, just 1,880 wide, and 1,296 tall: shorter, narrower, but a little taller.

That's one for Porsche in the usability stakes - especially as it offers, unlike the 570S, a pair of part-time rear seats - even if the McLaren does have an extra 35 litres of front bootspace (taking the total to a not-at-all useful 150 litres).

Price

McLaren hasn't yet confirmed precise pricing for the 570S, but suggests that it will start at 'around £145,000'. The 911? A precise £142,120. Of course, both manufacturers offer the potential to send your sticker price far, far north, with a liberal suite of optional extras and 'personalisation' possibilities...