Movies
Mad Max Fury Road: all about the cars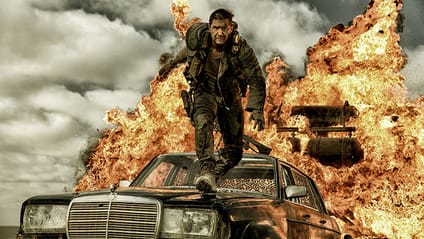 Ahead of the release of Mad Max: Fury Road, TG caught up with the movie's production designer, Colin Gibson.

Colin and his team of 'salvage artists' are the guys responsible for turning director George Miller's vision of a hellish world of desert gangs and fuel wars into reality. Real drivers, (un)real cars, and properly ambitious stunts.

Here are seven things we discovered delving into Colin's mind. Be warned: no idea is too dystopian...

Advertisement - Page continues below

Max's Interceptor is worth $100,000

Mad Max's Ford Falcon XB is a veteran of the first two movies in the franchise, back when Mel Gibson was in the title role. It's a bit of an Aussie icon, in fact, so Colin Gibson (no relation) had a pricey job gathering enough together to create the stunt Falcons for the new movie.

"I was offered half a dozen XBs, with some of those going for $60,000," he tells us. "In top nick, they'll go for $100,000. Each."

Not after Tom Hardy's Max had finished with them, we suspect.

Exploding telegraph poles flipped the cars

Fury Road features more than a few examples of cars getting significantly flipped over. Hollywood's tried-and-tested way of doing this is using a pressurized air system to blast the car upside down, but Gibson admits that wasn't always the plan...

"In the old days we used to put a telegraph pole in and detonate it with gunpowder to force the car to flip. But, it always tended to leave the stuntmen full of splinters, so we decided to switch to compressed nitrogen..."

Advertisement - Page continues below

The movie's very first stunt rolled a car ELEVEN times

"We got eleven and a half rolls out the first Interceptor," Gibson shrugs. "Is that a record? Stuntmen always think it's a record, but I reserve judgment. My mum was a pretty bad driver, she got about seven rolls once, so she probably held the record..."

The Nux car had lived a gangster life before Mad Max

Nux, played by Brit Nicholas Hoult, is the fiendish owner of this 1932 Chevy five-window coupe. Plucked from a paddock in the US, Gibson says he knew he'd found the right car "when I saw it had bullet holes shot through the windscreen and the roof."

America, y'all.

The salvage artists built over 150 cars for Fury Road

With cars dominating every scene in Fury Road, Gibson and his team were tasked with creating 88 character vehicles. And a tank.

"We built 150 units, because we needed one for every shot," he tells us. Very few returned unscathed...

One Nux car only went in reverse

"There's a big scene in the film where he [Nux] is driving the car along in reverse," says Colin. "We've got a lot of camber on the rear wheels, and it's a little dodgy to run in reverse at high speed. We actually lost one of the cars in testing because of that problem.

"We had a stuntman who was one of the world's best drifters, but had never tried reversing like this, pushing a V8 through those cambered wheels, and he managed to roll it. We ended up having to rework the chassis, and setting one car specifically to go in reverse..."

Advertisement - Page continues below

The next Mad Max movie could have an EV star...

What does Colin fancy Max-ing out next? "I'd like to work in a Tesla Roadster, which is 90 per cent battery, 6 percent carbon and four per cent terror. It's low, hits 60mph in seconds, and I'd like to play with that in the next movie..."