British
Big road test: Range Rover Sport SVR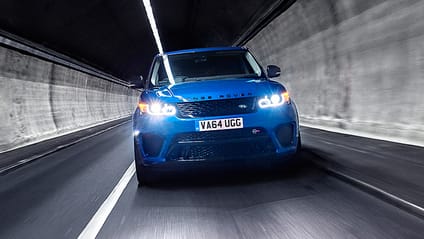 It's not the obvious analogy, and Range Rover's marketing people almost certainly won't approve. But after a day behind the wheel of the Sport SVR, I decide that this car is like one of those buskers you occasionally see with cymbals on their knees, a drum kit on their back, strumming a guitar while alternating between a kazoo and a harmonica. Its ability to do many different things, often simultaneously, is very impressive.

Unlike our busker friend, it's also surprisingly tuneful. Dial up a decent chunk of revs, and the Sport SVR makes a noise like a skyful of marauding Spitfires (WWII fighter plane, not pox-prone BMC roadster).


Pictures: Lee Brimble

This feature was originally published in the May 2015 issue of Top Gear magazine

Advertisement - Page continues below

It works by using a two-stage active exhaust, with larger-diameter pipes than the standard car. Electronically controlled bypass valves keep everything discreet until around 3,000rpm, at which point things get seriously loud. The first time it happens is a genuinely shocking, nape-prickling moment. After that, it's just funny. And if that all sounds a bit too gratuitous, the driver can select a quiet mode, or simply lay off the throttle. This is clever automotive genetic engineering.

It doesn't disguise a few tricky basic questions, though, gratuitousness being one of them. In the Land Rover scheme of things, I'm firmly in the Discovery camp. It's big, brilliantly designed and an unstoppably versatile lump of a thing. What it's not is fast, nor a particularly adroit handler. But who wants an SUV that really handles, or can outrun a supercar?

Advertisement - Page continues below

Stupid question. Lots of people, apparently, and not all of them called Viktor or Vladimir. In five years' time, industry experts expect 20 million SUVs to be sold globally, many of them at the top end where the profit margins are as juicy as a piece of Wagyu beef. This is why those world-renowned off-roading experts Aston Martin, Bentley, Maserati and Rolls-Royce are all getting involved. There's also the small matter of the cottage industry Land Rover's increasingly proficient products is supporting. Why let the likes of Kahn, Overfinch and Twisted get all the lucrative tuned aftermarket action?

In other words, forgive us if we raise a slightly arched eyebrow at the arrival of the Sport SVR. It costs £93,450, uses a 5.0-litre supercharged V8 that pumps out just shy of 550bhp, 502lb ft, and despite its size and weight can rip to 62mph in 4.5 seconds and onto a top speed of 162mph. (It could go even faster if it were derestricted.) And although glad we weren't actually in the SVR when the stopwatch was running, its Nürburgring lap time of 8mins 14secs is illuminating (above). A new record, in fact, until Porsche ruined things by hammering a Cayenne Turbo S around in a frankly daft 7mins 59secs.

Although the SVR is scarcely anyone's idea of a shrinking violet, it's also not quite as visually lairy as it could have been. This is surely a good thing, and an indication that the chaps at JLR's cool-hunting Special Vehicle Operations division have their heads screwed on (the SVR is the first SVO product to hit the road). Its technical wing is headed up by former Williams Advanced Engineering guy Paul Newsome, and he's recruited a bunch of ex-F1 dudes to make sure the Sport SVR actually functions properly, rather than just looking nice rolling up outside the Bellagio or Burj Khalifa.

Check out the new front bumper, whose intakes have displaced the fog lamps to improve airflow to the charge air coolers. There are extra ducts for the brakes, and a scoop to funnel air into the brake pads, too. The rear spoiler reduces lift and drag. It's available in seven colours, including an SVR-exclusive Estoril blue, none of which is screechingly TOWIE-esque, although a couple of them have definitely done time on certain mid-Nineties hot hatches.

Advertisement - Page continues below

What you notice most, though, are the wheels, all 22 inches of them, which are so huge the designers needed to add spats to the arches to accommodate them and the 295/40 section rubber around them. Continental developed the tyres specifically for this car, and much credit they deserve, too, as we're about to discover.

The 22-inchers are a £2,400 option (21in is standard), but ticking that particular box is a no-brainer. Although your initial impressions are dominated by the palpably stiffer feel of the SVR - the electric power steering has been tuned to deliver unfashionably hefty responses - it's the composure of the ride and the sense of a body, all 2,335kg of it, kept firmly in check that seeps through to the driver's fleshy touchpoints.

Yes, it throws itself down the road with almost apocalyptic abandon, and its superb eight-speed ZF 'box smears through its ratios 50 per cent faster than the standard car manages, but what use is all that grunt if the chassis can't cope? The regular Sport's aluminium structure is obviously a great place to start, and there's an ally in the trick multi-link suspension, too. Air-sprung with adaptive, magnetic dampers, the Sport SVR patters a little on the coarser bits of the British patchwork we spend most of our time on, but elsewhere it magics up an amazing blend of comfort and grip. The bushing in the rear subframe has been beefed up, and there's also a software upgrade for Range Rover's Active-Roll Control, whose actuators respond to body movements up to 1,000 times per second.

Advertisement - Page continues below

The SVR can, should the circumstances present themselves and everyone on-board is familiar with the concept of informed consent, pull 1.3g in peak cornering, which gives you some idea how well SVO has dealt with centre-of-gravity issues akin to those of a small building. It also stops properly, too, although it's the cooling on its Brembos (380mm diameter upfront) that has been upgraded, rather than the brakes themselves. Harnessed to the SVR's stability control and a bunch of yaw sensors, the braking system has also been tuned to deliver torque-vectoring.

Amusingly, the roll control algorithms automatically defer to the standard map if the system detects that the car is off-road. By which we mean, actually off-road and not exiting through a hedge backwards. Yes, those same Continentals - SportContact 5s - that deliver unimpeachable grip on bumpy British B-roads and can turn in that daft 'Ring lap time are also capable of scaling a boggy hillside.

The SVR's wading depth is 850mm, the same as the regular car, and its approach, breakover and departure angles are only slightly compromised by the extra bits it wears. Having recently tried something similar in a BMW X6, and got stuck, I found the Sport SVR's combination of on- and off-road ability something to behold. It's that, as well as its soulful qualities, that give it an edge over its almost exclusively German rivals.

Philosophically, I don't really approve of this car, as you may have gathered. Its emissions and fuel consumption aren't bad, but nothing worth writing home about. It can do 160-odd mph and climb muddy mountains, yet will spend approximately none of its time doing either. The problem is, it's really bloody good at all the other stuff in between, and can shuffle seamlessly between whispery refinement and shouty high performance. This SVO lot clearly knows its onions, although the SVR's fancy seats look a bit Halfords and, like the rest of the RRS range, the touchscreen infotainment system is about as effective as a sundial compared with some of the latest hardware.

In other words, the SVR is more of a finely tuned symphony orchestra than a terminally over-optimistic one-man band with an excess of percussive effects.