Best of 2015
Big Read: one night with the 740bhp Lamborghini Aventador SV
Tom Ford has just 24 hours with Lambo's ultimate V12. Better not waste a second
Supercars are pointless. This is a conclusion drawn from the slinky bulwark of a Lamborghini Aventador LP 750-4 Super Veloce that's currently staring at the back of a tipper lorry that smells worryingly of bacon, schlepping forlornly along one of London's viciously clogged arterial roads.
Words: Tom Ford / Photography: Mark Fagelson
Advertisement - Page continues below
I have around 740bhp from a glorious, naturally aspirated V12. When pushed, my paddleshift gearbox reacts in just 50 milliseconds. I have all-wheel-drive traction, air-bending downforce and a top speed of more than 217mph.
And it is all, without question, completely gelded by insidious traffic planning and dubious roadworks. It's like having a powerboat in a paddling pool. 
It's not all a wasted opportunity, mind. There are some advantages. For instance, you can tell that the Lamborghini looks the part and is undoubtedly doing its job as a piece of ring-road theatre, entertainment in an otherwise mind-numbing slug of a journey. You can ascertain its visual appeal by the sheer number of people trying to video it while steering with their wrists, the two near misses and man who stoutly fell off his bicycle near Park Royal.
Advertisement - Page continues below
It's not hard to see why: in a time where surfacing is subtle and mature, colours muted and chosen for resale rather than preference, a bloody chunk of Lambo steak in a visually vegetarian world is something glorious. 
It's brutally quick, no doubt about it. But it's also slightly angry, and a bit intimidating
It's probably worth having a proper stare, too. We have generous wingspan, metallic red bodywork littered with important-looking flashes of carbon fibre acting as boundaries to gaping intakes. Even the front splitter side vanes look suspiciously like fangs. There are four downturned central exhaust pipes like sad plumbing sticking out the back, and a finned rear diffuser that speaks the language of physics we can't see.
But I want more than a 10-second phone video. I want to see if the latest, greatest Lamborghini is more than just a show pony, and, to do that, first I must endure the third-tier hell that is London's South Circular. I have to deal with carbon-backed seats that sit you upright as a pious church pew – and give you backache in a bare 20 minutes – an ISR 7spd gearbox that slurs light changes in its comfiest mode with a lazy head-nod, and a truck-like width of well over two metres.
The ride is supple but busy, probably because the rear tyres are basically horizontal, rubberised oil drums at a gloriously proportioned 335/25/21, and there's a real tendency for the SV to hunt cambers and pinch at bumps. There's little sound-deadening, and it gives you some of the sonar abilities of a common bat – you can hear the imperfections in the road, get an idea of the texture of the tarmac via your hearing as well as your bottom.
The stats? Well, they're not altogether as impressive as you might think. The Super Veloce isn't that much more powerful than the standard Aventador – and roughly 50bhp up on the LP700-4 doesn't sound like it's going to be transformative.
And although weight is down by 50kg, that's mostly down to the loss of that sound-deadening and the application of the torturous lightweight seats. The carbon monocoque remains, supported by an aluminium subframe at either end as before, but now there's a carbon engine cover, rear spoiler and static carbon side scoops (weighty, electrically motivated items on the normal car), an aluminium bonnet, front bumper and doors and an SMC rear bumper.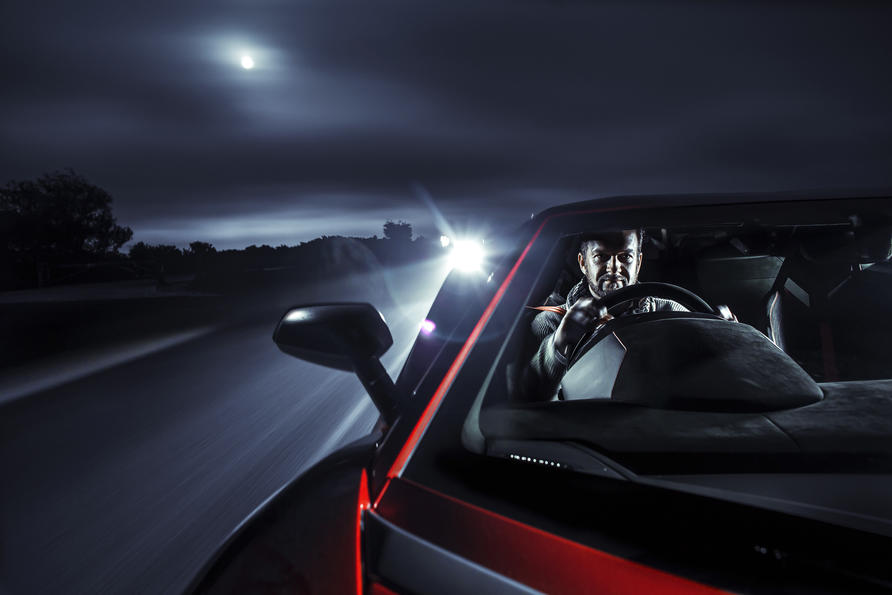 Top Gear
Newsletter
Thank you for subscribing to our newsletter. Look out for your regular round-up of news, reviews and offers in your inbox.
Get all the latest news, reviews and exclusives, direct to your inbox.
The complicated summation of the addition of extra power and subtraction of a smidgen of plumpness equate to a 10 per cent increase in power-to-weight, all accessed at the top end of the rev range. Which isn't much.
But this is one of those tricky two-plus-two-equals-five moments: the sum of the parts definitely does not equal what you get. 
Because when I accelerate onto an open road and the traffic clears a bit, the 750-4 starts to show its teeth. And those teeth are wicked. Third and fourth gears get illegal very quickly. Apparently. There are seven gears, the last four of which, should you choose to deploy them fully, will scale perfectly with the length of prison sentence.
It is, for all the basic Aventador foibles, still an astonishing car. There is nothing like the throttle response of an engine that relies on nothing more than atmospheric pressure to make fuel and air go bang. There's no boost moment. There's also no cam change or step in the shove, just a constant, big-engined accelerative weight right up to a howling 8,400rpm.
This is a 6.5-litre V12 doing what it does best, and the SV-specific tweaks – changes to the variable valve timing, intake system and exhaust – allow it more freedom to express itself. That, and the 8,400rpm red line and new lightweight exhaust system. It's brutally quick, no doubt. But it's also slightly angry, and a bit intimidating. It's a reminder of what old people call a 'proper supercar'. 
I find an empty stretch of road and deploy a fast start. This was probably a mistake. It starts off cool and calm, with a few innocent button presses and a mischievous glint. Left foot on brake, right foot on the throttle, build the revs. Then flatten the right and remove the left. There's a tense moment as the V12 growls, an endless millisecond of gathered pause, and then an accelerative punch in the diaphragm and an involuntary expression of mild panic. 
Time both stretches and becomes compressed, vision narrows, and fingerprints fuse indelibly to the Alcantara steering wheel. It doesn't so much launch as explode.
In fact, the initial three seconds – by which time you'll be doing near the legal UK speed limit – causes a kind of cognitive whiplash. A mental buffering that means your brain has to spin a little egg-timer and do some glacially slow organic thinking just to put the experiences into some sort of order, so that you might understand what the bloody hell just happened. Just enough time to think, quite clearly: "This is how a golf ball feels." 
This isn't seamless, electrical thrust like a Tesla P85D, or the even-tempered, shaped charge of a Porsche 918. This is a good ol' fashioned cannonshot, full of noise and drama and a strange keening that apparently I make when scared.
You are assailed by accelerative g-force, mauled by V12 scream. Suddenly the steering wheel becomes vitally important, and the car skitters and thumps, pulsing torque between the axles to give the best possible grip.
It's brutal, and old-school effective. Essentially it's a stylish sledgehammer with seats. And the noise. It makes the kind of noise that makes the hairs on the back of your neck flip vertical, and livestock scatter. It is, with appropriate capitalisation: An Experience. 
But this is also one of those cars that's actually very tiring. My back is basically ruined after 10 hours in the seat, and as the light fades, I get bored with negotiating traffic, people and things, and the light sheen of fear that comes with trying to drive it quickly without buttering it up a tree, and decide to call it a night. 
Ten minutes later, I'm back in the car thumbing the starter button. I've only got 24 hours with it. So it's time to keep driving. All night if needs be. 
It takes many hours. This is not a car you get quickly comfortable with, intellectually or physically, at all. But the more I drive the SV, the more it reveals itself. It's a strange one, this.
The gearbox manages to be both better sorted than the Aventador, and still not as good as proper modern DSG paddleshifts. It's a bit of an oddity, having as it does one clutch but two shifting rods (like a one-handed DSG), and just a bit rough. It thumps and huffs, sometimes fluffing changes in traffic, and will grab a gear with a real bang at mid to heavy throttle openings.
Drive it with a bit of sympathy and you can smooth it out, but you have to drive around it, until you realise that at full throttle, at the top of the red line in Corsa mode, shifts are almost seamless. Which tells you pretty much all you need to know about what Lamborghini was expecting from this car.
The SV has, as you may have noticed, quite a lot of aero
The way it rides is also a tad counterintuitive. The racecar-spec pushrod suspension is now magnetorheological and adaptive, which means that the springs are only a little bit stiffer than standard, but the ride is actually more supple on a typical road. I'd go so far as to say that (as with a few of these more focused semi-specials) the more expensive damping and springing actually make the hardcore car ride better than standard – especially on our weather-beaten UK B-roads.
But that's not to say it's not restless, or soothing. The trade-off for such pointiness is that there's a good portion more feel than the standard LP700-4, and the whole car feels more lively, more together, and yes, when you push on, quite a bit more nervous than non-Veloce. 
There are the usual three modes consisting of Strada (road), Sport (uh... Sport) and Corsa (Race) available from the switchgear on the centre console, and they now gently fiddle the 'box, engine response, suspension, AWD bias and steering. There's a mechanical locking diff out back and an electronic pseudo-diff provided by the ESP system on the front.
And the electric twiddling modifies the character of the SV to a decent and noticeable degree. The dynamic steering has a variable-ratio rack that changes constantly, and again, you have to get used to it, but when going quickly, it calms down and is actually pretty good. Just don't be too forceful with it, or the SV dives headfirst into corners, feeling like it's swinging its bottom – and engine – in behind.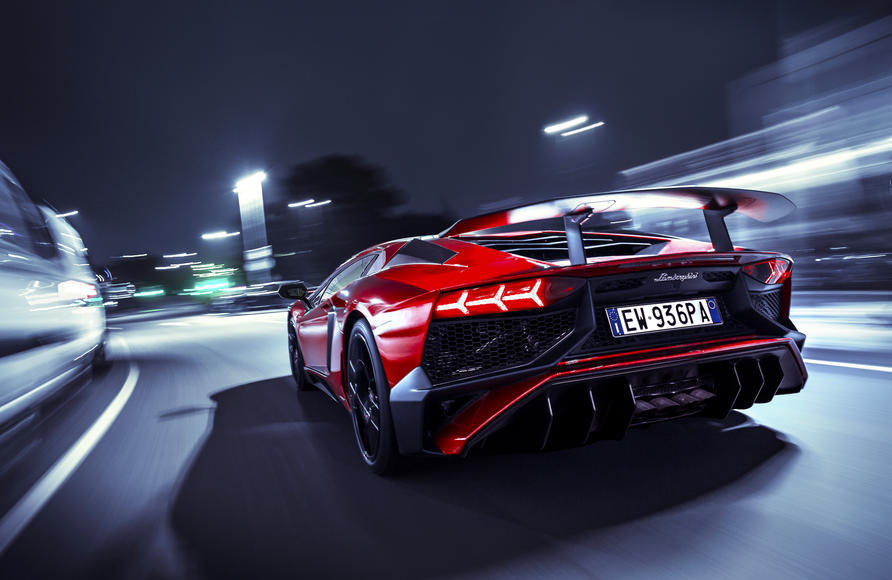 Other than that, grip is predictably enormous, and Corsa mode will let the tail step out a little – which is enough for UK roads. You'd have to be very confident or have a lot of space to play with ESP totally off. Preferably somewhere the size of Yorkshire, for complete security.
And yes, we're talking mechanical grip. The SV has, as you may have noticed, quite a lot of aero, but I'm unconvinced about the downforce unicorn – something that lots of people believe in, but can't see. There are charts and graphs that prove that the various splitters and spoilers work (170 per cent more than a standard LP 700-4 and 150 per cent more efficiency) and that rear wing is manually adjustable and offers three angles of attack: choose between 186, 202 or 218kg of downforce at a speed you'll never actually achieve. 
In 99 per cent of situations you can't use it; you can't see it when you do. In most cars equipped with it, you have to be doing somewhere in the region of one hundred and fifty miles per hour, and even then you have to be qualified enough to realise that it's working. You might as well tell me that at 150mph the car turns into the Millennium Falcon and shoots kittens from the exhausts.
Now, if they can invent downforce that works sub 100-ish mph, I might have some chance of understanding what all the fuss is about, but honestly? On a UK road, the physical manifestation of SV downforce is only useful as a handy table, and provides some shade in summer. 
The truth is that the Aventador SV is the froth on the cappuccino of an anachronism. The standard Aventador already lives in a slightly fragile, old-school niche – attractive though it is – of V12, mid-engined natural aspiration. Its ISR paddle 'box isn't by any means cutting-edge, and it certainly hasn't got any KERS-analogue electrical filler.
Yes, there's AWD, but it's Haldex gen IV (a Golf R is already on the fifth generation of the system) not the torque-vectoring magicianship of something like a Nissan GT-R's ATTESA, and the traction control doesn't have the ego-friendly fluency of Ferrari's Side Slip Control that can make even the most ham-fisted heroic. 
To then add 'lightness' to the tune of 50kg – which isn't actually that much – up the power to around 740bhp when the standard car wasn't exactly wet, and add some weight back in with extra wings, is not so much gilding the lily as fluoro-wrapping it and serving it on a bed of freshly cut overkill. 
I want to dislike the SV. Because it's daft, and uncomfortable, and a bit uncouth, both visually and to drive. But I can't. It's not new age, or next generation, not filled with tech tricks and the newest of fangles. It's an Aventador wound up to a bit past 11, for those people who just like a little bit more. For £350k it's a proper challenge to drive quickly, and you're probably looking at another couple of hundred grand to get close to beating it.
And it is pointless. But it's the kind of pointless that makes you get up early in the morning, the kind of pointless that makes people crash their bicycles. It's the kind of pointless that makes you drive all night, a car that you never step out of without an opinion. And that's the kind of pointless dreams are made of.