Geneva Motor Show
Ten things we can expect from Porsche's GT department
TG learns the future of hardcore Porsches with boss Andreas Preuninger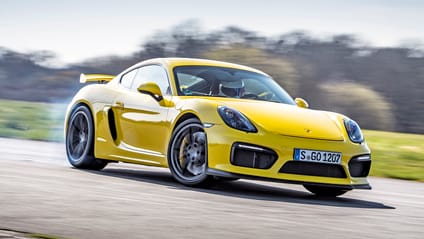 Porsche used the Geneva motor show to unveil its most purist-focused car in a long time, the 911 R. In short, it's a GT3 RS stripped of its paddleshift gearbox and downforce, answering the cries of Porsche die-hards who miss the involving manual transmission of GT-badged cars past.

We used it as an opportunity to sit down with the head of Porsche's GT cars, Andreas Preuninger, to discuss what it means for the models that follow it. And we're delighted to say it means very good things indeed.

So, dear reader, click through the gallery as we gaze into the Porsche crystal ball with 'Mr GT3'. Some of its contents are quite exciting…

Advertisement - Page continues below

The next 911 GT3 will have a manual

Yup. Over to Preuninger: "I really think there is a good chance we will see the manual gearbox in the next GT3."

Sounds pretty conclusive, eh? "For the pure joy and engagement of driving, is the manual a better option? I can imagine offering the manual as an option on the GT3. It would be completely stupid to restrict the manual gearbox to the R."

So for the second-generation version of the 991 GT3, expect its 3.8-litre engine to edge closer to 500bhp, and for it to come linked to your choice of two gearboxes: the existing seven-speed PDK, and the newly crafted six-speed manual from the R.

But the next GT3 RS will not

Don't think that Preuninger hearts stick-shifting unequivocally, though. "A lot of the 911 GT3's success comes from its bandwidth of usability, and its usability lives on its PDK gearbox," he says.

As well as usability, it also shaves tenths off laptimes. "There would be no sense in offering, say, a generation two GT3 RS with a manual gearbox, as it needs to be quick on the track." The concern is that a PDK-equipped GT3 would outstrip a manual RS.

Advertisement - Page continues below

The future may contain no GT3

Preuninger sees two tribes of Porsche GT buyer: the purists, and the racers. And while the cars that appeal to each use the same tech, they take it in different directions.

Fit a manual to the GT3 again - as he seemingly plans to - and a blurred line between the 911 R and GT3 RS exists. "For the far future maybe it would be worth thinking about an RS and an R, but no GT3, because there'd be overlapping," he says.

If you've just spat tea over your computer, grab a cloth and then try to calm down. Nothing's certain.

Don't expect a seven-speed manual in a GT car

The seven-speed manual transmission fitted to the 991-generation 911 has its plaudits and its detractors. We can probably file Preuninger under the latter, particularly as he commissioned a completely bespoke six-speed transmission (stick pictured) to give 911 R buyers the sensations they're after.

"Six is enough. We didn't try [with the seven-speed]. When you operate this seventh gear quickly [in the regular 911], it can get very confusing. The 911 R shines best between second and fourth gear, lots of short shifting. I think a seventh gear would only harm the experience."

Oh, and ditching that seventh cog saves 1kg, too...

A Cayman GT4 RS isn't likely…

It's not the first time Preuninger has been asked about the possibility, and his answer feels well-versed. "If you would make a GT4 RS it would be a pretty quick car, and I don't think we could produce that car at a lower price than the GT3 RS. You would have a positioning problem with that thing.

"We are aware of the need for something like this in the market, but there are no plans on something like this at the moment."

Sad face.

"Based on the huge success we had on the GT4, you can imagine we won't ditch that project. The next generation might get a GT4 as well," he continues. So that means the 718.

Does the fact it's a four-cylinder turbo scupper things, when one of the current GT4's best assets is its howling flat-six engine?

"Not necessarily," he says, with a knowing smile. "On the GT models we want the six cylinders, the atmospheric engines." That suggests some dug in heels, and a range-topping 718 that stays old-school with its choice of engine.

Very happy face.

Advertisement - Page continues below

In fact, natural aspiration is here for a long time yet

"We have no decision on going turbocharged," Preuninger tells us. "There has been turbo engines before, and we have huge expertise, and we can really afford to have both [setups] in the product programme.

"If we can live with the fact a Carrera GTS will be a little quicker in the mid-range, which could be the situation in the future thanks to turbocharging… I wouldn't care to be honest. It's a totally different driving experience. As soon as the revs are above 5,000 we'd be gone anyway.

"I think it would be the smart and right move to stay with normally aspirated engines for the GT cars for the future."

But he'll happily strap some turbos to a modern-day GT2

"We always had a GT car with a turbo," he says, referring to the GT2 and GT2 RS models of old. "But that was a different line, for a different customer group. This 'beast' appeal.

"We wouldn't want to ditch that model because it's a successor to the first turbo, an animal of a car. It might be that we are thinking of working on something like that for the future."

At the end of the current, 991-generation 911's life perhaps, much like the GT2 RS drew a line under the 997? "A car like that makes most sense at the end of the life cycle of each platform," he adds.

It's not a 'yes', but it's damn close to one…

Advertisement - Page continues below

GT cars aren't about outright power

This much we can surmise from Preuninger's dedication to naturally aspirated engines, but it's nice - in a world where the limits of sports cars have long since climbed beyond sensible road speeds - to hear him say the words.

He confirmed that motorsport applications have proved that much more power can be extracted from the 4.0-litre engine in the GT3 RS, but his engineers won't be going nuts.

"There is still meat left in that engine," he says. "But don't expect the next RS to be a 600bhp car. There's a certain limit of adding power. Make it lighter [instead], make it feel better."

And the Boxster Spyder is probably here to stay

Preuninger excitedly talks up 911 R, and its 'purist' credentials. And he reckons it shares DNA with the Boxster Spyder, even if that isn't a full-strength Porsche motorsport model.

"It's devoid of everything luxury, and has a manual gearbox. It falls into the same category as the R. Total devotion to looking for [saving] every single gram."

So if there's going to be a 718 Cayman GT4, it would seem foolish to bet against a 718 Boxster Spyder, too.