Electric
181bhp, 144-mile range: this is the new Mini Electric
Production version of Mini's all-electric supermini is here
Want to know how far electric cars have come in the last decade? Just ask the Mini Electric. Both of them. The first arrived in 2008, a test bed rather than a production car, Mini built 500 and leased them to human guinea pigs in the US – the beginning of a data and opinion harvest that would inform the launch of the BMW i family five years later and every electrified BMW since.
Fast-forward 11 years and you might expect performance and range to have grown handsomely, but I'm staring at the spec sheet for the new 2019 Mini Electric, and you'd be wrong: 204bhp (2008) plays 181bhp (2019); the range was 150 miles then, 144 miles now; 0–62mph in 8.5secs in the old one, 7.5secs today.
Advertisement - Page continues below
What has changed is price and practicality – the batteries on the old one were, er, chunky. Chunky enough to swallow the entire boot and back seats. The new Mini Electric, with its 32kWh T-shaped lithium-ion battery slipped under the floor is still 160kg heavier than a Cooper S, but you get the same (read: still cramped) boot and rear seat space, and with prices starting at £24,400 (or £299pcm) after the £3,500 government grant, it costs £500 less than an equivalently specced Cooper S, too. This is significant.
There's a reason why there's an armada of small, affordable, everyday electric cars – the majority with 'e' grafted onto their badges – coming our way in the next six months. Stuff like the VW ID.3, Peugeot e-208, Corsa-e and Honda e – y'know, the ones we might actually be able to afford. We've reached a tipping point, where battery size and cost has reduced to the point where cars like this, with a little help from Her Majesty's Government, can be priced in line with petrol or diesel equivalents. And because most people with an interest in EVs have been ogling I-Paces, Teslas and e-trons, without the wedge to actually buy one, there's pent-up demand.
It's taken a while, then, but Mini has made the sums add up… but only by positioning this car carefully. Firstly, you'll only be able to buy it as a 3dr – Mini's best-selling body style. Fair enough. There will be only one power and performance level – 0–80 per cent top-up in 35mins from a 50kW DC charger, 181bhp, 199lb ft, FWD, totally insignificant 93mph top speed, which puts it in the Cooper S bracket for performance. That explains the bootlid's Cooper S badge (despite it not actually featuring anywhere in the car's name) and the fake air-scooped Cooper S bonnet.
Advertisement - Page continues below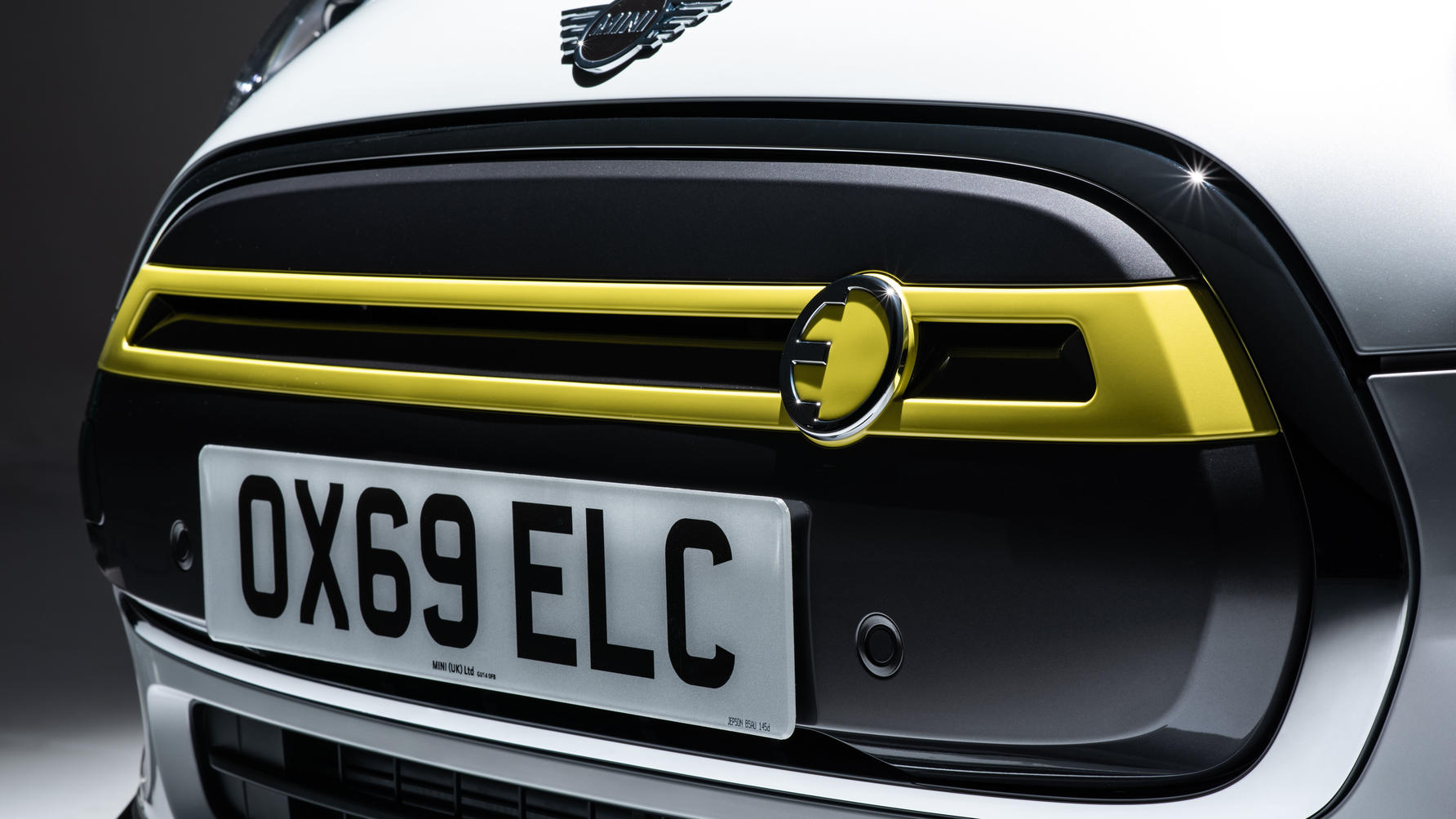 Then we come to the WLTP range of 144 miles, only a handful more than the Honda e. In the real world it'll be less than that, of course, because most of us won't have the bottle to ever dip below 20 per cent charge. It's the same thinking as the Honda – fit a smaller battery and spend the money on stuff that matters, like interior quality and equipment – but when you can have a recently updated Renault Zoe with a 242-mile range for less, or an electric 208 or Corsa with over 200 miles for a couple of grand more, the range feels a little mean.
Mini has resisted the temptation to over-tinker with the design. Want a spaceship? There's already the BMW i3 for that. Your opportunity to make a statement is the optional 17-inch, asymmetrical Corona wheels, lifted straight from the concept (anyone else seeing a three-pin plug?). Smaller changes include a new largely blanked-off front grille, protruding by an extra 17mm and striped in Energetic Yellow, although you can switch back to body colour if you suffer from sensitive retinas.
The front and rear bumpers are a unique, slippery design to eke out a few extra miles – no splitters or Sport packs here – and you get LED lights front and back as standard. Get your ruler out and you'll note the car rides 15mm higher than standard – a necessary evil to fit those batteries in – although extended wheelarches disguise the damage.
Inside, it's the first Mini with a new floating digital instrument screen behind the wheel – something that'll be rolled out on all its models when their replacements arrive. A consumption dial, to let you know how leaden your right foot is, sits on the left, battery charge is on the right, and the whole thing is wrapped in an anti-glare coating that, while necessary on a sunny day, is a bit like looking at your vitals through a frosted bathroom window.
Top Gear
Newsletter
Thank you for subscribing to our newsletter. Look out for your regular round-up of news, reviews and offers in your inbox.
Get all the latest news, reviews and exclusives, direct to your inbox.
A mildly different centre console features an electronic handbrake – a first for the 3dr – while the dashboard houses toggle switches for adjusting the level of brake regen, flipping between Sport, Mid and Green driving modes and turning the traction control off.
Mini is open about this being very much a chassis designed for a combustion engine, modified to make batteries and motors fit… fortunately that made its goal of making it drive as close to a Cooper S as possible infinitely simpler. There are tweaks to the suspension to account for the extra height and weight, and a new ARB system that's supposedly three times faster than traditional DSC to eliminate wheelspin when you stomp on it at the lights, but the fundamentals are shared.
Frankly, I'm amazed I've managed to find quite so many words to talk about a car that's familiar in every regard, besides a powertrain transplant. Hell, Mini's even found a way to build it on the same production line in Oxford as the petrol and diesel versions – marrying the batteries, motor and power electronics in the exact same way the engine and transmission meets the chassis. So let's embrace our sense of wonder for everyday electric cars while we still can; another decade, and they'll be the norm.