Best of 2021
The 22 new cars we're most excited about in 2022
2022 is jammed with promising new metal: here's what you need to know about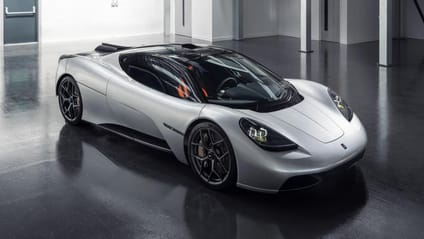 Lotus Emira (& Evija)

The final petrol-powered Lotus launches this year – but it promises to send pistons out with, well, a bang. The Emira is a supercar lookalike for sports car money, and is off to a flier by being so much prettier than Porsche's ageing Cayman. Then there are the powertrain choices: first up a supercharged V6 manual, to be followed by an AMG-spec four-cylinder turbo. 

Lotus is on course for a massive 2022, with the new Emira being bolstered by the delivery of the Evija electric hypercar and progress being made on the company's first foray into crossover SUVs. If it can turn the family Lotus into a cash-printer like Lamborghini did with the Urus, the future of one of the all-time great British car marques could be secure at last. 

Advertisement - Page continues below

BMW M3 Touring

At bloody last, BMW's going to build an M3 with a big boot. And like the trolls they are, BMW has only got around to doing it with the most controversial generation of M3 ever. Those grilles. The automatic gearbox.

In the UK, the Touring is likely to be xDrive AWD only, and with the bigger tail-end, perilously close to the wrong side of two tonnes. But with 503bhp, it'll still have the poke to terrify your pure-bred pedigree pet.

Citroen C5X

Not every interesting car inbound this year is A Fast One. Look: comfy big Citroens are back!

Welcome to the only crossover Top Gear is mildly bothered about in 2022: the C5X. Instead of going retro to reinvent the likes of the DS or the SM, Citroen's new flagship is a sort of high-riding estate available with plug-in hybrid power and seats said to be as squishy as a posh mattress.

We'll report back when we've had a drive – and a nap – later in the year. 

Advertisement - Page continues below

Ferrari 296 GTB

New Ferraris come thick and fast at the moment. We'll save the more controversial one for later in this dossier, and concentrate right now on the plug-in hybrid 296.

Ferrari's downsizing to V6 power for its heartland mid-engined Berlinetta, but thanks to electro-boost, 819bhp is the sensational result. It's also, to our eyes at least, a bit gorgeous. This or a McLaren Artura?

Toyota GR86

At long last, the successor to the Toyota GT86 goes on UK sale in 2022. The subtle name change reflects that this car has been developed a lot more by Toyota's Gazoo Racing division – the people who brought you the fabulous GR Yaris – than the old version was by Subaru.

The recipe's pretty familiar but a useful slug more power and torque means Toyota's affordable RWD hero should have the muscle to unlock more giggles from its chassis. We've already tested a prototype, and this thing's set to be a TG hero all over again. 

Volkswagen ID Buzz

Yep, one of our most anticipated cars of 2020 is… a van! But just look at it. At last, VW is giving us the retro-styled one-box people-mover we've always wanted. The fully electric ID Buzz and ID Buzz Cargo will offer either seating for a whole family or a big tub of fresh air respectively, and it's expected a fully habitable campervan version will follow. 

Batteries will range up to a mighty 111kWh, with claimed range of almost 350 miles being mooted. Electric cars come no more practical than this.

Hyundai Ioniq 6

Isn't Hyundai on an absolute roll right now? The i30N and i20N are great to drive, the Kona N is completely mad, the Ioniq 5 is a great-looking and brilliantly realised EV and even the Tucson crossover is better to look at than any current BMW. Comfy too.

So it stands to reason the new Ioniq 6 saloon ought to be a half-decent bit of kit. It's an all-electric saloon with pebble-smooth styling riffing off the Prophecy concept, based on the same underpinnings as the Ioniq 5 hatchback. The likes of the BMW i4 and Tesla Model 3 aren't going to be excited about this rival landing, but we are. 

Advertisement - Page continues below

Mercedes EQE

Elsewhere on planet electric saloon, Mercedes has zapped the EQS luxo-barge with its shrink-ray gun and is ready to serve up the EQE.

The headlines are up to 412 miles of claimed range, a 670bhp AMG version, and yes, you can spec the ma-hoo-sive Hyperscreen inside. 

Porsche 911 GT3 RS

Also expected in 2021 is the next chapter of extreme road-going Porsches – aka The One With The Really Big Wing.

An enormous swan-neck spoiler is expected for the 992 RS, with a heap more radical weight-saving measures, as per the old 991-gen car pictured. How much sillier can the aero actually get...?

Advertisement - Page continues below

Ferrari 'Purosangue'

Cometh twenty-twenty-two. Cometh the Ferrari SUV. The codenamed 'thoroughbred' is arriving into a world more eco-conscious by the week, yet still thirsty for SUVs.

So it's likely to be a conversation-starter, and that's before we've seen how the thing looks, or heard what's powering it.

Some form of hybridisation is almost certain, but even Maranello die-hards are likely to forgive anything that has a V12 in the nose…

Hummer EV

You couldn't make this up. Hummer – the military-inspired SUV-aholic brand which emerged in the early 2000s and made an awful hash of trying to flog grotesque Tonka-truck 4x4s to a gullibly jingoistic public – is back. As an all-electric effort. How the times have changed. 

Except, this thing's going to try to out-Cybertruck the Cybertruck before Tesla pulls its finger out and gets the angular pick-up into production. The Hummer is going to weigh at least four tonnes, have 1,000lb ft of torque, and be capable of 0-60mph in around three seconds. America, truck yeah…

Honda Civic Type R

The successor to the best hot hatch in the world… doesn't muck about with the recipe too much, it appears. A 2.0-litre turbocharged engine, a manual gearbox and lots of aero all feature on the Civic Type R prototypes spied testing so far.

What has changed is the ugliness – Honda appears to have realised the hot Civic doesn't need to be sculpted by eighteen different designers who have never met each other or seen anyone else's work. 

Gordon Murray Automotive T50

2022 is a big year for Gordon Murray Automotive. Not only will the company break ground on a new headquarters, but deliveries of the 12,100rpm tri-seat T50 are expected to begin in the spring, for 100 very lucky customers with lightweight and driver-focuses tastes.

We're also expecting an announcement from Gordon and co. on the next chapter of his new supercar venture – stay tuned…

Ineos Grenadier

Money-where-your-mouth-is time is fast approaching for all the moaning bores who complained the superb new Land Rover Defender was too luxurious and technical and expensive. In 2022, you'll be able to take your dummy out and buy an Ineos Grenadier, which purports to pick up from where the old Defender left off in terms of rugged ability, but with BMW power under the bonnet.

Prices are expected to start at around £48,000. Are you listening, hose-down interior brigade?

Maserati GranTurismo

In previous decades there was only one choice of powertrain in a Maserati GranTurismo: a big V8. How much noise your big sexy Maser made was entirely dependent on how hard you stamped on the throttle pedal. According to most London based owners, the correct amount was 'as hard as possible'. Kensington echoes to the cry of those operatic V8s every day.

Not so in the new car – necessarily. Alongside V8 and downsized V6 power, there's going to be a silent all-electric variant. Meanwhile, Maserati is also plotting an EV version of the MC20 supercar…

Dacia Jogger

Good news indeed! Dacia is back with a shamelessly boxy, super-practical piece of unpretentiousness. The Jogger is a sort of low-riding SUV people carrier with more seating configurations than Wembley Stadium and the promise of a hybrid powertrain. Think of it as the spiritual follow-up to the Skoda Roomster, with an equally silly name. 

Range Rover

Another old favourite that's promised to go fully battery powered is the new fifth-gen Rangie, but that won't happen for a few years yet.

Straight-six and V8 engines are the staple offering for now, driving the rear wheels only most of the time, only going 4x4 when slip is detected in an effort to save fuel. We love the clean, crisp, reductive design of the new RR – roll on getting it dirty in '22. While having a back massage, probably. 

Polestar 3

America is the target market for Polestar's next car numerically: the 3. So much so, the SUV will be built Stateside (and in China, admittedly). Deliveries won't begin until early 2023, but we'll see and hopefully drive the 3 this year, which ought to give the new all-electric Porsche Macan something reindeer flavoured to chew on. 

Renault Megane E-Tech

In 2022 Renault will finally expand its electric offerings beyond the Zoe supermini with a family hatchback crossover thingummy-jig. There will never be a petrol-powered Megane from now on – it's electric only now, and boasts what must be the single greatest Renault interior of modern times. It's an inviting cabin. Lots of soft trim, stitching and textured 'wood' wrap the surfaces. 

And screens. Of course. Not the tiddlers of the VW ID.3. Where the VW apparently assumes too much driving and energy information would distract and baffle you, the Renault puts it all out there so you don't have to go looking for it.

A Formula One car

Not all of the most interesting cars coming in 2022 will be road-legal. After 2021 served up the most exciting season in F1 history, 2022 will herald a total rethink of the cars' aerodynamic performance.

Downforce will be generated by ground-effect once again, and the wings have been rethought to create less turbulent 'dirty air' so the cars can follow more closely and apparently overtake more easily, even on the utterly rubbish tracks like Barcelona, Sochi, and Paul Ricard. Imagine!

So long as the next season is as entertaining as 2021's was, eh?

Aston Martin Valkyrie

This one appeared in our 'most anticipated cars' of 2020. And 2021. Will 2022 at last be the year we get to experience Aston Martin's road-going F1 car? Involvement by Red Bull Racing and Adrian Newey has long-since dried up, and though the first Valkyrie has apparently been delivered to a customer, reliability concerns mean we've seen very little of the car actually being driven in anger.

And that 1,000bhp Cosworth V12 is pretty furious about being kept waiting so long. It'll be an interesting subplot of 2022, especially when you look at the other long-delayed hypercar that might finally be ready for action. 

Mercedes-AMG One

Seriously, if this car gets any more held up it's going to need a facelift. Maybe AMG wishes it had never sunk all those steins and green-lit the crackpot wheeze of slotting a literal 2015-spec Formula One turbo hybrid engine into a road-legal car. And making it reliable. Economical (ish). And driveable by anyone who isn't Lewis, Valtteri or George.

We'll find out if it was a dead-end or a stroke of genius in 2022. Probably. We have a sneaking suspicion that, after the tiresome wait and a bottomless pit of R&D budget, AMG's One could be a hypercar game-changer after all.