Big Reads
From the archives: driving the Aston Martin V12 Vantage RS concept
As Aston announces a new V12 Vantage, we remember our first drive of the 2007 concept car
The Vantage RS became my favourite Aston Martin when I first heard it fire up and watched it trundle out of the pit garage at Paul Ricard Circuit in the south of France. Well, I suspected that it might be my favourite Aston at that moment - favourite ever, that is, ever, going as far back as you like, pre-war, post-war, you name it. Couldn't be a hundred per cent sure, but it didn't seem as if it needed to do much more. The sound of that magnificent 6.0-litre V12 engine barking into life took me most of the way there – the shrill metallic whap is one of the world's great engine notes. And it pops and bangs on the overrun. Ah.
And just seeing that giant engine sitting snugly in its bay did a lot for me. What's more, it's stunningly beautiful this RS. Low-slung on 20-inch hyper-alloys shrouding massive carbon-ceramic brake discs, RS scrawled across the calipers, bodywork changes all round, from front splitter to side skirts to rear diffuser, it's great from any angle you choose.
Advertisement - Page continues below
For the car-to-car photos you see here, I had to drive the RS at 50–60mph and no faster, for safety reasons. Never has a car felt so constrained during this activity – you could almost sense the Aston wondering what on earth was going on. Here we are, at Paul Ricard circuit, which is deserted, it's a clear, warm evening and I'm forced to sit at 50? What are you doing, driver? It just wanted to go, every fibre of it was willing me to go, to nail the throttle pedal so hard it smashed through the firewall and clattered onto the track. But not yet.
The Vantage RS is a concept car, remember. It is far from a finished road car. This Mako Blue example is one of only two V12 Vantages in existence – the other is a mule running a modified DBS motor – and it has been brought to Paul Ricard overnight from the Geneva Motor Show for this exclusive Aston test session. Once a year, Aston Martin Racing does this for its customer teams, gives them a track to play on for a couple of days. So all of the quickest AM racers were there – factory GT1, GT2 and GT3 Le Mans cars, an amazing AM- powered Lola LMP1 Le Mans prototype lapping 10 seconds quicker than anything else, plus a swathe of Vantage N24 customer cars. So, we'll be sharing the track with the likes of Heinz-Harald Frentzen, who may become an Aston Martin works driver this year. No road driving yet, because the RS isn't road legal, but that's cool, just let me nail that throttle pedal.
Advertisement - Page continues below
Half-concept, half-racer is the theme inside. It's littered with electronic kit for measuring stuff, including a rudimentary digital display for revs and temps bolted to the steering column. The oil tank is exposed in the rear compartment, which is finished in plain alloy. A fuel pump whirrs loudly if the car is sitting with its ignition on – various extra switches are crudely slapped onto the dash. But none of this matters. It's the idea that counts.
As the RS nudged along slowly, having its photo taken, an enormous heat emanated from the engine bay, through the dash and into the cockpit. you could feel it almost burning your fingers when you stroked the centre console shroud. This excess temperature will disappear when the road car's exhaust gets proper heat-shielding, but here it said a lot – it was as if a mighty cave troll was sleeping up front, putting out a phenomenal body heat. One of those big lads from The Lord of the Rings, pushing open the gates of Mordor. One of those. The kind you don't want to upset.
What it actually is is a V12 lifted straight from a DBRS9 GT racing car, which is a very similar unit to the one in the Le Mans-winning DBR9 – it's pretty much unchanged, running through a standard DBS six-speed gearbox. It pushes out the same power as the GT car – so that'll be 600bhp, then, in a machine weighing only 1,500kg, or roughly halfway between a stripped-out N24 V8 Vantage race car and a stock Vantage road car. This high-tech V12 is only about 30kg heavier than the 4.3-litre V8 in the road car, and is mounted as far back toward the driver as possible. Getting it to fit wasn't easy, and involved a lot of serious work on the Vantage's modular frame. Those louvres on the bonnet aren't just cosmetic. This thing runs hot.
Fast-forward to the next day, and out we go, onto the glass-smooth Paul Ricard tarmac, this time in anger. It's a 60kph limit in the pit lane, then we cross the line, and the big V12 gets given what it wants – absolute full throttle. I'm in second gear and the rear tyres, 305s, semi-slick, immediately light up, the whole car twisting slightly sideways with the torque effect. And they were pretty warm before I got in the car. Okay, we expected that. Third now. They light up again, instant wheelspin. Woah.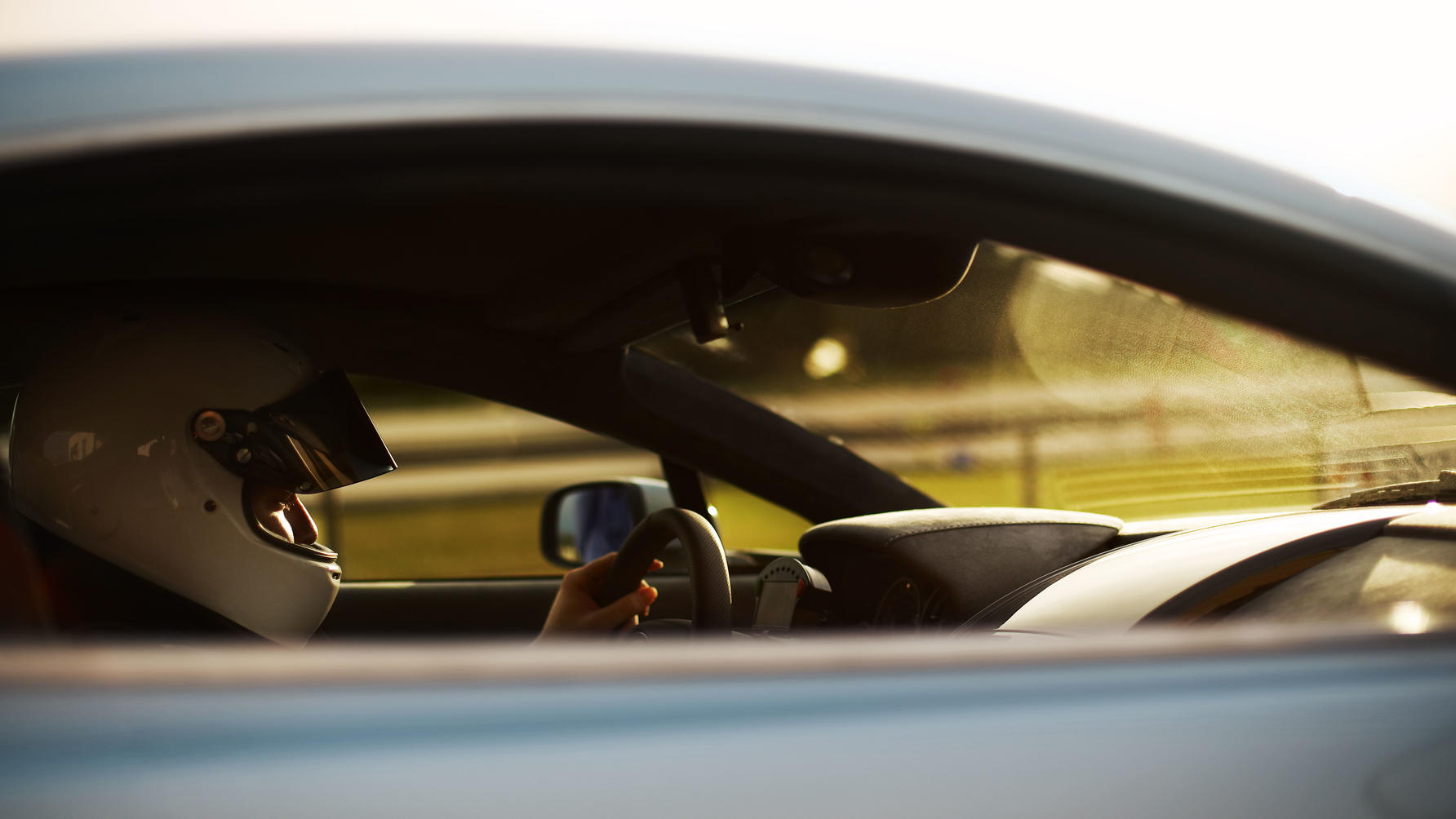 Christ, this thing is fast – as you might expect in a 1,500kg car with 600bhp. It'll surely run a high-six-second time from 0-100mph. The throttle-mapping has been taken straight from the DBRS9, so it's pure racing car. It likes to be on, off or dead steady, rather than constantly modulated as it would be on the road. But that's okay, we're on a track and it doesn't matter. The 398mm (360mm rear) carbon-ceramic brakes work well, though consistency of feel in the pedal needs a bit of attention. All these little things will be sorted in good time.
It feels light in the corners, because it is light. Nimble. Understeer isn't a factor on this surface. If there were one thing I could say to Aston about this car and how to progress it for road use, it would be this – keep the weight out. Keep it simple. The steering requires minimal effort, the nose bites and the car is a doddle to balance on the throttle. I guess I was expecting a brutal, unhinged and shabby beast in the corners, but it's nothing of the sort. It's quite soft, which it needs to be, and lets you know precisely what's happening at the rear end. Whether it's in fast-, slow- or medium-speed corners, it's hard to fault the balance of this car. What I couldn't judge is its reaction to mid-corner bumps, because Paul Ricard doesn't have any. Let's hope it's as predictable and easy to handle when it hits the random bumps of your typical British B-road.
It's difficult to get your head around the straight-line acceleration of this thing beyond 100mph, but maybe this little anecdote will help: I came onto the mile-and-a-bit-long back straight of Ricard and let Frentzen through in the gulf-liveried GT1 DBR9, headlights ablaze, on a quick one. Then I tucked in and stayed with him as he built up speed down that l-o-n-g straight. He's running about the same engine, see, but is also loaded with a shedload more downforce, which equates to more drag. So I was just as fast, if not faster, in my clean, drag-free, road-going RS. What a moment, on the back straight at Ricard, slipstreaming Frentzen's Le Mans car comfortably in a road car, listening to his shrill V12 exhaust note piercing my windscreen, watching the speedo clock up toward 200mph. At the end of the straight is a very fast fourth-gear right hander. Frentzen braked about 100m later than me and probably carried 70mph more through there and promptly disappeared. But the RS had had its moment. It had kept up with big brother.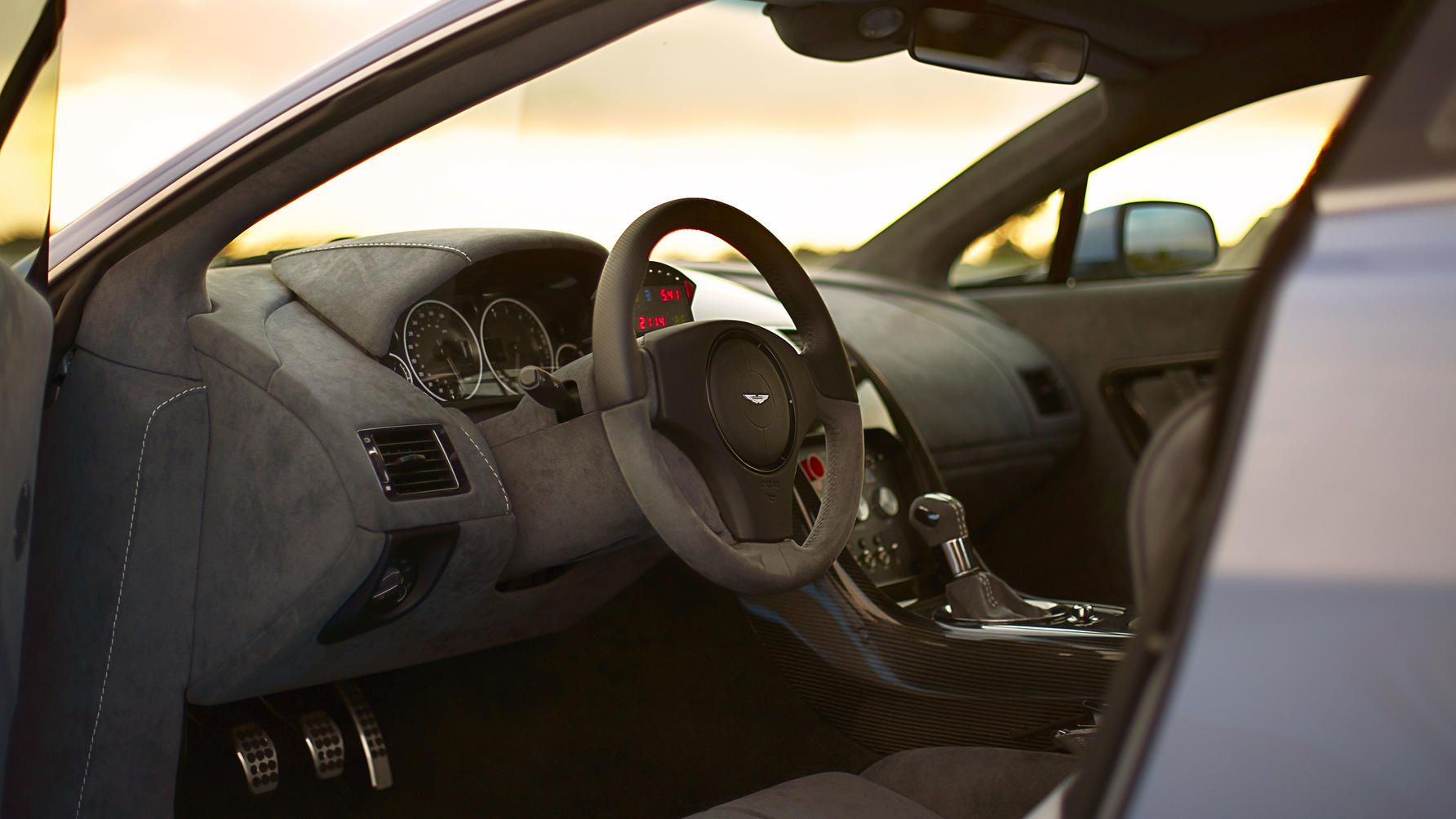 Christ, this thing is fast. Did I say that already? The engine is stonking from 1,000rpm to 7,500rpm, piling on massive torque in a big, flat mass – which is why, to be honest, you don't need to rev it much beyond 6,000. The thrust is clean and linear as the tacho needle whips around its clock at a frenzied rate. The engine is mighty, and makes a noise equal to any I've heard. The Ferrari 599 and Lambo Murciélago LP640 have pretty good V12 engine notes, but they're not better than this one. Please, Dr Bez, try to keep the road car's engine as close to this as possible.
Top Gear
Newsletter
Thank you for subscribing to our newsletter. Look out for your regular round-up of news, reviews and offers in your inbox.
Get all the latest news, reviews and exclusives, direct to your inbox.
There are still people in this world – some of them slightly unhinged – who like old-fashioned fast cars. Not old-fashioned in a technical sense... the RS is far from that. Old-fashioned in nature, brutish bruisers, the car equivalent of a right hook to the face. Basic, straightforward, honest, monstrous rear-wheel-drive cars that only barely (barely) contain the output of their engines... and in doing so become far more appealing than the sum of their parts.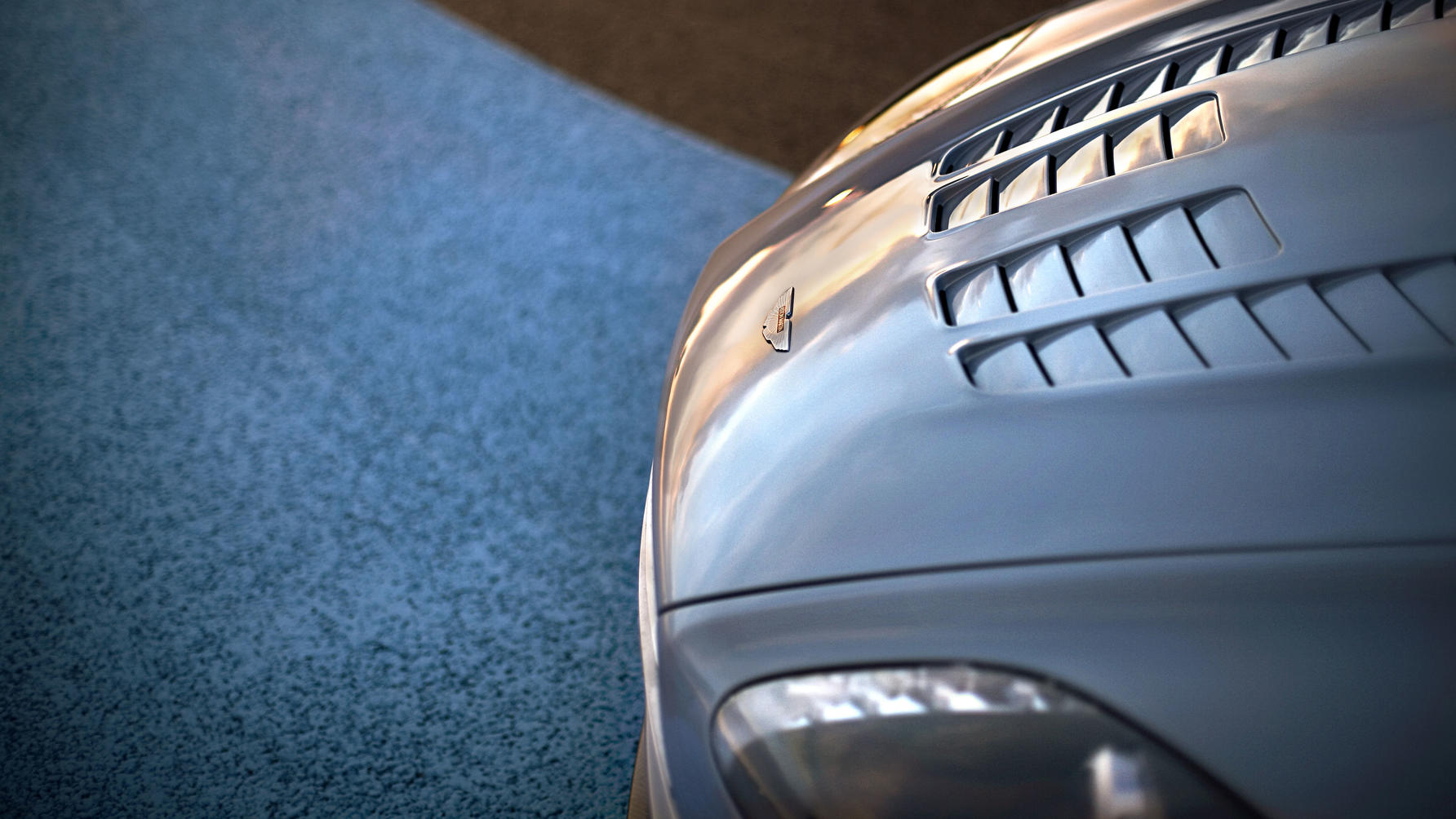 The Vantage RS is just such a car. It has all the nastiness and murderous force of a Dodge Viper, but its chassis and steering handles that force in a far more subtle way – you can properly connect with it, learn its secrets, push it hard. Cut loose and do something dumb, and it will bite. That punch in the face is never far away. And raw spirit is there in spades, spirit that only a proper front-engined, rear-wheel drive supercar can have.
An Aston insider told me that no final decision has been made about what to call the thing. 'Vantage RS' is by no means fixed as its real-world name. For me, given the slightly confused reaction to the new DBS – whose raison d'être has been misunderstood by large swathes of the motoring press – and given the deep-chested, Ferrari 599-crushing character of this, the greatest of all Astons, surely only one name will do... Vanquish.