Big Reads
From the archives: TG drives the Jaguar XKR-S in Norway
Relive our 2011 search for the Lysebotnveien – Norway's best mountain road – in Jag's ultimate XKR
I only know one word in Norwegian, and that word is stengt. It means 'closed'. The reason I know this is because stengt, the monosyllabic, guttural little b*gger, has just massacred a Big Top Gear Road Trip in a single blow.
Ten minutes ago, all was sweetness and light as we merrily closed in on the Lysebotnveien, a physics-defying mountain road that has, in recent months, become something of a TG obsession. Somewhere outside Tonstad, as the snow by the roadside was piling deeper, photographer Wycherley politely asked whether I'd checked if the Lysebotn road was actually open, and I said don't be daft, of course I checked, and anyhow, why on earth would a hairy mountain pass be closed in spring and... and then there was a long pause followed by some frantic fiddling with phones and a lot of swearing. A couple of minutes later, here it is in undeniable capitals. Lysebotnveien: STENGT. Thanks to Norway's odd obsession with getting snowed on, the planned end point of our trip has been closed since October and isn't due to open for another fortnight. Stengt!
Advertisement - Page continues below
This feature was originally published in Issue 219 of Top Gear magazine (2011)
Images: John Wycherley
So you join us at a small, overpriced petrol station, panic-eating our way through three kilos of Firkløver, Japp and Kvikk Lunsj - Norway's finest triumvirate of chocolate bars - with a 542bhp super-coupe grunting impatiently on the forecourt and nowhere to go.
This is what happens when you try to meet your heroes. The Lysebotn obsession started last year, with a YouTube clip of BASE jumpers throwing themselves wantonly from a kilometre-high, perfectly vertical Norwegian cliff. Just visible in the background was a sliver of road cut deep into the rock face, snaking back and forth to the cliff top. After literally some seconds of intensive research, we located the road on Google Maps, and it was even more astonishing than we'd hoped: 30 hairpins laced up the sheer side of a fjord, a clear contender for Greatest Road in the World. In one of those moments of lateral thinking for which we are renowned, we came up with a plan: wouldn't it be a fine idea to drive a fast car, fast, on the Lysebotn road?
Advertisement - Page continues below
But, like the posh bottle of red wine that sits gathering dust on the shelf because you can never find exactly the right occasion to drink it, I decided just any old fast car wouldn't do for this road. It had to be the right car, the perfect car: a car capable of soaking up the cross-country schlep to the westernmost edge of Norway, but equally capable of teaching those hairpins some manners at the other end. Many, many suggestions were made; all were rejected - no car was good enough for my super-road.
And then Jaguar launched the XKR-S - a turn-all-the-knobs-up-to-11 iteration of the already-lovely XKR - and the perfect road had its perfect car. It's important not to dive into these things with overblown expectations. And so, through means of pleading and deception, I did obtain Jag's very first XKR-S and set out in the direction of Norway, which is a very long way away from Fortress TopGear.
The XKR-S likes long ways. What a car this is. Despite packing 542bhp and a top speed of 186mph, it isn't, as the marketing types claim, the fastest and most powerful Jaguar ever: 1991's XJ220 boasted the same power output and could manage 217mph flat out. Nor is it, despite the name, a pared-down, roll-caged rival to Porsche's 911 GT3 RS: there's more leather in the XKR-S's cabin than at a Hells Angel's funeral, along with a pair of occasional rear seats and a decent-sized boot under the rear hatch.
Nonetheless, the XKR-S is a razor-edged thing. On the outside, the most obvious mods are the fixed carbon-fibre rear wing and the vertical vents on either side of the XKR-S's gaping mouth. These don't do much for the coupe's svelte lines, but combine to reduce high-speed lift by 26 per cent. Bumping the 5.0-litre supercharged V8 from 510bhp - its output in the standard XKR - was a straightforward task, requiring nothing more than an engine remap and exhaust tweak, but the chassis was subjected to heftier revisions. The double-wishbone front suspension has been toughened up, increasing camber and castor stiffness, the springs are 26 per cent sharper all round, and lightweight 20in alloys reduce unsprung weight by five kilograms over the XKR. It all adds up to a 4.2-second 0-62mph time and, says Jaguar, a sub-eight-minute Nordschleife lap.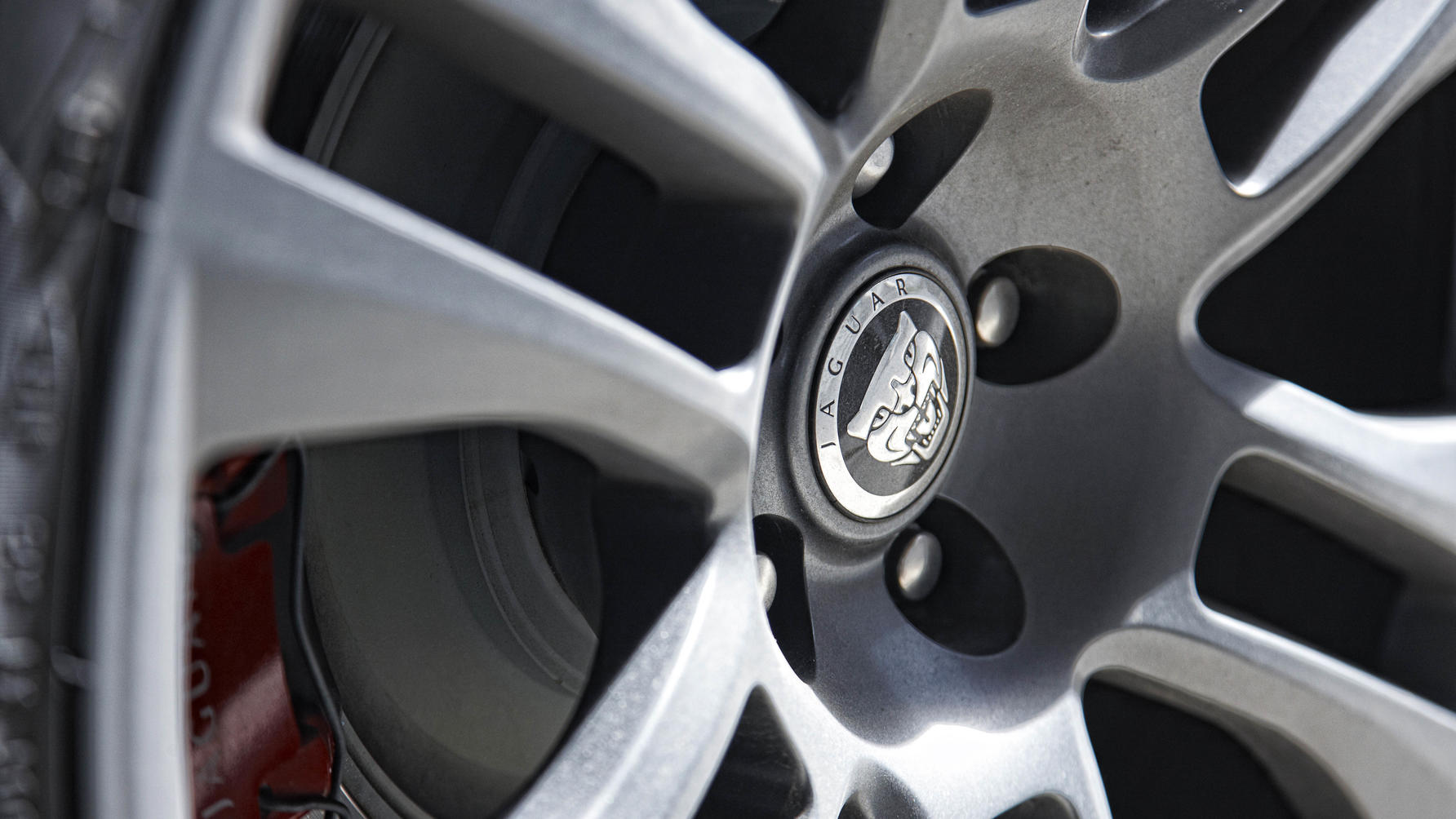 Never the types to sniff at extra power and focus and wings, we had a momentary worry that the XKR-S might be treading a slightly tricky path. The XKR has always steered clear of the track-focused, performance-car fist fight, instead carving out a niche as a super-fast grand tourer. With this talk of 'Ring laps, might the sleek Jag have forgotten its USP?
Not to worry. Even in its new gym-honed guise, the XKR-S retains Jaguar's trademark delicacy of ride. On Norway's wide, sweeping roads, flashing past glittering pine forests and wide lakes with sunlight splintering off the water's surface, the XKR-S was firm but never harsh, planted but pliable. Yes, it's noticeably stiffer than the XKR, but never crunching or brittle. No company does damping better than Jaguar... and no company makes a better supercharged engine.
What a unit this big V8 is, capable of buttery relaxation or wild-eyed redline-chasing. In tandem with the six-speed ZF transmission, it's a welcome riposte to anyone who thinks the conventional auto 'box is dead: slick-shifting and anonymous when left to do its own thing, fast and direct when you override with the steering-wheel paddles.
So we know the XKR-S devours miles like a Scandinavian trucker devours pickled fish, but - because some idiot forgot to check whether a road was open - we have no idea what it's like on wiggly stuff. I take a rueful nibble of Japp and wonder how long it'd take to fashion a snow plough for the front of an XKR-S. A clang from my phone. An email from a nice lady somewhere in the Norwegian tourism office who has talked to a nice man in the Norwegian roads department. They work quickly, these Vikings. The nice man in the Norwegian roads department says sorry for the inconvenience, and if we wouldn't mind terribly hanging around until tomorrow morning, he'll clear all the snow away for us and we can have the road to ourselves. The first car on the Lysebotn road in eight months. Couldn't have planned it better. In celebration, we polish off a Firkløver between us.
Top Gear
Newsletter
Thank you for subscribing to our newsletter. Look out for your regular round-up of news, reviews and offers in your inbox.
Get all the latest news, reviews and exclusives, direct to your inbox.
It is tomorrow morning, and the XKR-S is about to play vicar in the Lysebotn road's yearly christening. The barrier is up, the tarmac is clear, and there is not a human for miles around. As we turn off the main road onto the single-lane Lysebotnveien, a fat, brown snake slimes lazily from the verge. I'm no expert on omens, but that can't be a good one.
Twisting between granite moraines and icy lakes, we climb and climb, the damp-green vegetation fading to snow. The sky is heavy, the scenery magnificent and other-worldly, brutal and beautiful. You can see how Norse mythology became so rich and weird: it's easier to imagine this landscape being shaped by temperamental deities than by the actions of mere wind and water. The XKR-S picks its way light-footedly along the skinny path.
Higher still. More snow. Blizzards sweep at pace across the ridge, pummelling the car and drifting snow onto the road. Drops of tens, hundreds of feet loom inches from the roadside, plunging away into half-frozen pools and craggy precipices. Rear-wheel drive and 542bhp doesn't feel like the most sensible choice now. Credit to the Jag: it soldiers on without fuss. It's astonishingly effective at getting its power down, this car, rarely troubling the traction-control system unless you give the accelerator a proper volley. We squeeze between snowbanks 12ft high, the gap barely wider than the XKR-S, and I wonder if, rather than revealing itself to be the greatest road in the world, the Lysebotnveien might turn out to be an utterly stupid idea instead.
And then we dive down below the snowline and the clouds lift and suddenly we are at the edge of a cliff and hanging over a vista that sends the blood rushing to the fingertips and leaves a half-formed expletive hanging in the throat. We are at the brink of the Lysefjord, a vicious, kilometre-deep cut through the landscape, fringed by looming towers of rock and the frothing North Sea. The road plunges over the cliff-edge and the XKR-S launches into the abyss.
Does it get any better than this? Skimming from hairpin to hairpin on this astonishing road, V8 crackling off the cliffs, against a backdrop that can only be described as Sigur-Rós-soundtrack-made-real. Each hairpin is subtly different, some tightening, some widening, some off-camber, but every one is as impeccably surfaced as a just-laid race circuit. The XKR-S is loving it. For a big front-engined car, it's surprisingly wieldy, tucking neatly into the corners and, even on this cold, damp tarmac, clinging on with the tenacity of an emotionally dependent limpet. Get on the power early, and the rear tyres give a quick twitch before hooking up all that power, the Jag simply hurling itself down the straight and into the next corner.
Perfect? It's not far off. The only dynamic question mark is over the steering. Slowed slightly for added stability at the extreme speeds the XKR-S is capable of, the wheel is a touch short of feel. It's still accurate, but there's just a lack of feedback which, when you're trying to guess how much grip you've got left at the front, is a mite disconcerting. A minor issue, but there's a more major one. A £97,000 issue, to be precise, a price that puts the XKR-S a whopping £20,000 above the XKR and into direct competition with some very grown-up metal: the Audi R8 V10, a kitted-out 911 GT3 and the Aston Martin Vantage S. Serious company but, with its supernatural breadth of abilities and monstrous power reserves, the XKR-S justifies its lofty price tag.
And here comes its party trick. Down into second gear, and into the tunnel. Did I not mention the tunnel? Well, you know how all greatest roads must have, by law, both hairpins and tunnels? The Lysebotn road combines the two, boasting a roughly hewn borehole that burrows half a mile straight under the mountain before turning 180 degrees and bolting for daylight. Deep under the mountain now, braking hard for the hairpin. Very weird experience. Back on the power. No margin for error here: the metal markers, warning of the jagged tunnel walls, flit within inches of the XKR's wing mirrors. The tarmac is uneven and damp, and the speed is rising. Past 4,500rpm, and something dark and magical happens deep within the Jag's exhaust. The bassy bellow rises to an unholy supercharged scream, the entire tunnel reverberating as we are spat out back into the light. What a noise. What a car. And – when it's open – what a road.