Big Reads
Ford F-150 Lightning: is America ready to go electric?
Gas guzzlers? Pin-up girls? Time to change your ways, America, and the F-150 Lightning is the truck to do it
The news is delivered by one of the show's organisers – male, late 40s, looking far more excited than he should. "We've got to get her into your truck!" Quite a lot to unpack here. I can only assume he means photograph this upstanding member of the military in and around our car, rather than bundling her into the frunk, but nothing's certain. And then there's the phrase 'pin-up girl', surely that died sometime in the late Sixties? This is a story about whether a country is willing to call time on its love affair with oil and embrace a cleaner future. Is America ready to change? On this evidence... er, not really.
Texas is truck country. One in five Ford F-Series pickups sold, is sold here, and Ford sells a lot – close to a million in a good year. Texas is also BBQ country, oil country and according to the supersized billboards lining the I-35 emblazoned with a Tango-faced ex-president, Trump country. If the new electric F-150 Lightning can make it here, it can make it anywhere, which is why we've seized a three-tonne truck for two days to answer a few pressing questions: is America really ready to go electric? Is the Lightning simply a better, more useful truck than its combustion-engined relatives? Is this, as Ford claims, the most important model launch since the Model T? And how much beef can one man eat before his colon taps out?
Advertisement - Page continues below
Our story starts in Austin where I scoop up photographer Greg and videographer Charlie. As an Aussie who used to live in the UK, but is now a Texas resident, Greg shall be our cultural attaché. As someone with an obsession about keeping all meat products on ice, and a recently recovered sugar addict, Charlie shall be our food standards officer and chief donut administrator. I will oversee driving, charging strategy and asking probing questions without getting punched.
Images: Greg Pajo
The plan is as follows: head 150 miles north of Austin to Cleburne, a small town just outside of Dallas, to an inaugural event called the American Patriot Music and Truck Festival. I'm not anticipating Glastonbury, but I am expecting a tough crowd. Hopefully we can gauge some proper, all-American opinion, and if the Lightning can impress here we'll know Ford's onto a winner. The next day we'll retrace our steps back down the interstate to San Antonio and test this truck's lifestyle credentials, with a spot of EV camping. Clearly a curlier route would have been preferable, but rapid chargers aren't exactly rife out here, and if running an EV in the UK has taught me anything, it's to be risk averse and stick close to the bank of 350kW sockets that we know are working just off the I-35.
Advertisement - Page continues below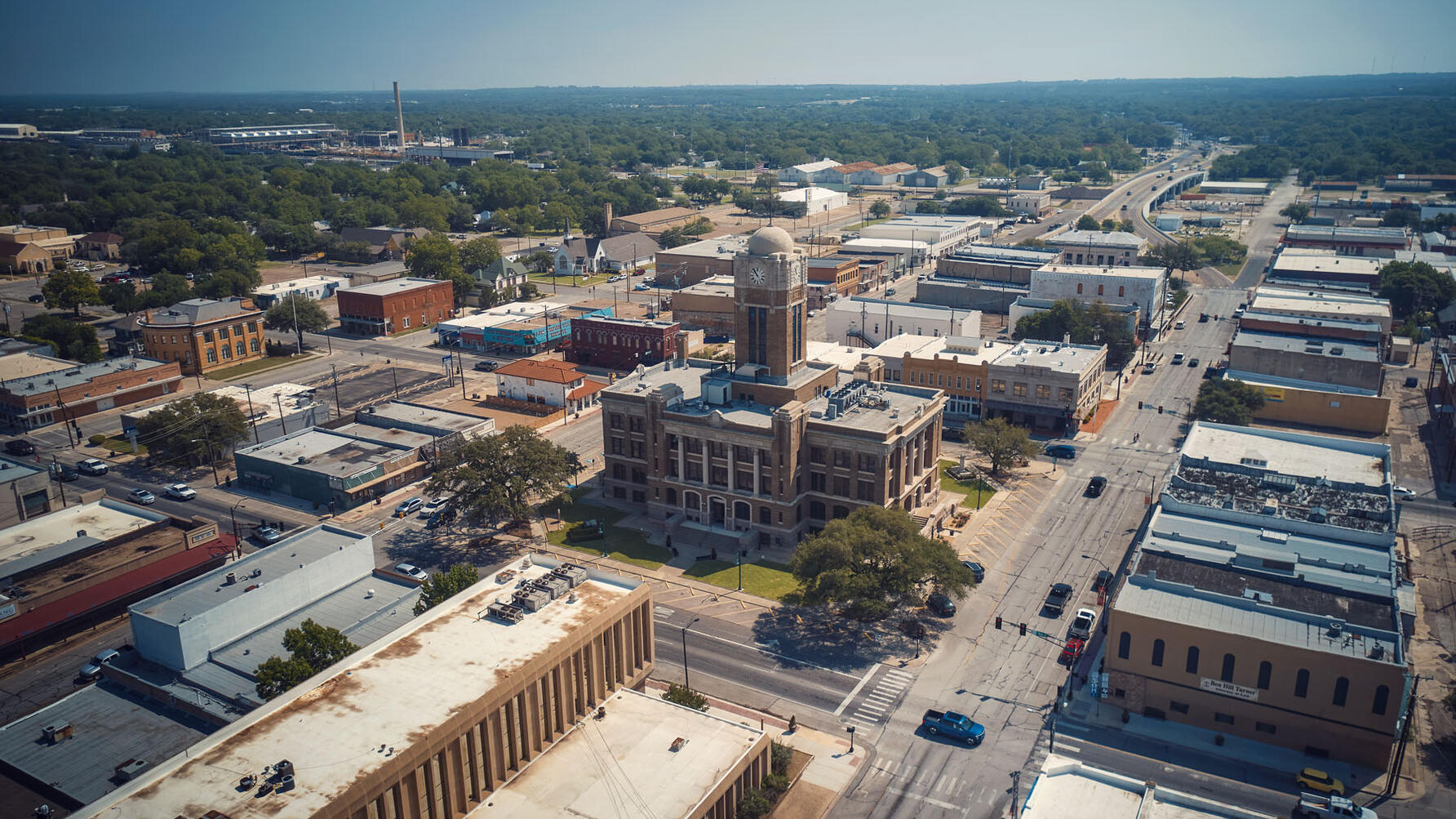 The F-150 is the protein in Ford's $40bn a year F-Series sandwich. It's been America's bestselling truck for 45 years and an absolute titan, crucial not just to Ford's balance sheet, but the US economy as a whole. Which means messing with the formula like this is kind of a big deal. Ford could have simply wedged some lithium-ion pouch cells into an existing F-150 chassis and been done with it, but it knew the lure of being an early adopter, or a Captain Planet flag waver, wasn't going to wash with the vast majority of US truck buyers. Plus competition like the Hummer EV, Chevy Silverado EV, Rivian R1T and the mythical Tesla Cybertruck are cropping up all over the place, so it needed to build a better, more versatile vehicle full stop... and strip away excuses for not making the switch. Taking a page from Tesla's playbook, who learned early to dazzle customers with straight-line speed, this is the fastest, most powerful, torquiest F-150 ever.
Darren Palmer, VP electric vehicle programs (aka the infectiously upbeat Brit heading up Ford's $50bn bid to upend Tesla as the world's biggest EV maker) tells a story about asking grizzled Texans in the research phase what kind of animal an electric truck would be. "A Chihuahua." OK, what drink would it be? "Pink champagne." He then proceeds to distract them by talking about the new F-150 Raptor, before rattling off the specs of one more exciting future model. The crowd gets visibly more amped, then he drops that that's the EV. "Cue half an hour of shouting, 'no way, you're lying', disbelief."
One must avoid drinking the carefully crafted Kool Aid from execs with a vested interest, but the stats do seem to chop most arguments off at the knees. There are two models to choose from, the entry level version with a 98kWh battery, 446bhp and a 230-mile range, or the extended range model we're driving with a mammoth 131kWh battery (removable from below with just eight bolts), 572bhp and a 320-mile range. Except on our blingy top spec Platinum model where the range drops to 300 miles because of all the kit, an abattoir's worth of leather and air-ruffling 22in wheels. Both models produce 775lb ft of torque, and the faster one will do 0–60mph in 4.3secs. That's just preposterous. Sports car pace from something the size of a small planet. And this is an enormous vehicle – the length of a long wheelbase Mercedes S-Class... plus another 600mm.
Then there's the Lightning's unique work hard, play hard features – the stuff that gets Americans really frothy. The Mega Power Frunk (yes that's its real name, sigh) offers an extra 400 litres (more than a VW Golf's boot, enough for an adult car journalist to take a nap in) of locked storage where an engine would normally be and opens up on the click of a key fob like some giant oyster. Apparently, it was a complete arse to engineer and meet safety standards ensuring it doesn't fling open at the wrong moment.
Around the back, the tailgate lowers electrically, and raises again when you click the key fob or lift it slightly. Keep it down and it's littered with features – a step that pulls out of it and a slide-out banister to hold on to, rulers moulded into the plastic, holes for woodwork clamps, a bottle opener... the list goes on. Round the front you can fill your frunk with ice cubes because it has a drain hole in the bottom. If you've ever been to a beer- and beef-fuelled tailgate party in the US, you'll realise this is a major selling point.   
On top of that, the F-150 Lightning is a massive power brick on wheels. Order it with Pro Power Onboard and you get six USBs and no fewer than 11 proper plug sockets – four 120V sockets in the frunk, two more in the cabin and another four in the bed alongside a 240V outlet – enough to charge another electric car at 7kW. Drive an EV? Got a friend with an F-150 Lightning? You'll never be stranded again. Fast charging speeds are capped at 150kW (which could be better, but still enough for 15 to 100 per cent in 41 mins), but get Ford's Charge Station Pro wall box installed at your house and it'll turn your truck into a power station. In the event of a blackout – a regular occurrence in parts of the USA – the battery can bleed its energy back into your house to keep the lights and all your other electrics on for up to three days, or 10 days if you ration the power. All hail the apocalypse proof vehicle.
Dead straight, featureless interstates – like some crudely rendered video game with endless repeating clusters of brightly coloured chain restaurants – might be the veins that connect America, but my word are they dull to drive on. In the Lightning, they're a dream. You may look at that headline-grabbing 0–60mph time and assume this is some sort of tyre-chewing monster truck, but its character is far more subdued. It wants to be driven with a calm hand and a steady foot and after an initial poke of the throttle to establish that, yes, it can gather a lot of momentum in not much time at all, you'll only call upon full power on a slip road, for a swift overtake or to scare the kids. We found using the one-pedal high regen mode takes the stress out of stop-start traffic, but on the motorway you definitely want to switch it off and coast along to make the most of all that momentum. Bottom line is it's a plush experience – even more so when you activate Ford's Blue Cruise function on selected sections. A genuine hands-off-wheel mode so long as a camera built into the dash deems your eyes are still on the road.
Top Gear
Newsletter
Thank you for subscribing to our newsletter. Look out for your regular round-up of news, reviews and offers in your inbox.
Get all the latest news, reviews and exclusives, direct to your inbox.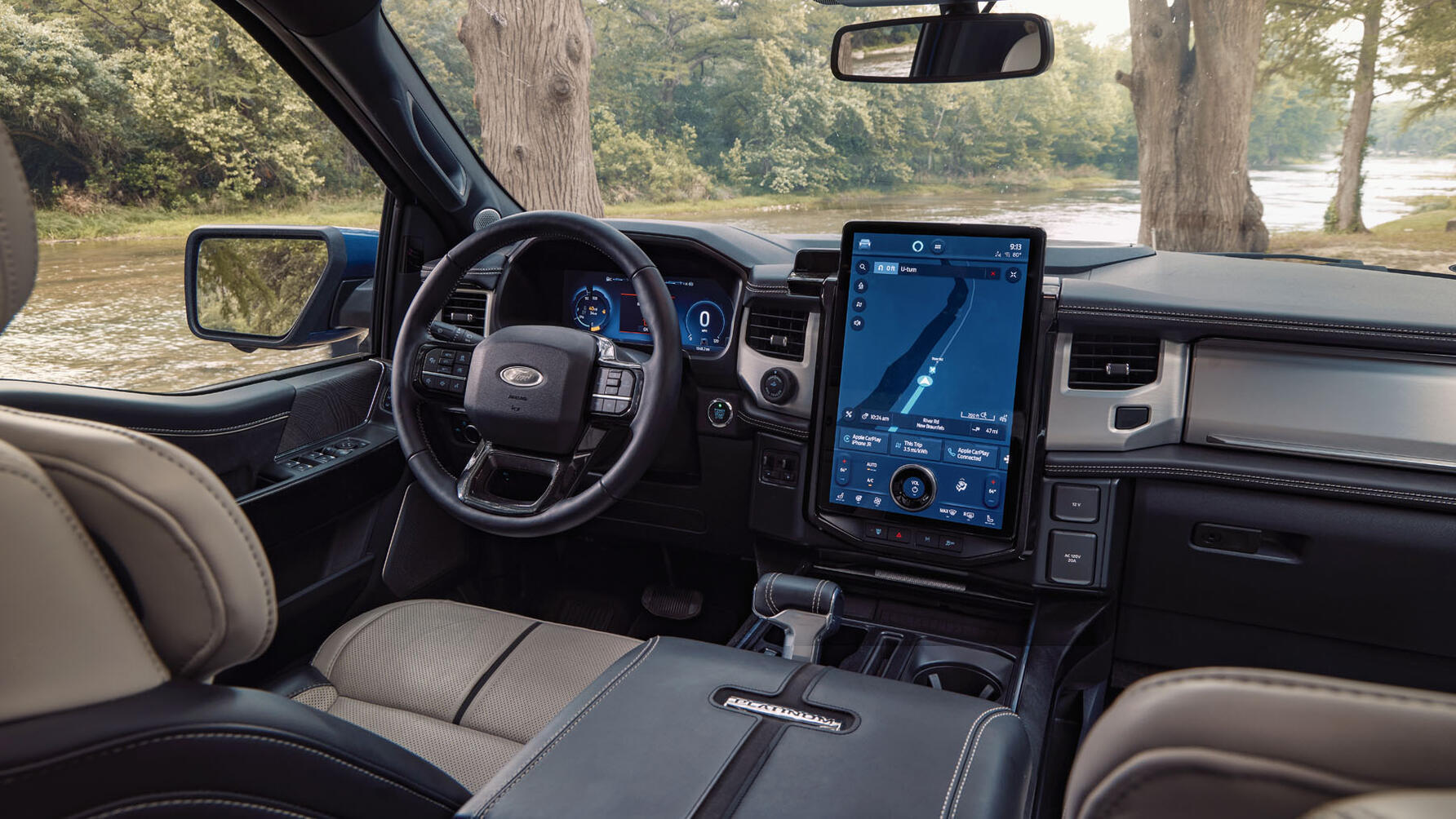 A quick pitstop at Walmart's Electrify America station to top up the batteries and buy some tat and unnecessary calories while we wait, then onwards to Cleburne. As we pull into Hilltop Barn, I'm half expecting a sea of red MAGA hats and a burning Biden effigy. Nope, just a few hundred people scattered around enjoying beers, live music and some classic cars and trucks on a sweltering Saturday afternoon. We immediately stick out with our plummy accents and gleaming robotruck... but the interest is strong. I park up next to a man whose nose suggests a fondness for whiskey, and discover the trailer attached to his meticulously themed 1947 Ford pickup is a mobile bar. I decide Tim and I are going to get on very well and start picking his brain. He hates the idea of an electric truck and tells me firmly that anything less than 1,000 miles of range won't work. "I'll tell you straight up, it ain't gonna fly here, not for a good long while."
I talk to Sandra, a woman who believes Biden is pushing electric cars on them by purposely hiking fuel prices, and then goes on a rant about the president setting fire to food processing plants, for some reason. I stop by Joe – a Vietnam vet with a Santa Claus beard and a Harley that's louder than the band. He can't see why anyone would go electric when the shoutier your exhaust is the more likely you are to attract the opposite sex (this is the edited version). So far, so predictable, but then the surprise packages start trickling in. Clay, who's fed up with paying $125 for half a tank of diesel in his F350 and floored by the fact that we added 200 miles of range for $15. Darren, whose leather waistcoat and biker gang associates suggests that EVs might not be his cup of tea, is won over by the power frunk. Joey, who tinkers with a flame-painted hot rod F100 in his spare time "loves anything new". Overall it's more positive than I was expecting... and Ford's early numbers bear out. With capacity to build 140,000 Lightnings a year, it had to shut the faucet off at 200,000 reservations to stop waiting times spiralling. Nice problem to have. Unlike when a gentleman we quizzed earlier, now properly lubricated, approaches. "Tell me again why you wanted to come here?" This is our cue to leave.
The next morning we make waffles in the shape of Texas, do a lap of Cleburne's historic centre, buy donuts on Charlie's insistence and experience a quite spectacular sugar crash an hour later... solved only by a chopped brisket roll from Buc-ee's, the most enormous petrol station I've ever seen. We stop by the same Walmart for a deja vu charging experience, stock up on a glittering array of camping supplies and I gather my thoughts on the interior.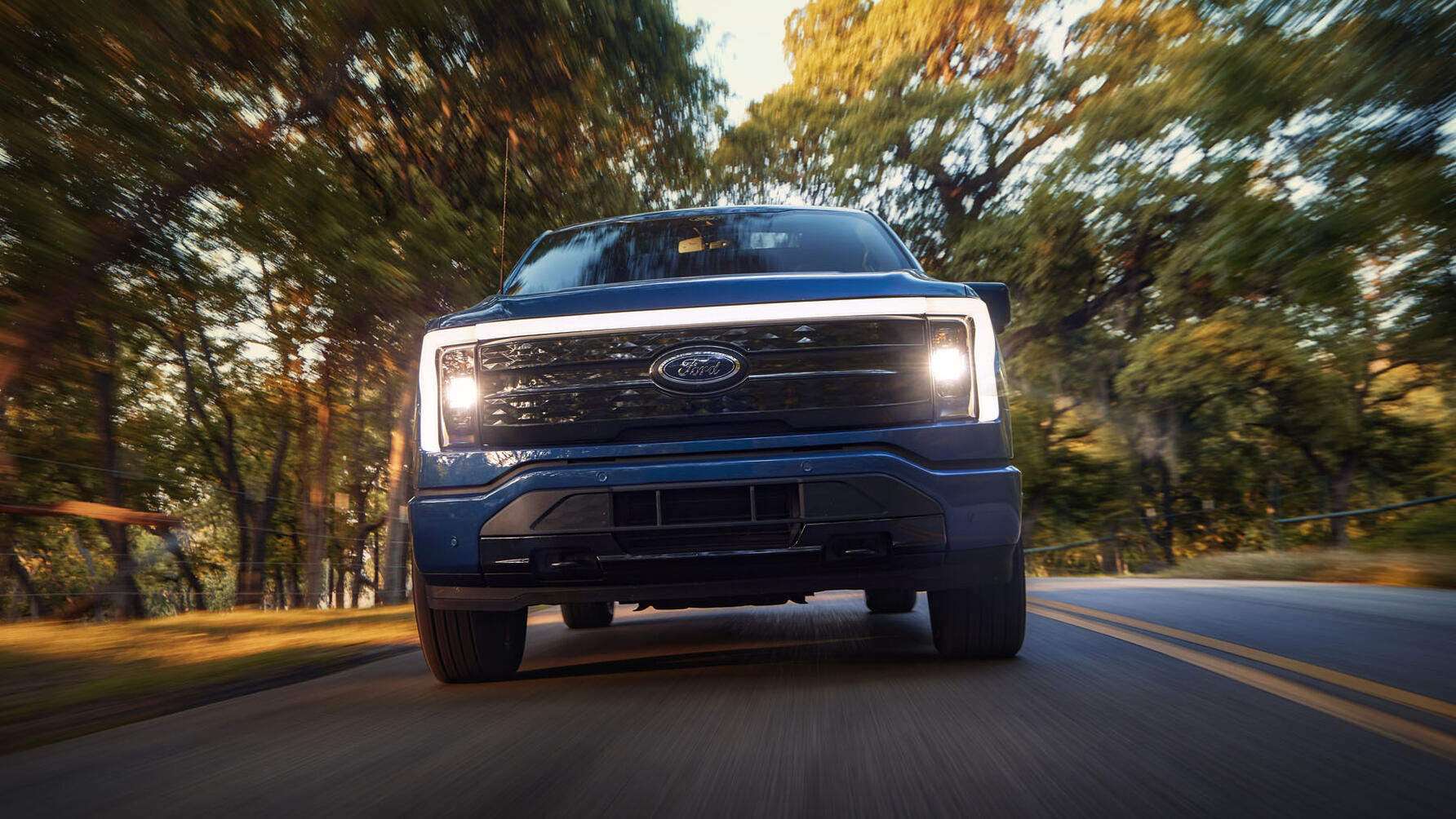 The F-150's insides are vast. Wide comfy front seats – heated and cooled, with a massage function in the Platinum model – sit either side of a chunky centre console. Got some time to kill? Hit a button and the gearlever folds out the way, letting you unfurl the centre armrest into a massive flat space – for your laptop, lunch, a spot of tap dancing... whatever you fancy. There are cupholders and cubbyholes everywhere, two gloveboxes, extra storage under the rear bench. On the top two trim levels (Lariat and Platinum) you get the same 15.5-inch screen as the Mustang Mach-E – whereas on the lower two (Pro and XLT) you get a 12-inch landscape display mounted above physical controls for the audio and aircon. It's actually the latter that's more satisfying to use, although for wow factor the big screen walks it.
We peel off the I-35 towards our camping ground on the banks of the Guadalupe river and find some more enlightening roads. Surprise, surprise, it might accelerate like a sports car, but it sure as hell doesn't handle like one. The first thing you notice is wind noise, which is to be expected when you're trying to push a barn door through soupy air. There are also seismic shudders through the chassis when you hit a bump or a crack, and the suspension clearly has a lot on its plate keeping all that mass in check. As a result the ride is floaty on gentle undulations then when you hit a compression you really feel the weight.
Corners are interesting. On the plus side, there's now newly designed independent rear suspension, which means the back end doesn't pogo and skip around when you hit a mid-turn bump, but I found myself feeling sorry for the outside front tyre bearing the brunt of the forces. Fortunately, they don't have many corners in America.
What they do have is a passion for pulling things... and quite a lot of landscape to explore. With a motor on each axle for four-wheel drive, a bucketload of torque and a locking rear diff, if you just want to get a job done it's more than capable. But if off-roading is your hobby, you'll want something that offers more mechanical interaction with the process. Total towing capacity with the big battery is 10,000lb, or 4.5 tonnes. If that means little to you, put it this way – on Ford's official launch event I pulled a large speedboat on a trailer and an Airstream caravan... and I had to double check they were actually attached.
We arrive at the campsite and begin unboxing our stash – fridge for the beers, portable electric wood pellet BBQ, a string of fairy lights, a projector with a sheet for the screen and a portable compressor for inflating our reclining lounge chair. All done under the truck's 360° floodlights, plugged in and running silently off the bountiful sockets, all of it sapping a combined two per cent of the total battery despite me insisting on watching myself on YouTube deep into the night. If the outdoorsy lifestyle is your thing, it's a total game changer.
Is America ready for the electric car? Yes. And no. The public charging infrastructure – as in the UK – needs filling out, especially given the bigger distances, but if you can home charge that's half the battle won. For every sceptic, we found someone whose head was turned by how cheap the Lightning was to charge, or how useful it was, or the performance. So if ever there's an EV capable of shifting American attitudes, it's this one right here.
If you can get your head around the real world 270-mile range, America – I'd make the switch. It's simply a better truck to drive and use than the standard F-150 and because Ford has kept things simple – recycling as much of the existing chassis and components as it could, changing little visually besides the blanked off grille and fancy full width lights front and back – the bulging catalogue of aftermarket F-150 accessories still fits, and prices are down to near parity with the combustion model. A Platinum starts at $90k, but you can get the more workmanlike Pro for under $40k with the smaller battery. Total bargain. Over to you, Elon.