News
Lapping Aston's Cygnet V8 around London's CC Zone
Is there anything that can't be improved with a V8? Aston's steroidal Cygnet takes part in the TG CCZ GP to see
Remember the Aston Martin Cygnet? It's the city car Aston's former CEO used as a leftfield loophole to lower the firm's emissions back in 2011. Somewhat hilariously, the wishy-washy marketing described it as a "tender" – a sort of short-range urban dinghy to your DBS yacht. In reality, it was an utterly extortionate, £31k, rebadged Toyota iQ with a leathery interior that only lasted two years before being swept under the carpet. Quite right, too. It was one of the biggest jokes in motoring history. An April fool PR stunt made real. But it's funny how perspective can change with time and the application of a 4.7-litre V8 engine. 
Words: Rowan Horncastle // Photography: Mark Riccioni
Advertisement - Page continues below
Looking resplendent outside Park Lane's posh Dorchester Hotel, a glorious British Racing Green Cygnet is causing supercar spotters' Whatsapp groups to melt. That's because it's not any Cygnet. It's what can only be described as an engineering inevitability: a V8 Cygnet. No chop-shop special, either. An actual Aston Martin from Gaydon's Q division. 
See, if you leave a set of Aston Martin engineers in a room with an old Vantage S and a small Japanese city car for long enough, eventually someone will go all Spice Girls and make two become one. It was an idea Aston first explored in 2012, one that ultimately got mothballed. However, when a loyal customer was willing to resurrect and bankroll the spenny skunkworks project last year, the Q department obliged. There was a stipulation, though: it had to be a one-off. See, when you're flying at an altitude in society that this owner obviously does, the strongest currency you can deal in is bespoke. Having something no one else does equals weapons-grade bragging rights. Yet, somehow, I've been allowed to shake his new baby down before he takes delivery. 
Normally this kind of vehicle optimisation would happen at Aston's Nürburgring test centre, but this is a super city car, so I'm going to subject it to our own development track: the perimeter of London's Congestion Charge Zone. 
Advertisement - Page continues below
For you non-Londoners, the CCZ is a 13-mile loop lassoed around the extravagant and opulent nucleus of central London. Effectively a toll road, it has surprising similarities to the Nordschleife; it's pretty much the same length, has a weirdly similar layout (when you flip-reverse it) and – most importantly – everybody on it thinks they're the best driver on the planet. Most of the time it's a clogged artery of congestion for people who don't want to stump up £11.50 to enter central London. However, TG reckons it's also got huge potential for an epic street circuit. So consider today an official recce. 
With Park Lane being the start/finish straight for the TG CCZ GP (alright, the name needs work), the Dorchester's car park doubles up as pit lane. Immediately, people swarm to the Cygnet, utterly baffled by its preposterous proportions. Children stare at it through camera phones. People want to have their picture taken next to it. Cabbies throw thumbs up, smiling ear to ear. It might just be the antidote to the depression of football not coming home. 
Trying not to make a scene, I clamber over the roll cage and squash myself into its tight, wing-backed bucket seats. Embarrassingly, having pinned myself too tightly into the five-point harness, I can't reach the carbon door. Luckily, one of those chaps with the funny hats is on hand. Stripped out and reeking of motorsport, the cabin is full of old Vantage hardware. Slotting the hefty crystal key into the dash, the opposing dials race around the clock as the engine barks into life. The V8 then settles into a weirdly hypnotic deep gurgle as I prod the D in the dash, release the fly-off handbrake and start a flying lap.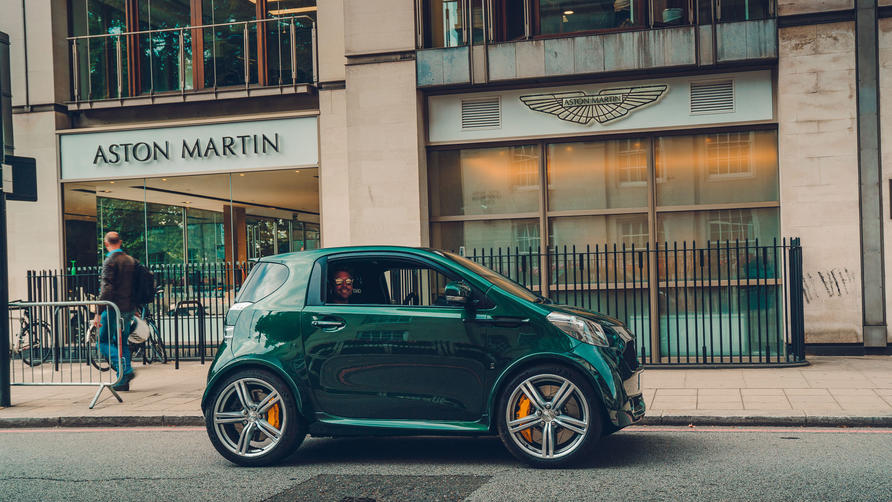 Turning left onto Park Lane down to Wellington Arch (a fast, tightening left-right, come race day), it becomes immediately clear that this isn't going to be a doddle. From behind the wheel, it's impossible to fathom the size of the thing. See, to make the package work, the front and rear subframes from the Vantage S, plus all its key components (suspension, engine, gearbox, wheels, brakes, track widths) were bolted to an iQ's chassis. Then, an elaborate cage was added to act as a central spaceframe so it wouldn't wallow like a warm blancmange. You're tricked into thinking that you're in a diddy city car, when, in reality, you've actually got monster wheels sprouting out of arches and a supercar's footprint.
My confidence builds having navigated Victoria's lunchtime rush (and the kamikaze Uber Eats drivers that go along with it) and head towards Vauxhall Bridge. With a gap in the traffic, I clog it past MI6. Jesssssusssss Christ! Yep, 430bhp in something with the proportions of a Victorian pram is quite potent. Admittedly, the seven-speed automated manual was never the Vantage's strong point, but as the V8 Cygnet isn't yet fully developed, this 'box is super-sluggish; slipping gears and taking an age to engage a cog. But when it does, you're snapped back and given all the power. With surprisingly good traction from the back wheels and being softly sprung, every prod of the throttle sees you point skyward, thinking you're going to wheelie back onto the Vantage's giant rear anti-roll bar. 
Next challenge, the redesigned Elephant and Castle roundabout. Some good karma from the traffic light gods allows for some fastish cornering around the bonkers seven-lane, two-way interchange. The dry-sumped engine sits a lot lower and further back than you'd think, allowing the car to corner with a low centre of gravity.
Top Gear
Newsletter
Thank you for subscribing to our newsletter. Look out for your regular round-up of news, reviews and offers in your inbox.
Get all the latest news, reviews and exclusives, direct to your inbox.
Crossing the Thames via Tower Bridge, my pace slows. As the V8 blub-blub-blubs across the majestic 19th-century bascule and suspension bridge, selfie stick-wielding tourists have a proper a sensory workout. Never has a car befuddled the public's brain quite like this. The four-wheeled Goomba simply doesn't look or sound like it should. Akin to a horrendously dubbed foreign movie, the images your eyes see fail to match the soundtrack your ears hear. So people just stand and stare, waiting for their cerebral cortex to buffer the situation.
Traffic is bad, though. Not because it's slowing down my sector two (Spitalfields to St Pancras) time (which it is), but because I start sweating haplessly. Placing a motor with twice the cylinders and five times the capacity of what normally resides there creates quite a lot of heat through the bulkhead. There is aircon, but on a 30ºC day in traffic, it's pretty much pointless. So I dip off into the side streets of Shoreditch. It's at this point I leave London and enter "Laandan". I'm not sure exactly where the border is, but it must be around Arnold Circus, as that's where the trousers start riding up the shin bone and non-ironic beards reach fever pitch.
In this hipster part of town, it's preferred if everything is powered by nothing more than sanctimonious fair-trade farts. But the noisy, thirsty and decadent internal combustion is a hit. Ticking cool under a two-storey wall of graffiti, a camo-trousered lady with a face full of metal walks over. "Nice car, mate!" she screams. "What is it? What's it cost? How fast is it?" Luckily, I have these answers on quick-fire as it's the same line of questioning you get everywhere. "Somewhere between £250k–500k, 0–60 in 4.2secs and a 170mph top end." She bursts into a belly laugh. Not knowing how to react, I continue my lap.
Kings Cross to Euston Road has potential to be the fastest part of the TG CCZ GP. It also has Euston's underpass – our answer to Monaco's tunnel. Inevitably, I drop a few cogs beforehand and pin the throttle wide open. My ears smile as the revs hit the red line and a metallic whap of eight cylinders howls against the walls. It's a case of holding on and praying it doesn't backflip. Or getting nicked by the cops. But the fuel gauge plummets. 
Stupidly, I dip down a mews thinking I can beat the traffic to a petrol station. Big mistake. I've inadvertently engaged in the tensest game of Operation ever. One false move and I scuff someone else's very expensive diamond-cut 19-inch wheels. Luckily, I get away with it and top up the small fuel tank (scrawled over in Tippex signatures by the Aston team) in the boot before swinging right at Marble Arch to grin my way to the finish line in five-and-a-bit hours. A new course record. The only course record.
But I have learned something: London loves the mad little Aston. It's harmless and hilarious. Exuberant and entertaining. It's… properly British. Haters might dismiss it as a jocose one-off, but projects like this show that both Aston and its customers have a sense of humour. A quality that translates in every part of the city, and every part of the world. The V8 is a shot of serotonin for society. In London, it lifts people's spirits, acts as relief in what can be a socially awkward city. See, unlike the original, this Cygnet is no joke. But it is hilarious.