Classic
From the archives: exploring Detroit in the HPP Superbird
Seventies styling meets modern muscle… a throwback to our go in the new Superbird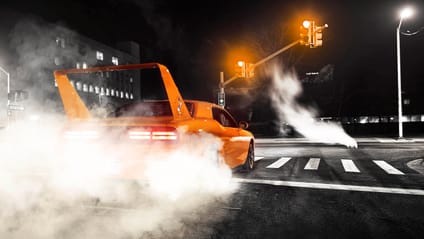 Don't draw attention to yourself. That's the only way to stay safe in Detroit. Especially if you're a chubby Englishman with the streetwise nous of a spaniel. Believe me, you want to stay safe in Detroit. Motown was last year ranked as the most dangerous city in America, with a violent crime rate that makes Britain's roughest urban areas look like the Cotswolds. Keep your head down, stay under the radar, don't make a scene.

Trouble is, it's tricky to stay under the radar when you're driving a bright-orange muscle car with a matt-black shaker hood, an exhaust with the acoustics of a pneumatic drill piped through a Marshall stack and a rear wing the size of an ice-hockey goal hooping into the night sky.

This feature first appeared in the February 2012 issue of Top Gear magazine.

Images: Webb Bland

Advertisement - Page continues below

What is this lump of orange and noise and wing that's advertising Top Gear's presence like a 60-foot neon sign flashing 'GET YOUR FREE CAMERA KIT HERE'? The HPP Superbird, that's what, and chances are you've already formed a strong opinion about it. This will likely be either: "Hell yeah, give me one of them bad boys and a side order of ribs, boy" or "Goodness, what a vulgar machine." Opinions on this car rarely hover in midfield.

To understand where this mantelpiece-winged monster is coming from, we need to rewind 42 years.

In 1970, Detroit ruled the automotive world. The muscle car was king, and the Big Three were ploughing millions into NASCAR to assert their performance superiority: back in them days, the oval-track stock cars were far closer to their production counterparts than the modern silhouette racers.

In 1969, Ford's NASCAR outfit had introduced the Torino Talledega, the first of the so-called Aero Warriors - racers that used basic aerodynamic techniques to improve performance - and, in 1970, Plymouth (Chrysler's mass-market brand of the day) responded in ebullient fashion with the huge-winged, pointy-nosed, cartoon-decaled Superbird, based on the Road Runner muscle car.

Advertisement - Page continues below

Homologation rules required Plymouth build 1,920 road-going Superbirds (one for every two dealerships in the States), and thus the most unmissable muscle car in history was born.

OK, so the road-going Superbird wasn't much cop - the added weight and drag of the nose and wing actually slowed the car significantly and, unless you were on a track, didn't do much for the handling. It wasn't even especially popular. But it represented Detroit, the automotive centre of the universe, in its arrogant pomp: within a couple of years, reality - in the shape of the OPEC oil crisis - hit the muscle-car era slap in the face.

The HPP Superbird celebrates the zenith of muscle. It isn't a replica of the 1970 Plymouth original, but a modern homage. Enthusiasts of Americana will have spotted the basic shape of the current Dodge Challenger beneath the Superbird, between a pointy nose and that rear wing. As interpretations go, it's not a subtle one.

"Yeah, it's a bit tongue-in-cheek," says Gordon Heidacker, boss of HPP. "Some people love it; some hate it." Heidacker is a proper car guy. A Detroiter with a garage full of old and new muscle, he was on Chrysler's books for 24 years, working his way to the top echelons of management but astutely stepping ashore before the Pentastar sunk in the financial crisis. In 2009, he set up Heide Performance Products (HPP), a small firm making intricate specialist parts for the Big Three. When Heidacker decided HPP needed, in his words, a 'mousetrap', a rolling shop window for its talents, there was only one choice. A modern Superbird.

If you want to showcase your company's skills, you don't make a glues-and-screws bodykit. The Superbird is a quality piece of engineering. That long nose is no crudely hewn lump of plastic, but constructed of 57 integrated parts: the headlight covers fold neatly down within the nose as you flip on the beams. The hood scoop is functional - equalising under-bonnet pressure - and the rear wing is adjustable. Proper engineering.

And proper craft, too. The seats, particularly, are beautiful - upholstered in stripy retro leather to echo Plymouth's traditional muscle-car trim. A perfectly moulded pistol-grip shifter, complete with neat thumb groove, replaces the Challenger's standard manual gearlever. It's the sort of gimcrack that major companies would spend months developing, but Heidacker insists he knocked it up in couple of weeks. "I grew up hot rodding," he grins. "If I didn't have a part, I'd make a mould for it. You learn the hard way."

There are invisible improvements, too: a three-stage suspension overhaul, a Magnuson supercharger bolted to Dodge's 5.7-litre V8 Hemi, that bellowing cat-back exhaust. The visuals might be cartoonish, but the Superbird is a grown-up lump of performance.

Updating a classic is dangerous: witness the backlash when BMW revived the Mini. "People said I should have taken a modern Charger and removed the rear doors," shrugs Heidacker. "The old Road Runner was built on the same bigger platform as the original Charger; the Challenger was smaller. I tell them that the Charger and Challenger are now on the same platform, but people have their own ideas. You open yourself up to criticism, doing a car like this. But better to get noticed than not, right?"

Advertisement - Page continues below

Dispute the historical connection, but you can't argue the price - this is one slice of retro-excellence that won't require you to auction off your sweetbreads to buy. Once you've handed over your donor Challenger ($30k for the V8 version), HPP charges just $18k for the basic conversion kit: nose, rear wing, shifter, graphic and a few more bits. If you want the full-works version - s'charger, suspension mods, shaker hood, personalised seats - you're looking closer to $70,000 total outlay. Still, that's a hell of a lot of unmissable muscle for the money.

It almost doesn't matter how the Superbird drives. Suffice to say its performance is as kick-in-the-teeth as its visuals. That supercharger boosts power to a grunting 525bhp, but, despite this car getting HPP's brawniest suspension upgrades and 20in wheels, the Superbird is pleasingly soft-edged and long-legged, woofling along with the rolling gait of a buffalo bull. But plant your right cowboy boot through the floormat, and the Superbird turns into a bellowing, heaving monster, slewing sideways at the slightest provocation and hanging there until you run out of bravery, road or licence points. It ain't precise, it ain't subtle. It's mighty spectacular.

Most of the time, it isn't necessary to go quick in the Superbird. Better to cruise the big, bovine V8 and absorb the stares, whoops and pointy-gestures of everyone within 500 yards. If you're sociophobic or carrying out a contract killing, this may not be the car for you.

The Superbird's hey-over-here-look-at-me presence jars against the decrepit Detroit background like a hornet in an ashtray. 'The decline of Detroit' has become easy shorthand for the fall from grace of the American auto industry, the shift in power to Europe and Asia. But, until you've wandered Motown's streets, you can't imagine just how visceral, widespread and utter the effects of that decline really are. Two blocks back from the Thirties high-rise downtown stand hundreds of blocks of once-grand mansions, the homes of Big Three execs in the Sixties. Now, every one is unoccupied, crumbling, succumbed to the creeping fingers of rot and ruin.

Advertisement - Page continues below

It's the emptiness that gets you. Even at rush hour, even in the heart of Detroit, there are no cars, no people, traffic lights flipping red to green to red in deserted streets. The city that set the world driving, the city indirectly responsible for every traffic jam in the world, is itself empty of traffic, a commuter's paradise.

Ironic? Maybe. An excellent place to discover whether Superbird is capable of big, smoky burnouts? Undoubtedly. The Superbird is very capable of big, smoky burnouts.

Scary? A bit. Detroit, I mean, not the Superbird. Mainly, Motown is just sad, a city infected by desolation, a fossilised metropolis. As we photograph the Superbird under the unused monorail system, those who slip from the shadows don't demand our cash or car keys, but want to reminisce on Detroit's glory days, the muscle cars they owned back when things weren't screwed. Cubic inches and V8s - cars are the language of Detroit.

Heidacker, a lifelong Detroiter, feels the decay more than most. "We thought it was never going to stop," he says of Detroit's postwar pomp. "But now... hey, I still get excited about Detroit's future. You can't rule Detroit out."

He continues: "With the Superbird, we wanted to do everything in Detroit. Designed in Detroit, engineered in Detroit, made in Detroit. It's a resilient town. The people have a lot of talent." Judging by his belligerent, bewinged creation, it's tough to argue. A bit less corporatism and a bit more craftsmanship would serve the city well.

After three decades of slow decline, of wilful ignorance in the face of a changing automotive world, the US auto industry is beginning to change, too, becoming more streamlined, more outward-looking. Detroit will never return to its late-Sixties heyday, but with a bit of Superbird spirit, it might just survive.

A few more giant wings wouldn't hurt, either. Detroit never got anywhere by keeping its head down.