Classic
Ten reasons why BMW's old 8 Series is cool
The BMW 8 Series will return in 2018. Here's why the E31 is cool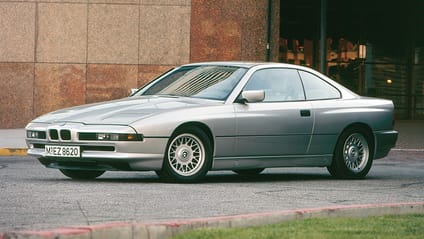 It was at the 1989 Frankfurt Motor Show that BMW presented a car that would become one of its modern classics: the 8 Series Coupe.

Built for ten years between '89 and '99, the car dubbed 'E31' was a 'clean-sheet' design that could trace its lineage way back to BMW's rather lovely coupes from the 1930s.

And over its lifetime, BMW sold 30,621 8 Series Coupes, with exactly 24 of those hand-built at the Rosslyn plant in South Africa (for tax reasons, assembling the cars there was cheaper than importing them). More than two-thirds - over 20,000, then - were fitted with the V12, and just one in six came with a six-speed manual.

Now, we've seen prototype shots of the new one, set to arrive this year. We rather like the BMW 8 Series, because it's a big, luxury two-door BMW barge. Here are ten reasons why the ol' girl is great.

Advertisement - Page continues below

It's got pop up headlights!

Call us childish, but there's something about pop-up headlights that brings out our inner child. Maybe it was too many years watching Knight Rider, or because they look especially hilarious when one motor ceases to function. Either way, it's a very distinguishing feature.

It looks great

The 8er had a low drag co-efficient - 0.29, the same as a Porsche 918 - and was drawn up entirely on COMPUTER (something of a novelty back then) with a lot of wind tunnel testing to get that swoopy, wedgy shape. It looks good. Retro-good, but still good.

Advertisement - Page continues below

It had no B-pillar

That's the middle pillar at the end of the front side windows, and BMW designed the 8 Series without it, allowing a clean sweep of glass from front to back. Cleaner, cooler.

It was only the second post-war German car to be powered by a V12

Who doesn't love a V12 in a big, luxury barge? BMW certainly does, and equipped the 850 with a 5.0-litre behemoth developing 300bhp and 332lb ft of torque, enough to get the 1790kg heavyweight from 0-62mph in 6.8 seconds. OK, so it's no FF, but this was the Nineties, after all.

It had lots of toys inside

A belt system integrated into the seats, an electrically adjustable steering column with memory function, auto-dimming rear view mirror, remote central locking and a 'high-performance' onboard computer were just a few of the luggzuries you received with your copy of the 8 Series. Bluetooth not optional.

It had a few nice toys underneath, too

The 8 Series was available with either a six-speed manual or a four-speed auto, and came with five-link rear suspension, stability control, traction control, speed-sensitive power steering and even damper control (EDC) as an option from 1990. By the standards of the day, this made it a virtual visitor from the future.

Advertisement - Page continues below

That V12 came in a more powerful flavour

In 1993, BMW realised that 300 horses in something weighing 1790kg wasn't going to cut it with the Wolf of Wall Street crowd. So they ramped up the capacity of that V12 from 5.0 litres to 5.6 litres, tweaked to produce 381bhp and 406lb ft. Meet the 850 CSI, which was only available with a manual gearbox. That new-found power was enough to cut the 0-62mph sprint down from 6.8 seconds to under six seconds. Much more like it.

It came with a V8, too

In 1994, BMW shuffled its 8 Series cards; with the range-topping 850 CSI coming on tap, the old 850 was dropped, its place filled with a new 850 CI with a 5.4-litre V12, 326bhp and a new five-speed auto.

But there was also a 4.0-litre V8 with 286bhp in the 'entry-level' 840 CI. V8s are also nice.

Advertisement - Page continues below

It was immortalised by David Hockney as a BMW Art Car

BMW's Art Cars are very cool, and in 1995 this 8 Series was given the full treatment. Hockney added stylised intake manifolds on the bonnet and silhouettes of the driver and steering column on the driver's door. And, cleverly moving the canine-art genre from the immortal Dogs Playing Poker fresco, the Brit artist painted a picture of his beloved dachshund Stanley onto the rear side panel as if it were a passenger. A dog! The madness!

BMW built a secret one-off prototype with 550bhp

A hugely powerful prototype with a very important job was finished in 1991: an 8 Series with a 550bhp V12, and bespoke chassis technology to cope with that extra power. This car, co-developed by BMW's M Division and BMW Technik was kept a secret for years, before BMW finally owned up and admitted that yes, it had tried to make an 'M8'. Just imagine.

However, it was never produced, and this M8 was instead used as a rolling test-bed for technology and innovation. One very cool application of this test-bed was the engine: that monster V12 would later be the basis of the monster V12 that powered the McLaren F1. That's cool.