Classic
Here's how Singer restores and beautifies the Porsche 911
TG takes a look inside the workings of the world's coolest car company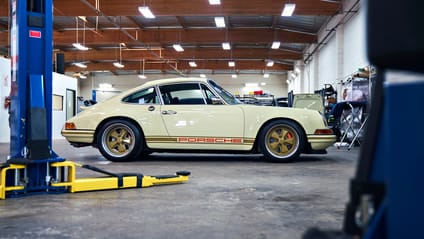 What you see here, right in front of your very eyes, are a bunch of pastel-shaded and metallic-hued unicorns. In one sense because anything that comes from this neat little unit on a dusty industrial estate in Sun Valley, California is rare and fabulous and verging on the mythical, but also because there is no such thing as a Singer Porsche.

This feature was originally published in issue 289 of Top Gear magazine

Advertisement - Page continues below

It simply does not exist. There is no such thing as a Singer 911, a 911 Singer, a Porsche Singer or indeed and in literal fact, an actual automobile called a Singer. Which can be a bit confusing when you can see what appears to be a dozen of them lined up in front of you like the world's most exciting – and indigestible – buffet. 

Except that what we can see here, without question or disambiguation, are several Porsche 911s of generally 964 (1989–1994) vintage, modified and generously upgraded by a company called Singer Vehicle Design. See, the thing is, Singer (or SVD for short) as a corporate entity is insistent that it doesn't actually make cars, only reinvigorates and resto-mods Porsches, giving rise to the the somewhat clunky "Restored, Reimagined, Reborn" tag line. 

Advertisement - Page continues below

Which only seems clunky until you make the connection between Singer's insistence on word-perfect terminology and the fact that Porsche protects its copyright in the same way a riled mother grizzly protects her cubs. Start threatening those hard-won offspring of product recognition or play fast and loose with brand association, and Porsche's lawyers will have your company's delicate financial situation grasped in a steely corporate fist, before you can say: "financially-crippling lawsuit". Or indeed, "Oh God, that's my throat." 

The fact that ropey Porsche 964s enter SVD's facility as lightly unloved and emerge butterfly-like as one of the most desirable cars on the planet doesn't really matter: mess with Stuttgart's autonomous brand guard dogs, and  you'll generally lose your business. 

But SVD is walking a line. And it's a good one. For one, it's almost impossible to believe that Porsche, as a corporate entity, wouldn't be overjoyed at a small company taking a pre-loved model and giving it a new lease of life as what has become one of the coolest cars on the planet. 

In my opinion, the possibility that a 964 reworked by SVD stops someone buying a 918 is likely ridiculous, but I'm not sure it doesn't help sell a few Boxsters, or at least create some headlines that bolsters the brand as a whole, albeit in a very niche way. 

Advertisement - Page continues below

Because it's wise to point out that these aren't just hot-rodded Porsche 964s. They are not so much upgraded as elevated. And the process remains the same as when I came here for the first time several years ago. Back then, no journalist had really driven the car before, and Singer supremo Rob Dickinson was generally doing that thing where people deliberately do things slowly and gently while giving off a kind of crackling static of nervous energy. 

The unconscious vibe equivalent of shouting, "I AM CALM." I had arrived at the old warehouse a block over – what is now called SVD1 – to find the only vehicle available for testing spatchcocked all over the floor. Literally in pieces. It was hastily sorted, and no less impressive for that.

Advertisement - Page continues below

This time, things are different. A subsidiary, new and larger facility called SVD2 just around the corner. There are now several Porsches undergoing restoration, of various vintages, and currently at different stages. Though it has to be said, this is about as far from mass-production as it's possible to get without modifying each car in a separate soundproofed room. 

At one end sit a couple of proper vehicle ramps, risers for actual cars undergoing final shakedown. Next to them, as you move into the warehouse, are cars submitting to the tender ministrations of final trim and polish. 

The huddle of skeletal media-blasted monocoques come next, riding atop their little wheeled dollies, and then, seemingly scattered like a dragon's hoard, are the jewels. Porsche 911s all in various stages of being reimagined to death by Singer. The colour palette in itself is extraordinary. The attention to detail obsessive, the finish exemplary. It's pure Porsche porn. 

Rob is much calmer, and yet with a much more significant business than before. And he walks me through exactly what it takes to create your own customised Porsche 964. Unsurprisingly, it's a little more complicated than the average fast-food combo meal choice. The process, should you have half a million dollars-plus, goes a little something like this. 

First, you need to source yourself a car. Singer will help find a decent 964 donor (either Targa or Coupe), but you have to buy it yourself and bring it to the shop. This is important, because the car keeps its VIN and mileage reading, meaning that it's the same car, rather than a new thing, even given the level of restorative newness. 

Rob also has a thing about keeping historically significant cars in proper circulation, so don't bother turning up in a limited-edition or concours car in the first place. After that, the real work begins – and even being a customer of Singer requires you to have quite an intellectual workout. 

 

First, the car is stripped and the monocoque is prepped and media-blasted, corrected and strengthened. Then a specialist composites company called Aria Group fits the carbon-fibre bumpers and wings (front and back), bonnet, roof and engine deck lid.

Next, you have to choose a roll cage – everything from a simple strengthening hoop to full FIA-spec roll cage – harness bars, strut braces and even whether you'd like your car seam-welded like a rally car. Then it's fuel tank choices – again FIA-approved cells are available – bumperette choices and various other structural and hard-wired accoutrements.

After that, it's the good bits. Choose between a 300bhp 3.8 as "standard" or a 3.8-litre Ed Pink Racing Engines motor with throttle bodies and 350bhp. Not enough? Then you'll need the similarly Pinked 4.0-litre with 390bhp, capable of shoving the car from 0–60mph in "under" 3.3 seconds and on to 100mph in 8.2. 

Each motor is matched to a ceramic-coated stainless exhaust in whatever level of loud you feel necessary, and matched to a rebuilt-with-special-bits Getrag G50 manual 'box that came with the 964/993. A six-speed is available (all come with an LSD), and there's a 993-derived four-wheel-drive system, should you require it. You are advised that you would probably require it with the 400bhp motor.

Keeping it all moving is a complete rewire, featuring military modules and remote access, the lighting is updated to Hella bi-xenons in lightweight polycarbonate housings and all the shiny bits 'n' bobs are nickel-plated to give a softer sheen to the brightwork. 

Underneath, KW coilovers provide the stance and suspension, there's a stiffer-kneed Öhlins version for track-day warriors, and everything else is uprated, from bushes to anti-roll bars. 

It stops via Brembo brakes – though the big-brake 993 Turbo option is popular – and you can have a carbon-ceramic variant if you think you'll be cooking steel rotors. Seventeen-inch Fuchs-alike wheels to tuck perfectly under beautifully gaped arches, tyre options…. The list is pretty long.

As is the colour chart: 75 colours are available, and the various choices need to match an interior that is no doubt one of the best in the entire autoverse. This is not just the difference between a low-backed "touring" seat or racy carbon bucket, but a forensic delve into the dark recesses of your own personal obsession. 

You can choose the colour of the seat grommets, for goodness' sake. Diamond quilts for panel leather, rear seats or the lack thereof, engine compartments colour-coded to match, a bewildering array of fabric and steering wheel options, gauges, media and radios. 

 

Just look at some of the completed cars if you want an idea of how different each of these Porsches can be. From the palish green of the "Brooklyn" car (all Porsche 964s restored by Singer are referred to by their intended residence), to the pastel blue of "Dubai", deep wine red of "North Carolina" or classic battleship grey of "Chicago" – there's pretty much anything you could ever want. 

You could do this cheaper. You can buy all the bits and make yourself a 450bhp 964 for a third of the price. But it wouldn't be like this. Because you'd struggle to make a car like this, with this amount of detail, for less. 

Even at the rather fantastical prices – which vary according to spec, obviously – Singer-modified 964s are utterly bespoke, devastatingly personalised and totally singular. 

The company is the modern equivalent of a grand Thirties coach-builder. Bringing old-school craftsmanship to new-school technology and blending the two with a hefty dose of style. Well, they would – if they actually existed.