Classic
The man who designed the Vauxhall Calibra has died
Pay tribute to Erhard Schnell, and his "favourite car", the Calibra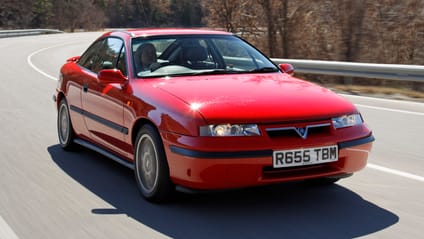 Ah, confused youngling, this is the Vauxhall Calibra. A car that launched in 1989 and ran through the 1990s, based on an unspectacular chassis but clothed in rather spectacular bodywork. It was a two-door, four-seat coupe, and in June 2019, this thing turned 30 years old. Thirty. 

It is with sad news therefore, that we report its designer - one Erhard Schnell - has sadly passed away at the age of 92.

Advertisement - Page continues below

Wait, Vauxhall built this?

Yes. Designed by Wayne Cherry and Herr Fast. At the time of its launch, it was the [pushes glasses up nose, engages adenoids] most aerodynamically efficient mass-production car in the world. It had a drag coefficient of just 0.26. At least the 2.0-litre, 8v versions did. Which you really didn't want.

Now, unless drag coefficients are your bag, just know that it was slippery. The other engines that you'd actually want – the 16v for example – had slightly less effective aero efficiency (0.29 Cd). Yeah, we're all about the Cd fun on this site.

Indeed, Schnell - who also penned the gorgeous Opel GT from the 1960s - would later note the Calibra as being his "favourite car", and that he had "complete freedom with the styling".

Depends what you consider fast. The fastest of the lot was the much-heralded Calibra Turbo 4x4, which was a turbo. With four-wheel-drive. It put out just over 200bhp and would do 0-60mph in the sixes. But the transfer box – the thing that shuffles all the power around – was prone to… not shuffling all the power around. Something to do with uneven tyre wear causing problems. Or the thing being made out of jelly. We forget which.

Advertisement - Page continues below

Looks like it should be a rear-drive coupe.

Indeed, but you are wrong. It was based on a Mk3 Vauxhall Cavalier. You do not want a Mk3 Vauxhall Cavalier. So apart from that Turbo, all were front-wheel drive, with either the 'red-top', 150bhp 2.0-litre 16v (thumbs up), or the 165bhp 2.5-litre V6 (also a thumbs up). Decent engines, very poor chassis.

The interior wasn't anything special either. Lots of uninspiring plastic. Though it was rather spacious and could fit four people in relative comfort.

We suspect your interest is waning.

Okay. Here it is in Big Daddy motorsport spec. Vauxhall raced the Calibra in the DTM. That alone is a cool thing. And it's one of the better looking DTM efforts, which is saying something because nearly all DTM efforts are good looking.

Later, it would win the 1996 International Touring Car championship. That's the car in the ITC in 1996, above. Oof.

OK that's definitely better. Schnell really did design a good-looking car.

Indeed. Fun fact about Herr Schnell: he drew "mischevious cartoons", too.