Concept
Here are the strangest concept cars you might not know about
13 of the worst examples from the back of the drawer marked 'what were they thinking?'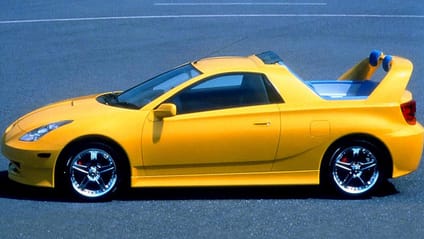 Is this the ugliest thing to have emerged from a pile of pressed steel? It's hard to say, but probably. The Buick Signia was unveiled at the Detroit show back in 1998, an era when drinking in the workplace was more socially acceptable. The strange concept married its challenging exterior looks with a classically ugly art deco interior, an intentionally tall ride height supposedly made the car a more practical proposition. The smart walnut-decked rear floor even slid out to make humping your luggage inside the car that little bit easier. Anything to reduce the amount of time you have to stand outside where other people could see you, we think.

Advertisement - Page continues below

Plymouth Voyager III (1990)

We do love it when a carmaker tries to challenge the status quo of car design, coming up with a different way of doing something that we all took for granted. Sometimes they might go a little too far, like this Plymouth concept that literally mashed up the supermini and MPV to create this Megazord hybrid car that could change from an eight seater family wagon into a two-door three seater in seconds. Both sections had their own engines, and the idea was that you could hitch the front bit up to anything – motorhome, pickup bed or van. An elaborate answer to a question that nobody asked. 

This tiny BMW was well ahead of its time, with a 19kWh sodium sulphate battery that made for an impressive 155-mile range and could be rapid charged in two hours. Revealed at the Frankfurt motor show in 1991, it was a toe in the water to see whether electric cars had a future. Don't know what they decided on that one, it's all gone a bit quiet. True story – the original concept car was destroyed in a fire that started while it was charging (it even took out part of the building it was charging next to), so BMW did another concept in 1993 and kept a fire extinguisher handy this time.

Advertisement - Page continues below

Most concept cars look forward, not back, but the Chrysler Atlantic was an epic rendering of a Thirties coupe (it was said to be inspired by the Bugatti Atlantique, hence the name) with a bonnet so long that they managed to fit a straight-eight engine underneath that was two 2.0-litre 4cyl units stuck together. People (Americans) raved over the looks of the Chrysler, but the squinting front end was done much better by the Morgan Aero 8 in 2000 and the rest of the coupe looks like a strange kit car based on a second-generation Nissan Micra. Still, the Atlantic was said to be a popular attraction at the Chrysler museum in Michigan, which sadly closed in 2016.

Citroen Berlingo Berline Bulle (1996)

Some carmakers are absolutely haunted by their icons – imagine what it must be like at Jaguar to have every single new car compared in some way to the Sixties E-Type. At Citroen there's a number of options to choose from, whether it's the droolsome DS or the perky 2CV. Not that a concept car like this chopped up Berlingo helps any – the sloping roof was designed to emulate Citroen's bargain bin bestseller and tweak on the emotional heartstrings. The Berline Bulle was unveiled at the 1996 Paris motor show, but sadly never went into production. 

The Honda Fuja-jo was revealed at the Tokyo motor show in 1999, and the name means 'sleepless city', presumably referring to how terrified everyone would be knowing that these things were roaming the streets outside. Actually, the idea behind the car was to appeal to youngsters who would be up all night clubbing and grooving away at the discotheque (it's what the kids did back then), the interior supposed to resemble a nightclub. There was only room for four, but the dashboard was meant to resemble DJ decks, it cost £8 to get in and the drinks were terrible. 

Toyota Celica Cruising (1999)

Toyota modified its attractive Celica coupe into a 1920s-style hotrod pickup truck thing in a bold move that surely inspired the seminal 2004 MTV show Pimp My Ride into existence. The bellow yellow creation had a rear deck designed for "cruising", with a lounging area and headrests fixed to the rear wing so you could show off your presumably multiple partners as you went. The concept car also came with a matching trailer for your jet ski, because why not? Strangely the car never made production. 

Advertisement - Page continues below

Mercedes 190E Stadtwagen (1981)

This is the car that eventually inspired the A-Class, don't you know. Stadtwagen literally translates to 'city car', and Mercedes chopped up one of its 190E prototype test cars (it was probably getting thrown away anyway) to see about making a nice little car for people to drive around town – there was a tiny little space to fit in an entry level model below the 190E, or so they thought. Honestly, we think we'd rather walk. This car didn't get anywhere, but it did inspire a bloke called Eberhard Schulz who had his own tuning company to make his own hatchback version of the 190E that was VW Golf-sized and actually quite cool. 

A five-seater Volkswagen has long meant a Golf, but the Futura concept revealed at the Frankfurt motor show in 1989 hinted that there could be another way. Of course, it's taken 30-odd years for the future to become the future, but there's more than a whiff of Futura about the ID.3 electric car, isn't there? The concept was meant to be a vision of cars in the year 2000 – whoops – and while we're still a way off enjoying gullwing doors and four-wheel steering in the mainstream family car, this was a decent stab in the dark.

Advertisement - Page continues below

The C88 was a prototype built for the Chinese market by budget carmaker Porsche in 1994. Er, what? That's right, it's a Porsche, Jim, but not as we know it. It was knocked together by the firm in four months and went on show at the 1994 Beijing motor show after the Chinese government asked for companies to suggest cars they might like to build in the region. What first attracted you to an untapped billion-strong market, etc, etc. The C88 now sits in the Porsche museum in Stuttgart, probably next to the door to the toilets where it belongs.

Renault Zoom concept (1992)

Have you ever been to Paris? No need for parking sensors, you just use the bumpers of the cars in front and behind to shoehorn your way into a space that's clearly too tight for the knackered old hatch you're driving. The 1992 Renault Zoom electric concept would have helped all that – it was introduced at the Paris motor show and featured an incredible shrinking wheelbase. In its extended state it would have made for a delightful urban supermini, with a 93-mile range that would have taken you many times to le supermarché and back home again. Tuck in the back wheels and you could park the Zoom face in to the pavement. Fortunately Renault had thought of other Parisian drivers and the car had self-healing paint for when other people boshed into your poor parked car. 

France is noted for its strange quadricycles that can be driven by 16-year-olds thanks to their tiny engines and diminutive size. All entirely theoretical, because the cars that are produced to fit the bill are so deeply uncool that any self-respecting teenager who was spotted in one would be banished to the outer reaches of polite society to the end of their days. It's basically what happened to that Quasimodo fellow at Notre Dame, he was seen popping to the shops in an Aixam. Still, Peugeot was going to sort all that out with this electric mobility scooter for kids. The three-seat layout and motorcycle handlebar for steering about town would have been like catnip to French tearaways. To seal the deal, Peugeot fitted the e-Doll with a detachable shopping trolley at the back of the car (for what, Peugeot?) that for the purposes of demonstration was filled with plastic ball pool balls. Zut alors.

We were on holiday back in the early 2000s and dad came back into the caravan one morning with his moustache and most of his hair shaved off. You could arguably ask what took him so long, but he'd not long turned 40 and the sensible shoes were off. Here's Volvo, the go-to option for anyone transporting children or wardrobes, and it's gone a little crazy on three glasses of Chardonnay. Back in 2005 the Swedish firm unveiled this 3.0-litre turbocharged straight six-powered beauty and the world breathed a sigh of relief that even the most sensible buttoned up company could let loose a little. Meanwhile, dad bought a motorbike.