First Cars
From the archives: a 1.0-litre Fiesta vs Clio battle
Remember when Renault and Ford proved you didn't need a giant engine to have fun?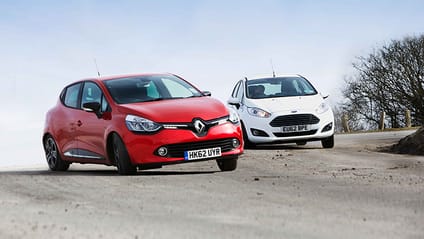 Merc SLS Black? Pedestrian. Bentley GT Speed? A trundler. If you want to feel true, face-bending pace, join us on a chilly, bumpy B-road in this pair of reasonably priced superminis, a pair with six cylinders and not two litres of engine between them, a pair that barely top 100mph. This, right here, is real speed.

You know this is true. Like a Cornish wedding, speed is relative. Mathematical speed, distance over time, isn't the same as going fast. Bloody-hell-that-felt-quick can't be measured in miles per hour. Which feels faster: cruising at 550mph on a Boeing 747 while watching Adam Sandler's latest atrocity, or hurtling down an icy hill at 30mph on a rusty bike?

Images: Dom Romney

This feature first appeared in the May 2013 issue of Top Gear magazine

Advertisement - Page continues below

Ergo. Unleashing a million-horsepower supercar on an airstrip or great empty autobahn may generate some fine appendage-waving numbers, but (whisper it) right up until the point you unexpectedly depart your airstrip or great empty autobahn facing the wrong way in a ball of flames, it doesn't really feel especially fast. Too wide, too open, no reference points, nothing to give a sense of speed. A jumbo-jet take-off, no more.

But a grubby, potholed back road, close-lined by trees and hedgerows and badgers, now that feels fast. And here's the painful truth: on that sort of road, supercars don't work. Firstly, because supercars are too expensive and too big: unless you are possessed of Stig-spec disregard for repair bills, you drive in eternal terror that round the next corner lurks a tractor on the wrong side of the road, that you'll clang that boulder secreted among the foliage and sustain a five-figure repair bill.

And secondly because supercars are too fast, too capable for real roads. Honestly, show me the driver who can use a Ferrari 458's 562bhp for more than a few seconds at a time on a real-world country lane, with its real-world holes and real-world stone walls and real-world cars coming the other way (not to mention real-world traffic cops with real-world custodial sentences), and I'll show you a pro racing driver or a liar. For us honest mortals, trying to exploit a supercar on British lanes is like petting a ravenous grizzly: the occasional hesitant prod followed by long periods of trying not to draw attention to yourself.

But dragging a car of modest horsepower to its very limits, carrying speed through corners in the knowledge that you can squeeze past the inevitable Audi Q7 hiding behind, that's fast. That's the stuff that smears a smile across your face, the stuff that plugs you into the very essence of driving. Man and machine in slow, tinny harmony: call it the Budget Rental Theory. You don't even need a litre of displacement to have a good time.

Advertisement - Page continues below

Which is why, by way of the longest pre-match justification in Top Gear history, I'm barrelling down a chilly B-road in wildest Hertfordshire - where muntjac, sheep and the permatanned wives of city bankers roam - in an 898cc, three-cylinder Clio, being hotly pursued by a Fiesta with precisely 101 extra cubic centilitres but similarly few cylinders. Not as an apologetic sop to global warming or affordable insurance groups (as some scientists will probably tell you, there's no solid evidence for the existence of either), but as proof that true fastness doesn't come from dozens of cylinders and hundreds of horsepowers.

Fastness is eking every last horsepower from a car, from nailing each gearshift to the millisecond to maintain every valuable yard of pace. And, by that definition, the new Clio is fast. When we say 'new' Clio, we really mean it: this is a clean-sheet design. With Renault struggling in Europe (hell, everyone's struggling in Europe, but Renault's feeling it worse than most), there's a lot riding on the MkIV Clio. Which could explain why Renault's thrown the full car-design coursebook at it. Usually when a manufacturer claims a production car was inspired by one of its previous concepts, it means 'well, they've both got four wheels', but the Clio does draw on the extravagance of 2010's extravagant DeZir concept, with bulging flanks and bulging eyes and even a bulging badge up front. Maybe it's not the most elegant supermini ever created - albeit better resolved and less nosey in the metal than in photos - but it's interesting and different, for which we must all applaud Renault.

At least, we would if we were here to look at, er, looks. But we're not. We're here to drive like wild dervishes on twisty little roads, and on that score the Clio does a fine job. Its steering is quick and direct, and its little three-pot fizzes its way happily through the rev range. Britain's roads haven't weathered this grim winter well, but the Clio feels its way over cracks and patches with aplomb: supple enough to carry pace, stiff enough to prevent wheezy, weighty roll. It feels light. It is light: even with pudgy driver and a full tank of fuel, the Clio barely tops a tonne.

Light and fizzy it may be, but it can't shake the Fiesta. What a fine little car the Ford is, as class-leading today as when it was introduced in 2008. For 2013, it's been treated to a mild overhaul, gaining a new front grille definitely not appropriated from a spare-parts bin in the Gaydon area, and the lovely three-cylinder EcoBoost engine we have admired in the Focus.

Drive this humblest of Fiestas for even a few minutes, and you know it's been engineered by people who like driving, and like driving on British roads in particular. The steering wheel is tactile and chunky, with no slack in its connection to the wheels, while the brake and accelerator are perfectly positioned for a cheeky spot of heel 'n' toeing. In the Clio, which has an otherwise faultless driving position, the accelerator is set down a couple of inches, requiring dexterous monkey-feet to balance brake and throttle simultaneously.

What do you mean, no one drives city cars like that? This is a white-knuckle, tread-shuffling speed test, and we are not ashamed to discuss heel 'n' toeing. Nor handling. On identical tyres, there's more front-end grip in the Fiesta than the Clio, which noses wide if you bung it in a tight corner where the Ford clings on. Again, this is comparative stuff: against, say, the VW Up, the Clio does a fine job of quelling the traditional FWD tendency to understeer. (Of course, for the purposes of this odd, skewed little test, more grip isn't necessarily better. Anyone who's mercilessly ragged an under-tyred hire car along a Mediterranean mountain road will know there's much entertainment to be found in managing rampant understeer, in calculating exactly how much pace you can carry through a corner without sliding off the far side and into the briny deep. I have fond memories of a shagged Daewoo Matiz with 180,000km on the clock, bald Chinese remoulds all round, a Croatian coast road and a very close shave with a pack of wild pigs, but that's a story for another time.)

And that we can criticise the Clio for such minor dynamic imperfections show just how far Renault - and, indeed, most other mass-market carmakers - has progressed. A decade or two ago, it'd have been impossible to discuss the handling nuances of cheap city cars with a straight face. If they made it to the end of a potholed B-road without having acquired a fresh beard of hedgerow, you'd have been delighted. It's only the sheer excellence of the Fiesta that highlights the Clio's slight shortcomings.

And besides, what the Clio gives away in grip, it makes up for with a ninja handbrake, which locks the rear wheels as effectively as a metal bar wedged in the alloy spokes. It would be highly irresponsible for Top Gear to suggest this makes it an excellent vehicle for executing daft behaviour, so treat this instead as a sober warning to be careful when applying the Clio's handbrake during, say, a precise parallel parking manoeuvre.

Advertisement - Page continues below

Also, though we know you'd never contemplate ragging either of these sensible little engines to their very limits, we must reluctantly warn you that if you accidentally happened to drag them up past 5,500rpm, you might very much enjoy it. Both these little triples are truly brilliant. If you have nightmarish memories of the dreadful, peaky three-pots of a decade ago (we're looking at you, Vauxhall Corsa), you're not alone: it has taken Top Gear many years to overcome its prejudices. But, bar a pleasingly off-beat bombilation as you climb through the revs, you'd never know either was missing a cylinder (or nine), or that they each displaced less than a carton of orange juice. Both are healthy and hearty, but the Ford feels a touch stronger, with a healthier midrange.

Don't laugh. OK, in any other test in Top Gear world, 10bhp wouldn't register within the bounds of mechanical tolerance, but the Fiesta's 99bhp output represents a massive 10 per cent advantage. It's enough to keep the Ford pulling happily up hills where you have to change down in the Clio, but it's more than just brute power. Though both goad you to wring out every horsepower, to thrash them until they're facebutting the limiters, it's the Fiesta that revs a touch quicker and a touch higher.

It's those little things that make the Ford feel tauter, more muscular - hell, faster - than the Renault. In the real world, there are probably more important things. In every proper, grown-up regard, the Clio - with its hectares of legroom front and back, its fresh, airy interior - is a huge step forward for Renault, a leap right at the very top of the city car class. But for making you feel like Stig's more talented younger brother at even modest speeds, it can't top the sinewy little Fiesta.

This is a myopic test, we know. For the vast majority of Fiesta buyers, sharp steering and lively brakes will be at best irrelevant, and at worst actively off-putting: your nan, we suspect, would prefer a bit of slack in her brake pedal, to save locking up and being rear-ended by a milkfloat. The Clio does everything you need from a city car, and Renault will quite rightly argue that there's a RenaultSport version for those after envelope-pushing driving thrillz.

Advertisement - Page continues below

But you know what? The Clio RS, or the Fiesta ST, or, say, a 911 or an Aventador or a Veyron or anything with triple-figure horsepower - they're great and all, but not one of them is faster than either of these buzzy little litre-cars on your favourite rural road as you chase every last grain of grip and sliver of horsepower. Speed isn't a number, man. It's a state of mind.