Formula One
10 reasons why Top Gear loves Kimi Raikkonen
It's the last race of Kimi's career this weekend, and this is why he'll be truly, truly missed from F1
He'd only competed in 23 car races before making his F1 debut
He might have been karting since the age of ten, but remarkably Kimi had only raced cars on 23 occasions (three in Formula Ford and 20 in Formula Renault) before he joined the grid for the 2001 Australian Grand Prix. Bearing in mind that in 2000 a Formula Renault car was powered by a 185 bhp engine from a Renault Clio, the step up to a 800bhp+ Sauber F1 car was a big one. However, Kimi took to F1 incredibly quickly, being on the pace of Sauber's regular drivers on just his second day in testing. There were many who voiced concerns about granting an F1 Super Licence to a driver with so little experience, but Sauber signed him for the 2001 season regardless.
He really is the 'Iceman'
It was Ron Dennis that gave Kimi the nickname of 'Iceman' when he was driving for McLaren but his laid-back approach and ability to remain unfazed by anything F1 could throw at him were never more evident than on the day of his F1 debut in Australia 2001. You might have expected a 21-year-old with so little experience to be anxiously pacing up and down the garage 30 minutes before the start of his first race. Not Kimi though – he was fast asleep in the Sauber motorhome. Having qualified just three tenths of a second slower than his much more experienced team-mate 'Quick Nick' Heidfeld, he scored a point with a sixth-place finish in his very first F1 race.
Advertisement - Page continues below
Except when he's not the Iceman
Speaking recently on the 'F1: Beyond the Grid' podcast, Fernando Alonso had this to say about Kimi: "He's a very good character in Formula 1 and we will miss him… he's very honest, he's not playing any games, he's what you see. A part of this may be a mask that we see from him, of being very cold and not talking too much. There is a different person I think inside… not the Iceman. I think he's quite warm inside, even if you need to meet him outside of racing, it's when you see the real Kimi".
He tells it like it is and always makes us smile
Kimi might not be known as F1's chattiest driver, but when he does speak, he comes out with some real corkers. In an era when most drivers are terrified of upsetting their bosses and sponsors, Kimi doesn't seem to care. Here are a few of his most famous quotes:
- On the grid prior to the 2006 Brazilian GP, Kimi was approached by Martin Brundle on live TV. "You missed the presentation by Pele, will you get over it?" asked Brundle. "Yeah. I was having a sh*t," replied Kimi.
- Whilst leading the Abu Dhabi Grand Prix in 2012 Kimi was clearly becoming irritated by the instructions coming over the radio from his Race Engineer. "Just leave me alone, I know what I'm doing," he said. Then later in the race when told to look after his tyres, he replied, "yes, yes, yes, I'm doing that all the time – you don't have to remind me every 10 seconds…" Apparently, he did know what he was doing because he went on to win the race.
Advertisement - Page continues below
- When asked how he found the new McLaren in testing in January 2004, Kimi didn't mince his words. "It's complete sh*t," he replied in Finnish.
- Interviewer: What is the most exciting part of the race?
- Kimi: I think it's the start, always
- Interviewer: And the most boring?
- Kimi: Now
He's monumentally smart when it comes to money
His manager will probably want to take some credit here, but despite winning just the one championship, Kimi has become phenomenally wealthy. His net worth has been estimated at between $200-250m. Only Alonso, Hamilton and Schumacher have earned more from the sport and in 2009 he was said to be the second highest paid sportsperson in the world after Tiger Woods.
One of his most impressive deals was the one with Ferrari for the 2010 season. The team had both Massa and Raikkonen under contract but desperately wanted Fernando Alonso in the car. The solution was to offer Kimi a reputed £20m not to drive that year.
Top Gear
Newsletter
Thank you for subscribing to our newsletter. Look out for your regular round-up of news, reviews and offers in your inbox.
Get all the latest news, reviews and exclusives, direct to your inbox.
Then there was the time that he nearly bankrupted the Lotus team. When Kimi signed his two-year deal with Lotus he was to receive both a salary and a points bonus. The team clearly weren't confident that they would do particularly well because they apparently agreed to pay €50,000 per point scored. Kimi went on to finish on the podium 13 times and win twice, scoring 390 points over the two years. That would have meant a bonus of €19.5m!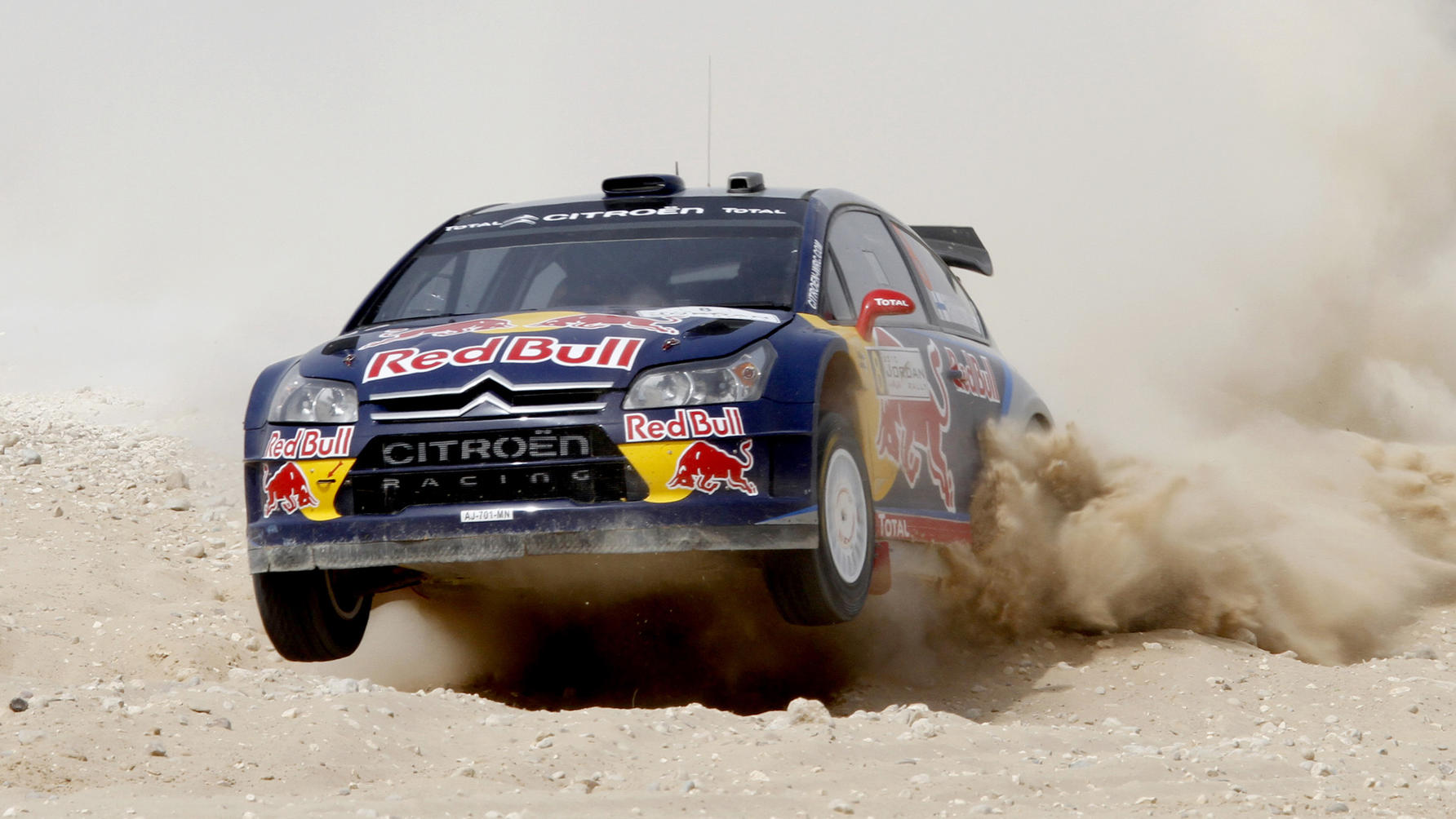 He'll drive anything
F1 drivers tend to come up through the single seater ranks, and then after a Grand Prix career, simply either retire from the sport altogether or dabble in sports cars for a while. However, when Kimi was on his two-year sabbatical from F1 he raced anything he could get his hands on including in snowmobiles, NASCAR and the World Rally Championship. It's not as if he needed the money…
He loves a party
Modern F1 drivers are athletes backed by huge corporate sponsors, so partying doesn't really go with the territory. We're not sure that Kimi got that memo though. In 2013 Kimi is said to have gone on a 16-day bender between the Bahrain and Spanish Grands Prix. "That whole summer was more or less racing and partying," he said. "It's nothing new, for me it's normal. Outside it might look a bit weird, but for me, in the past, it was a very normal story." Kimi finished on the podium in both of those races.
Or how about this story from 2004 when Kimi was racing for McLaren? @TheBishF1 posted this story on Twitter on 30 November: "On this day in 2004, Kimi apologised after being seen riding an inflatable dolphin outside a Gran Canaria night club. 'I'm sorry' he said. 'I had a few drinks, I was dancing. Why was I riding an inflatable dolphin? Because why not?" Ron Dennis was his boss at the time. We suspect he was not amused.
Asked if he felt that partying had ever had a negative impact on his career, he replied: "Absolutely not."
He's a huge fan of James Hunt
James Hunt had a famous disregard for convention and loved a party so perhaps it is no surprise that Kimi is a fan. He has used 'James Hunt' as an alias when entering snow mobile races and for the 2012 Monaco Grand Prix he raced with a helmet sporting a paint job that was a replica of Hunt's own helmet design from the 1970s, including the 1976 World Champion's name in large letters.
He was a great sport on Top Gear
Series 18, episode 7 in March 2012 saw Kimi join Jeremy Clarkson as the 'star in a reasonably priced car'. He wasn't particularly quick in the Suzuki Liana but to be fair, it was 'extremely wet' that day. Regardless, for a man who has talked about hating giving interviews, he entered into the spirit of things and gave us a lot of laughs.
He's a proper F1 driver
But the main reason why we love Kimi, is that he's a proper F1 driver. As the 2007 World Champion, his name will forever feature on a list that includes the likes of Fangio, Clark, Stewart, Senna, Schumacher and Hamilton. Kimi deserves his place amongst the greats - he's fast, committed and supremely talented, but most of all, he clearly loves F1. With the exception of Schumacher and Alonso, no other driver has still been competing at this level fourteen years after winning their first championship.