Formula One
Here are the 10 best ever Formula 1 drivers
Top Gear's definitive list of F1's greatest ever racers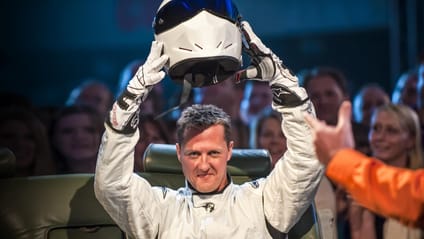 He's still winning races and breaking records, so it may seem a little premature to be venerating Lewis. On the other hand… he's still winning races and breaking records.

"I think he's more complete than Michael," Mark Webber once observed. "I think he went about those results in a technically cleaner executed way, just by the way of wheel-to-wheel combat and no real trickery in his contact with the other drivers." There are too many great drives to choose from, but the prodigious talent that produced such spectacular performances in the early part of his F1 career is now tempered by huge experience. Which means that he may not yet have even reached his peak…

"I don't feel old at all. I feel as young as ever, I feel fit, fitter than ever," Lewis told TG a while back. "Everything just works better now, with the experience I have… I don't even think it's harder to stay physically in shape, although I'm sure that will inevitably tail off at some point." At some point. But not just yet, and not so soon that he may well end up being the greatest, bar none.

Advertisement - Page continues below

He won five world championships in the 1950s, not an era renowned for safety. He did it for four different teams – Alfa Romeo, Ferrari, Mercedes-Benz and Maserati – driving some of the most genuinely iconic racing cars in the history of the sport, and finished second twice. And while those were different times and far fewer races were run, Fangio's hit rate is still extraordinary: 29 pole positions, 48 front row starts, 24 victories, from 51 championship Grands Prix starts. He was 46 when he won his last title, in 1957, a testament to his immense physical strength.

By all accounts a humble and warm-hearted gentleman, Fangio nevertheless made sure he was always in the right car at the right time. This upset Enzo Ferrari, who prized total fealty to his team above all, but established a motor racing truism that still holds today. Then again, perhaps Fangio was the one driver who was actually bigger than Ferrari.

Not all of the world's great sporting stars are as extrovert as they might appear – or as we might want them to be. Jim Clark was one of the most unassuming men ever to sit in an F1 cockpit, but also arguably the most singularly gifted driver of all time. The son of a Borders sheep farmer whose route to F1 was facilitated by Lotus and its founder Colin Chapman, he won two world championships, in 1963 and 1965, but was equally dazzling in sports cars, touring cars, and also managed to win the 1965 Indianapolis 500, driving the first mid-engined car to do so, and leading 190 of the 200 laps.

Clark set 33 pole positions and won 25 of the 72 GP starts he made, and can claim numerous records to this day – in 1963, for example, he led 71 per cent of all laps raced that season. As well as his versatility, Clark was revered for his incredible silkiness behind the wheel, and his extraordinary mechanical sympathy. "Jim Clark was everything I aspired to be, as a racing driver and as a man," his great friend Sir Jackie Stewart said. "We weren't jet set, like people thought. Jim was a farmer from the Borders and I was a glorified mechanic from Dumbuck. We weren't fancy folk. It was a serious life, we were doing an intense amount of racing. Being on the podium with Jimmy and sharing an apartment with him… people called us Batman and Robin. There was never any doubt which one was which."

Advertisement - Page continues below

Had he lived, Senna would have celebrated his 60th birthday. There's not much to say about the Brazilian superstar that hasn't been said many times, other than to note that he was the driver who was prepared to go further in pursuit of victory than anyone before him, who elevated the art of driving a Formula One car to a level that was almost spiritual, and who did so not just with a sublime skill but also weapons-grade charisma. A racing driver, then, but so, so much more. And one whose legend has only grown since his passing during the San Marino GP in 1994.

He still polarises opinion, and there's no question that he over-stepped the mark more often than was necessary. To put it mildly. But Michael Schumacher remains an all-time great and not just because he won seven world championships, 91 races and smashed every record there was to smash. Or that he possessed the Senna-like ability to drive his car right on the limit, while being physically fit and intelligent enough to keep a good chunk of his mental firepower in reserve to manage tricky pit-wall calls.

He was also a fascinating and complex character, more complex than you might think. And more human, too. "The make-up of a champion is one of such inner self-belief that occasionally it shows up as flaws," Martin Brundle recently told Top Gear. "The majority of the sporting greats I've met drive themselves forwards because they are always dissatisfied. But look at what Michael achieved, the speed at which he achieved it, and what he accomplished at two different teams. It's so hard to get to F1, to stay in it, to score podiums, and win races. And that guy won 91 of them, some of them in a class of one."

All great sporting achievements can be distilled into straightforward statistics, and Jackie Stewart's are no different. In Formula One, he won the drivers' championship three times, and was twice runner-up. But his hit rate is what's most impressive: he won 27 of the 99 grands prix he contested. That in itself would secure his place in this list, but Stewart is another winner who used his success as a launch-pad for so much more. In his case, in tackling motor racing's woeful safety standards, which didn't endear him to some fans and even fellow drivers at the time. But then you talk to him about what he saw, and what he lived through, as I've been privileged to do a number of times.

"Death was something we all learned to live with. We learned things you couldn't possibly have known before, like where the best international undertaker was in any country we raced in. A lot of airlines wouldn't carry coffins on commercial flights. You ask me what it did to me as a man? It did… nothing. [Pause] Other than to give me the necessary chemistry to dilute the grief and continue to race, I suppose. To be the total person at that time was a very big challenge." Small in stature he may be, but JYS is a veritable giant of a man. And a magnificent racer.

Another driver for whom merely listing the stats is only scratching the surface, but still: winning 212 of the 529 races he entered is a seriously good hit rate. Moss was another one of those post-war heroes who could drive the wheels off anything, anywhere, and who actively loved staring danger in the face and telling it to sod off.

Famously the best driver never to win the F1 world championship, he could have done so in 1958 when his rival, Mike Hawthorn, was accused of reversing back onto the circuit during the Portuguese GP. Moss actually defended him, and ended up losing that year's title by a single point. Still, if you had that 1955 Mille Miglia win – arguably the greatest competitive drive of all time, 1000 miles in 10 hours 7 mins and 48 seconds – on your CV, maybe it just didn't matter so much. Besides, Moss remains the quintessential English gentleman, a storyteller, adventurer and driver without compare, as anyone lucky enough to have spent time with him will attest.

Advertisement - Page continues below

Prost is the thinking racing fan's greatest ever driver. Being professorial clearly isn't as sexy as Senna-style, hot-blooded Latin devilry, but he made it work for him. And then some. Prost won 51 GPs and four world championships – it could easily have been seven – and like Fangio, he was a genius at conserving his car in favour of a late-race assault. In other words, if you prefer your racing drivers to do everything with an 18,000rpm sense of abandon, Prost probably wasn't for you.

Nor was he particularly adept at managing F1's notorious politics; daring to publicly criticise Ferrari in 1991, he was fired when he said of that season's beautiful but slow 643 that "a truck would be easier to drive than this car". More ruthless and cunning than you might think, you still sense that he would have been happier without all the drama. "The secret of applying energy is to economise on effort – to win going as slowly as possible," the late, great Clive James, a huge F1 fan, once wrote. He loved Prost.

We know the story, but its impact never diminishes in the telling. Having crashed during the 1976 German GP, Lauda suffered terrible third degree burns to his head and face, and damaged his lungs so severely that a priest read him the last rites by his hospital bed. But he wasn't ready to check out just yet. So began one of the greatest comebacks in all of sport. Not only did Lauda defy the odds to survive, he was back in the cockpit of his Ferrari just six weeks later for the Italian Grand Prix. He finished a remarkable fourth place, although his wounds were still so raw that he had to peel his blood-soaked balaclava off in one agonising movement. "I always knew about the risks I was taking. Every year, someone was killed," he told me in 2012. "Do you enjoy driving these cars so much that you're prepared to take that risk? It's not the same today. When I finally had my accident, I was not surprised. So I never moaned or bitched with myself. Why does my head hurt? Then there was a simple question: is the pleasure of driving still strong, or do I want to retire? As I got going again, the fitness came back, I went running while listening to some good music, and I thought: do I retire for good, or do I fight fear, fight the accident and go for it?"

Lauda won three world titles, two at Ferrari, one at McLaren, and 25 GPs. A star driver, then, but also a genuine hero.

Advertisement - Page continues below

A double world champion and winner of 32 GPs, who could have won, oh, maybe five titles, if only the dice had fallen more favourably – and Alonso had chosen for whom he raced and when a little more astutely. He became arguably only the third driver – after Niki Lauda and Michael Schumacher – to exert sufficient force of personality over Scuderia Ferrari to build the team convincingly around himself when he joined them in 2010. "In that sense, I respect him even more than Schumacher," Lauda himself once told me. "He's very clever. Ferrari needs a lead driver they can look up to, someone they respect. The Italians need that kind of figure. If there is a w*nker driver in there the whole thing collapses."