Gaming
The five best driving games on Nintendo Switch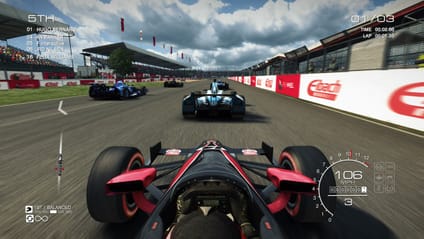 The undisputed best way to play videogames on the toilet, the Nintendo Switch has a healthy selection of racing games. What's more, contrary to expectations, they don't all star cheery Italian 'plumbers' who, frankly, we've never even seen so much as bleed a radiator. As a portable console, the Switch often features remakes and rereleases of classic racers, but that doesn't mean they aren't worth your attention. Here are five of the best racing games on Nintendo Switch.

Advertisement - Page continues below

If you feel like the problem with modern racing games is that there are too few tyrannosaurs, then Cruis'n Blast is absolutely the game for you. An arcade racer in the very literal sense of the word – it debuted in videogame arcades back in 2017 – this Nintendo Switch conversion is just as colourful, over the top and noisy as you'd expect from a game that's used to actively competing for your pound coins. If they held an F1 race in the middle of a warehouse rave on the island from Jurassic Park, this is roughly what it would look like.

The king of the karting genre, Mario Kart 8 Deluxe is the ultimate, friendship-jeopardising multiplayer game. After nearly 30 years, the in-game back and forth is as finely balanced as an Olympic gymnast and the track design is absolutely spectacular as you swoop and loop through the cartoonish world of videogaming's least likely icon. Plus the inclusion of online play means that you'll still be able to find competition even when all your mates refuse to play with you after yet another blue shell incident...

Advertisement - Page continues below

Need for Speed Hot Pursuit Remastered

Hot Pursuit might be over a decade old now, but the fact remains it's one of the high points of the entire Need for Speed series. In its remastered guise, this cops and robbers epic finds a comfy home on Nintendo's portable console where you can conduct the sort of car chases that Vin Diesel and his mates could only dream of. In an inspired move, Hot Pursuit allows you not only to play as a dastardly street racer but also a police officer whose idea of a proportionate and measured response is to rear end the suspect in a Pagani Zonda.

Normally the goal of playing videogames is to plant yourself on the sofa and then not move for several hours, unless it's to reach for the bag of tortilla chips. That's not an option with Mario Kart Home Circuit, which has you arranging cardboard gates in a circuit around your living room and driving a bluetooth controlled kart with a camera bolted to the top using your Switch. It's remarkably effective, populating your once familiar home with augmented reality opponents, the only problem is you'll need quite a lot of space. Time for grandma's favourite chair to go...

Another reheated classic, Grid Autosport didn't perhaps receive the love it deserved when it was first released in 2014, but it's a slam dunk as one of the few 'serious' racers on Switch. Brimming with cars and tracks and with disciplines that range from knockabout touring car sprints to tyre-abusing enduros there's plenty to keep you busy. It feels strange to play a game with sim ambitions on a console that normally serves up its racers with a side order of banana skins, but Grid Autosport is the perfect palate cleanser.