Gaming
The five best driving games on PlayStation 5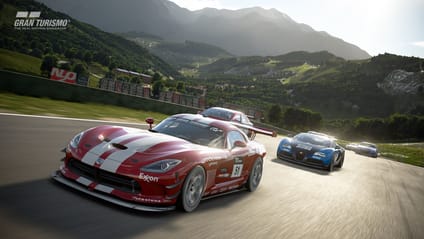 For us, the latest PlayStation's main job is to play host to Gran Turismo 7, but there's actually plenty to play on Sony's console outside of that. What's more, several of those games take advantage of the PS5's DualSense controller, easily the most sophisticated joypad created yet. With adaptive triggers that can alter their tension when you lock a wheel and detailed vibration feedback that can portray a wide variety of different road surfaces, it's like the DualSense was designed specifically for racing games. Well, either that or it's one of those extremely expensive back massagers in disguise. Either way, here are five of our favourite PS5 racing games...

Advertisement - Page continues below

When it comes to rally games, it tends to be the Dirt series that gains the plaudits, but the official World Rally Championship games have quietly improved over the past few years. WRC 10 in particular celebrates not just the final year of the current spec offroad monsters but also the entire history of the championship, with challenges in classic machinery inspired by historic events.

If you're looking for the best version of the game, look no further than the PS5 edition which makes full use of the console's unique DualSense controller. With rally driving all about reacting to tiny surface changes in the split second before you skitter off embarrassingly into a fir tree, the haptic feedback delivered by WRC 10 via the new controller is second to none.

We'd contend that you're never too old to play with toy cars and Hot Wheels Unleashed only serves to reinforce that fact. The game's miniature vehicles are rendered in such pitch perfect detail, even down to the pleasing thickness and coarse metallic flake of the paint, that you almost feel like you could pluck them from the screen and run them across the TV unit.

The best thing about the videogame version? Even the rich kid at school didn't have this much Hot Wheels kit. A circuit editor allows you to fill an entire basement with orange plastic track pieces and the system of earning 'blind boxes' tweaks the same pleasure centres in our brain that were triggered when we were obsessively collecting toy cars as a nipper. A somewhat socially acceptable regression into childhood? Count us in.

Advertisement - Page continues below

Time was, Formula One games were distinctly average racing games designed to shift a few copies on the strength of their connection to the sport alone. Nowadays, the newest F1 game is a genuine highlight of the year, somehow distilling one of the most lavishly complex sports on the planet into something that can be played and understood by us normal humans.

Naturally this year the game has struggled to keep up with the many changes to the F1 calendar, but the post-release addition of new tracks including the wickedly fast Jeddah Corniche Circuit has fleshed the game out further. They're yet to add baffling decisions from the race director in the closing stages of the championship decider, though. Something for next year perhaps.

We're currently crossing off the days to Gran Turismo 7's release like an impatient jailbird, but in the meantime, Gran Turismo Sport remains a great way to go racing on PlayStation 5. The structure provided by Sport mode's schedule of races makes every bit of online competition feel meaningful and since launch there have been over a hundred cars added to the game, offering a carefully curated list of entertaining machinery recreated in obsessive detail.

While graphically it looks much the same as on PS4 Pro, the PS5's faster storage results in shorter loading times and zippier menu performance, meaning you have less time to wait between events. Great news, unless you tended to use that time to come up with your racing driver excuses.

PlayStation might be best known for Gran Turismo's gleaming, pristine, indestructible supercars, but after bouncing inertly off an opponent for the hundredth time, you might just want to rag a heap of scrap metal around a backwoods dirt track. For that, there's Wreckfest which has an optional upgrade for PS5 owners that makes this the most beautiful ugly game we've ever seen.

Forget slipping into the Alcantara bucket seat of a Ferrari Pista, Wreckfest is all about slamming into your opponents from the wooden commode of a motorised outhouse. That's not to say it isn't sophisticated under the hood, there's a remarkably impressive physics engine underpinning the whole thing, meaning that when your combine harvester collides with a poor so-and-so on a ride-on lawnmower, it looks absolutely convincing.